It's a fact: if you've been to two or more shows, you can talk about the best show you've ever seen (so far). Whether it was a band you've idolized since childhood, or an unknown act that blew you away, or even a perfect crowd, these shows can be a transformative experience.
We asked zZounds staffers to tell us about the best shows they've ever seen. Their answers are below — leave yours in the comments, too!
A Tribe Called Quest – Summer 2017 at Pitchfork Music Festival in Chicago
In 2017 I was offered the opportunity to go to Pitchfork Music Festival for free with a few of my close friends. My friend Abbey had gotten some VIP tickets through her work and I obviously jumped on the opportunity. That festival was the first concert appearance that A Tribe Called Quest had done since the death of founding member Phife Dawg, so it was definitely an emotional moment for the group. The performance was breathtaking. We were blessed with some incredible throwbacks like "Can I Kick It?" and "Buggin' Out," along with one of the most chilling performance dedications to Phife Dawg.
For a few of Phife's verses, the group left the stage with a spotlight on an empty microphone and a collection of photos/videos with Phife playing behind that stand. I only knew Phife through his music, and even I was brought to tears. I can only imagine what that moment felt like for the rest of the group. Another moment in the performance cut out all of the music and featured Q-Tip's beatboxing. As a younger hip-hop fan, I haven't seen this sort of performance from people my age and Q-Tip was very aware of that. He even joked that his age was showing when he decided to beatbox, but I loved every moment of it. Even if it's not "the trend" in hip-hop right now, it was a great way to keep the performance versatile and interesting. They ended the entire set with their song "We The People," one of Tribe's many songs promoting tolerance and love.
– John, zZounds Gear Expert

North Mississippi Allstars / Feb. 5, 2009 / The Cabooze, Minneapolis, MN
I was up in Minneapolis the winter of 2009 visiting one of my great old friends. He decided to take me to a small music club called The Cabooze.  It only holds 1000 people, so it's really packed in. Single room. Great acoustics. Stage is "right there" at the front of the room. No wall or security in front of the stage. You can literally set your drink on the stage it's accessible to the crowd.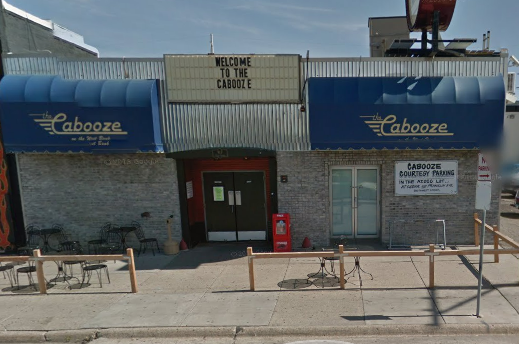 The band we were seeing was The North Mississippi Allstars, who at that moment in time, I had not heard a single song from…ever. Honestly didn't know a thing about them. The only thing my buddy told me was that the lead singer and guitarist (Luther Dickinson) was a really good guitar player. What an understatement that was. To call Luther Dickinson a "really good" guitar player is an insult (to him). He's an AMAZING guitar player. From my perspective, one of the best slide guitar players of all time. 

They opened with "Write Me a Few Lines" (video of this performance from the show above), and from there…Luther demonstrated for the entire venue the meaning of "the show must go on."

Here's what happened….

First, here's the entire set list with audio, so you can follow along:
https://archive.org/details/nma2009-02-05.nakCM1k.flac16

Once the band segued into their second song, "Drop Down Mama," Luther broke a string around 1:28 in the performance. You can hear when it happens. He didn't have time to change guitars because the solo was about to start, which you can hear him go into — down one string — at 1:36.  He just powered right through the entire solo, not missing a note, and honestly….had I not been 5 feet from him where I could see his broken string, I would not have even known. I was floored at his showmanship, and how he just went on as if it never happened. I couldn't believe it.

So, he finishes the solo, and around 3:43, mid-song, you can hear him say "Thank you, Randy." That was the moment his guitar tech finally came out on stage to give him a new guitar. Even their transition from broken guitar to fixed guitar, mid-song, within an 11-second window…seemed epic to me. It was like watching Tom Brady throw a pin-point-precision pass to his receiver. All in one, smooth motion….Luther took his guitar strap off and lifted his guitar off his shoulder with one hand, while with the other hand he grabbed the fixed guitar from his tech, put the strap over his shoulder, and jammed the plug in just one second before he starts playing again at 3:54. I almost fell over at the spectacle of this. I honestly could not believe that any human being was capable of pulling off such a series of events, only 7 minutes into their show…without ever missing a note, and without anyone in the back of the room likely even noticing there was an issue in the first place.
THAT, combined with off-the-charts amazing playing from each member of the band, in this small venue, with the party vibe on and the band feeling and acknowledging this same vibe…makes this show an easy pick for one of my "best of all time."
-Phil, Marketing
David Byrne at the Fox Theatre in Detroit
I thought I had seen everything. I thought I had live music mostly figured out. Then I saw David Byrne.
Having been an avid Talking Heads fan for most of my life, I naturally had to go to Byrne's "American Utopia Tour" since the stage show was described as "harkening back to the days of Stop Making Sense-style production." I arrived at the venue, the Fox Theatre in downtown Detroit, MI and watched the opening act with little fanfare. Then the lights go out and the stage curtain opens to reveal Byrne sitting at a desk with a human brain in his hand.
Most of the night is fuzzy after that, but I know this show changed my life. Each musician on stage was independent, not tied down to one space. Much like a marching band, each player could move freely around the empty stage during songs; this also meant that non-essential players left the stage during certain parts of songs. This allowed for an amazing amount of choreography to happen that seemed more akin to a ballet than a concert. After the show I remember thinking that I never wanted to play music again. I've seen the peak; it's been accomplished by David Byrne and I certainly couldn't match it. Of course that didn't happen, but that night has inspired me to raise the bar on my own writing and to see music as a more versatile art form than I initially realized.
-Nick, zZounds Drum Merchandiser
David Gilmour – Rattle That Lock tour 2016 in Chicago
Was a lifelong dream of mine to see Pink Floyd and…that didn't happen. Fortunately, being a HUGE Gilmour fan, I was still just as enthused to see him on his solo tour. Having some fun connections with venues here in Chicago, my wife and I found ourselves first row side stage for the show.
Pinch yourself moment, yeah for sure it was!
The show was truly astonishing/ almost felt unreal. The sound, the lights, the performance the EVERYTHING was just as I hoped it would be. Truly a transformative two hours that left an impression which I will cherish forever. I've been really lucky to have seen countless amazing shows in my 48 years, however; this Gilmour show, from top to bottom was the one that tops my chart.
-Billy , Director of Strategic Partnerships
Tech N9ne
One of my favorite live shows has always been by rap artist Tech N9ne. A mixture of high-energy crowds, a wild stage setup during every tour (often including choreographed performances synced with visual cues and even visual "clones" of Tech N9ne as his alter egos), and just one of the wildest performing hip-hop artists on the planet. He's got a huge range of styles — everything from mosh pit-evoking hard hitters to tracks you'd think he pulled out of the necropolis. The live show is incredible and anyone from metal heads, b-boys, pop music lovers, to punk rock heads and more would love the show.
Stage antics aside, Tech N9ne has one of the most intricate approaches to his vocal flow. From rapid fire alliteration to lyrics falling in and out of various time signatures, you feel as if his lyrical delivery is an instrument all in itself. Don't let the vocal theatrics fool you though, there's tremendous substance woven in each and every line. His ability to weave these skills in and out of musical landscapes from hip-hop, rock, pop, electronica, and more makes him my favorite artist to see perform live.
– Juan "JAM ONE" / Customer Service Representative
Sunn O))) – April 21, 2019 at Rockefeller Chapel in Chicago
Maybe not the "best" concert I've ever attended but one of the most remarkable ones was having just recently seen the band Sunn O))).
To start, they preformed in a medieval, gothic-styled cathedral built by John D. Rockefeller on the University of Chicago campus. I've previously seen the band Godspeed! You Black Emperor play there, which itself was quite an experience, but not nearly as ominous as Sunn.
As I showed up a little late and just before the band started, I had to sit further back in the pews. At first I was annoyed, but in hindsight this was probably better for both my hearing and my brain pain. While the band wasn't as overtly loud as I had hyped myself up for, (granted I was probably 30 yards back from their amps) as soon as they rung out the first note, an overwhelming envelope of sound filled the entire 1700-person cathedral. With a backline that is of Spinal Tap-level excess, the band apparently used the entire power grid of the church just for amps alone. Churning long, drawn out and down-tuned chords, EVERYTHING was rumbling.
Over the course of an hour and a half the cloaked doomsmen played one long sonic full brain and body massage. With chords drawn out, they would slowly bend notes out of tune from each other, causing an oscillating sound that felt like it was twisting my brain. Like tuning your guitar if your amp was the Space Shuttle engine. Closing your eyes and losing context, it was bordering on too much at times. I definitely don't recommend seeing them on hallucinogens. Or hey, maybe do; depends on what you're into I guess.
No Sunn O))) show would be complete without a vast amount of fog, and for this show they nearly filled the entire front half of the cathedral. The lights behind their amps switched to red and orange hues and lit the fog to create what looked like the gates of hell opening up. Not to mention a storm quickly rolled through and provided a few flashes of lightning through the giant stained glass windows for some added ominous ambiance.
It's hard to say that a band that played maybe 6 notes in the course of an hour and a half was the "best" concert I've ever been to, but for sure it was a decidedly massive experience.
-Corbin, zZounds Social Media Manager