Most drummers can remember that first moment when we understood our destiny.
For me it goes back to the time I strolled into my middle school friend's basement where his older brother had a Pearl Export kit set up, ready to rock. I more than anything in that moment wanted to climb behind the kit and start ripping.
But after the initial moment of inspiration, it's the artists we love that continue to feed us the passion. That, in turn, makes us want to keep improving and chase "the dream."
Here at zZounds, we wanted to put together a master list of great drummers and their gear. This list will never be fully complete as there is nearly infinite talent out in the world, but with your help in the comments we may be able to come close. Maybe it's just because we're curious, but more likely it's inspiring the next generation of drummers and maximizing the talent sitting behind the kit that's our goal.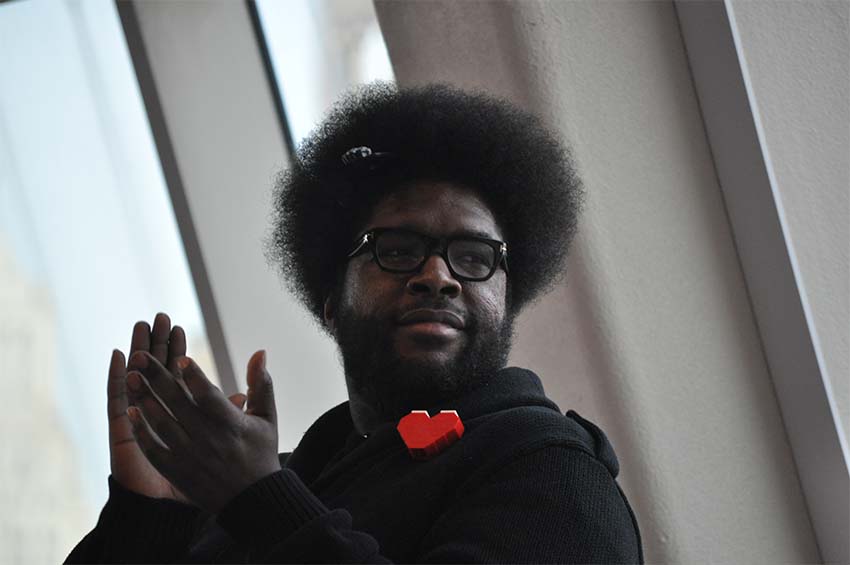 ?UESTLOVE (The Roots)
Snare – Ludwig 5×14 Classic Maple & LM400 5×14 Supraphonic
Studio Kit – Ludwig 1976 Vistalite
Live Kit – Ludwig Classic Maple
Finish – Cream
Sizes – 14×22 bass drum, 8×12 rack tom, 16×16 floor tom
Cymbals – Zildjian 24″ K Light ride, Zildjian 20″ FX Oriental Crash of Doom, Zildjian 14″ A Quick Beat hi-hats pair
AARON GILLESPIE (UnderØath)
Snare – Gretsch 6.5×14 Phosphorus Bronze Snare
Kit – Gretsch Brooklyn "Playboy" Finish – Orange Black Oyster Sizes – 14×24 bass drum, 8×13 rack tom, 14×16 & 16×18 floor tom
Cymbals – Zildjian 22″ K Constantinople Renaissance ride, Zildjian 22″ K Constantinople thin ride (over-hammered), Zildjian 17″ K Dark crash thin, Zildjian 17″ K Constantinople crash, Zildjian 24″ K light ride
ADRIAN BENT (DRAKE)
Snare – Pearl Reference Series snare 14×6.5″
Kit – Pearl Reference Series
Finish – Piano Black (103)
Sizes – 22×20 bass drum, 8×7 tom, 10×8 tom, 12×8 tom, 14×14 floor tom, 16×16 floor tom
Cymbals – Sabian cymbals
ALEX VAN HALEN (Van Halen)
Snare – Ludwig Supraphonic 6.5×14 w/Tube Lugs and Die-Cast hoops
Kit – Ludwig Classic Maple
Finish – Mirror Chrome Wrap with Custom Copper-Plated Hardware
Sizes – 2x-16×26 Bass Drum with 14×26 Sub Bass Drum, 2-16×20 Bass Drums, 16×18 Floor Tom, 16×16 Floor Tom, 9×13 Tom, 8×12 Tom
Cymbals – Paiste 15″ 2002 Sound Edge Hi-Hat
Paiste 22″ 2002 Crash, Paiste 20″ 2002 China, Paiste 20″ 2002 Crash, Paiste 24″ 2002 Big Ride, Paiste 20″ 2002 Medium, Paiste 15″ 2002 Sound Edge Hi-Hat, Paiste 20″ 2002 Medium, Paiste 19″ 2002 Crash, Paiste 50″ Symphonic Gong
Andrew Marshall (Billie Eilish)
Snare – Gretsch USA Custom Chrome over Brass 14×6.5″ & Gretsch USA Custom Aluminium 14×6.5″
Kit – Gretsch USA Custom // Roland TM-6 Pro & Tm-2
Finish – Custom
Cymbals – Zildjian K 15" Sweet hats, K 20" Sweet Crash, K 22" Light Ride, and K 19" Special Dry Trash Crash
Andy Hurley (Fall Out Boy, The Damned Things)
Snare – Gretsch USA Custom Chrome over Brass 14×6.5″ & Gretsch USA Custom Aluminum 14×6.5″
Kit – Roland SPD-SX sampling pad // DW custom kit
Finish – Custom
Cymbals – Sabian AAX Stage Hi-Hat 14″, AA 14″ Medium Crash, AAX Stage Crash 18″, AAX Stage Crash 16″
Art Cruz (Lamb of God, Prong, Winds of Plague, Mark Morton)
Snare – Crush Multi-Species 13×7″
Kit – Crush AXM
Finish – Custom
Cymbals – Meinl 18″ Byzance Brilliant China, Meinl 22″ Mb20 Heavy Bell Ride, Meinl 18″ Soundcaster Custom Medium Crash, Meinl 18″ Soundcaster Custom Medium Crash, Meinl 16″ Byzance Brilliant China, Meinl 14″ Byzance Brilliant Fast Hi-hat, Meinl 10″ Byzance Dark Splash, Meinl 8″ Byzance Dark Splash, Meinl 16″ Generation X Filter China
ASHTON IRWIN (Five Seconds of Summer)
Snare – Gretsch USA Custom 6.5×14"
Kit – Gretsch USA Custom
Finish – Mirror Chrome
Sizes – 12×8" & 16×8" Concert Toms, 7×10", 8×12", 9×13" Rack Toms, 16×16" & 16X18" Floor Tom, 16X20" Gong Drum, 18×22" Bass Drum
Cymbals – Zildjian 18″ K Dark Crash medium thin, Zildjian 13″ K Hi-hats pair, Zildjian 10″ K Splash, Zildjian 9″ K Custom Hybrid Splash, Zildjian 19″ K China, Zildjian 20″ K Dark Crash thin
Austin Hulett (Lume)
Snare – DW Black Nickel Over Brass 14×6.5″
Kit – Q Drums Copper shell kit
Finish – Copper
Sizes – 24×14″ bass drum, 16×16″ floor tom, 13×9″ rack tom
Cymbals – Hi Hats: (bottom) 18″ Sabian AAX-Plosion Crash // (top) 18″ Zildjian K Custom Special Dry Crash Cymbal, 22″ Meinl Sand Crash Ride, Ride Cymbal: 24″ Zildjian A Medium Ride
BEN BARTER (Lorde)
Snare – Ludwig Acrolite 5×14″
Kit – Ludwig Legacy Classic
Finish – Black Sparkle
Sizes – 14×22″ bass drum, 16×16″ floor tom, 9×13″ tom
Cymbals – Zildjian 22″ K Custom Dark ride, Zildjian 20″ K Constantinople Bounce ride, Zildjian 19″ Kerope, Zildjian 14″ K Constantinople hi-hats pair
BEN SESAR (Brad Paisley)
Snare – Ludwig LC663 Copperphonic 6.5×14″
Kit – Ludwig Classic Maple w/ mach lugs
Finish – Red Sparkle
Sizes – 16×22″ bass drum, 16×18″ floor tom, 14×14″ floor tom, 7×10″ tom, 8×12″ tom
Cymbals –
BRIAN DELANEY (Melissa Etheridge)
Snare – Gretsch 5×14″ Chrome over Brass Snare
Kit – Gretsch Broadkaster
Finish – White Marine Pearl Nitron
Sizes – 14×22″ bass drum, 9×13″ tom, 16×16″ floor tom
Cymbals – Bosphorus
BUDDY RICH
Snare – Slingerland maple 5×14″
Kit – Slingerland maple
Sizes – 14×24″ bass drum (26″ sometimes), 9×13″ tom (mounted on a single 'Set-O-Matic' holder) Two 16×16″ floor toms
Cymbals – Zildjian 14″ New Beat Hi-Hats (medium top, heavy bottom), 18″ Thin crash (on the left), 18″ Medium-Thin crash (on the right), 8″ splash (also used a 6″), 20″ medium ride, 22″ Swish (on the far right)
BUN E. CARLOS (Cheap Trick)
Snare – Ludwig 6.5×14″ Black Beauty, 6.5×14″ Supraphonic, 6.5×14″ Copperphonic
Kit – Ludwig Legacy Classic
Finish – Vintage Blue Oyster
Sizes – 14×24″ bass drum, 16×16″ floor tom, 9×13″ tom
Cymbals – Zildjian 20″ A medium ride, Zildjian 20″ A medium thin crash, Zildjian 18″ A crash ride, Zildjian 14″ A New Beat hi-hats pair
CARTER BEAUFORD (Dave Matthews Band)
Snare – Ludwig 6.5×14″ Alex Van Halen signature rosewood snare & Pork Pie 7×10″ mahogany snare
Kit – Yamaha Recording Custom
Finish – Solid Black
Sizes – 18×20″ bass drum, 8×8″ tom, 9×10″ tom, 10×12″ tom, 12×14″ tom, 14×16″ floor tom
Cymbals – Zildjian 10″ FX Spiral Stacker on 18″ A Custom EFX crash, Zildjian 20″ A Custom Flat Top ride with 6″ A Custom splash stacked upside-down, Zildjian 19″ A Ultra-Hammered China, Zildjian 21″ K Crash/Ride, Zildjian 14″ A New Beat hi-hats, Zildjian 8″ K splash, Zildjian 6″ Zil-Bel, Zildjian 18″ K Dark Medium-Thin crash, Zildjian 10″ A Custom splash, Zildjian 19″ K Dark Thin crash, Zildjian 6″ A Custom splash stacked on 8″ K splash, Zildjian 6″ A splash over 8″ K Custom Dark splash, Zildjian 14″ K Mini China, Zildjian 21″ A Ultra-Hammered China
CHAD SEXTON (311)
Snare – 14×5.5″ Masters MCX snare drum, 14×5.5″ Reference Pure snare drum, 14×5.5″ Sensitone Steel snare drum
Kit – Masters MCX
Finish – Sequoia Red with Silver Glass Glitter inlay
Sizes – 22×16″ bass drum, 6×6″ tom, 8×7″ tom, 10×8″ tom, 12×8″ tom, 13×9″ tom, 14×14″ floor tom, 16×16″ floor tom
Cymbals – Sabian 15″ Artisan hi-hats pair, Sabian 18″ HHX Evolution O-Zone crash
CHAD SMITH (Red Hot Chili Peppers)
Snare – DW Custom 14×5″ Signature Acrylic (PDP Chad Smith Signature)
Kit – DW Acrylic Custom
Finish – Green Acrylic, Purple Acrylic, Clear Acrylic, etc.
Sizes – 24×16″ bass drum, 12×10″ tom, 14×14″ floor tom, 16×16″ floor tom
Cymbals – Sabian 14″ AAX X-Celerator hi-hats pair, Sabian 10″ AA splash, Sabian 18.5″ Signature Explosion crash, Sabian 21″ AA Rock ride, Sabian 20″ AA Rock ride, Sabian 20″ AA Rock crash, Sabian 19″ AA Chinese, Sabian 19″ Holy China
CHARLIE WATTS (The Rolling Stones)
Snare – DW "Rolling Stones" Custom
Kit – Gretsch 1957 Round Badge
Finish – Natural maple
Sizes – 8×12" rack tom, 16×16" floor tom, 14×22" bass drum
Cymbals – Zildjian 18″ A Avedis crash/ride, Zildjian 18″ A China high, Zildjian 16″ A thin crash, Zildjian 14″ A New Beat hi-hats pair
CHRIS FRANTZ (TOM TOM CLUB, Talking Heads)
Snare – Pearl 14×6.5″ steel Sensitone snare drum
Kit – Pearl MMP Masters Series
Sizes – 22×16″ bass drum, 10×10″ tom, 12×10″ tom, 14×12″ tom, 16×14″ tom
Cymbals – Zildjian
CLIVE DEAMER (Radiohead)
Snare – Gretsch 14"x 6.5″ Maple
Kit – Gretsch Maple Broadcaster kit
Finish – Turquoise Oyster wrap
Sizes – 13×9" tom, 16×16" floor tom, 20×14" bass drum
Cymbals – Zildjian 20″ K Custom dark ride, Zildjian 19″ A thin crash, Zildjian 18″ K crash ride, Zildjian 14″ A Custom hi-hats pair
DAVE GROHL (Nirvana)
Snare – Tama 8×14″ birch
Kit – Tama Granstar
Finish – Silky Yellow
Sizes – 14×15″ Rack tom, 16×18″ floor tom, 16×24″ bass drum
Cymbals – Zildjian A Series Medium 18″ crash, 20″ crash, 22″ ride, 15″ hi-hats
Dave Grohl (Foo Fighters, Them Crooked Vultures)
Snare – DW 6.5×14″ Aluminum Snare
Kit – DW Jazz Series Maple/Gum Shells
Finish – Lacquer Custom Laser Blue
Sizes – 16×24″ Bass Drum with black lacquer hoops, 9×13″, 10×14″ (alternate), 16×16″, 16×18″ Tom-Toms, 16×20″ single-headed bass drum used as Floor Tom, 5×8″ and 5×10″ Maple Concert Toms
Cymbals – Zildjian 20″ A Custom crash, Zildjian 20″ A Custom EFX, Zildjian 19″ K Custom Hybrid china, Zildjian 15″ K light hi-hats pair
DAVE TURNCRANTZ (Russian Circles)
Snare – Ludwig LC663 6.5×14 Copper Phonic
Kit – Ludwig Stainless Steel Pro Beat
Sizes – 14×24″ Bass Drum, 9×13″ Tom, 16×16″ Floor Tom
Cymbals – Istanbul
DAVID LOVERING (The Pixies)
Snare – Ludwig Acrolite, Gretsch round badge
Kit – Gretsch USA Custom
Finish – Cherry Red
Sizes – 22×14″ bass drum, 16×16″ floor tom, 12×10″ rack tom
Cymbals – Zildjian
DAXX NIELSEN (Cheap Trick)
Snare – Ludwig LW6514SL 6.5×14″ Supralite
Kit – Ludwig Legacy Mahogany
Finish – Olive Sparkle
Sizes – 14×24″ bass drum, 16×16″ floor tom, 10×14″ tom
Cymbals – Zildjian
ELIJAH WOOD (Shania Twain)
Snare – Gretsch USA Custom 6.5×14", 6×14" & 5.5×12"
Kit – Gretsch USA Custom
Finish – White Glass Nitron
Sizes – 8×12″ rack tom, 9×13" rack tom, 16×16" floor tom, 16×18" floor tom, 18×22" bass drum
Cymbals – TRX
GREG LANDFAIR JR. (Chance the Rapper)
Snare – Ludwig LM400: 5×14″ Supraphonic, LB417: 6.5×14″ Black Beauty
Kit – Ludwig Keystone X
Finish – White
Sizes – 16×22″ bass drum, 16×18″ floor tom, 16×16″ floor tom, 8×12″ tom, 7×10″ tom
Cymbals – Sabian
JASON MCGERR (Death Cab For Cutie)
Snare – Touring: Gretsch 6.5×14" Bell Brass Snare Drum, Studio: Gretsch 6.5×14" Brooklyn Snare Drum, Gretsch 5.5×14" Brooklyn Snare Drum , Gretsch 6.5×14" Solid Aluminum Snare Drum
Kit – Touring: Broadkaster, Studio: USA Custom
Finish – Broadkaster: Twilight Glass Nitron, USA Custom: Satin Ice Blue Metallic
Sizes – 9×13" rack tom, 16×16" floor tom, 14×22" bass drum
Cymbals – Zildjian 18″ Kerope, Zildjian 18″ A Avedis crash/ride, Zildjian 15″ Kerope hi-hats pair, Zildjian 20″ A Avedis crash/ride
JIM RILEY (Rascal Flatts)
Snare – Ludwig 6.5×14 Copperphonic
Kit – Ludwig Classic Maple Exotic Fumed Eucalyptus
Finish – Natural
Sizes – 16×24″ bass drums, 16×20″ floor tom, 16×18″ floor tom, 14×16″ floor tom, 9×13″ rack tom, 8×10″ rack tom
Cymbals – Sabian
JOHN BONHAM (Led Zeppelin)
Snare – Ludwig Acrylic 6.5×14″ Vistalite
Kit – Ludwig Vistalite Acrylic
Finish – Acryllic
Sizes – 14″ Tom, 16″ and 18″ Floor Toms, 26″ Bass Drum
Cymbals – Paiste 2002 24″ ride, 16″ crash, 18″ crash, 15″ hi-hats pair
JON SCHWARTZ ("Weird" Al Yankovic)
Snare – Ludwig 6.5×14″ Black Beauty
Kit – Ludwig Keystone, Classic Maple
Finish – Black Abalone, Teal Sparkle
Sizes – 14×24″ bass drum, 16×16″ floor tom, 9×13″ tom, 8×12″ tom
Cymbals – Sabian
KEITH MOON (The Who)
Snare – 14×5.5″ Premier "2000" metal shell, 14×6.5″ or 5.5″ Gretsch
Kit – 1965-66 Premier birch, 1970s Premier mahogany
Finish – Red sparkle, Cream
Sizes – Premier birch: 22″ bass drum 16×16″ floor tom, 16×20″ floor tom, Two 14×8″ toms
Premier mahogany: 2x 22″ bass drums, 2x timbales, 16×16″ single-headed (concert) tom, 15×12″ single-headed (concert) tom, 18″ floor tom, 16×18″ floor tom, 14×10″ single-headed (concert) tom, 13×9″ single-headed (concert) tom, 12×8″ single-headed (concert) tom, 10×6.5″ single-headed (concert) tom, 14×10″ mounted tom, 14×10″ mounted tom, 14×10″ mounted tom
Cymbals – Paiste 2002 22″ ride, 20″ crash, 14″ splash, 18″ crash, 14″ hi-hat, One or two Paiste gongs (1×30″, 1×36″)
KITTY (MINDLESS SELF INDULGENCE)
Snare – Chad Smith Signature snare 14×5″
Kit – Pearl VSX Vision Series
Finish – Champagne Sparkle
Sizes – 22×18″ bass drum, 22×18″ bass drum, 2x VX Vision RB Blue 14×14″ floor tom
Cymbals – Zildjian
MATT BILLINGSLEA (Taylor Swift)
Snare – Ludwig Acrolite 5×14″
Kit – Ludwig Classic Maple
Finish – Sky Blue Pearl
Sizes – 14×20″ bass drum, 7×10″ tom, 8×12″ tom, 14×15″ floor tom
Cymbals – Zildjian 21″ A Sweet ride, Zildjian 19″ A medium thin crash, Zildjian 19″ K Dark crash thin, Zildjian 15″ K light hi-hats pair
MATT HALPERN (Periphery)
Snare – Pearl 14×5″ Reference Brass, 14×6.5″ Reference Brass
Kit – Pearl Music City Custom Reference shell specs
Finish – Matte Black Oyster
Sizes – 13×8″ tom, 16×16″ floor tom, 18×16″ floor tom, 22×16″ bass drum
Cymbals – Meinl 18″ Byzance Traditional Extra Thin Hammered crash, Meinl 14″ Byzance Traditional Medium hi-hat pair, Meinl 8″ Byzance Traditional splash, Meinl 10″ Byzance Traditional splash, Meinl 19″ Byzance Traditional Medium Thin crash, Meinl 18″ Byzance Vintage Sand Medium crash, Meinl 22″ Byzance Dark ride, Meinl 18″ Byzance Dark china, Meinl 17″ Byzance Jazz Medium Thin crash, Meinl 20″ Byzance Brilliant china
MATT SORUM (Kings of Chaos , Hollywood Vampires , Guns 'N' Roses , Velvet Revolver, The Cult)
Snare – Gretsch Bell Brass 6.5×14"
Kit – Gretsch Brooklyn
Finish – Black Glass Nitron
Sizes – 2x 14×24" bass drum, 9×13" rack tom, 16×16" floor tom, 16×18" floor tom
Cymbals – Zildjian 19″ K china, Zildjian 19″ K Dark crash thin, Zildjian 18″ K Dark crash thin, Zildjian 15″ K Light hi-hats pair, Zildjian 20″ K Dark crash thin
MATT STARR (Mr. Big)
Snare – Ludwig LB417BT Black Beauty 6.5×14″
Kit – Ludwig Legacy Maple
Finish – Sable Black
Sizes – 14×26″ bass drum, 18×20″ floor tom, 16×18″ floor tom, 10×14″ tom
Cymbals – Paiste 15″ 2002 Sound Edge hi-hat pair, Paiste 20″ 2002 Power crash, Paiste 20″ 2002 Power crash, Paiste 20″ 2002 Medium, Paiste 20″ 2002 Medium, Paiste 24″ 2002 ride, Paiste 22″ 2002 china, Paiste 12″ Signature splash
MIKE MANGINI (Dream Theater)
Snare – Pearl Masterwork 14×6.5″ – 4 outer Maple/2 inner Birch
10×6.5″- 2 outer Mahogany/2 mid Maple/2 inner Birch
Kit – Masterworks Series
Finish – BMW Frozen Blue with Satin Hardware
Sizes – 2x 22×18″ bass drum, 2x 20×18″ bass drum, 6×7″ tom, 8×7″ tom, 10×8″ tom, 12×9″ tom, 13×9″ tom, 16×16″ floor tom, 18×16″ floor tom
Cymbals – Zildjian 20″ A Custom ride, Zildjian 20″ FX Oriental Crash of Doom, Zildjian 20″ FX Oriental china "trash," Zildjian 20″ A Custom ride, Zildjian 26″ Traditional gong, Zildjian 19″ A Ultra Hammered china, Zildjian 18″ FX Oriental china "trash," Zildjian 18″ A Custom Medium crash, Zildjian 17″ K Custom Fast crash, Zildjian 17″ K Dark crash thin, Zildjian 16″ K-EFX, Zildjian 14″ A Custom hi-hats pair, Zildjian 14″ FX Trashformer
MIKE MARSH (The Avett Brothers)
Snare – Ludwig LC663- 6.5×14 Copperphonic
Kit – Ludwig Legacy Mahogany, Ludwig Limited Edition Stainless Steel
Finish – Aged Onyx
Sizes – 14×26″ bass drum, 16×18″ floor tom, 16×16″ floor tom, 9×13″ tom
Cymbals – Zildjian 15″ Sweet hi-hats pair, Zildjian 22″ K Custom ride
NATE SMITH
Snare – Ludwig Classic Maple 5×14″, LM400 Supraphonic 5×14″
Kit – Ludwig Legacy Mahogany
Finish – Black
Cymbals – Zildjian
NEIL PEART (Rush)
Snare – Slingerland Artist 5.5×14″ with Copper Wrap – 3-ply Shell with 8 lugs
Kit – First 4 records: Slingerland 3-ply Shells of Maple, Poplar, and Mahogany
Finish – Black
Sizes – 9×13″ Tom with W&A Diamond Plate Clip Mount, 9×13″ Tom with Set-O-Matic Mount, 10×14″ Tom with Set-O-Matic Mount, 16×16″ Floor Tom, (2) 14×22″ Bass Drum, 5×14″ Rogers Dynasonic Snare – Chrome Over Brass with 10 lugs, 5×6″ Concert Tom with Copper Wrap and Slingerland Clip Mount, 5×8″ Concert Tom with Copper Wrap and Slingerland Clip Mount, 5×10″ Concert Tom with Copper Wrap and Pearl Clip Mount, 8×12″ Concert Tom with Copper Wrap and Pearl Clip Mount
Cymbals – Zildjian (2) Avedis Zildjian 8″ splash , Avedis Zildjian 13″ New Beat hi-hats Pair, (2) Avedis Zildjian 16″ Medium crash, Avedis Zildjian 18″ Medium crash , Avedis Zildjian 20″ Medium crash , Avedis Zildjian 22″ Ping ride
PATRICK CARNEY (The Black Keys)
Snare – Ludwig Black Beauty 6.5×14″
Kit – Ludwig Classic Maple
Finish – Salesman Sample
Sizes – 14×24″ bass drum, 16×18″ floor tom, 16×16″ floor tom, 9×13″ tom
Cymbals – Paiste 14″ Giant Beat hi-hats pair, Paiste 18″ Giant Beat, Paiste 22″ 2002 ride, Paiste 18″ 2002 crash
RICH RUSSO (Andrew W.K.)
Snare – Gretsch Renown 6.5×14″
Kit – Gretsch Renown
Finish – Tobacco Burst
Sizes – 7×10″ tom, 8×12″ tom, 14×14″ floor tom,16×16″ floor tom, 18×22″ bass drum
Cymbals – Sabian 14″ HHX Legacy hi-hat, Sabian 13″ HHX Evolution hat, Sabian 18″ HHX china, Sabian 19″ Paragon china, Sabian 18″ HHX X-Treme crash, Sabian 18″ HHX Evolution crash, Sabian 18″ HHX Evolution O-Zone crash, Sabian 18″ HHX X-Plosion crash, Sabian 21″ HHX Groove ride
RICK FALOMIR (Aquabats!)
Snare – Hammered Acrolite 6.5×14″
Kit – Ludwig Keystone
Finish – Candy Apple Glass Glitter
Sizes – 17×22″ bass drum, 16×16″ floor tom, 8×12″ tom
RINGO STARR (The Beatles, Ringo Starr)
Snare – Ludwig LB402B-6.5×14 Chrome Over Brass
Kit – Ludwig Legacy Maple Custom
Finish – Silver Mist w/Black Galaxy Stars Inlayed
Sizes – 16×24″ bass drum, 16×16″ floor tom, 9×13″ tom
Cymbals – Zildjian 18″ K Dark crash medium thin, Zildjian 16″ K Constantinople crash, Zildjian 14″ K Mastersound hi-hats pair
SAM FOGARINO (Interpol)
Snare – Gretsch USA Bronze 6.5×14″
Kit – Gretsch Broadkaster
Finish – Crème Oyster Nitron
Sizes – 9×13″ rack tom, 14×14″ floor tom, 16×16″ floor tom, 14×24″ bass drum
Cymbals – Dream
SCOTT CHURILLA (Rev Horton Heat)
Snare – Ludwig LC662 6.5×14″ Copper w/Tube Lugs
Kit – Ludwig Classic Maple
Finish – Silver Glass Glitter
Sizes – 14×24″ bass drum, 16×18″ floor tom, 16×16″ floor tom, 9×13″ tom
Cymbals – Paiste 16″ 2002 crash, Paiste 14″ 2002 Heavy hi-hat, Paiste 17″ 2002 crash, Paiste 10″ 2002 splash, Paiste 10″ Signature splash, Paiste 18″ 2002 Medium, Paiste 22″ 2002 Heavy ride, Paiste 19″ 2002 crash
SHEILA E
Snare – DW Collector's Maple 5×13″
Kit – DW Collector's Maple
Finish – Silver Glass Glitter
Sizes – 18×20″ bass drum, 8×22″ bass drum woofer, 7×8″ rack tom, 8×10″ rack tom, 9×12″ rack tom, 11×14″ floor tom, 13×16″ floor tom
Cymbals – Zildjian
STEWART COPELAND (The Police)
Snare – Tama Imperialstar or Starclassic Mahogany or Maple 5″x14″
Kit – Tama Starclassic Maple & Tama Imperialstar Mahogany (9-Ply)
Finish – Jet Black
Sizes – 14×22″ bass drum, 8×10″ tom, 8×12″ tom, 9×13″ tom, 16×16" floor tom
Cymbals – Paiste 11″ 2002 Splash, Paiste 12″ 2002 Splash, Paiste 13″ Percussive Sounds Sound Plate No. 2, Set Crotales 2 Octave C6-C8, 60″ Symphonic Gong , 5.5″ Percussive Sounds Sound Disk No. 2, 6″ Percussive Sounds Sound Disk No. 1, Set Percussive Sounds 15 pc. Finger Cymbal Row, 4″ Percussive Sounds Sound Disk No. 4, 4″ Crotale E6, 7″ Percussive Sounds Rotosound No. 3, 4″ Percussive Sounds Sound Disk No. 5, Paiste 6″ Signature Splash, Paiste 8″ Signature Splash, Paiste 10″ Alpha Metal Splash, 10″ 2002 Splash, 8″ 2002 Splash, 10″ 2002 Wild Splash, Paiste 12″ Signature Flanger Bell, Paiste 18″ Twenty Crash, Paiste 14″ 2002 Flanger Splash, 12″ Prototype Hats prototype, Paiste 8″ Signature Bell, Paiste 18″ Signature Fast Crash, Paiste 22″ Signature Blue Bell Ride, Paiste 8″ Signature Splash prototype, Paiste 10″ Signature Splash, Paiste 16″ Signature Full Crash, Paiste 17″ Signature Fast Crash, Paiste 18″ 2002 Flat Ride prototype, Paiste 18″ Signature Full Crash
TAYLOR HAWKINS (Foo Fighters, Taylor Hawkins & The Coattail Riders)
Snare – Gretsch Bell Brass 6.5×14"
Kit – Gretsch USA Custom
Finish – Bright Pink Gloss Lacquer
Sizes – 5×6" & 6×8" concert toms, 9×13" rack tom, 16×16" & 16×18" floor toms, 18×24" bass drum
Cymbals – Zildjian 20″ A Custom EFX, Zildjian 20″ A Custom crash, Zildjian 19″ A Custom crash, Zildjian 15″ A New Beat hi-hats pair, Zildjian 22″ A Custom ride, Zildjian 21″ K crash ride
TODD SUCHERMAN (STYX)
Snare – Pearl Custom (20 ply) 2-outer ply bubinga/16-inner ply maple/2-outer ply bubinga
Kit – Pearl Natural to Walnut
Finish – Burst Bubinga finish
Sizes – 2x 22×18″ bass drum, 6×7″ tom, 8×7″ tom, 10×8″ tom, 12×8″ tom, 14×14″ floor tom, 16×16″ floor tom, 20×14″ gong drum
Cymbals – Sabian
TOMMY LEE (MÖTLEY CRÜE)
Snare – Pearl Free Floating Aluminum 14×8″
Kit – Crystal Beat (prototype)
Finish – Ultra Clear (730)
Sizes – 26×16″ bass drum, 14×14″ tom w/ legs, 2x 16×16″ floor tom, 10×5″ rack tom x2, 40×16″ gong drum
Cymbals – Zildjian
TRAVIS BARKER (Blink-182, +44, Boxcar Racer)
Snare – OCDP 6.5×14″, 6×10″ Side Snare
Kit – Orange County Drums&Percussion Travis Barker Signature Kit
Finish – Custom
Sizes – 20×22″ bass drum w/ double wide front hoop, 9×12″ tom, 14×16″ floor tom
Cymbals – Zildjian A Quick Beat 14″ hi-hat, A Custom 18″ crash, 16″ Crash, 19″ Projection Crash, 14″ Crash, A Sweet 23″ ride, 21″ sweet ride, 18″ Oriental China, 9″ K custom hybrid splash
VINNIE COLAIUTA (Sting)
Snare – Gretsch USA custom 5×14", 5×12"
Kit – Gretsch USA Custom
Finish – Cobalt Blue Gloss Lacquer
Sizes – 7×8″, 7×10″, 8×12" rack toms, 14×14″, 16×16″, 18×18" floor toms, 18×22" bass drum
Cymbals – Paiste 22″ Formula 602 Modern Essentials china, Paiste 8″ Formula 602 Modern Essentials splash, Paiste 15″ Formula 602 Modern Essentials hi-hats pair, Paiste 20″ Formula 602 Modern Essentials crash, Paiste 10″ Formula 602 Modern Essentials splash, Paiste 22″ Formula 602 Modern Essentials ride, Paiste 16″ Formula 602 Modern Essentials crash, Paiste 18″ Formula 602 Modern Essentials crash