A couple of years ago, I wouldn't imagine seeing anyone else stepping into the professional media player/CDJ market. That was before Denon stepped up to the plate.
The release of the Denon DJ SC5000 and its matching mixer, the Denon DJ X1800 Prime, have flipped the way live DJing can be done. After months of anticipation and finally being able to play a full set on the units, I am definitely impressed. The unit features an 8-inch jog wheel with a display in the middle, a 7-inch touchscreen display and rugged design. Despite the unit being out for a while, Denon's firmware updates and Engine Prime releases keep it fresh. Here are a few reasons to consider the Denon DJ SC5000 for your next purchase or upgrade.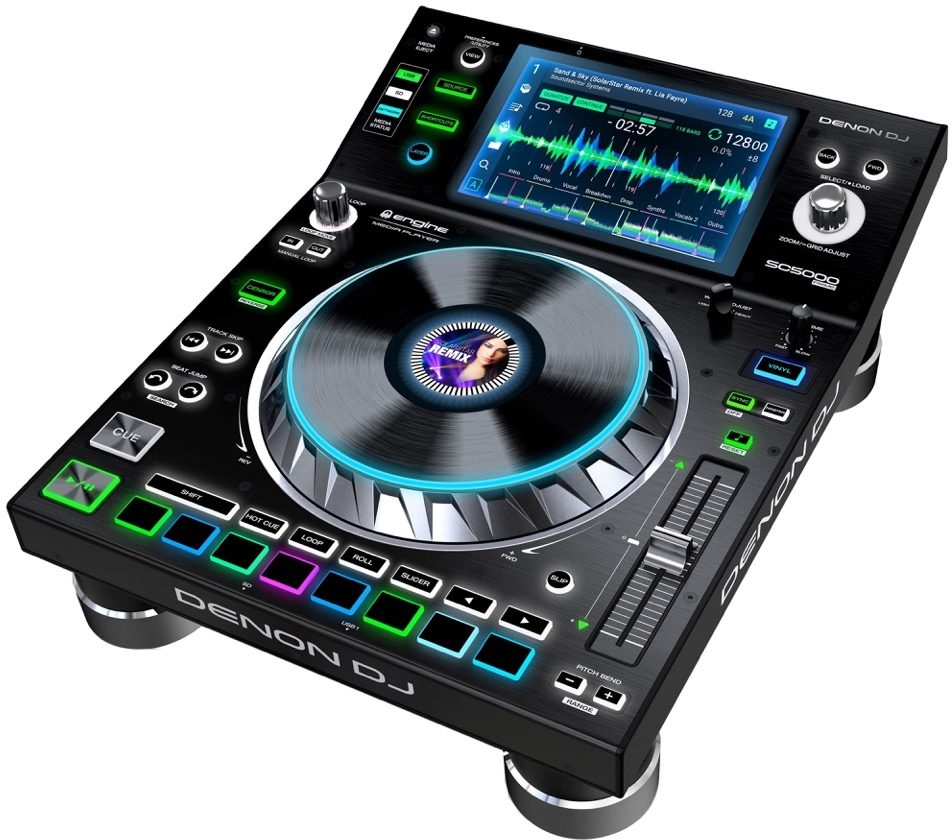 Intuitive, Flexible Software
The software on the unit allows maximum compatibility. It allows you to import all your track data from Serato and Traktor, plus any cue points you previously set. The unit will pull them up and add them to the song's analysis. It also does a great job of analyzing the track upon load of a previously un-analyzed song. The navigation and search options with the built-in software and the on-board touch pads bring all my favorite features of computer and controller DJing to a club format in one single unit.
The touchscreen is responsive and there is a multitude of pinches and swipes that make menu diving and searching for songs fun and easy. You can prepare music before a performance on the unit itself or in Denon's proprietary Engine Prime software. Engine Prime saves any changes to saved loops, analysis info or hot cues back to the song and the media that the song is on. You can then recall these for future performances of that song. Eight performance pads let you set two banks of hot cues, or remix the song with included slicer, roll, and loop options.
Built Tough & Well-Connected
The build quality on the screen and chassis are beyond what you would expect. The deck feels very rugged and sturdy, but still comes in a reasonable weight for its size. It is VERY important to note that this unit has no CD drive. This a strictly a media player. Denon lists on their website which file formats are compatible. With a quick glance, you would be hard-pressed to find a standard format that it won't play. The SC5000 has an array of ways to load music, thanks to 3 USB inputs, a USB output, and SD card slot. It can also connect via LAN. Each of these sources are easily selectable on the fly.
Like its competition in the market, Denon has its own form of unit-to-unit connection through a LAN hookup. This is a link utility called the 'Engine Connect' protocol. You can link your player to another unit or mixer, to share BPM/FX info and music libraries across all units. You can also use these as a controller to the Engine Prime software. In the future, I'll take an in-depth look at the strong points of each of the main DJ software titles available.
The unit also boasts two digital outs and a pair of stereo RCA outputs, which leads me to my final and absolute favorite feature of this unit.
Two-Decks-In-One
You can't go wrong with a large-touch capacitive metal jog wheel and rugged display, but if you needed a bit more incentive, this unit is more than just one deck. With a just two SC5000s and a mixer, you have a full 4-deck club layout at half the price. The unit features a button in the upper-left corner that allows for instant changes between decks. It takes a little practice to get used to switching between each layer, but for the price, it's worth it!
There are so many more customization options and settings that really allow you to tune this unit to your liking. Here are a few honorable mentions of features that I really enjoyed.
The SC5000 has the ability to learn how you DJ and will adjust the jog wheel's sensitivity accordingly. It learns how you beat match and interact physically with the unit. There is color customization and you can customize the image in the center of the jog wheel to anything you like. My overall take is that this unit is really pushing the envelope on the future of DJing and I'm excited to see what new firmware might bring to an already powerful media player.