Choosing gear that works best for your goals is just as important as learning the basic techniques of DJing. To help get you started, I've provided some of my top picks for four different levels and types of DJ. Each pick includes important features that will make the transition between each of these categories seamless. Whether you're brand new to DJing or you're a seasoned veteran, these picks give you the best features and bang for your dollar.
Beginner DJ
Starting off as a DJ has never been easier. These days, there's a huge selection of controllers that cater to entry-level DJs — here are two main options that I would recommend to any beginner.
It is important to note that both of these options come with the software download or an intro copy of the software they control, which means you are ready to play right out of the box!
The first option is the Pioneer DDJ 400. This is the smallest form factor from the Pioneer line, but don't let that fool you. This small unit still has the club style layout, which is nice for practicing mixing and beat matching up to practicing for playing on full size CDJs. The controller includes a free license of Pioneer's rekordbox software to manage and cue your tracks.
My second option is the Traktor Kontrol S2 Mk3. This controller has the same features as above, but the main difference is the software included. This unit is meant to work with NI's Traktor family of DJ gear and software.
Mobile DJ
The most demanding of these categories is the mobile DJ. DJs traveling to various gigs need something that is portable and professional looking, but also packed to the brim with features. Before I give out any recommendations, I would like give a nod to the obvious workhorse in this category, the Pioneer DDJ SX-3.
Besides the DDJ SX3, I also wanted to give a nod to a couple of newer units that are changing up the game. The first option is the Pioneer DDJ-1000. This unit features a four-channel mixer and two microphone inputs. It allows for two computers to be hooked up via USB simultaneously. You also have two audio output options and an option for a booth monitor. What sets this unit apart are the two screens in the middle of each full CDJ-sized platter. Each one of these screens displays the BPM, distance to and from where a cue point is set and other song information that would be pertinent to playing a set.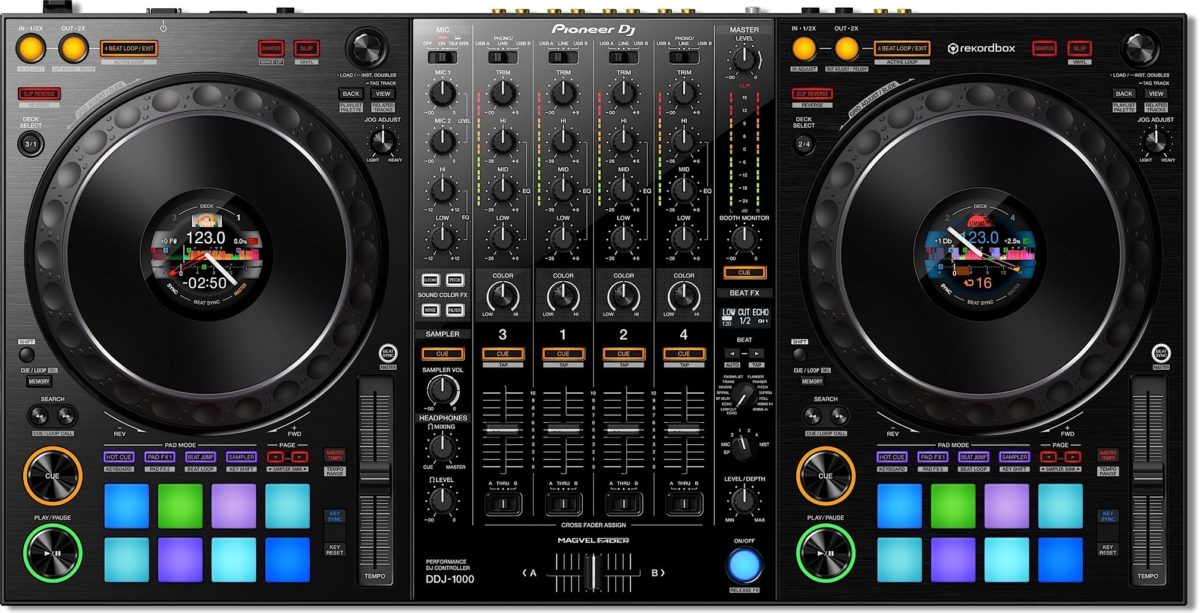 The second option is the Numark NS6II. This unit features everything listed above, minus the full song information that is featured on the DDJ-1000. It does add capacitive touch knobs as well as needle search. This allows for further MIDI customization, and you can set it to do a multitude of options just by touching it.
Vinyl-Based DJs
There are a lot of options for vinyl enthusiasts. Here are a few of my favorite. The first option is to pick up an interface. There is usually one for whatever program you want to DJ with. These work simply with your current turntable and mixer setup. Some mixers on the market today come with DVS built in, so all you would need to use is control vinyl or CDs.
This first option is for those who are comfortable with their current setup or are not looking to purchase a new mixer. The interface (along with control vinyl) allows you to play the music from your computer, but control it like it was an actual record. It is important to note that the Pioneer unit requires separate purchase of control vinyl and the other two options come with both control vinyl and control cds.
The second option would be to go with a controller that mimics the look and feel of an actual record. A great example is the Rane Twelve controller. This controller features a motorized platter with record on top. It features everything you are looking for from a real turntable, with the addition of a couple of very useful features. The Rane has 8 cue point buttons and 3600 ticks of platter resolution for seamless performance. This allows for very high accuracy when scratching and beat-matching.
The final option would be to go with a new technology in DJing. Instead of using time code, these units use motion tracking. You can drop these onto your existing decks and the software will do the rest. The nice thing about this new technology is that it solves some very annoying issues with using vinyl. With the MWM Phase Essential wireless DVS system, you will no longer need to worry about your turntables shaking, breaking a needle or accidentally knocking the tone arm.
Expanding Your Pro DJ Rig
For professional DJs looking to spice up their mix, consider an additional piece like the Pioneer DJS-1000. You can use this with any CDJ setup, but it would work best with a full Pioneer rig.
The DJS-1000 is a full-footprint CDJ that allows you to access a large bank of samples on the fly. In addition to sampling, the unit also includes a step sequencer and live sampler. The live sampler is the largest addition to the whole setup. The loop feature allows you to drop loops into the mix to either help you transition into a new track or to just add that little extra something to keep the dance floor moving. You can also pick up a loop off a deck that is currently playing and chop it up. You can connect a DJS-1000 to a CDJ or XDJ setup using Pro DJ Link. This allows you to to send data between all the units in the link, including a computer.