The weather is growing colder, the leaves are turning and falling off the trees, you're noticing your old t-shirts from college don't fit, probably because you ordered too many buffalo wings while watching the game. its autumn and that means Halloween is upon us. Sure, you could deck out your house with fake cobwebs, rubber bloody handprints on your windows, a $300 blow-up animatronic spider you bought on Amazon after too many boozy hot ciders, or you can load up on some spooky music gear.
In the spirit of this bewitching holiday season, we've summoned 10 of the spookiest pieces of gear we could find, in no particular order.
1. The Waterphone:
Also known as the ocean harp or AquaSonic waterphone, the waterphone is an "inharmonic acoustic percussion instrument" with a resonator bowl and cylindrical rods of varying lengths extending from the bowl. If you really want some supernatural sound sustain, you can fill that bottom bowl with water. (Am I describing a bong you can play?) Striking the rods and bowing them with a cello bow creates odd and somewhat unsettling noises that are now synonymous with suspenseful scenes in horror movies. It has also been used by Tom Waits, who is an avid collector, and as much as I do enjoy his music, the idea of having to listen to Tom Waits sit and go through and explain his entire collection of waterphones sounds pretty scary.
2. All of Kirk Hammett's Signature Gear:
Horror aficionado and lead guitarist of metal behemoth Metallica, Kirk Hammett has made more money than I can even dream of by slinging dark and nasty riffs, and creepy signature gear. From guitars that pay homage to his favorite classic horror movies, wah pedals with a skeleton foot on them, to his own pedal brand, KHDK that puts out pedals with the names like "Ghoul Screamer," pretty much nothing that bears his name doesn't fit the motif. He even id a custom run of hand-built Japanese ESP guitars themed after his favorite spirit-board-turned-Hasbro-toy.


Even taken out of the context of dark and evil heavy metal riffs, the KHDK Scuzz Box fuzz pedal can make a theremin sound mean and nasty. In our Perfect Pairings video, we matched it up with a Moog Theremini, adding its gritty velcro-like gated fuzz to the ethereal-but-still-a-little-rough sawtooth wave sound of the Theremini. We think it turned out pretty well, but don't take our word for it, see what Kirk himself said:
Insane!! I gotta get one! Love seeing @KHDKElectronics pedals taken to new levels by creative geniuses out there !! https://t.co/XIDk43Ka4k

— Kirk Hammett (@KirkHammett) August 26, 2016
3. Theremin
For over half a century the Theremin has been the source of unearthly sci-fi sounds, and that fact that it's a strange box with metal poles that you mysteriously wave your hands around to play just adds to the mystique. Most notably it was predominantly used in the Star Trek theme.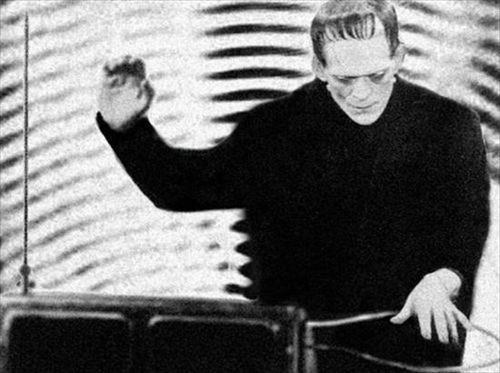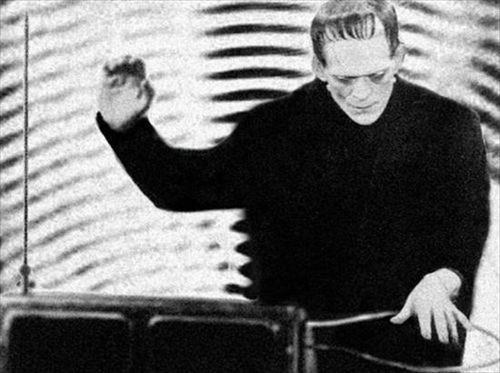 First invented in 1920 by Lev Sergeyevich Termen (known in the West as Léon Theremin) for use by the Russian government as proximity sensor, Léon quickly realized he had something marketable on his hand, and toured Europe and the U.S. with it, patented it, and eventually granted commercial production rights to RCA.
The theremin really came into its own as a method to creep people out when used to score films like The Sprial Staircase, The Day The Earth Stood Still and The Thing From Another Planet (the source for John Carpenter's The Thing). It was even used in The Machinist to add some dread to the slow mental and physical downward spiral of Christian Bale's character.*
*Who, by the way, went from beefy gun kata martial arts master in Equilibrium in 2002, to horrifically gaunt skeleton-man in The Machinist in 2004, then a year later went right back to buff superhero in Batman Begins. what he can do to his body in itself is terrifying.
4. Extended-Range Guitars
While now most commonly associated with djent and other forms of metal music, extended-range guitars have drawn guitarists in search of unknown sonic palettes since the early '90s. In most cases, extended-range guitars reach into the lower registers and can dip into bass guitar sonic ranges and string gauges.
These lower strings allow players to make thick, growling chugs and drones — the guttural rumbling sounds that go "djent" in the night. Really though, the scariest part about extended-range guitars may just be playing one for the first time. Grabbing the neck of a 9-string guitar can be a confusing, harrowing experience for players not familiar with these instruments. For some it's just too many strings and it can seem just unnatural.
5. '80s Synths:
Starting in the 1950s, horror movies were originally scored with big, full symphonies playing large, grandiose pieces to all but beat the audience over the head with the action happening on screen. Over time, the scores got less heavy handed, but still all predominantly relied on orchestral pieces.
And aside from a few exceptions, like Suspiria (remaking coming soon!) soundtrack that featured Italian prog rock band Goblin scoring the film complete with haunting synth effects, this trend continued for decades. Then in the '80s John Carpenter's love for synths and more independent film budget drove him to ditch the orchestra and go DIY and work out some eerie minor chord synthesizer tracks. (John Carpenter is punk BTW)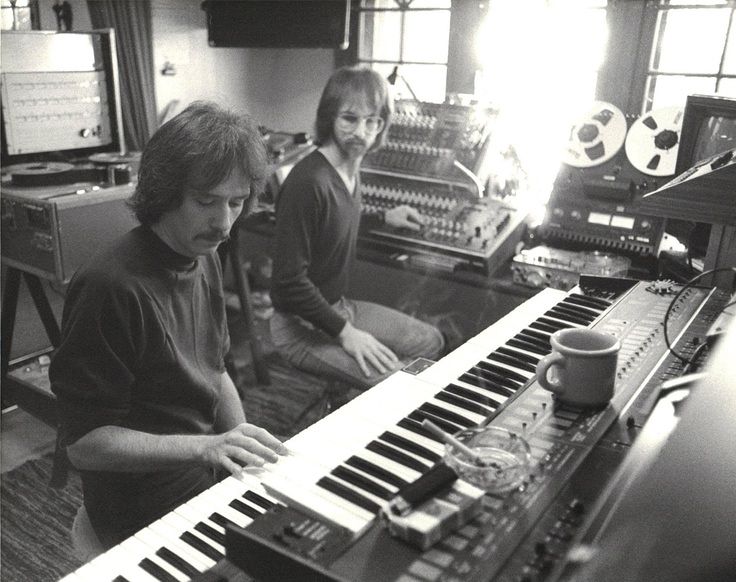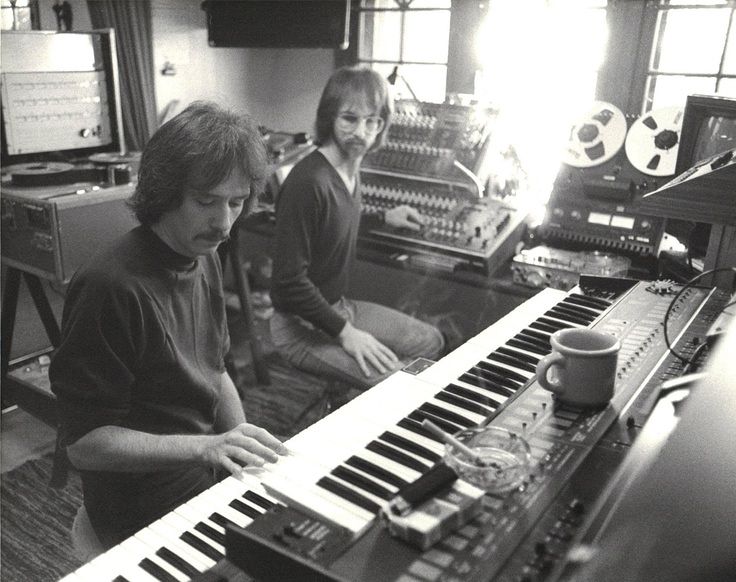 More recently with Stranger Things breaking out the '80s nostalgia into the horror genre, these synths and their modern adaptations and recreations are back again, creating both moody, and catchy music. Even Trent Reznor, who employed an army of synths to pioneer his dark industrial metal band Nine Inch Nails into the mainstream, has made a career out of making dark, sinister movie scores. He even remade the iconic Halloween theme song and added his own ragged, industrial touch to it.
6. Almost Anything B.C. Rich:
Bernardo Chavez Rico and his company B.C. Rich have been making guitars for decades. He started running a shop that made repairs and a few one-off builds with conventional designs, by the time the '80s rolled around, heavy metal was hitting full force and things got spooky. It seems like every '80s rock band with a head full of Aqua Net had at least one member with a pointy B.C. Rich Guitar.
B.C. Rich makes countless pointy and sinister axes, but for me the epitome of that was the Warlock, one of their most popular models that had many a budget-friendly option. When I started playing in bands in the early 2000s, every small guitar store and pawn shop had a few dusty warlock guitars floating around that could be had for cheap.
The side project of Rob Crow of Pinback clearly got a few B.C. Rich guitars from a pawn shop or two.
7. Gene Simmons' Axe Bass
If KISS' face paint, leather, spikes and sex-freak ethos didn't frighten parents enough, Gene Simmons' choice of weapon, er–instrument might. This monstrous bass is a product from when luthier icons Gary Kramer and Travis Bean still had a working relationship — as evident in its design trademarks — Kramer's love of wild body shapes and Bean's affinity for aluminum necks and split headstocks. It was a radical choice for the time and quickly grew into an icon for the KISS Army.
KISS wasn't the first to do face paint and spooky instruments, but had arguably the biggest influence on bands that would follow, like Misfits, King Diamond and GWAR, as well as the truly terrifying corpse paint favored by black metal bands like Mayhem and Immortal.
8. Roland AX-EDGE Keytar Synthesizer: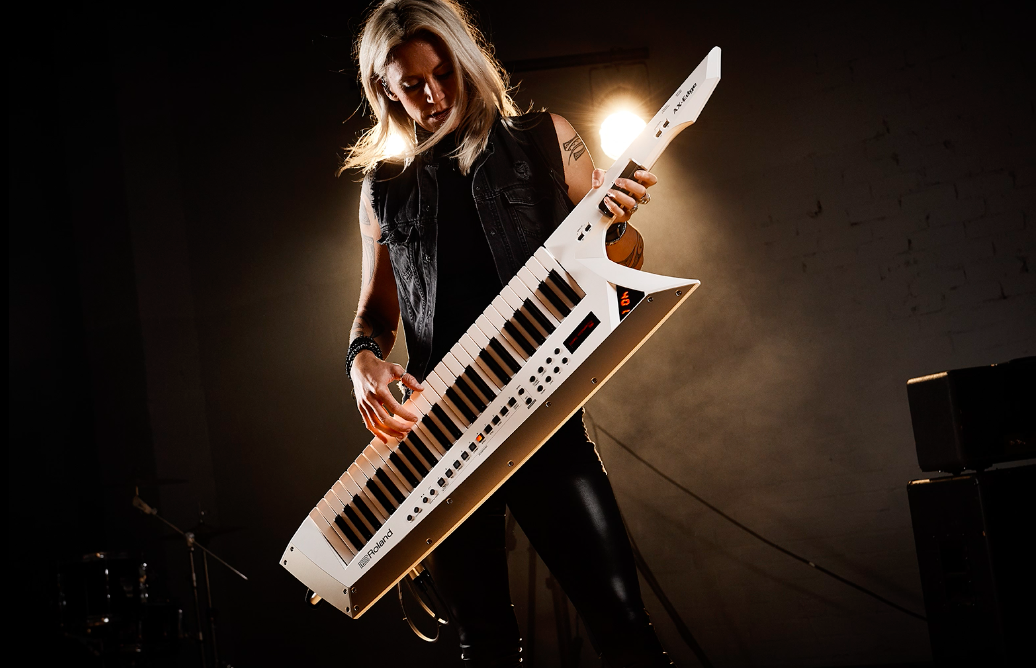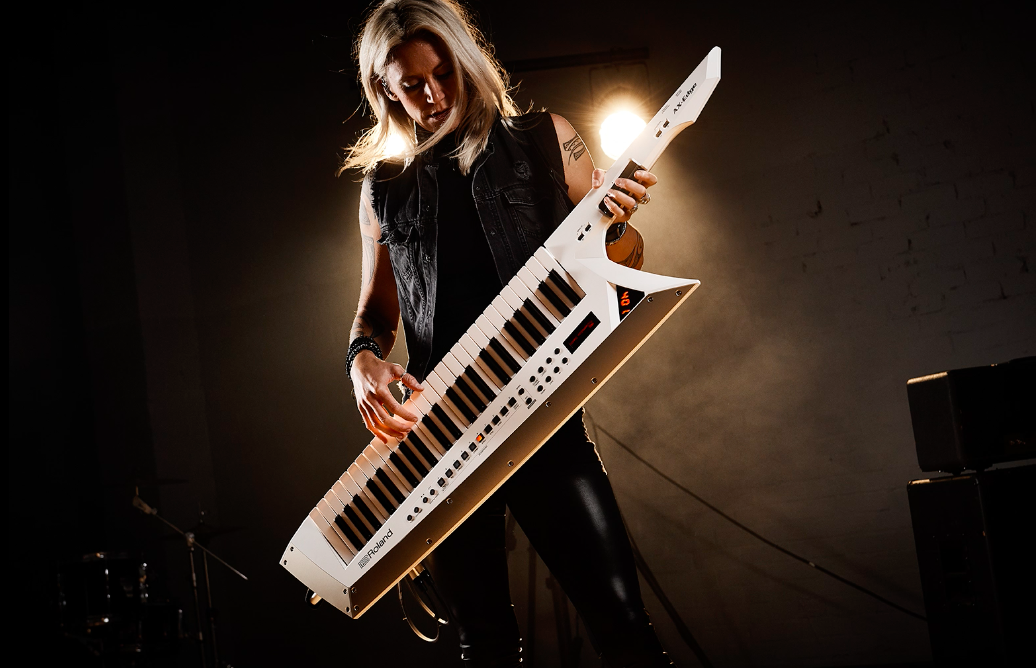 Keytars in essence aren't necessarily that spooky. They're kitsch and a bit ironic and always get a great response when you whip one out for a song for an '80s cover set, (which in the right circumstances can be scary) but the new Roland AX-EDGE has one terrifying feature that puts it on this list: An enormous removable blade that runs the length of the keytar. It comes stock with a gold or red blade, but the idea is that players can customize their own. Possibly one dripping with blood, or some ghoulish ectoplasm.
If anyone goes as Pyramid Head this halloween and uses one of these as the giant sword, please send us a photo.
9. Author And Punisher's Crazy Instruments:
Stemming from the very relatable issue of being frustrated by bandmates, Tristan Shone left his college metal band and started a one-man industrial act playing along to a drum machine. Quickly tiring of that, Shone used his engineering background to build his own snyth controllers out of stark, utilitarian machines that he designed, making for a setup straight out of David Lynch's dreams.
Creating these massive sliding grips, spinning wheels of milled metal and a bondage-like piezo implanted neck collar gave him a way to push, pull and manipulate industrial machinery that creates the harsh industrial music he writes. I had the change to catch him live at Moogfest last year, and it was a pretty harrowing experience to watch.
10. The Apprehension Engine (aka the Nightmare Machine)
Obviously the spookiest piece of gear is the instrument created solely to be spooky, and that is The Nightmare Machine. Movie composer Mark Korven known for scoring movies like Cube (the best cube-based horror movie there is) and The Witch, teamed with luthier Tony Duggan-Smith after he grew tired of recycling the same overused digital samples of spooktacular sounds, and decided to go analog.

The result is the Apprehension Engine, a hodgepodge of springs, strings, rulers, magnets, pickups, and the guts of a hurdy-gurdy that creates a horrifying menagerie of unsettling sounds. While Mark most likely has this at his studio and uses it to help score films, we'd love to rent it from him and do a couple DIY basement noise shows with it.