In the dark, mysterious world of heavy music, the guitar reigns supreme, sitting atop a craggy mountain on a throne of crushed skulls. If you want to riff hard, usually you grab a guitar, drop the tuning down, plug into your favorite fuzz and start chugging. If you follow conventional wisdom though, the bass guitar, sitting a full octave below a 6-string guitar, makes even more sense for when you want to create something thick and heavy.
The problem is that most distortion, overdrive and fuzz pedals are focused on the guitar's frequency range, (around 80 Hz to 1.2 kHz) so all that deep low end that makes the bass so powerful gets cuts off at the knees. This is especially the case with fuzz pedals. Put your bass guitar (hanging in at 40Hz to 400Hz) through a Big Muff pedal and you're left with a whole lot of mushy, noteless mess, or a wall of trebly grinding that's void of low end, with just a small sweet spot in-between.
Well, there is more than one way to skin a cat and there are plenty of good ways — both in a live setting and in the studio — to add some thick and dirty tone to your bass guitar.
1. Bass Focused Pedals
While you can get good tone of out a pedal that isn't strictly designed for bass, (and many players do) there is usually a pretty narrow sweet spot. When a pedal is designed to work with rumbling low bass frequencies, you have a lot more usable tones on one box.
To start off, I recorded two simple bass riffs with an Ernie Ball Music Man Stingray, the first riff a slow, more doomy one and the latter, a faster more thrashy riff.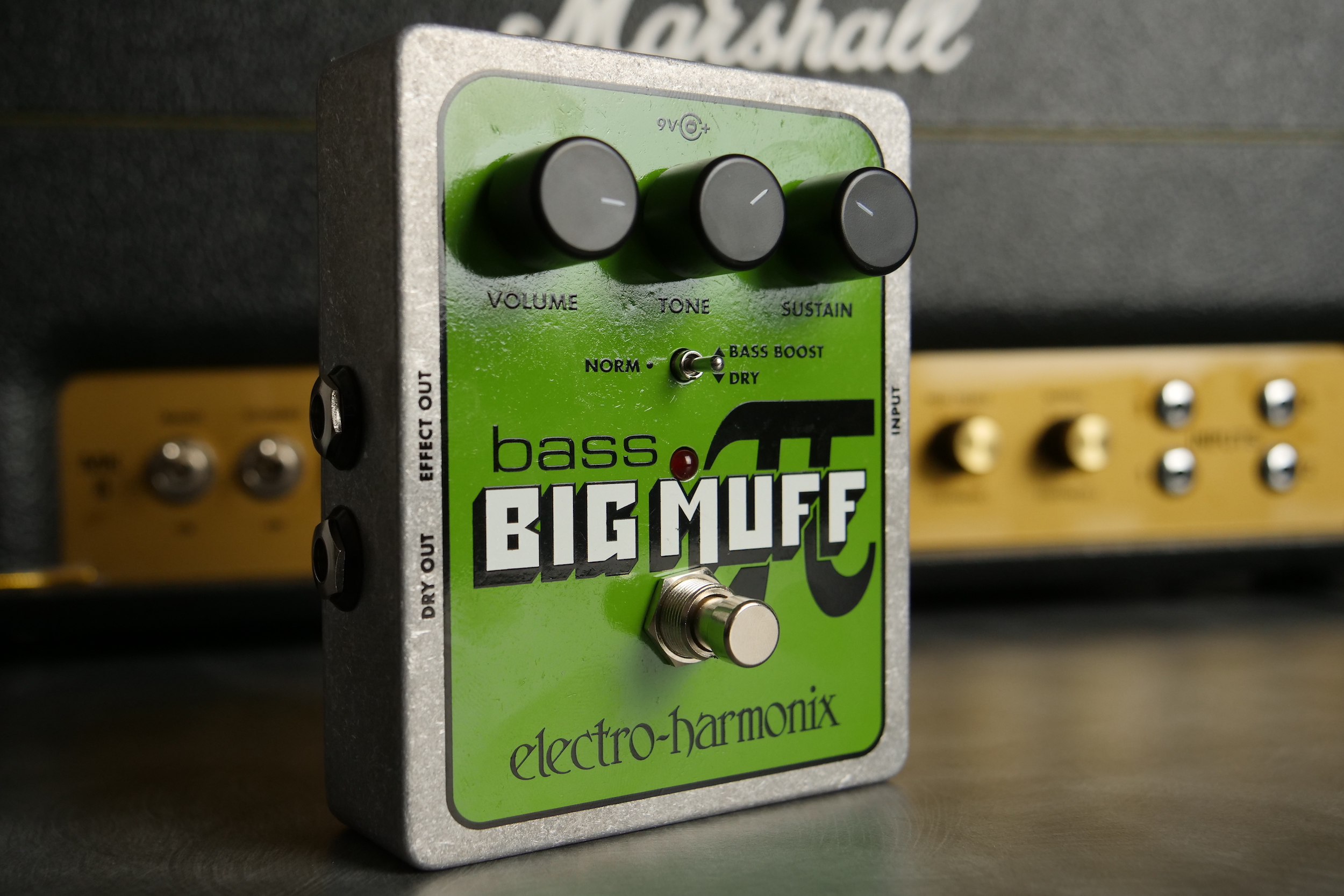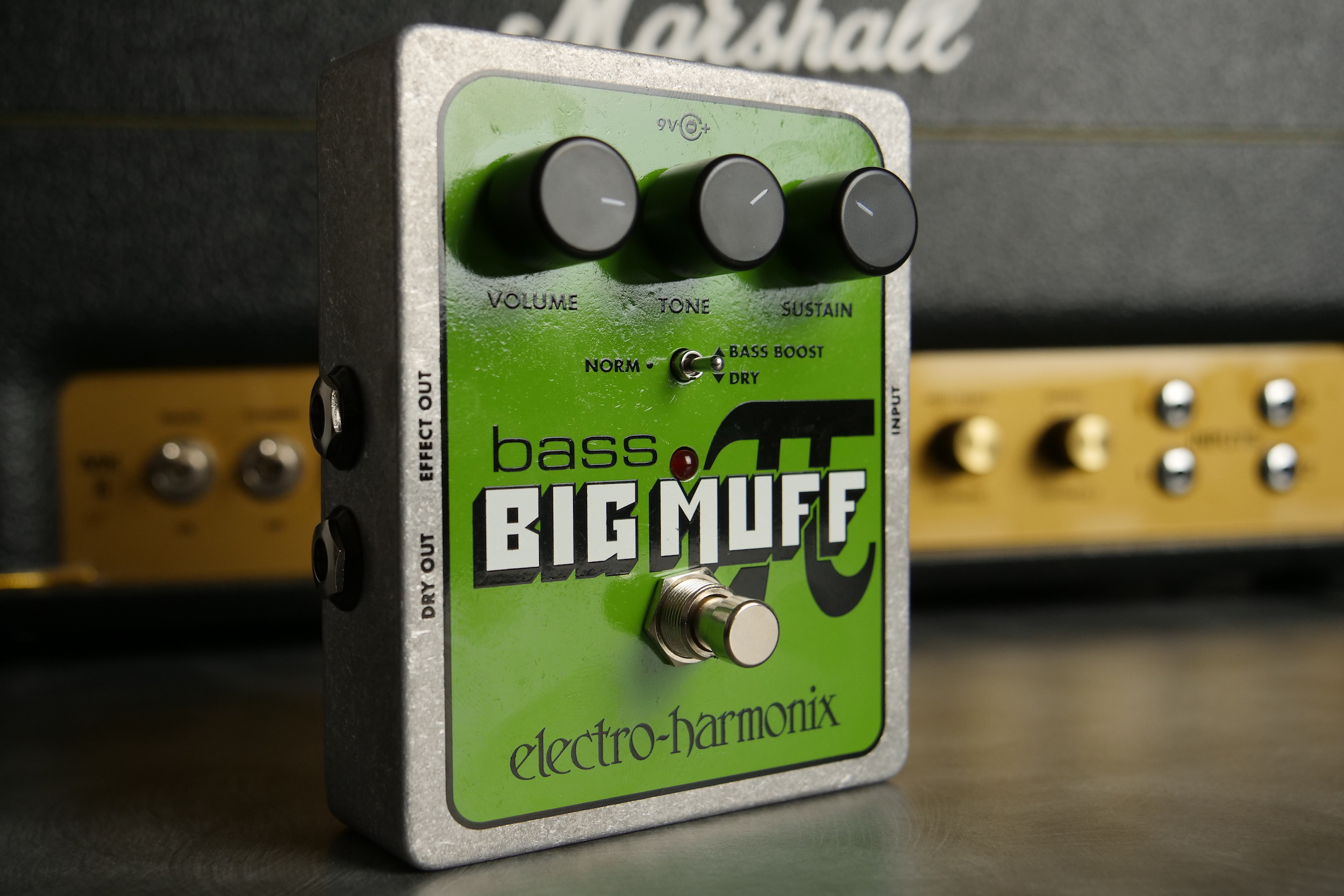 A good start is the Electro Harmonix Bass Big Muff or Nano Bass Big Muff if pedalboard space is a precious asset. Tone-wise this pedal is very similar to the Russian-era green muff pedals, but the real shining feature is the Dry switch, blending in your original unfuzzed bass tone. This help keeps all your low end intact. (As this post continues, you'll see that a wet/dry mix is a key factor in good bass distortion.) The larger version has wet and dry outputs, so you get even more separation in tone, which is especially good if you throw the dry mix via DI to the mixing board.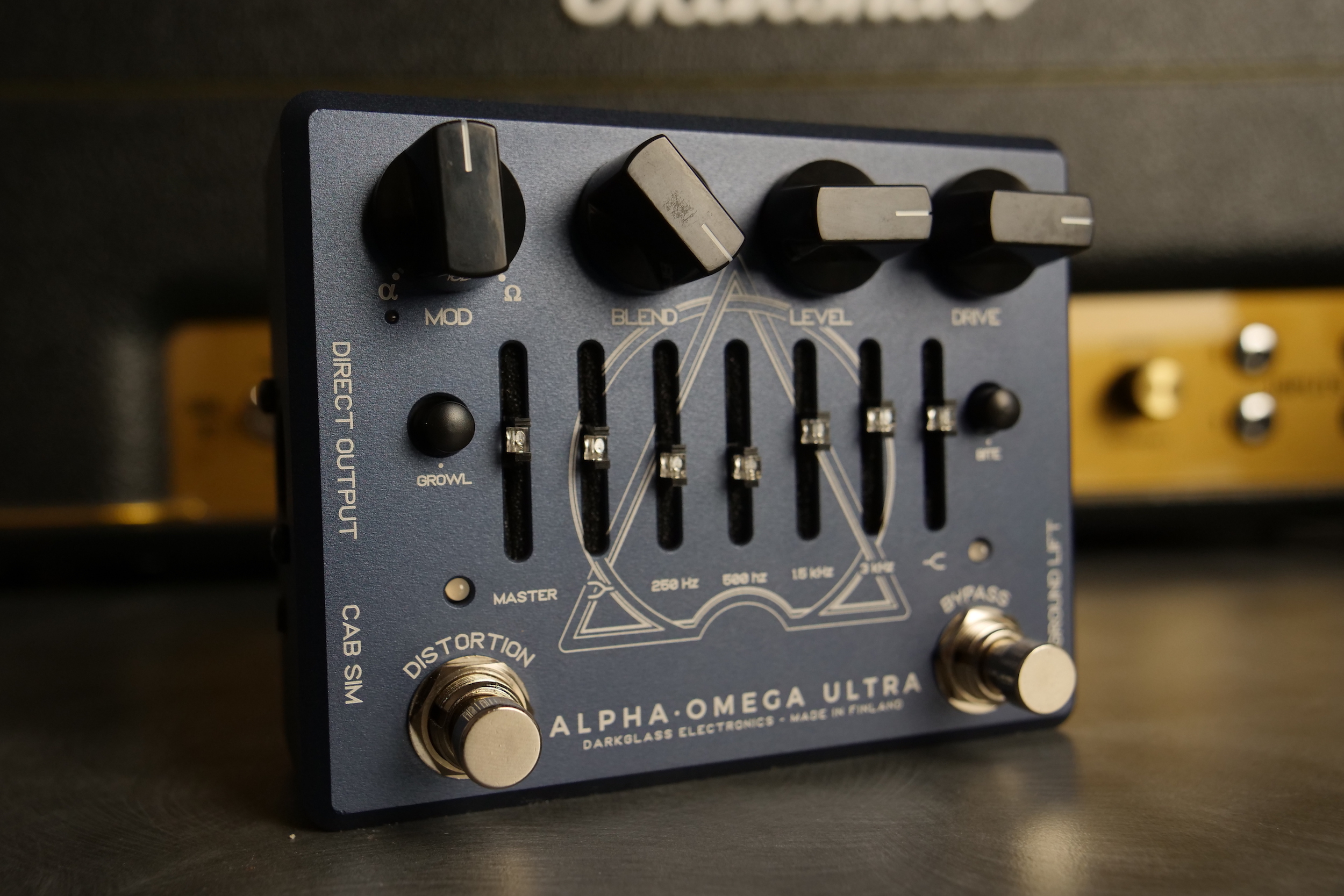 If you're a bassist and you're not familiar with Darkglass then you need to take some notes. They focus solely on bass-focused effects and they do a killer job of it. The shining star in their line of pedals is the Alpha Omega. This dual distortion and overdrive pedal has pretty much everything you need with a wet/dry blend knob, 4-band EQ, a parallel output to send your dry signal and growl and bite switches to choose your favorite flavor of distortion.
Bonus: Get the Alpha-Omega Ultra for all that, plus a 6-band active EQ, which is great if you're obsessive about your tone.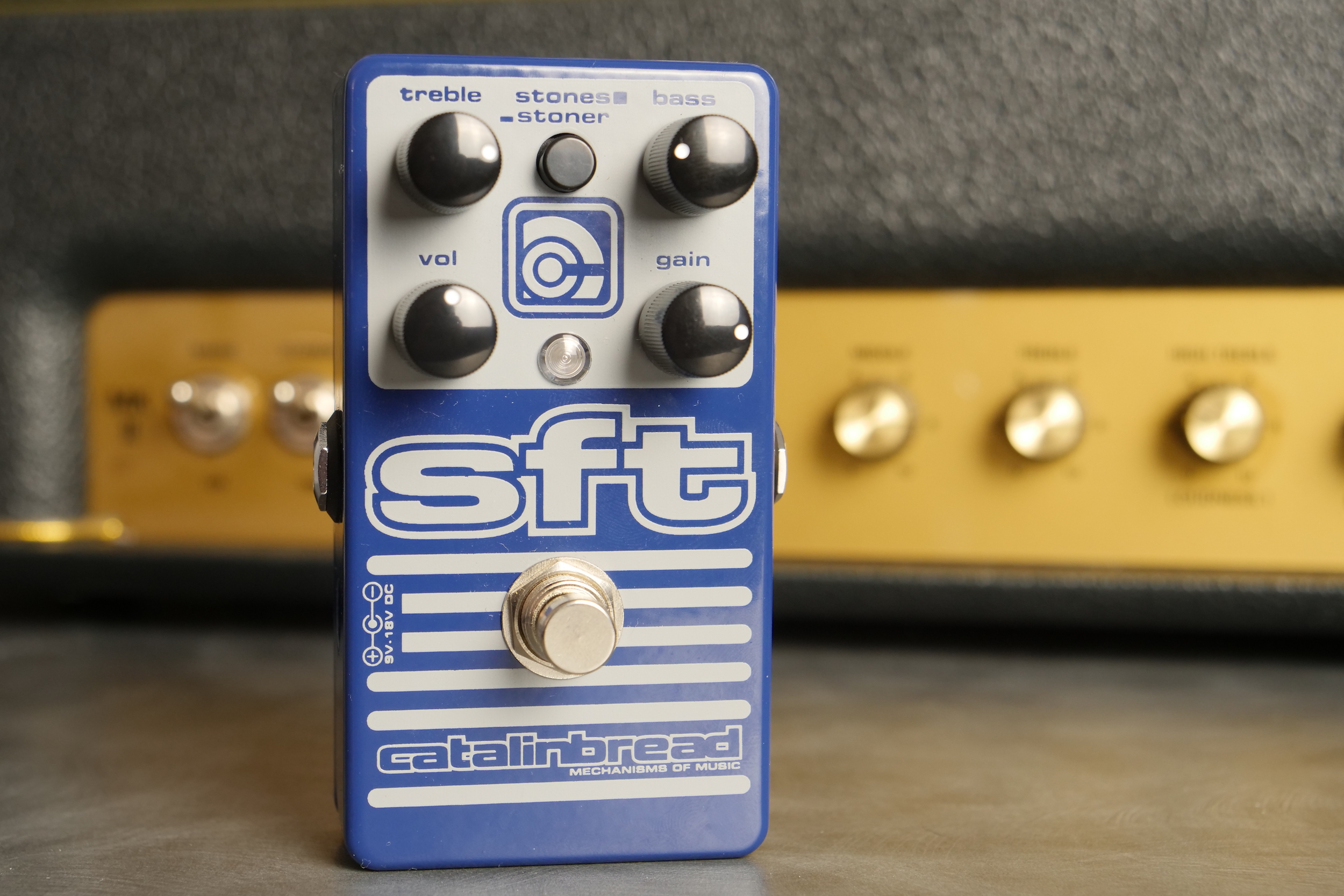 Inspired by the legendary Ampeg amps of yore, the Catalinbread SFT works for both guitar and bass, much like the amps it simulates, but it does a hell of a job on bass. The Controls are pretty basic, and while there isn't a wet/dry control, you can use the bass knob to keep from losing your low end. Not that you should worry — this pedal has tons of booming bass girth. The main feature though is the "stones/stoner" switch, going from the warm-and-wooly bass grind of the Rolling Stones' "Street Fighting Man" to just all-out Sleep-style torrent of snarling fuzz once you click on the stoner mode and unleash 3 gain stages.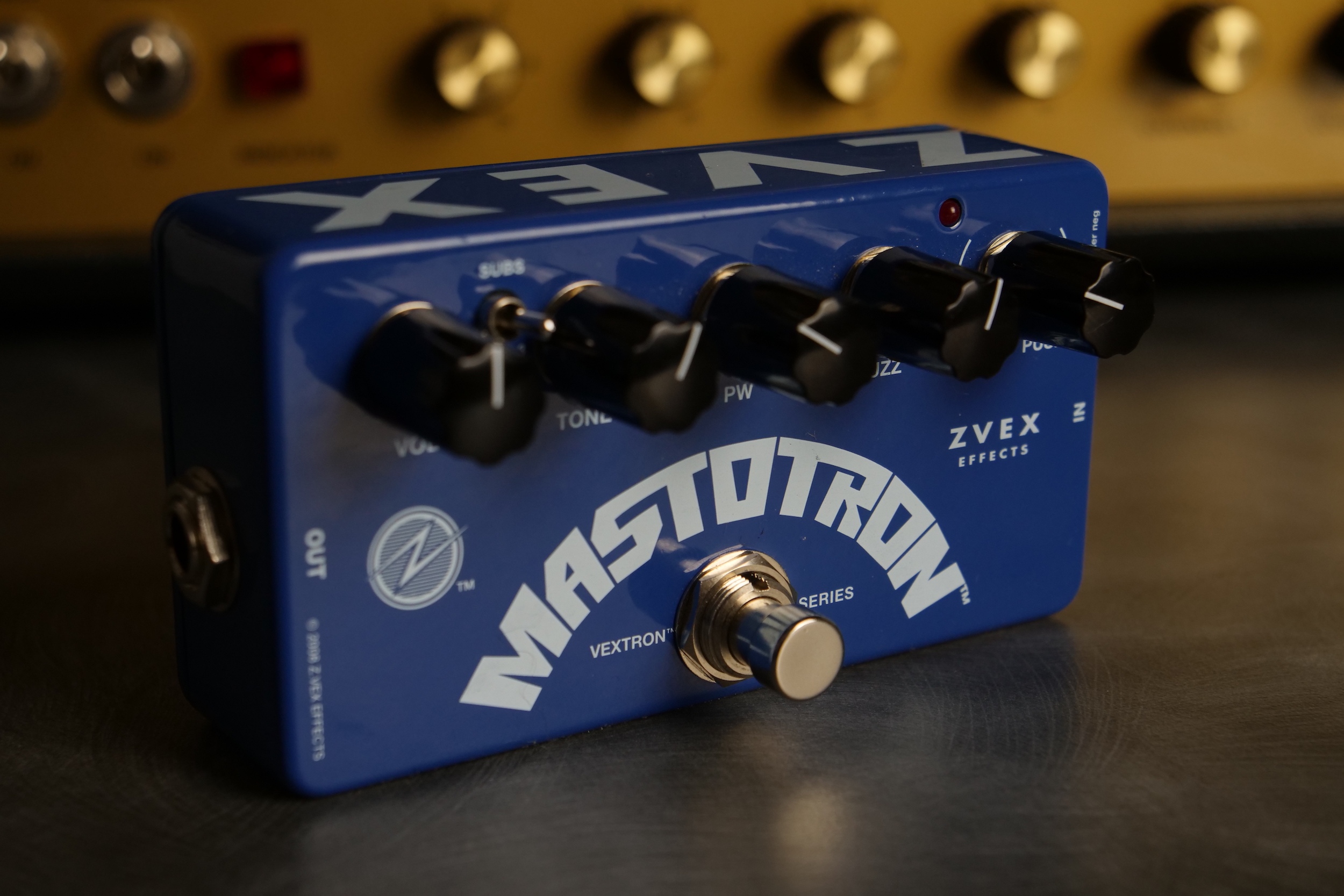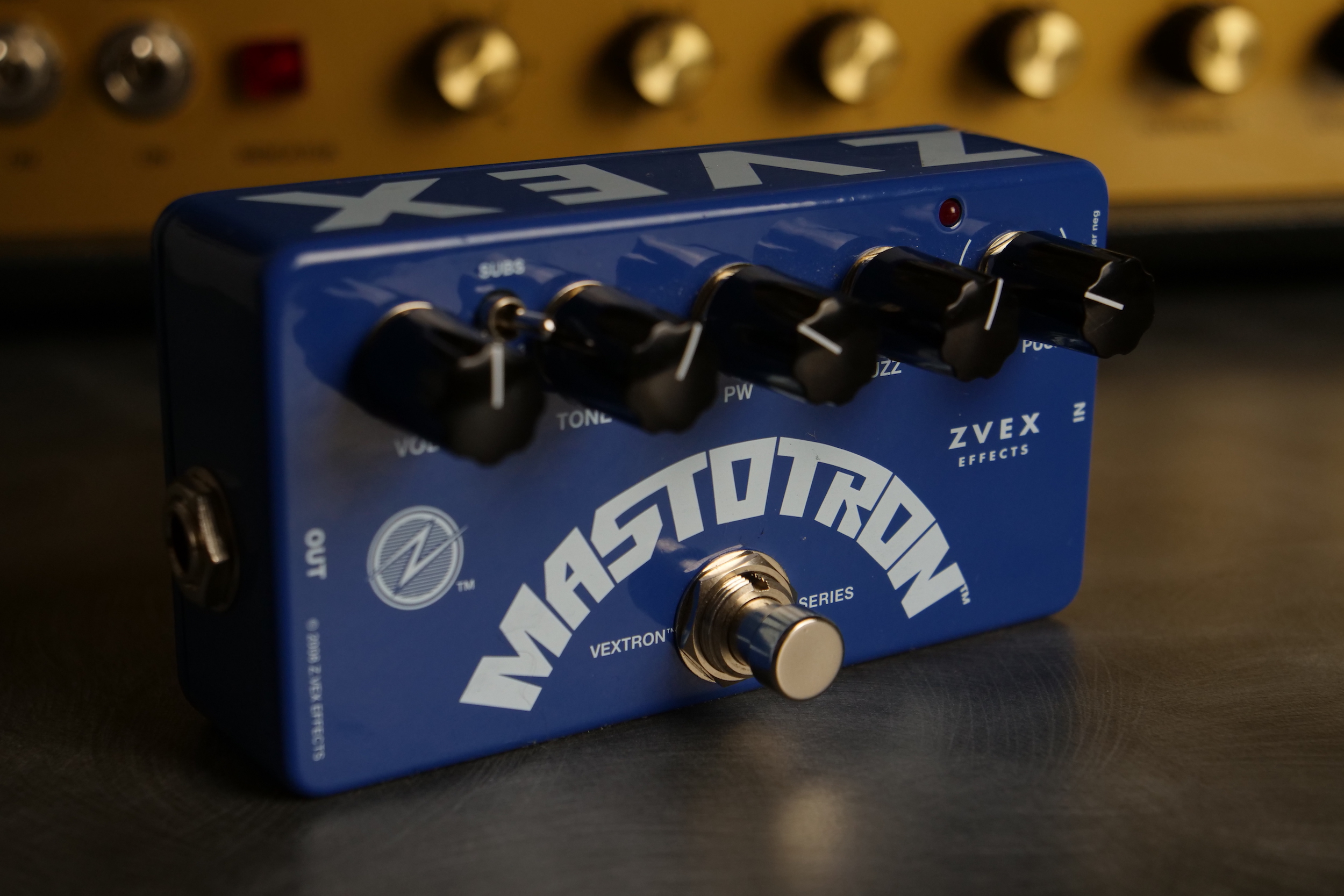 The sillicon-based Zvex Mastotron isn't designed for Bass per-se but it might as well be with the subs switch that lets you control the sub-harmonic content. Like a lot of Zvex pedals, this thing gets real velcro-y and splatty, a fuzz tone used by bands like Death From Above and early Black Rebel Motorcycle Club. Of all the pedals listed, this one has the least amount of what I personally would call "useable" sounds, but what it does do well, it does real well.
2. Distorted Bass Amp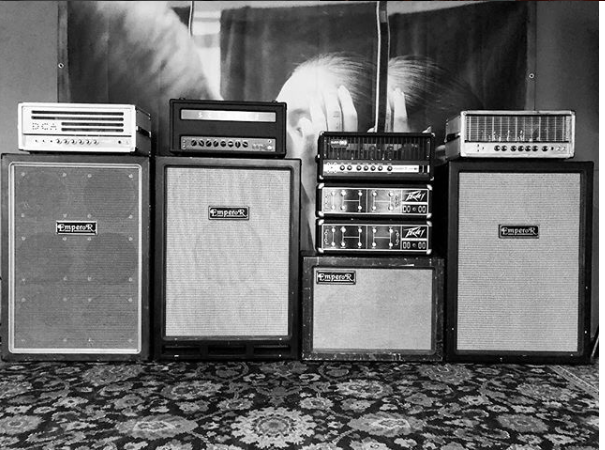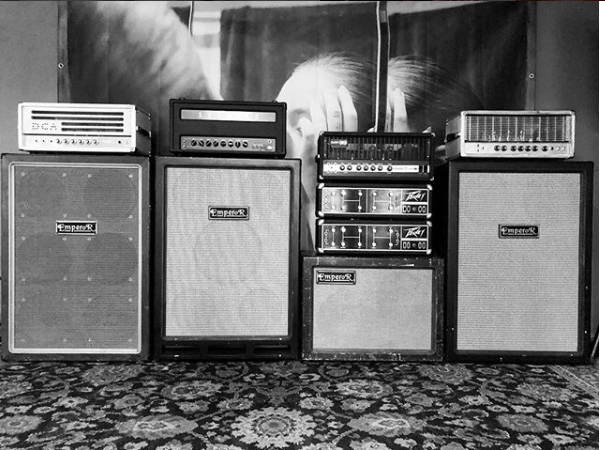 One piece of gear you can be sure is optimized for bass is a bass amplifier. The majority of bass amps keep things simple and clean and there are a number out there that have some great built-in distortion. There are plenty of famous and non-famous bass players that take this simple and easy route.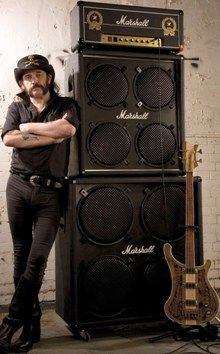 Most notable is John Entwistle of The Who. His tone is largely contributed to two things, his playing style, and blisteringly loud volume. With his Soundcity and early Hiwatt amps cranked, the natural distortion he got became an instantly sought-after tone, especially as captured on the Live at Leeds album.
A lot of rich, heavy distortion can be had with older, non-master volume amps, as long as you're willing to get loud. Tons of modern heavy bands are snatching up old vintage Fender Bassmans, Ampeg V4B, Acoustic ACC series and almost anything by Sunn to turn loud and get raw. Realizing these amps weren't holy grail vintage finds, they can be had for a good price and still offer pretty great tone. Lately though the word has been getting out, and even a Sovtek Mig that once went for $300 can be seen showing up for at least $500 or more.
Even if you don't want to deal with tubes, there are a few good solid state options. The boys from the band Red Fang all 3 use Sunn Beta heads, with bassist and vocalist Aaron Beam going straight into a solid-state Beta Bass head with the drive knobs up, getting a mean and meaty bass tone.
Or, take the Lemmy approach: plug straight into a Marshall Plexi and, despite facing being flamed with comments about your awful bass tone, just going with it and making it work.
3. Distorted Signal with Clean DI
Be it with a pedal, or from your amp once you've gotten a lean and mean bass distortion, a great way to keep the girth in your tone is to blend it in with a clean signal. Many of the aforementioned amps and dirt boxes have a clean DI out. If not, many good DI boxes have a 'thru' option, letting you park the DI at the front of your signal chain, take a clean signal out, and then go on through to the rest of your pedals.
In this example I took the clean signal I used to test out the different distortion pedals and blended it in with a touch of EQ-ing with the Z. Vex Mastotron fuzz, which was the most buzzing, compressed-square-wave style distortion. Blending in the original clean signal helped bring back in some of the low-end and dynamics back to the track.
If you're in a studio session you have the option of taking the long way around. Sure you can also pull a clean DI out of your amp or DI pedal, but there is always the option of double tracking the bass. Per conventional wisdom, you can just record a clean bass track and copy/paste it, but for a myriad of reasons it's not the best option. Plus, when does the bass player ever get to double track? Join in on the fun and law down a meaty bass fuzz riff over your clean one.
Legendary Heavy Metal producer and Converge riff-slinger Kurt Ballou is known for his ability to create crushingly brutal album tones, and his go-to trick for distorted bass is blending dual bass tracks. He will use two different amps for different frequency spectrums, or use an old Radial JD7 Injector to split signals and even blend them in a single amp with two inputs, such as an Ampeg V4. Just be on the lookout if the distortion pedal you're using reverts the polarity of the signal and adjust accordingly.
Not specific to just distorted bass, but for any good bass guitar recording, a mix of both close mics and more distant room mics will get you great results. the Shure SM57 is the gold standard for close-micing, but an AKG D112 or Sure Beta 52 are two other great options. A good place to start is putting the mic to the edge of the speaker, a few inches away, then play with the placement some and find out what works best for you. From there, setting a good condenser back off a few feet will give you a roomier, more "live" sound that you can mix in. Just make sure you keep the 3:1 rule in mind when placing the room mic to help reduce phasing issues (if your close mic is 1 foot from the amp, the room mic should be 3 feet off).
Hopefully armed with this information you can now go out and crush some skulls with your massive rumbling, grinding, distorted bass tone.