This month's Legends of Tone installment truly is legendary, featuring none other than The Allman Brothers Band. I thought it would be a great idea to feature an aspect of the band that was completely definitive to their sound: guitar harmonies! The band's catalog is chock-full of them, but I chose three songs that I thought stood out, with each bringing something new stylistically. This is by no means a "Best Of" list, nor is it the only set of exemplary tracks for harmonies. Either way, I felt this was a great way to dip into their ethos as a band for the average listener and seasoned veteran alike. Plus, it gave us an excuse to include some sweet split-screen action of each instrument's part for each song featuring yours truly.
Early Years
The Allman Brothers Band's formation came about because of Duane Allman's vision to create a band that was totally unique – it would feature two drummers (taking a page out of the playbook of bands like The Grateful Dead) and two lead guitarists. The members were all compiled from connections that the initial members had performed or recorded with before.
After a brief stint in Jacksonville, Florida, the band relocated to Macon, Georgia in May 1969 and stayed at their friend Twiggs Lyndon's apartment (which later became known as the "Hippie Crash Pad"). Shortly thereafter on May 30 and 31, they had the opportunity of opening for The Velvet Underground in Boston, which prompted them to create more material for their sets. Fortunately for us, it birthed their famous remakes of the old blues standards "Trouble No More" and "One Way Out," as well as regularly improvised live jams like "Mountain Jam."
In the year 1970 alone, the band's reputation and concert schedule exploded to include more than 300 performances, mostly to support their first two releases The Allman Brothers Band, and Idlewild South. Both had modest sales figures, but momentum continued to grow as the band played and grew creatively. Early on, they realized that the band at its core was a live-oriented group, and so they set out to release a double LP live album that would transform their careers.
At Fillmore East
At Fillmore East, recorded over the course of three nights in March 1971, became the band's breakout album. Today, some still regard it as one of the greatest live albums in rock music of all time, and it even is preserved in the Library of Congress for its cultural importance.
You know, we get kind of frustrated doing the studio records, and I think, consequently, our next album will be a live recording, to get some of that natural fire on it.

Duane Allman, to disc jockey Ed Shane
Once the album was recorded, it instantly started rising through the charts in just a matter of a days – a surprise considering their first two albums barely cracked the top 200. It eventually peaked at #13 on Billboard's Top Pop Albums chart, and sent the band off on a wild journey of fortune, fame, and drug addictions. This band's story is worth checking out more in-depth, as their sudden rise to the top and slow-mounted meltdown is the stuff of classic rock canon at this point. Needless to say, the band always made a point to arm themselves with loud and aggressive sheer tone.
The Gear
This time around, the gear list is surprisingly straightforward, so the tone hunt shouldn't be too extensive. Guitarist Duane Allman played many different guitars at different times, from Teles and Strats to Les Pauls and 335's. But easily his most famous guitar was his 1959 Gibson Les Paul Standard Cherry Sunburst. This guitar was unique in that it didn't have a pickguard, and allegedly contained the pickups from a 1957 Les Paul Goldtop guitar. This guitar made a famous appearance at the Fillmore concert. He had also used a Gibson Les Paul SG guitar, given to him by bandmate Dickey Betts so that he could use it as a backup guitar and keep it tuned to open E for his songs featuring his slide guitar work.
Allman preferred the usage of Strats and Fender amps like the Twin Reverb, or his brown Fender Concert 4×10 amp in the early days however, especially during his tenure as a session man at Muscle Shoals. Later though, he switched over to his Gibson Les Pauls paired with Marshall Bass 50 heads powering two Marshall 4×12 cabinets loaded with allegedly Celestion speakers, JBL-D120 speakers, or possibly Cerwin-Vega speakers based on whom you ask. Either way, it's a classic rig, and though it may be a running gag at the office that you really can't escape the famed Les Paul/Marshall combo, Duane shows us all just why – because it works. However, he had played many more amps and guitars at other times in his career, so this was merely a general overview.
Dickey Betts had somewhat similar gear preferences, albeit with his own changes. He had used a '68 Gibson SG guitar, as well as a 1957 Les Paul Goldtop guitar that also ended up on concerts like the Fillmore. Dickey Betts' tone can be a little easier to discern from Duane's by the gain levels – Betts preferred using his cleaner 100 watt Marshall head most of the time while Duane favored a 50 watt which broke up earlier, giving Duane's tone more bite and drive.
Listen to each player's melodic choices as well – Betts' solos were almost always a little more melodic, relying on more jazz-based scales and textures, while Duane was a more straightforward blues-rock guitarist. More than the gear, each of them had very unique styles and made these simple guitar/amp rigs sound larger than life.
Our Video
This brings us to our video, which was shot in a unique format. Because of the sheer amount of parts in each song, we decided to color code each member with a specific shirt, hopefully making it easier to follow along when viewing our video. I grabbed authentic play-throughs of most everything in each track, so there is a lot going on at once. Overall, it isn't difficult to take it all in at once, but we give you the option to follow along with any one member if you so choose. For reference, here are the colors for each member: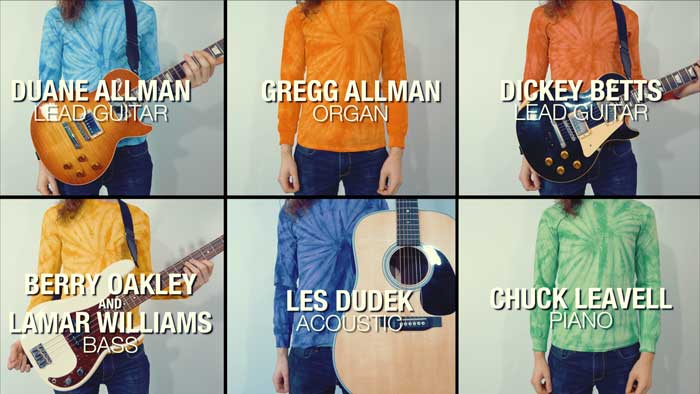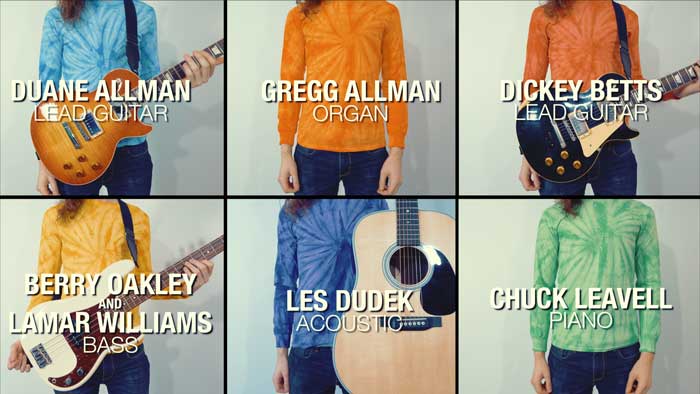 Up first was the classic hit "Jessica," but this song has a technicality – there are deceivingly no guitar harmonies but rather a three-way harmony between electric guitar, Rhodes electric piano, and the organ. Sadly, at this point in the band's history in 1973, both Duane Allman and bassist Berry Oakley had already both died from motorcycle-related crash injuries. This is a legendary harmony nonetheless, and because the band felt that Duane's spirit was captured again on that track, I found it a fitting homage to Duane and the band to include it here. I can be seen playing a 2017 Gibson Les Paul Standard guitar through a 50 watt Marshall 1987XL head paired with the Universal Audio Ox Load Box, which was great for adjusting gain saturation levels and adjusting tone with its super-usable collections of cabinet simulations. Overall it was a crucial element to our video, and sounded great.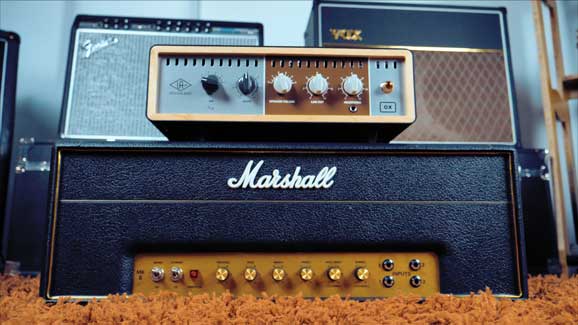 Next up was the aforementioned "Hot'Lanta" recording from At Fillmore East. The melody is a powerful take on the traditional blues song form, modified Allman Brothers style. Whenever I hear it, it is a serious struggle to get it out of my head afterwards! Check out Oakley's stellar bass work on the track, as well as the cool organ turnaround chord progression (a set of four 7#9 chords descending in half-steps). For the gear, I used the previous Les Paul and Marshall 1987XL amp combo, with a feature for our Fender Precision bass. For our great organ and piano tones check out "The Gentleman" and "Vintage Organs" plug-ins found on the Komplete 11 Select software from Native Instruments. We used the Native Instruments Komplete Kontrol S49 controller to operate these plugins.
Finally, for my favorite moment I chose none other than the classic track off Idlewild South, "In Memory of Elizabeth Reed." There's a lot I could write about this track, but I'll keep it brief. This is a standout number because of the obvious jazz influence found throughout it, which I feel helps break the band away from the "southern rock" categorization they occasionally were labeled with. This was the very first Allman Brothers song I heard, as well as learned myself not too long after I began playing guitar. Dickey Betts' guitar solo still leaves me in awe with its vision and clever usage of flatted fifth licks, so if you aren't familiar with it, set aside some time now to check it out! Pay special attention to the guitar harmonies, of course, and the absolutely classic bridge section. While I was hoping I could have featured the inimitable track "Whipping Post" too, it just simply didn't feature enough prominent guitar harmonies to make it on my list for our video.
As you probably guessed, I wish I could spend more time gushing over this band, but I hope this rundown was informative and offered a small glimpse into the classic sounds of The Allman Brothers Band. Check out our video at the top of this page to see my recreations of a few of their tunes and hear the modern equivalents of their classic gear in action! As always, feel free to comment below.