With NAMM 2018 just around the corner, we've rounded up some of the hottest rumors and rumblings we've heard through the grapevine — along with some actual, confirmed gear news — and compiled it all here, organized alphabetically by brand and complete with a handy guide to let you know how sure or unsure we are that we'll see this gear at the 2018 NAMM show. In order from most to least solid, you'll see these rumors listed as:
It's Not a Rumor! – Confirmed, or with such a solid, official tease that we're saying "hasta la vista, baby" to these rumors because we will see them later, at NAMM!
Definitely Maybe – Is the hype to be believed? Only time will tell. We're less sure about these, but we wouldn't be super surprised to see them at NAMM.
Hot Buzz – The most speculative items on this list. The stuff of forum wish posts and guesses.
So read on and get ready for the show starting January 25! Be sure to stick with the zZounds Blog and follow us on Instagram because we'll be posting pictures and updates straight from the show floor!
Behringer: Attack of the Clones?
Rumor Status: Definitely Maybe
As of January 8, it looks like at least one clone synth is confirmed from Behringer:
Just unveiled, the Vocoder and String Ensemble VC340 is Behringer's take on the Roland Vocoder Plus VP-330. The resemblance is uncanny, and we'll see how the sound compares.
In other cloning news, although their $299 Minimoog Model D clone — the not-so-subtly-named D Analog Synthesizer — has been public knowledge for a while, there seem to be even more Behringer copies in the works. Company founder Uli Behringer is a fan of posting on forums and has mentioned various projects they've been working on or have conceptualized, including clones of the ARP 2600, Oberheim OB-Xa, Korg MS-20, EDP WASP, The CAT and Roland SH-101 synths, plus Roland's TR-808 and TR-909 drum machines, but these are accompanied by varying amounts of information. We'll see if anything else surfaces at NAMM!
Boss: Katana Air
Rumor Status: It's Not a Rumor!
Boss's Katana amp line has quickly risen to become one of the most popular solid state amps out there, and the family is about to grow with the new Katana Air. Apart from sounding like a forgotten trick from Tony Hawk's Pro Skater, what makes this amp cool is the fact that it's completely wireless! Yes, we mean completely. It comes shipped with a wireless transmitter to plug into your guitar and you can operate it with an AC adapter or via batteries, so there: no wires! Add to that all the Katana modeling tone you already know and love running at 15 or 30 watts through stereo 3″ speakers and it looks like the Katana Air will carve its place within the home amp market like a Blues Driver cuts through the mix.
More Waza
Rumor Status: Hot Buzz
Every year we wonder if Boss will release a new Waza Craft edition pedal and what that will be. Though the rumor mill has been dry on this front, why not speculate and hope for Waza HM-2, OC-2 or PH-1? It could happen!
Earthquaker Devices: Westwood OVR-DRVE
Rumor Status: It's Not a Rumor!
Update: The Westwood Overdrive is in stock and you can order yours at zZounds!
Earthquaker just announced their "translucent" overdrive pedal, the Westwood, and while our video is less steamy than the teaser vid EQD put out, we think it gives a good look into what this OD pedal can do. Check it out below!
Fender: Ryan Adams Signature Strat
Rumor Status: Definitely Maybe.

Ryan Adams has been teasing photos, tweets and videos of an alleged prototype signature Stratocaster from Fender. In keeping with his signature VCR pedal by JHS, the Strat appears to be heavily influenced by '80s aesthetics, what with the unique binding, all-black aesthetic and the "Strat" logo borrowed from the actual '80s model HM Strat. It definitely oozes 'tude, but does it own the tone zone? We'll see.
Gibson: NAMM No-Shows
Rumor Status: It's Not a Rumor!
NAMM 2018 will see a lot of of new things, I mean, that's the name of the game after all, but it won't see anything new this year from Gibson. The guitar giant confirmed it will not be making an appearing in Anaheim this year. Instead Gibson (and its subsidiary brands like KRK, Philips, Onkyo, and Tascam) will make their grand showing at the 2018 CES (Consumer Electronics Show). Last year they pulled a few moves at CES, throwing an unannounced guitar on the showroom floor, which later turned out to be the Modern DC.
This decision comes hot off the heels of their announcement to stop production on the Cakewalk music software, stating ""The decision was made to better align with the company's acquisition strategy that is heavily focused on growth in the global consumer electronics audio business under the Philips brand."
Gibson also recently sold their Memphis factory to look for new digs. Their public statement read "A new facility will allow the company to improve the product quality, increase production capacity and potentially increase employment in the area," and Gibson has said they will remain in the 'greater Memphis area'. The main factory occupies only a small section of the giant 127,620 square foot complex, so perhaps this move is an effort to find a home that's a better fit.
Is Gibson just trying out something new with CES as its main tradeshow squeeze, or are they possibly reigning it in for a year, taking some time to work on some bigger and better things? It seems only time will tell.
Guild: The Jetstar Flies Again
Rumor Status: It's Not a Rumor!
Guild seems to be starting a streak with releasing reissues of '60s retro guitars. NAMM 2017 saw the T-Bird come back to life, and it seem this year its wacky offset brethren, the Jetstar is on its way back as well.
Guild recently announced five new models coming this year: the F-55 jumbo acoustic, Starfire Bass II in flamed maple, D-240E in flamed mahogany, Starfire II ST and the Jetstar. The Jetstar reissue features a mahogany body and set neck, 25.5″ scale length (lengthened from the original), pau ferro fretboard and Guild LB-1 humbuckers for versatile tones. It comes in white, black and seafoam green. And check out that scroll-shaped headstock!
Ibanez: New AZ Guitar Series
Rumor Status: It's not a rumor!
Ibanez strummed up some formidable buzz since teasing out these photos of a new guitar model. The Superstrat pioneers seem to be re-thinking that concept for 2017. This new model is less pointy than an SG, with a more subtle finish, and what we're guessing is a roasted maple neck and fretboard, which by the way is going to be the it wood of 2017, what with CITES regulations against rosewood and what not. It appears Ibanez is going after Suhr and other boutique superstrat crafters, and we can't wait to see what they've got.
Nu TubeScreamer
Rumor Status: It's Not a Rumor!
Update: The Ibanez Nu Tubescreamer is here and you can pre-order yours at zZounds!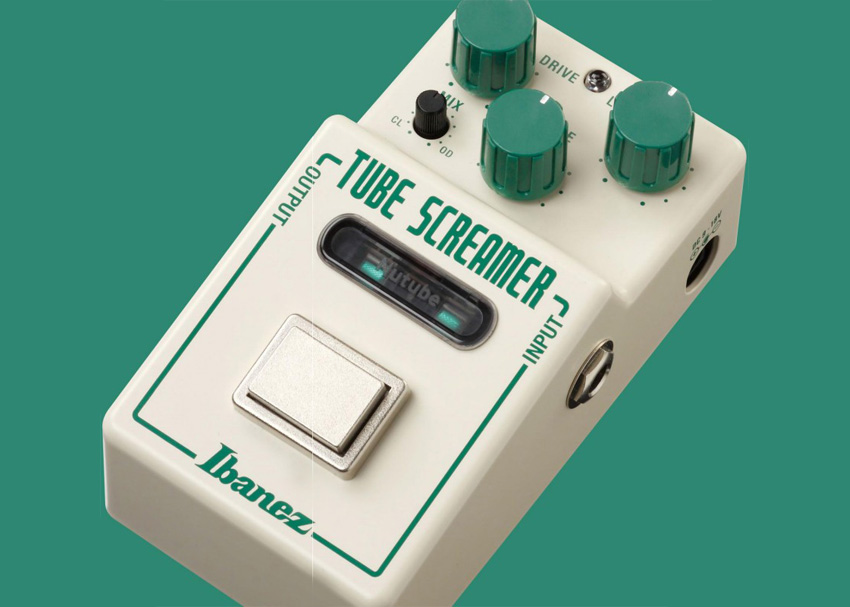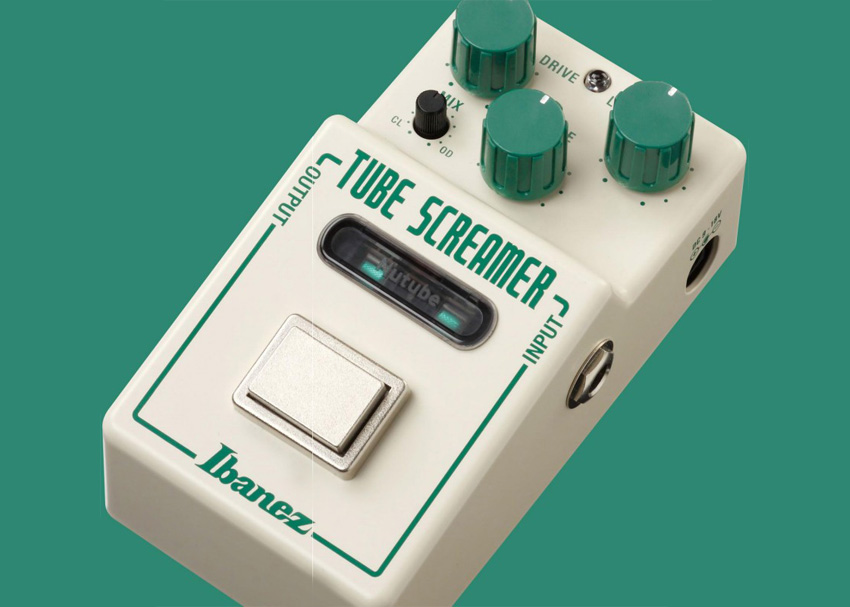 The Nu Tubescreamer pairs Korg's NuTube technology with Ibanez's time-honored overdrive pedal, and you can lean more about it here!
Korg: P——-?
Rumor Status: Hot Buzz.
In his company's microKast podcast, John McCubbery, Korg's VP of marketing and international sales, made mention of a new synthesizer set to be released at NAMM 2018. From what we gathered, the name of the new synth is eight letters long and the first letter is "P." Oh, and it's being worked on by the same team behind the minilogue and monologue. And it's going to be "mind-blowing." Stay tuned.
Laney: Tony Iommi LA30BL Head and LA212 Cab
Rumor Status: It's not a Rumor!
Black Country Customs is Laney's custom shop, gathering their top designers and technicians to build products the way they used to "back in the day," and it was recently announced that they've set their sights on the LA100BL, the classic Black Sabbath amp that saw a limited run reissue back at NAMM 2017.
A mostly unknown amp, this 30-watt version of the BL series head never made it past the prototype phase, as back in the late '60s and early '70s a 30-watt amp was just too underpowered for what was needed — in fact, Laney even made a 200-watt version of the amp back in the day. Now in modern times, low-watt tube amps are king, as everyone wants saturated tube tone at a lower, more workable volume.
Pulling the front end of the 100BL, the Black Country Custom shop worked it down with a pair of 12AX7 preamp tubes running into two EL34 power tubes. Working off a simple 3-band EQ and dual bass and treble inputs for different gain textures (channel jumping) the amp is a great pedalboard platform, and we're willing to bet it would sound great with a Rangemaster-style boost in front.
The limited-run head will sell for around $1,190 and you can pick up a matching 2×12 cab loaded with Celestion G12M-25 Greenbacks for $850 or so.
Marshall: Something with EL34s
Rumor Status: It's not a Rumor!
Coming soon……. pic.twitter.com/jUNShqiNqB

— Marshall Amps (@marshallamps) December 18, 2017
There's not much to go on from this clip posted by Marshall. We know a new product is coming is coming out January 25 2018 and that it will employ EL34 tubes. But being that EL34s have been the undisputed power tube of choice in Marshall amps since forever, this doesn't tell us much. There's not even any audio! We're not sure if this is going to be an amp re-issue or an entirely new product, but our guess is on the latter. It could even be a tube/modeling hybrid utilizing their CODE amps…too early to tell!
Moog: DFAM Drum Machine
Rumor Status: It's Not a Rumor!

It's lit DFAM! While the Drummer From Another Mother itself was first released as a limited run at last year's Moogfest, it's now out and available for everyone! Check out the video below for more on what it can do.

TC Electronic: JUNE-60
Rumor Status: Hot Buzz.
At GuitCon2017, TC Electronic revealed a pedal based on the chorus section of a Juno-106 synth. The pedal features a very similar color scheme to the '80s synth, the same two-button layout, and even bears the name JUNE-60! So far, there's been no official release date for this pedal, but we expect to hear more by NAMM time.
Vox: More Production Coming Back to UK
Rumor Status: It's not a Rumor!
Following a successful launch of 60th Anniversary handwired AC15s and AC30s, the venerable British amplifier company is heading back to its roots and has announced a decision to bring back a few highly skilled jobs from Vietnam back to the UK, per The Evening Standard. It has yet to be revealed what this will mean gear-wise, but as anyone who has played a handwired Vox amp knows, the tone they create is a beautiful thing.