Welcome to Beat Connection, a series dedicated to promoting modern and vintage dance styles the only way we know how…by providing you a musical starting point to help you create that beat. In our previous posts, we took an in-depth look at all the tools available to help you create a beat and we've begun taking you on a journey to what I'd dub "foundational beats." These foundational beats are standard rock, pop, funk, R&B, and dance beats that every producer should know the ins and outs of. In our previous post, we showed you how to get funky. Today, it's time to get punk-y…
Destroy – nothing – the most important thing

Brian Eno, from Oblique Strategies
Punk music is visceral. Whether you're a proud member of the English school of punk, with roots in the snarl of the Sex Pistols, The Clash, and The Buzzcocks, or a card carrying member of the American school led by The Ramones, The Dead Kennedys, and Television, no matter your legion, there's a certain rhythm to punk music that screams: "be aggressive." Even as punk gets weirder, more experimental, and ever more romantic, in the hands of groups like Pere Ubu, The Talking Heads, and The Associates, one thing you don't have to be to make a decent punk groove is classically trained. You have to keep it simple, you have to keep it heavy and moving. Everything else builds around that. Now, let's see how you do that.
Just a refresher, in case you haven't gone back to the Beat Connection archives, what we're going to use to help you create beats is something called Grid Notation. If you don't know what Grid Notation is, be sure to check out the first post in this series which you can find by following this link.
By understanding and sequencing the following three drum patterns (A, B, and C) you should be able to expand upon each by adding additional parts, removing hits, or layering other instrumental grooves over them. Straightforward and very musical, you can almost hear the sound of a roaring guitar getting ready to wail over them. As always, the A section will correspond with the main pattern which normally the verses or main melodies play over. The B section will correspond with the groove you'd normally hear playing during the chorus or pre-chorus of a song. Finally, the C section will always correspond with the break in a song. C sections are perfect for building bridges between song sections or to break up the monotony of any other sections.
If you need any refresher on what A, B, and C sections mean (and how songs are built using patterns) be sure to check out this previous Beat Connection post explaining the ins and outs of Song Structure.
PUNK RHYTHM – A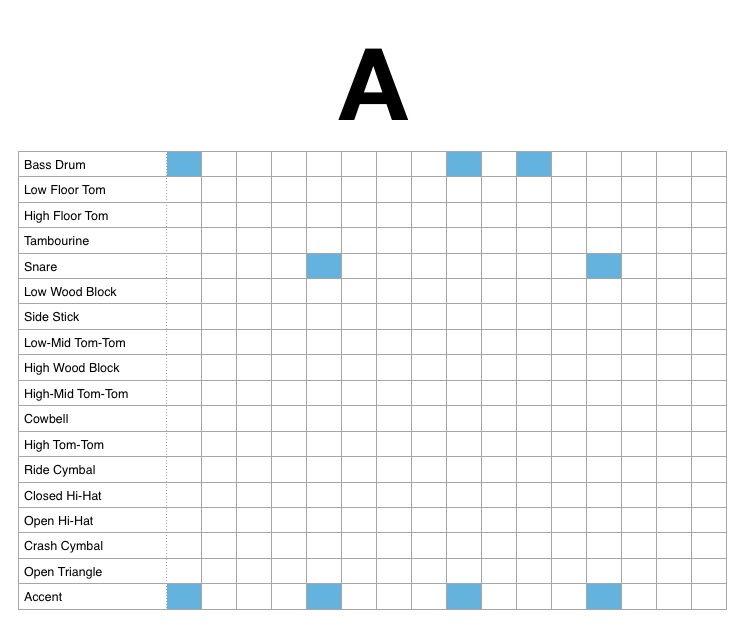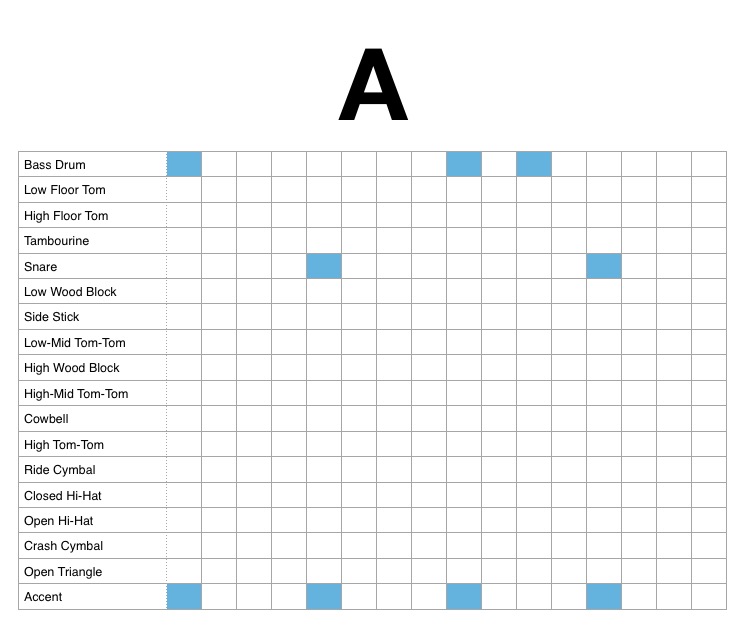 There's something so primal about a good punk beat. Look at the groove above. Forget any embellishments, forget any fancy rolls or drumming. One strike per beat, alternating between striking a kick and a snare, only two measly successive kicks in the third beat serve to accent how little technique is needed to make punk music. Gravitating from 120-170 BPM (and above!) in tempo, the faster you play, the more this beat opens itself up to you.
Showing its roots in the hypnotic Teutonic "motorik" groove of bands like Neu, Can, and Faust, this beat — in the hand of English punk bands like The Sex Pistols and their legion — allowed anyone to drum a steady beat, and either speed up or slow down on a dime, allowing the rest of the band to fill in all the cracks in the rhythm and set the groove on whatever blistering pace they deemed necessary.
Although bands like Neu took inspiration from decidedly less bluesy inspirations, drawing equal parts influence from early American minimalism rock like the Velvet Underground and the Fugs or the simple bar-room, oom-pah melodies of German Schlager music, what these bands were able to inspire in the first generation of punk bands was the desire to strip things bare, down to the essence of rock music.
How do you tie this groove to America and American punk? Listen to Neu's "Hero," a massive inspiration for a young John Lydon, and then listen to The Stooges' "Down On the Street" below. What you hear are two equal sides of the same proto-punk recipe, with an underlying groove you would find has fingers tied to the music of Chuck Berry and Bo Diddley. Hypnotic and heavy, this simple beat is perfect to build upon.
PUNK RHYTHM – B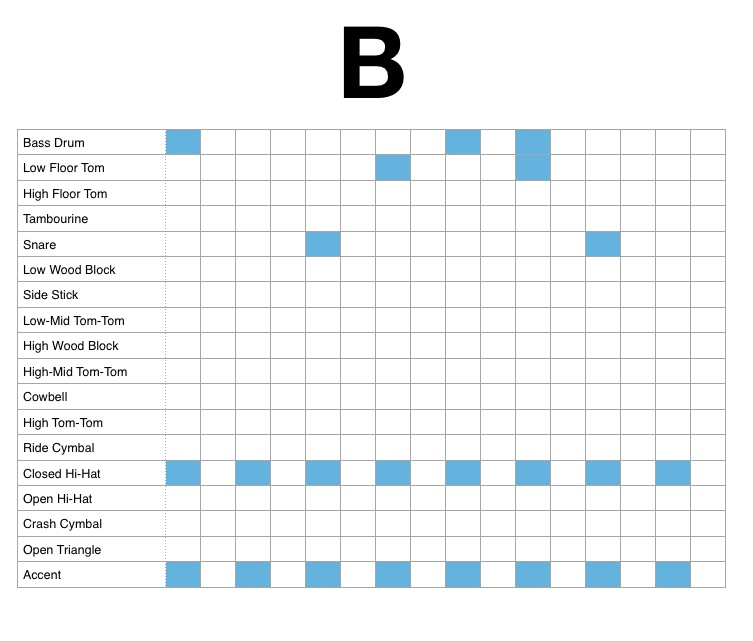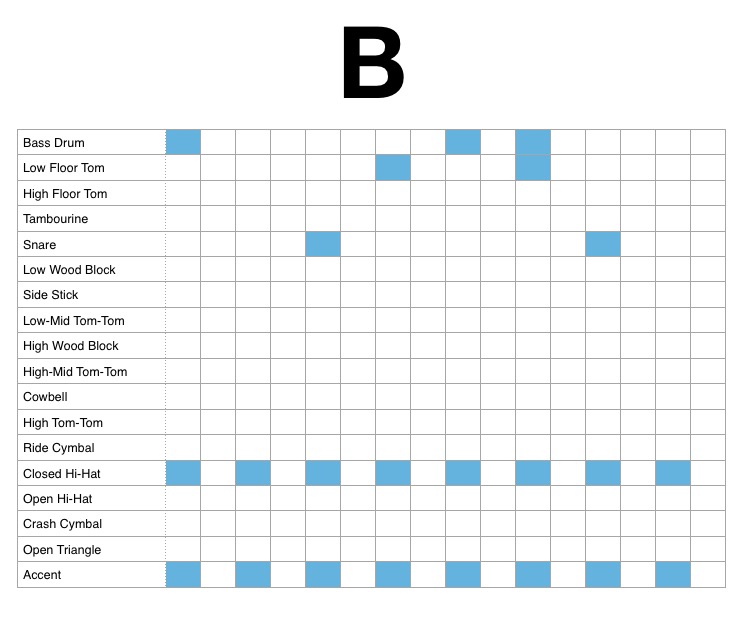 The beauty of a punk beat is embellishment. Rarely does the underlying beat change for a drummer. What a drummer does do is start filling in the cracks in the beats with additional hits. The only thing a drummer really stresses about is stressing every other quarter note. The first and third beats may always get your attention, but the little rolls that keep the beat moving expose themselves in the above beat. Typically the bass line uses these spots to cycle through a melody.
Notice how a steady closed hi-hat pattern further cements the time keeping function of the beat. Then notice the introduction of two statement-making low toms, accentuating the middle part of the bar, as if to lead the listener to the cyclical, droning/hypnotic guitar melodies that are classic stapes of punk music. Together, these two tweaks to the basic groove, present an element of draw that allows the music to feel like it is surging forward with momentum.
PUNK RHYTHM – C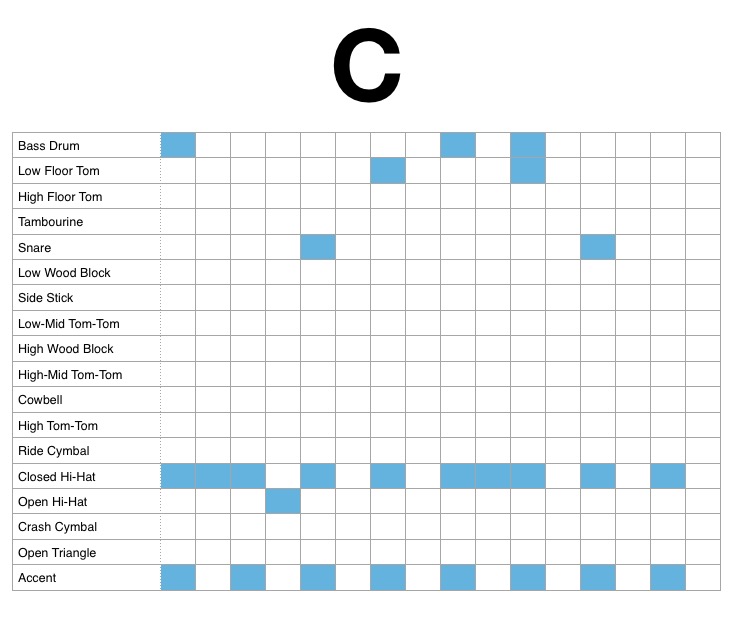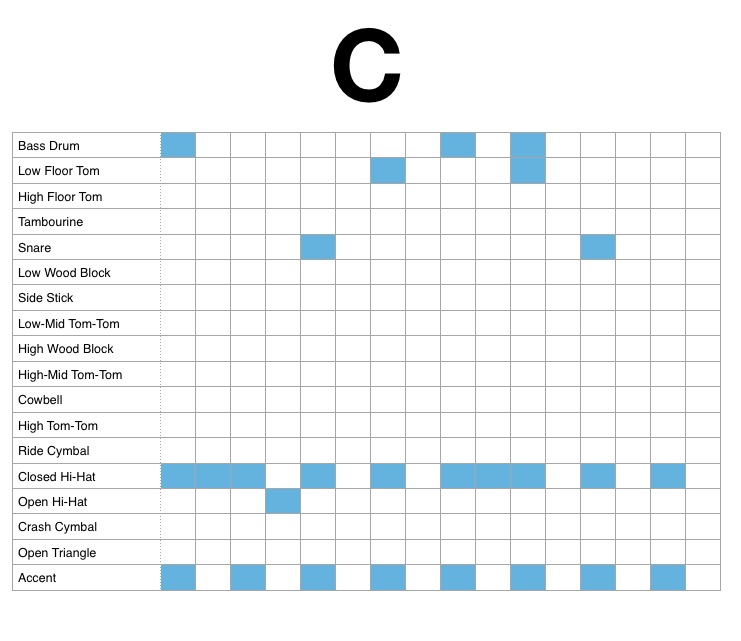 This final rhythm really highlights how punk music masters the art of subtlety, shockingly enough. You wouldn't realize it, but with just a tiny addition — in this case one open hi-hat hit — and even more gap-filling beats with an existing closed hi-hat cymbal, further momentum is perceived in this same rhythm. Using this rhythm as a further launching point, can you imagine how much more momentum you can add as you fill even more of the gaps? This is the sturm und drang essential to creating a blistering punk beat.
PUNK RHYTHMS – IN ACTION
Once again, here's where I leave you with an example of what you can do with these three rhythms. Using the same patterns shown above, I've created an Ableton Live session, which you can download below, that uses the Kit-DMX Classic drum rack (available for free here) to create an actual song. For my take, I tried to capture the essence of that drive propelling a good punk song. Rather than blast you with a shot of guitars, I highlighted the aggressive rhythm a drum and bass usually adds to any punk song…or any song, quite like mine, that is influenced by punk musical aesthetics.
Once the guitars do make an entrance, near the end of the track, my hope is that it's too inject one final blazing bit of emphasis to take the song over the edge. Not to be missed is what a bit of musical noise — courtesy of Korg Gadget's Chiangmai FM synth — can do to make any track sound a bit less polished.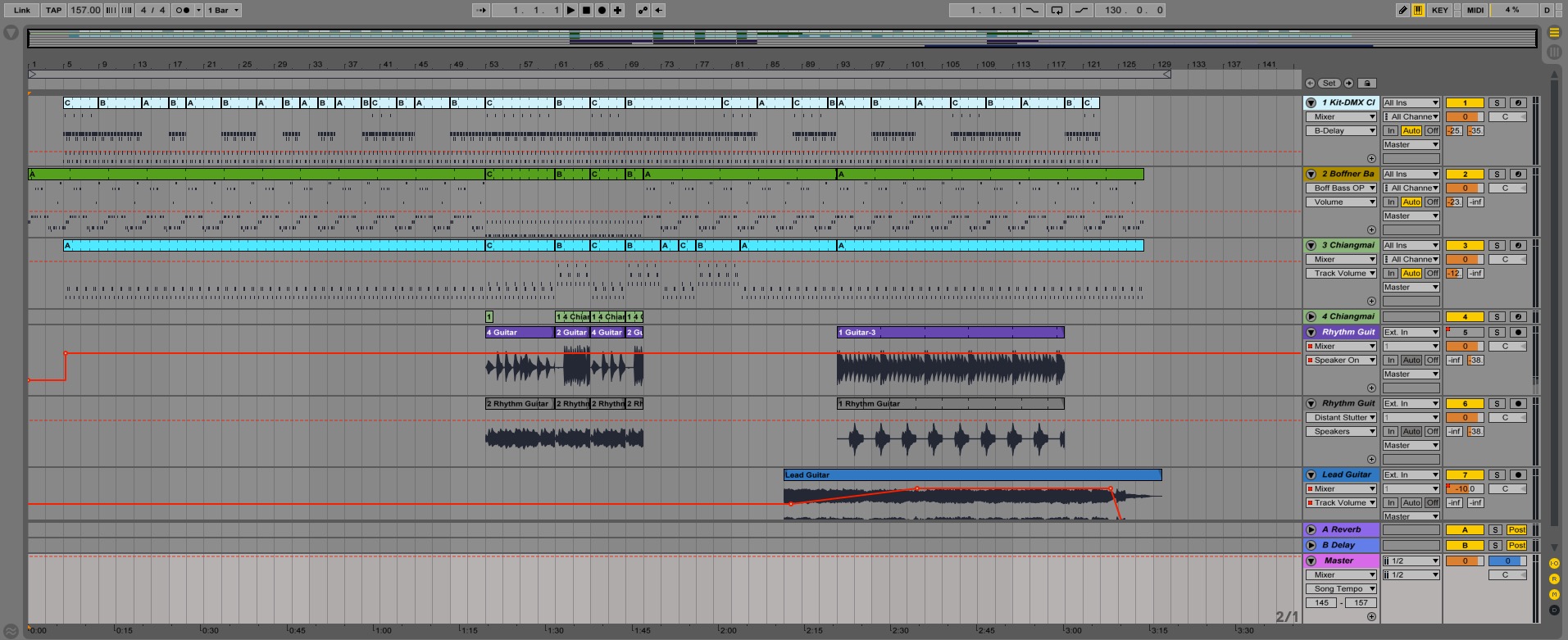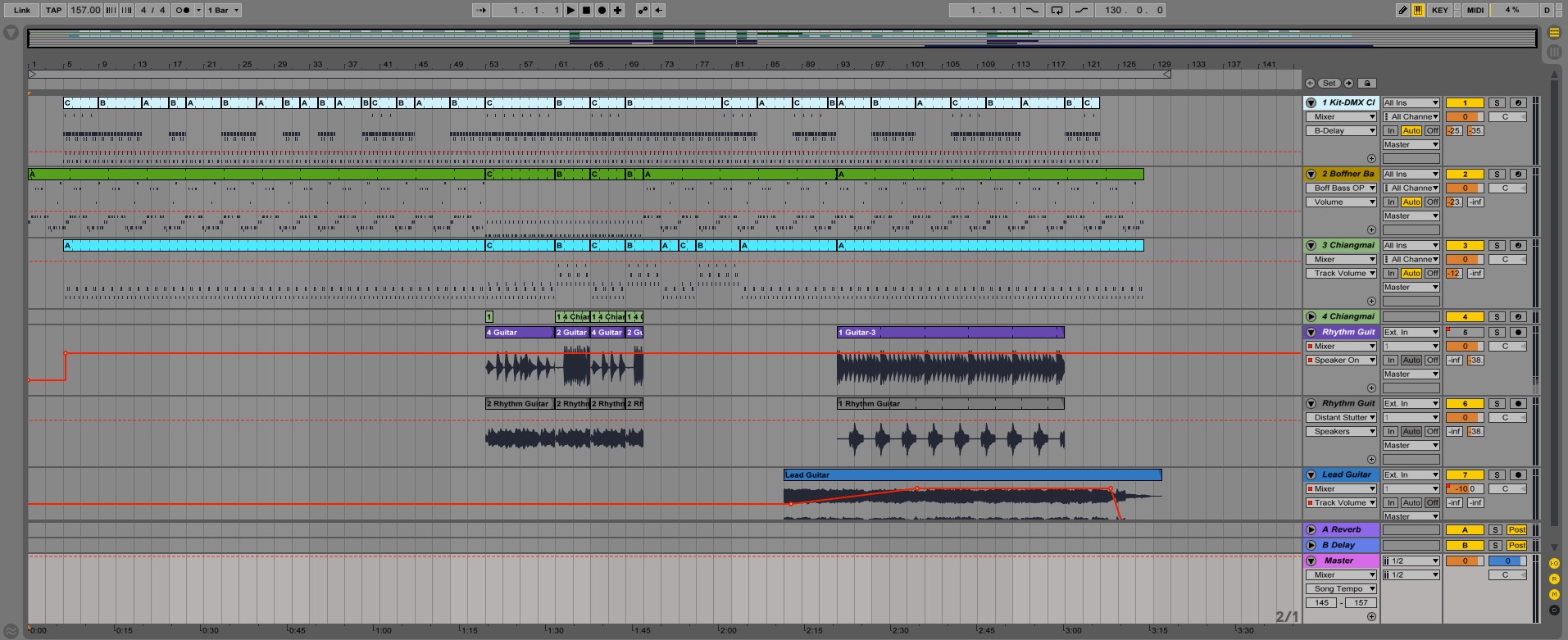 DOWNLOAD ABLETON LIVE PROJECT FILE – PUNK DRUMS
All images and sound samples by author.