Welcome to Beat Connection, a series dedicated to promoting modern and vintage dance styles the only way we know how…by providing you a musical starting point to help you create that beat. In our previous posts, we took an in-depth look at all the tools available to help you create a beat and we've begun our journey to what I would dub "foundational beats." These are standard rock, pop, funk, R&B, and dance beats that every producer should know the ins and outs of. Last time, we began with rock beats. Today, it's time to get funky…
Turn it upside down

Brian Eno, from Oblique Strategies
Funk music has a certain groove to it that other music doesn't quite have. A feel derived from hybrid ideas coming from roots in jazz, R&B, rock, and Afro-Cuban music, what you're hearing in funk music, most likely, is a product of that which you don't hear. This feeling is what the following three rhythms will try to capture — displacement. With "Rock" grooves you expect certain rhythmic emphasis to always land on the same beats — four to the floor, a pulsing meter that always lands on the fourth beat. With funk, things are different. Syncopation, hitting drums off of a steady beat, is what makes a great groove sound funky. Let's explore how you do that.
Notice this:
Just a refresher, in case you haven't gone back to the Beat Connection archives, what we're going to use to help you create beats is something called Grid Notation. If you don't know what Grid Notation is, be sure to check out the first post in this series which you can find by following this link.
By understanding and sequencing the following three drum patterns (A, B, and C) you should be able to expand upon each by adding additional parts, removing hits, or layering other instrumental grooves over them. Straightforward and very musical, you can almost hear the sound of a roaring guitar getting ready to wail over them. As always, the A section will correspond with the main pattern which normally the verses or main melodies play over. The B section will correspond with the groove you'd normally hear playing during the chorus or pre-chorus of a song. Finally, the C section will always correspond with the break in a song. C sections are perfect for building bridges between song sections or to break up the monotony of any other sections.
If you need any refresher on what A, B, and C sections mean (and how songs are built using patterns) be sure to check out this previous Beat Connection post explaining the ins and outs of Song Structure.

FUNK RHYTHM – A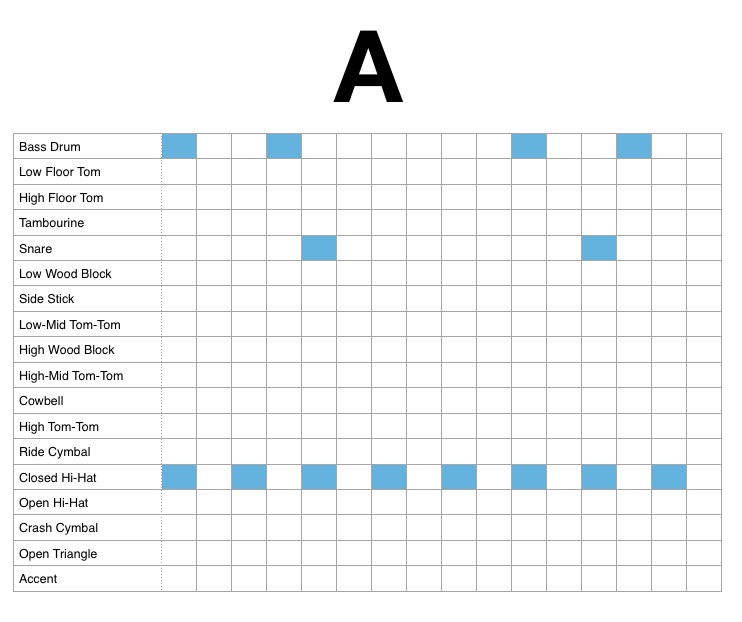 For all intents and purposes, the most important part to any funk groove is where you place your bass/kick and snare drum hits. Hi-hats (for the most part) act as time keepers in funk music. Above, notice how other than the first hit of this pattern, the kick drum lands one beat before or after the underlying 4/4 groove set by the hi-hat. Then notice how the snare finishes the thought you normally would hear the kick drum cement.  A musical "call and response" makes a world of difference when you want to make anything either have a laid-back feeling or build anticipation. If you have bass lines, hit them on the off-beats of the measure, try to land them on the same beats as the kick and snare.
FUNK RHYTHM – B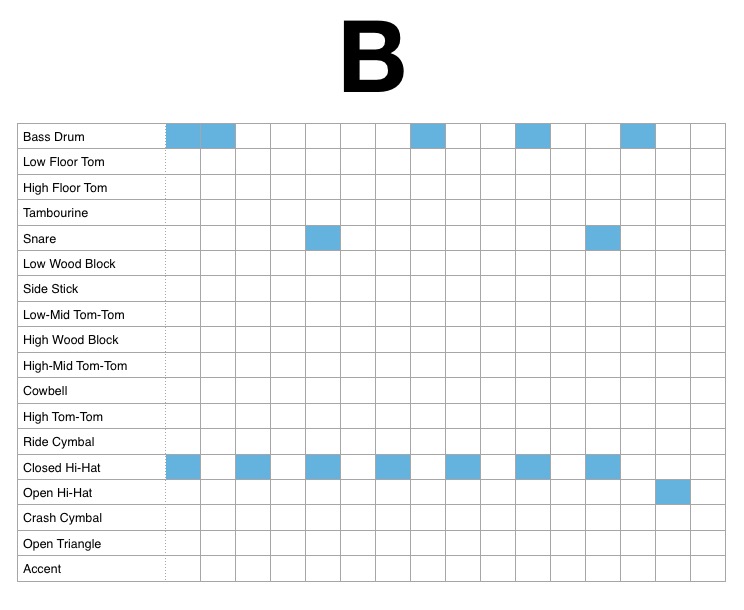 This second rhythm shows the beauty of a funk arrangement. Little things, like moving the second kick hit up a bit, or adding another hit right in the the crack of the hi-hat groove can give the beat a pulling feeling. To further enhance that pull, notice how one closed hi-hat gets replaced with an open hi-hat. This small change achieves another musical sleight-of-hand. Simply by slightly opening a closed pattern, you're allowing the listener to build a pocket where they can reset their hearing. This little pocket allows you keep a static groove active when you add busier elements around it or drop off sections playing through it.
FUNK RHYTHM – C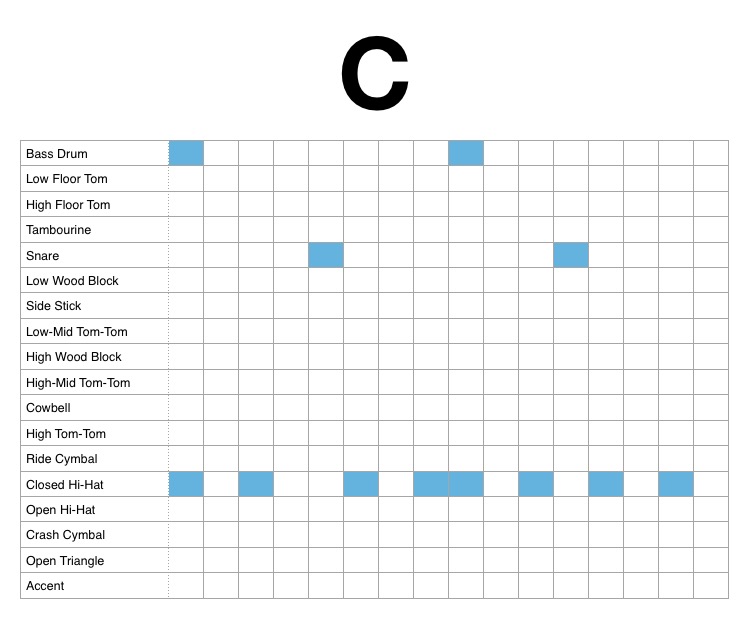 The final rhythm ingeniously presents a different feel by building off ideas used in the prior, main grooves. First, you'll notice how in this groove the snare has remained the same in all three rhythms. What breaks the monotony of a song using these three rhythms is that what you assume is keeping time (the hi-hat), slyly isn't. Here the snare establishes itself as the glue holding all the patterns together. One hit on the beat and one behind it, it simply announces the off-beat feeling of the whole shebang.
As the kick goes even more straight, it's no longer swinging back or forward. Just a tiny change, like shifting the third and fourth hi-hats forward, breaks the whole feel of the groove and allows you to bridge the song wherever you want it to go. The time keeper has voided time. And you, as a musician, can choose whether to follow the same groove or flip it, and turn it around.
FUNK RHYTHMS – IN ACTION
Here's where I'll leave you with an example of what you can do with these three sections. Using the same patterns shown above, I've created an Ableton Live session, which you can download below, that uses the Kit-Core 707 drum rack (available for free here) to create an actual song – one that adds more complexity than the rhythms imply. On my own try, I ramped up the laid-back aspects of the groove. Starting at 110 BPM, and giving myself a finish line — the hint is in the drum kit name — I added FM pads and Phase Distortion melodic synths galore, some Rhodes piano, and a wayward horn trying do its best to shift the feeling of the whole song (depending on the rhythm). From funky to meditative, the implied groove should always be there.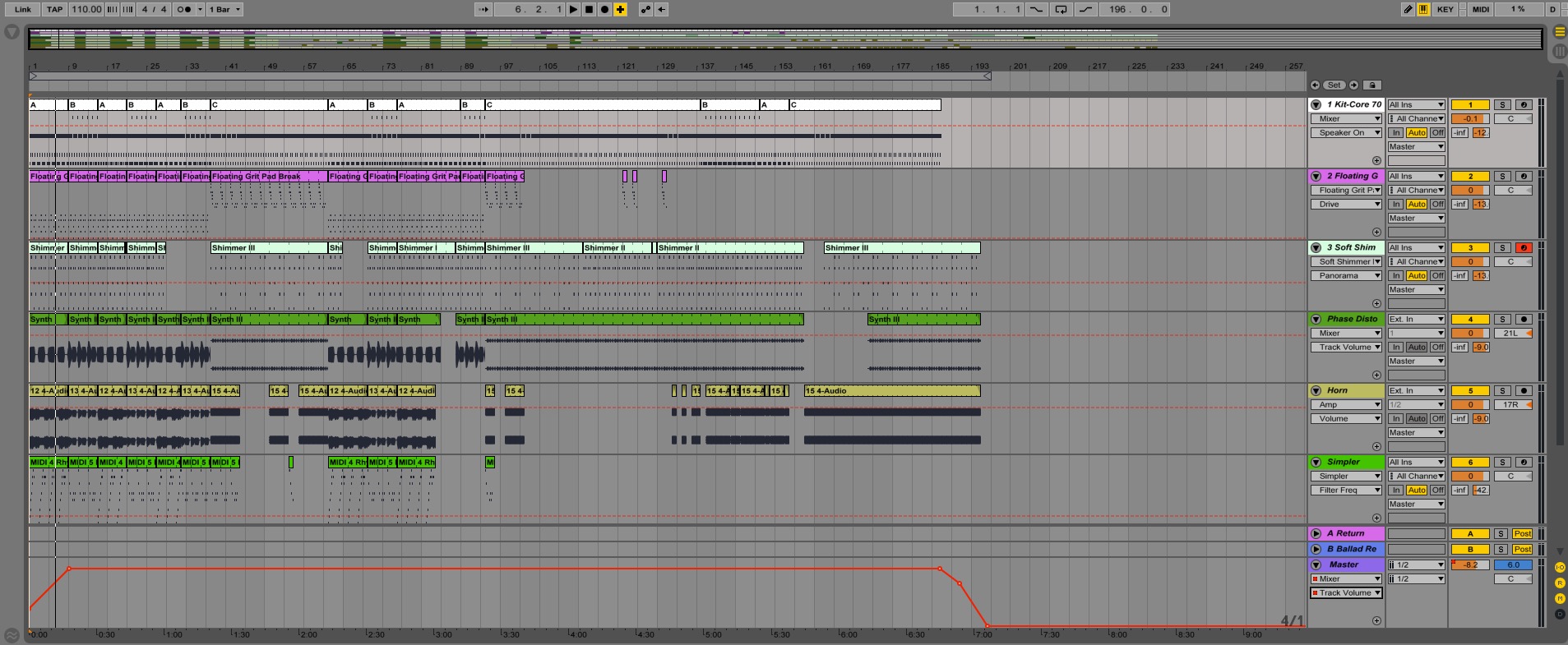 DOWNLOAD ABLETON LIVE PROJECT FILE – FUNK DRUMS
All images and sound samples by author.