Tom "TV" Jones is one of a handful of elite luthiers and pickup winders guitarists know by name. His interpretation of the classic Filter'Tron pickups found in vintage Gretsch guitars are regarded as the best out there –Gretsch themselves commissioned Jones to develop pickups for their higher end models, and TV Jones pickups are loved by by country, swing and rockabilly aficionados, as well as alt rock guitarists who appreciate their unique tonal character.
We sat down with the Filter'Tron whisperer himself to talk about his early days, working with Brian Setzer, developing his line of Filter'Tron and Starwood pickups and what's coming next from TV Jones.
---
zZ: How did you get into your job at The World of Strings? I know you had some big-name clients, what was it like to work with them?
TJ:  I was lucky enough to get in through my friend Jim Bybee. It was the early 1990's and he was working part-time at The World of Strings. He said, "Hey, you should come in and see if you can get a job." I believed I surprised him by showing up for an interview. He probably thought I didn't take him seriously. For the interview I brought in a guitar that I had recently built. It was a Les Paul-style guitar with a carved top. The owner of the shop, Jon Peterson, looked at it and said "Yeah that's nice work, but it needs some improvement." He was honest with me and I really appreciated it. I got the job and I was there for almost 3 years. That's where I met my friend Saul Koll of the Koll Guitar Company. Saul and Jon taught me so much. I saw myself working there for years, but work piled up at my home shop and I had to give my notice and start TV Jones. It was November of 1993.
zZ: What style of guitars were you building at the time?
TJ:I started out building guitars based on the Gibson style of construction. So I thought I'd I make a double-neck guitar; that was my first attempt. I should've started building simpler guitars. Working at The World of Strings helped me improve my woodworking skills. Basically, I learned to repair stringed instruments at a violin shop. What more could you ask for? I re-set necks on acoustic guitars, messed around with banjos, re-fret bouzoukis, carved arch top plates, tweaked mandolins, sprayed lacquer, and built a lot of guitar necks. One was a '52 Les Paul that had the headstock broken off, so I built a new neck for it. I think that was my first major project. I kept a journal for almost three years that I refer back to frequently.
zZ: You had a lot of experience before you came into the shop, is that right?
TJ: Yeah, I had been taking guitars apart since I was a teen. Later, I watched Dan Erlewine's Stewart MacDonald guitar repair videos. I learned so much from Dan's videos. I moved to the next level by working for The World of Strings. I perfected my woodworking skills, learned to lacquer, properly carve archtops, sharpening tools – the whole bit.
zZ: Do you remember who were some of the first real rockstars that came through that shop?
TJ: I was at the shop for a short while and in walks Rich Modica with a tan colored vintage Gretsch case with a red bandana wrapped around the handle. Rich Modica was Brian Setzer's guitar tech and he lived in Long Beach where The World of Strings was located. I was just blown away because Brian was, and still is, one of my favorite guitar players. I asked if that was Brian's guitar, and Rich opened it up and I couldn't believe what I was looking at. Brian's faded orange '59 6120!
zZ: Do you remember what it was in the shop for?
TJ: Yes, I believe the neck was back-set. It needed to be heated to soften the glue joint between the fingerboard and the neck to give it a straighter profile – little bit of a relief. That was the guitar that had four knobs down near the f-holes. It was given to Brian by Steve Miller.
zZ: Did you do the work on it?
TJ: Saul worked on Brian's guitars in the beginning, but I eventually worked on them after Saul relocated to Portland, OR. I remember I did my first major work for Brian in August of '93. That was the same week my first daughter Natalie was born. I was on vacation that week, got the call, and decided "Wow, I better do this!" Next year will mark the 25th year I have been working with Brian.
zZ: So were you into that Filter'Tron sound before you started working on those guitars?
TJ: No, I was always a rock blues player and still am. Tone has always been important to me. You listen to Jimmy Page on How The West Was Won — what a tone he was getting back in '72. That type of tone always attracted me to guitar, but then I played Brian's 6120 that came into the shop, and just thought it sounded so amazing — the bass response was so tight and clean. Even with thick gain added to it. At the time, I was watching Brian and the Stray Cats play a lot live. His tone was over the top, just on the verge of breaking up. It was just beautiful. So that's when I noticed how amazing the Filter'Tron is. It has a natural compression to it.
zZ: How would you define the tone of a classic Filter'Tron?
TJ: It has this natural subtle compression over the top end with a quick response. Especially in the bass, which comes in really handy if you're adding a lot gain.
zZ: So you had developed a taste for Filter'Tron style pickups and in 1999 decided to start your own pickup line?
TJ: I was building a bunch of jazz seven-string guitars at the time, and I built my own pickups for them. I wanted each guitar to have their own personality. I found designing custom pickups to be so interesting. In '98 I was introduced to Fred Gretsch through Rich and Brian to develop the Gretsch Hotrod Guitar pickups. I thought "Boy, this is fun!" So, I decided to invest in tooling, source parts, and get busy. I wanted to make sure it was okay with Fred Gretsch. We worked out a deal to use the Filter'Tron, and Hilo'Tron names in a simple agreement. So, about 1999 it all started and within months it just exploded! I credit "The Toneman" Don Butler, who started a post on gretschpages.com with all the interest and chatter that followed.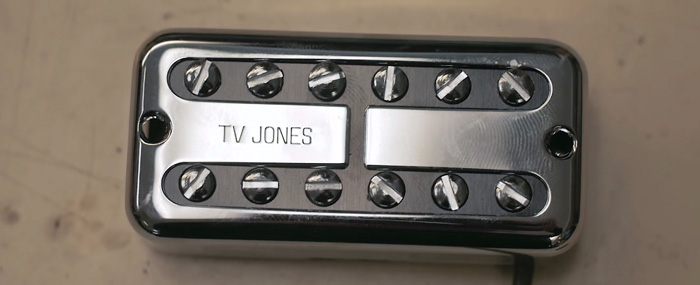 zZ: What was the production like back in those early days?
TJ: I made the Filter'Trons out of my shop in Whittier, CA. Bobbins were made on my Lindley jig borer and a routing jig I came up with. We made thousands of bobbins out of Delrin before I invested in injection molds. Then Gretsch started ordering hundreds of sets, so I had to start hiring employees. It was hard to keep up with the demand.
zZ: It's cool that Gretsch was willing to work with you.
TJ: Yes, it was cool of Fred to give me the OK and offer support. In 1999 I started consulting for Gretsch. Fred wanted me to work with his recording artists on their signature-line Gretsch guitars. I also helped design the Gretsch Electromatic guitars and pickups. At one point in time I probably had close to 100 sample guitars in my storage at home. I still work with Fred and have accumulated thousands of pages of designs and correspondence over the years.
zZ: Filter'Tron pickups are most often used in semi-hollow and hollow-body guitars. What is it about that combination?
TJ: Hollow and semi-hollow Gretsch guitars have used Filter'Trons since late '57, so it seems to be the norm. But, our Filter'Tron pickups are used in a lot of solid body guitars – maybe more often then hollow, and semi-hollow guitars.
zZ: So the thinner magnet wire has a direct effect on the treble?
TJ: Yes there's a greater length of magnet wire around the coil. Here is a simple way to think of it. Imagine little treble dudes running a longer distance and they get pooped out. Ha ha.
zZ: That's a really good metaphor.
TJ: That's just a funny way to explain it. There's about the same amount of copper wound around a TV Classic vs. a TV Classic Plus, but there's a greater length to the thinner wire which has a higher resistance, so more inductance, etc..
zZ: Obviously in your own guitar line you've got solidbodies with Filter'Trons, so what kind of qualities would you recommend if someone wants to put a Filter'Tron in their solidbody guitar?
TJ: I would say TV Classic Plus bridge or Brian Setzer models or Power'Trons. Another good one is Super'Tron. That's a little bolder, more in-your-face. More inductance, slightly more output and slightly less treble. Inductance is really important in a pickup, maybe more so than DC resistance.
zZ: Can you tell me when and how the idea for your Starwood series came about?
TJ: It was January 2016, I still hadn't come up with a pickup for NAMM. I think it was the day before my flight to prepare for the show. All week I was trying to make the perfect vintage Tele pickup set. A lot of companies do and do it very well. So I thought "Why am I fighting all these other companies that are making great vintage-style pickups already – there are too many. We don't need another one." So I decided to make something completely different. I took the mid-'50s Gretsch single-coil DeArmond and incorporated their parts into the Telecaster bobbins. And I was floored when I plugged them in for the first time — it was a Saturday, morning, just me and my bird named Cockatoo, were at the shop. I plugged in my Tele into my Marshall 1974X combo and yelled "HOLY CRAP!" The bird went nuts, it was a great moment. The name Starwood came about when I previously made a set of Strat pickups for a Koll Troubadour guitar. I thought about the Troubadour club in LA, and then thought about where Van Halen was signed in '77 — at the Starwood club. So that's how the name Starwood came about.
zZ: Is that a high-pressure situation leading up to NAMM? You have to have something new to show every year?
TJ: Yeah, usually an intense time. But I'm that kind of person, I don't know why. I always tend do it on purpose. I wait until the last minute. I seem to come up with good ideas under pressure. I don't think it's very healthy, if you know what I mean?
zZ: Some people work best that way.
TJ: I think so. If I plan a year in advance things don't work out as well. I'll make changes at the last minute anyway.
zZ: What's uniquely DeArmond about the Starwoods then?
TJ: The very thin magnet wire and DeArmond-style magnets — they're specially made cylinder magnets here in the USA . So they turned out just right, not too boomy and brittle. So after the Tele set, it was time to come up with a Stratocaster set. I wanted the bridge pickup to sound a little beefier. So I used one of the internal parts from the Gretsch Hilo'Tron pickup, one of the angled steel plates, to add inductance to the bridge pickup.
zZ: I know that's a trouble area for a lot of Strat players is the bridge sound.
TJ: Yeah, some people like that, the brighter tone — the bridge pickup isn't wired through a tone pot in the wiring harness, so that contributes to some of the brightness. So I thought it would be great to come up with a Starwood bridge pickup where, if you had a tone pot or not, it worked pretty well. Both the Tele, and the Strat Starwoods sound great with gain pedals like Tube Screamer style or OCD. So I'm very pleased with the way they turned out.
zZ: I like the way you designed the Tele neck pickup with the exposed pole pieces.
TJ: Oh yeah, that's something I've seen around on other pickups. I thought it would help clear the tone up a bit by not having nickel/silver or brass over the top of the coil. The Gretsch Filter'Tron is made with a cartridge brass cover, which slightly softens the high-end a bit.
zZ: Another video I saw mentioned another recent project of yours: the Ray Butts FUL-FIDELITY Filter'Tron.
TJ: Ray Butts is the inventor of the Filter'Tron pickup. He received his US Patent 2,892,371 on June 30th,1959. Recently, Ray's daughter Katha House and grandson James, gave me his original Patent document, various papers, design journals, pickup prototypes, hand-made parts, and blueprints pertaining to the Filter'Tron. I have documents that explain many unanswered questions about the development of the humbucker. I'm sitting on a bunch history! I decided to offer a new pickup from the original design specs of Ray Butts. In January, we introduced the Ray Butts FUL-FIDELITY Filter'Tron at the NAMM Show in Anaheim. Available with blank, Pat. Applied For, and US PAT. #2892371 pickup covers. In the early '50s, Chet Atkins asked Ray to come up with a new set of pickups that didn't hum. Chet also thought the neck pickup was a little boomy and over powering.
So Ray came up with the dual coil Filter'Tron design that he mounted under an existing DeArmond pickup cover. Gretsch heard about the new pickup through Chet and asked Ray to move ahead with the new pickup for Gretsch. Ray Butts and Seth Lover, both known as the first modern humbucking pickup inventors, came up with the humbucking design around the same time, and apparently didn't know each other. Gretsch started using the new Filter'Tron in mid 1957, and their plan was to move away from the DeArmond and exclusively use the Filter'tron by early 1958. A few weeks ago I met with Katha and James, they had even more stuff to give me! Unbelievable! I haven't had a chance to go through it all yet. I did a little peeking the other day, I saw a copy of a check to Ray from Elvis Presley. He bought a few Echosonic amps from Ray. The check was signed by Elvis's father Vernon Presley. So much history.
zZ: It is and it's interesting when you think of you know Chet Atkins as the counterpart to Les Paul. Both wanted a different sound and what it all led to.
TJ: Yeah, really. And Chet wanted a pickup with less noise and which led to the development of the dual-coil Filter'Tron.
zZ: So are you working on a pickup that's sort of a tribute to Ray for later next year?
TJ: Yes. Ray's daughter Katha also gave me tons of stuff related to her dads Sonic-line pickups. These pickups are based off of the Gibson humbucker, but with his ideas under the hood. They'll fit into standard Gibson humbucker cavities, rings and all.
zZ: What are some of the bigger differences between Ray's design and Seth's?
TJ: I would say clarity is one big difference. And there are some new, unfamiliar designs that fit under the humbucker cover. I can't wait to start experimenting! I have thousands of parts from the '70s and '80s. It's really amazing.
zZ: Are there any other products coming from TV Jones you can tell us about?
TJ: I have a lot of guitar designs I would like to produce. I recently made a few solid body double cutaways, like a backwards Strat, kind of Mosrite thing, with with a 6-in-line reversed headstock. I've made a few for Joe Perry in Aerosmith. He used them on his recent European tour a few months ago. Re-issue the re-designed Model 10, and of course all of the Spectra Sonic guitars in more color options. I'm also building a lot of handmade custom guitars. I have been invited to have a stand at the Holy Grail Guitar Show in Berlin in May 2018. I'm looking forward to that! I should get started now, rather than two months before the show.
As far as pickups go, more Starwood Series pickups. Probably a P-90, and maybe a Jazzmaster Starwood. I would also like to release a production model of the TV Jones 20th Anniversary Gibson-style humbucker — with covers. And then more T-90s. There are many designs with different flavors in the prototype drawer. I love P-90s.
zZ: Are those your pickups of choice?
TJ: Yes, the last few years, or so. I recently picked up a '59 Les Paul Jr. – Wow!
zZ: What about the P-90s are you drawn to?
TJ: There's a certain clarity. One row of pole screws picking up the notes. Not in two areas like a a dual coil pickup, which can cause some high end loss. There is tons of wire on the bobbin and two bar magnets, so the inductance is higher. A combination of thick and clear. In a way, the TV Classic Plus Filter'tron reminds me of a P-90 in that way.