In this edition, we're pairing up the new Line 6 Helix LT and the Variax Shuriken modeling guitar for a perfectly calibrated modeling combination.
Are you sick of lugging around that old, dusty full stack and overloaded pedalboard? Maybe your prolific songwriting catalog has grown so large and diverse that one rig simply can't provide the versatility you need to do each song justice? If you answered yes to either of those questions, then this edition of Perfect Pairings is for you. The combination of Line 6's brand-new Helix LT and Variax Shuriken baritone guitar creates one of the most versatile guitar rigs we've ever laid our eyes and ears on. No matter what style of music you need to nail, the Shuriken can deliver with a 27″ scale length and alternate tunings via Variax HD modeling. Pair that with the HX Modeling engine featured in the Helix LT and you've got the most unstoppable dream team in the modeling world.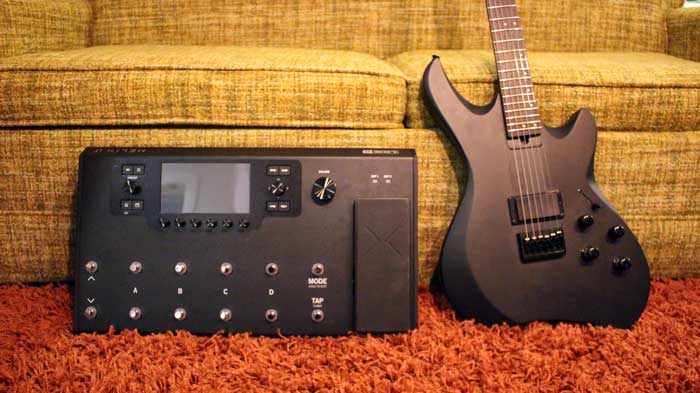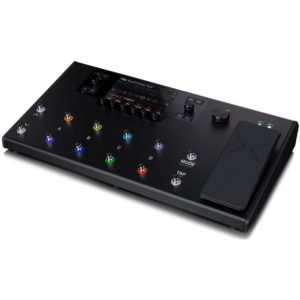 The Helix LT guitar processor sports much of the same technology found in the Helix Floor and Helix Rack processor units. Line 6's award-winning HX Modeling engine excels with powerful dual-DSP capabilities, allowing the Helix LT to capture and recreate amps, cabs, mics and effects authentically. If you're used to playing with a more traditional rig, you'll be pleasantly surprised at how responsive the models are, behaving with all the same characteristics as the gear they're modeled after. The large LCD screen and touch-sensitive, color-LED-coded footswitches make it easy to really dig into presets and ensure you have them sorted just the way you want for making changes on the fly during performances.
If you're looking to integrate Helix LT into an existing rig, there are all kinds of routing capabilities that make it easy to bring the floorboard from your home studio to any sort of live setting. If you've built your rig around Line 6's various innovative modeling technologies, you'll be happy to know that Helix LT is fully compatible with all other Helix products, and really thrives when paired with a Variax guitar, as you'll see in our video.

At first glance, it's definitely hard to imagine the Shuriken churning out anything other than the most punishing Meshuggah-esque riffs imaginable, but its very design is intended for it to not be a one-trick-pony. Optimized for use with the Helix LT, the Shuriken makes it possible to unlock every nook and cranny of Line 6's modeling technology on the fly with an essentially empty guitar canvas. With a 27″ scale and digital tuning capabilities, you can literally dial up any tuning you want and still maintain a comfortable string tension.
We ran the Shuriken through the gamut of tones — from '50s rock to modern metal — and it never skipped a beat. When paired with the Helix LT, the Shuriken essentially acts as a controller for all of your modeling settings and will become the guitar you have dialed in within the HX Modeling engine, allowing you to go from a djent-ready baritone to a shimmering 12-string acoustic at the twist of a knob. If you want to dig a little deeper, connecting the Shuriken to a computer with an included VDI cable and Variax Workbench HD software gives complete control over every element of your guitar tone. Mix and match a wide range of body styles and pickup models to create your own unique guitar. The software adds another dimension to the modeling experience, allowing you to essentially create as many custom guitars as you want — all accessible with the single Shuriken guitar.