There was a lot to see at NAMM 2017. Like, a ton. Thankfully, we've boiled this year's NAMM show down to its sweet essence, bringing you our top picks from the show. These are, in no particular order, the instruments and gear we're most looking forward to seeing more of in 2017 and beyond. And if you still want to see more from the show, check out our full NAMM 2017 coverage post that gives you the rundown from the whole weekend!
Electro-Harmonix MIG 50 Amp Head
I'm a Sovtek guy through-and-through, so when I first heard that Electro-Harmonix would be reissuing the iconic MIG 50 head, I was intrigued and kept a close eye on the internet to see how it would develop. A few months back, EHX did a short run of hand-wired MIG 50 units all made in New York City, but since the run was limited to about 18 pieces, they went fast. Now that they've worked out any kinks, EHX has introduced the reissued model as a full production, made overseas but still delivering classic Sovtek tone at a price that competes with actual vintage models. I have two Sovteks at home, so I may not be jumping on this right away, but its nice to know that if I ever need another I could skip scanning Craigslist and eBay and simply order a brand new one.
– Dan

Fender American Pine Jazzmaster
When it comes to guitars, there's a few things I'm a sucker for: maple necks, offset body shapes and natural wood finishes. Fender's new "Exotic Wood" series, especially the American Professional Pine Jazzmaster, really did it for me this year. A maple neck with an etched logo and a body made from knotty pine reclaimed from the massive wooden beams of a 100+ year-old furniture warehouse in Wisconsin makes this Jazzmaster truly unique. The fit and finish were perfectly in keeping with the rest of the new American Professional Series, and the look and weight of the knotty pine made this guitar seriously drool-worthy for me. It's gonna be hard to not pick one up for myself once they become available. I can't promise that I won't.
– Dan
Martin Custom Models
Martin put on an impressive display with their selection of unique, one-off Custom Shop guitars this year, featuring a variety of ornate woodwork and custom fret work. Some of the most beautiful pieces included their two- millionth guitar and the "D-200," which featured inlaid clockwork gears and incredible detail, a dreadnought with an intricately carved bald eagle inlaid into the top, a parlor guitar with vine-like fret inlays, and of course the aptly named "D-420." Although these one-offs are obviously built as collector's items, the guitars are built with the same level of craftsmanship you'd expect from a high-end Martin, and they play like a dream. It goes to show you that the builders at Martin are at the top of the field. They don't just make guitars – they make art.
– Pat
Korg Monologue
This year at NAMM, I was able to spend some time with Nick Kwas from Korg USA. He gave us a great demonstration of the new Korg Monologue. The Monologue is a fully programmable, fully analog monophonic synthesizer. I'm not what I would classify as a particularly skilled keyboard player, so monosynths have always had an appeal to me. Writing bass lines, leads, and arpeggiated sequences are a mono synth's bread and butter. Coming in at $299, the Korg Monologue was extremely impressive. I really enjoyed playing the Minilogue that Korg released last year, but I was really intrigued by the idea of a less expensive, monophonic variation of that.
Overall it's extremely intuitive and fun to play. The built-in sequencer and sync in/out also make it a great pairing with the affordable and equally impressive Volca line. Another welcome update from the Minilogue is the option of five different colors. I haven't decided which I like best yet, but I already know I'll be picking one up for myself. The concept of a compact analog monophonic synth isn't necessarily a groundbreaking one. There are other offerings available these days, like Arturia's Mini/Microbrutes or the Novation Bass Station. While these are technically competitors, I almost would think of them as complimentary: as they are all affordable options, there's no reason any synthesizer enthusiast can't have an arsenal of affordable monosynths for different applications.
– Andrew
Laney LA100BL and TI-Boost
This year is Laney's 50th anniversary and to celebrate they are releasing some new limited edition gear, and I got a first hand look at NAMM.
Last year, Black Sabbath set out on their "The END" farewell tour. Knowing that they would be covering songs from their entire catalog, Tony Iommi got in contact with Laney about borrowing some of the LA100BL SUPERGROUP amps he use to use out of their collection. Laney knew these antique amps wouldn't hold up to life on the road, so they set out to rebuild some to the original specs. Thirteen were made in honor of the final Black Sabbath album.
Well this year, Laney decided to dig back into that project and produce 50 more, with only 5 available in the US. Each amp is built exactly the same way as the originals, down to the hand-wiring.
But of course while the amp was a big part of Tony's tone, it wasn't all of it. He famously used a Dallas Rangemaster to boost his top end. That's why along with the head and 4×12 cab, Laney is adding in the TI-Boost pedal, which is spec'd out to hit Tony's specific requirements.
As a huge Sabbath fan, I have been waiting for Laney to reach back into their catalog and reissue some of the iconic amps that helped spawn metal as we know it, and as I walked up to their booth and spied the plain silver face plate and ripped tolex, I knew I was about to see something great.
– Corbin
Reverend 'Wattplower" Mike Watt Bass
We covered this bass in our NAMM Teasers post, when Reverend threw a few revealing photos up on their Instagram. Being in "the biz," sometimes I get to hear about things before they are announced but have to keep my lips zipped.
A year or so ago when I heard from Reverend CEO Ken Haas that they were trying to nail down Minutemen bassist (among so many other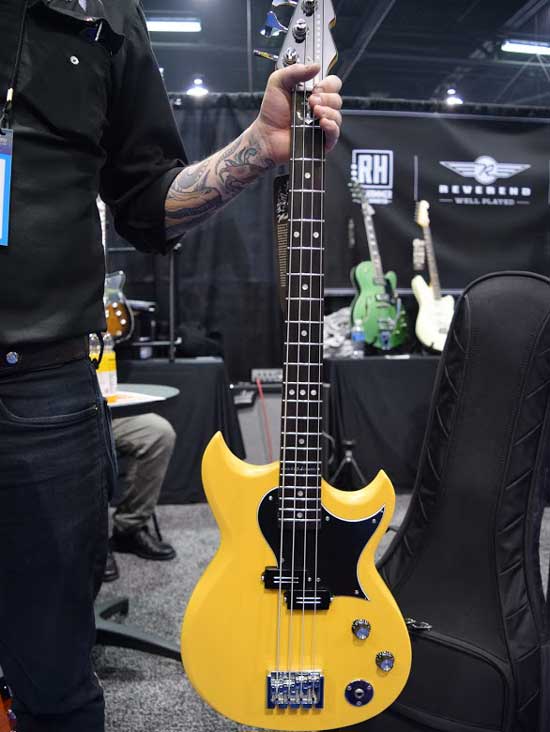 things) Mike Watt to do a signature series bass I was pretty excited.
One of my favorite things about Ken and the rest of the Reverened crew is their dedication. They never half-ass anything, even down to the beefed up tremolo springs they put in all their guitars with Bigsbys, and the fact that they were willing to spend years sending Mike Watt prototypes, tweaking them, sending out another and just ironing out every single detail until it was perfect. Rumor has it that Mike doesn't even have a cell phone, so I can only imagine how hard it is to get a hold of him.
Mike usually plays a Gibson EB, so clearly a short-scale bass was in order for the aptly named "Wattplower." The bass comes in at a 30″ scale with a small, but very comfortable body. On deck is a set of custom Railhammer P-Blade pickups that Joe Naylor whipped up just for Mike and his crazy string bends, a Hipshot A-style bridge that matches the tighter string spacing Mike is used to, Hipshot Ultralight tuners that are made of aircraft grade aluminum which keep this smaller bass balanced, and a heavy-duty input jack and beefy jackplate.
The little hot-rod of a bass comes in both a satin emerald green and satin yellow finish and has Mike's custom anchor inlay on the 1st fret. Mike even showed up to the Reverend booth wearing an anchor pendant on his necklace and a decked out in a matching yellow raincoat that tied right into the nautical theme. Once a showman, always a showman it seems.
– Corbin
Mackie's new Big Knob family
The original Mackie Big Knob monitor controller has been a studio staple since its release over 10 years ago. For NAMM 2017, Mackie introduced three new models: the Big Knob Passive, the Big Knob Studio, and the Big Knob Studio Plus. The ultra-affordable Big Knob Passive has zero bells and whistles — it simply lets you switch between two analog stereo line sources (such as the monitor outputs on your audio interface, or the stereo line outs from a CD player) and route them to your A or B monitors. The "Passive" in the name means the unit requires no power, and if all you want is a volume knob for your monitors, the Big Knob Passive is the perfect low-priced solution. The next step up is the Big Knob Studio, which adds a 2-in/2-out USB audio interface with two Mackie Onyx XLR mic preamps on board, plus a built-in talkback microphone like the one on the original Big Knob. Finally, Mackie's Big Knob Studio Plus has everything the Big Knob Studio provides, plus more analog and digital inputs and outputs, a 16-segment LED meter for your inputs, the option of using an external talkback microphone (or the internal one), 192 kHz recording capability, and more — and you get all this for the same price as the original Big Knob.
– Maya
Neumann KH 80 DSP studio monitors
zZounds customers love Neumann KH 120 studio monitors, but the cost of a pair is prohibitive for most regular folks building a home studio. Neumann's new KH 80 DSP studio monitors, launched at the 2017 NAMM Show, bring Neumann quality to a smaller (and more affordable) powered speaker. Impressively compact, with a 4″ woofer and the same tweeter as the KH 120, the KH 80 DSP is powered by two 120-watt and 70-watt amplifiers. As for the "DSP" in the name, it refers to the speaker's on-board digital signal processing engine that's controllable via the free Neumann.Control app, which allows you to calibrate the speaker to your own room. It's one of the first studio monitors we've seen with an Ethernet port.
– Maya
Catalinbread Belle Epoch Deluxe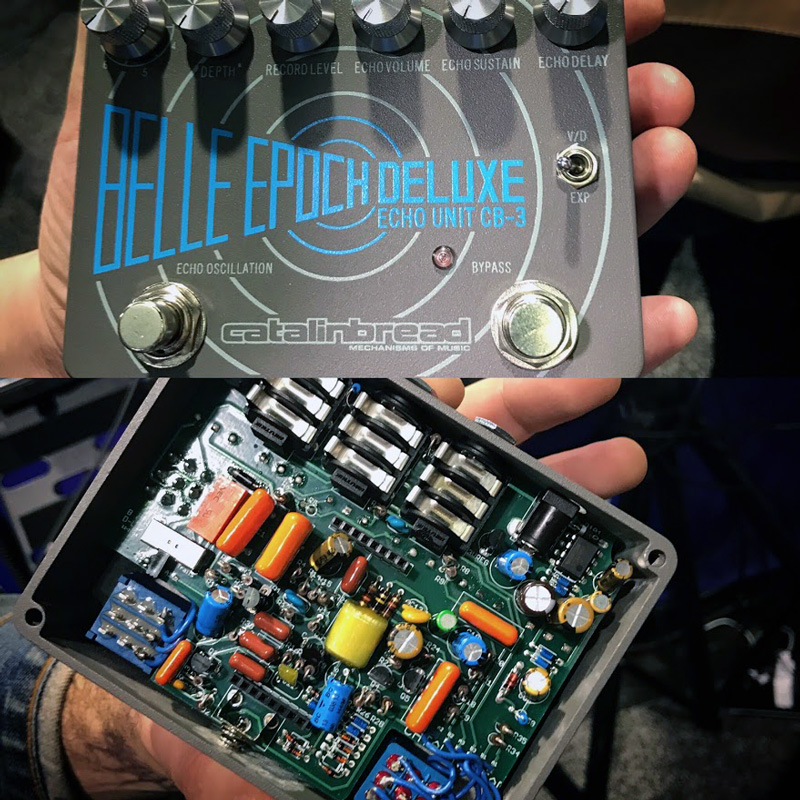 Small but incredibly mighty, Catalinbread's new Belle Epoch Deluxe is packed with tons of features that will make even the most casual of delay fans jump for joy. Considering the sheer amount of new products introduced at this year's NAMM, you know that this thing has to be something truly special to not only capture my attention, but keep it in my mind like a never-ending, self-oscillating feedback loop.
Catalinbread has equipped the Belle Epoch Deluxe with an expression pedal input, which can be used to control delay time or modulation, depending on the setting. Aside from the standard bypass footswitch, they've also added a second footswitch dedicated to runaway self-oscillation. The best part about the BED is the option to select between 6 different "echo programs," essentially making this 6 separate delays in one. Two of the programs mimic the Deluxe Memory Man, and you can even select if you want to run it in either chorus or vibrato mode. As a diehard DMM fan for years, I have to admit it sounded fantastic. I just might have to replace my fragile big box DMM with the significantly smaller Belle Epoch Deluxe in the near future.
– Sergio
D'Addario Humiditrak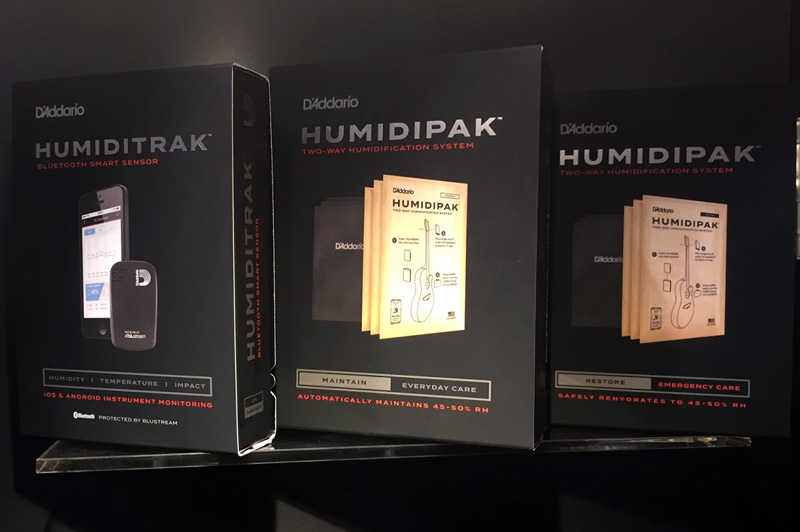 The D'Addario Humiditrak was just a small unassuming box on a shelf in a sea of flashing products at the Anaheim Convention Center, but after talking to the folks from D'Addario about it at length, it definitely looks to be a big impact item. Each Humiditrak sensor you purchase can be linked to your smartphone, and it tracks the temperature and humidity of the room or case that it's in. The D'Addario rep that I spoke with also pushed this for monitoring your in-home humidor, or monitoring your kid's room when they're sick. The Humiditrack also has an impact sensor for when you're traveling. Let's say you get your guitar back after checking it for your flight and the headstock is cracked. The impact sensor has a minute-by-minute record of the amount of pressure placed, meaning that you will have a time and pounds/square inch reading to show the airline as proof of their mishandling your guitar while it was in their custody.
– David
D'Angelico Premier SD

After browsing all the exotics, customs and artist specials that NAMM had to offer, the guitar that spoke to me the most was the D'Angelico Premier SD. The specific one that I picked up just happened to be set up the way that I like it, and I felt like I instantly bonded with the instrument. This plays and feels like a Les Paul with a flat-feeling fretboard radius which supports some rhythm playing on the lower frets, and makes room for some flighty leads in the higher register. This also features some trademark D'Angelico flare like the Art Deco tuning machines and mirrored truss rod cover. This guitar might not pass muster with anyone looking for value from the price tag only, but from personal playing experience and intuition I feel like this instrument can keep up with any Les Paul style guitar on the market.
– David