Whether you live with roommates or have next-door neighbors who are a bit too close, you've likely run into a problem every musician faces at some point: how can I practice through an amp, get decent tone, and avoid infuriating those around me? It's a delicate balance, but if you take to heart a few principles and use the right gear, you can practice with a tone you'll love, and maybe even record a few decent tracks at home! Check out our advice and gear picks below, and you'll be on your way.

Let Go of Material Possessions
If you've deluded yourself into thinking your 100-watt Marshall stack or Ampeg fridge can be made apartment-friendly, think again. If you're moving into an apartment, you're going to want to find a place to store your high-wattage tube amp, because if the stairs and long hallways don't change your mind, the fact that it's just too damn loud will.

But, I can just…turn it to 1!
Very few tube amps above 30 watts (if any!) are going to sound like they're meant to sound at low volumes. You'd probably have to dial yours in to less than 1 to get a reasonable volume for an apartment, and the sound you'll get will be thin and not nearly as responsive as it is when you can get those power tubes cooking. It would be like owning a Ferrari and only driving it through school zones.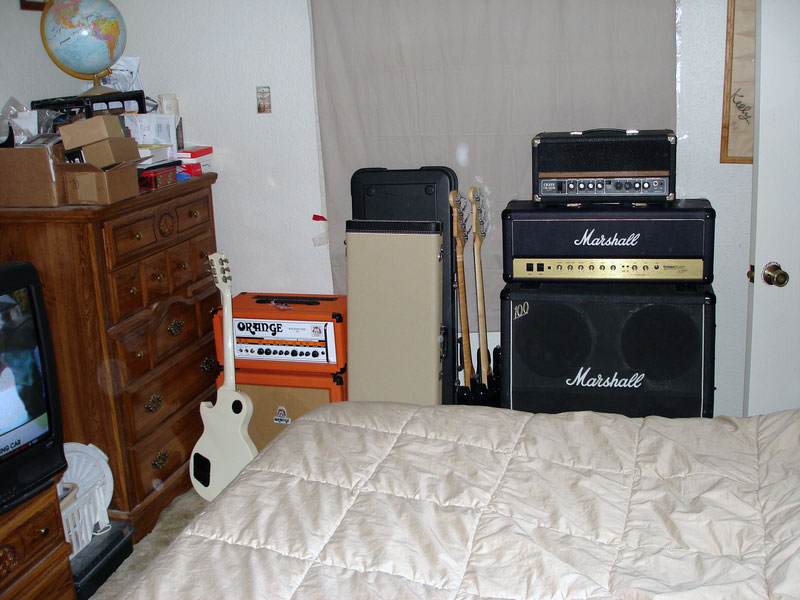 Well, then maybe…I can like, get an attenuator?
Sure, you can get an attenuator! The bad news, however, is that an attenuator probably isn't going to get you the results you're looking for. For those unfamiliar, attenuators attenuate, or reduce, the power coming through your amp and into your speakers. They let you dime your amp volume to get that cranked sound, without the ear-shattering output.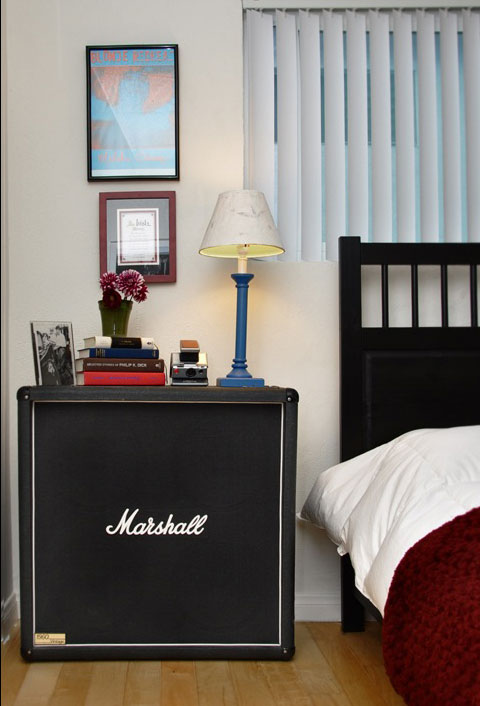 But if you're thinking an attenuator will get your JCM800 putting out glorious tones at whisper volumes, you're going to be disappointed. Most attenuators are meant for studio and live use, and will still put out a volume that's too loud for home use. Some provide a headphones output which is handy for practice, but at their price, they just aren't a cost-effective solution.
But I just gotta have that tube sound man! You don't understand. It's just, like..tone!
Oh, I do get it. And I feel your pain. You don't think I dream of a huge house with no neighbors where I can crank an amp? Of course I do. But that's just not possible when you're next to a family with infants.
But there may be an answer yet. If you're in a band that uses a practice space, you can turn up any time you have band practice. Yes, I know that's obvious. So what to do if you're not in a band? Well the first step is to find a place where loud music is encouraged. There are open mics in just about every city and town, and they're a great way to meet other musicians and learn a ton. Just consider the venue: if you really want to rip, a bar is a better than a coffeehouse.
If you're under 21 or just want to play by yourself, another option is to look into rehearsal spaces or studios. You can rent time in a soundproofed room, bring your huge tube amp, or rent one (sometimes for free!) crank that sucker and wail away for hours, leaving in a soothed state that only the sweet release of power amp distortion and controlled feedback can induce. Oh, and tingling in your ears — don't forget ear plugs next time.
Know Thyself
So you've accepted 120 watts is a bit excessive for Apt. 2B in the Vista Cove Condominiums. Great! The next step in building an apartment-friendly rig is to know who you are, and more importantly, what you play.
Apartment-Friendly Amps: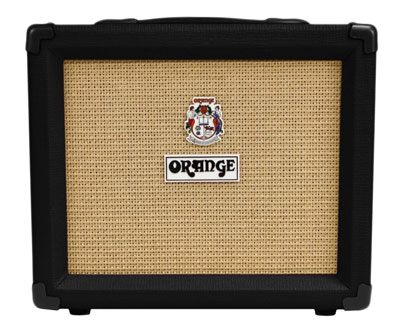 Are you a Jack of all trades, switching from blues to djent to ambient music in a single jam session? You'll need a variety of tools to achieve those sounds, and a modeling amp or multi-effects pedal is your ticket to the buffet of tone. The Spider V MKII series features some of Line 6's most advanced DSP yet, with so many amp and effects models that you may never get to hear them all! It integrates with your smartphone, so you can order a pizza and create like four awesome presets before the pizza even gets to you!
On the other hand, if you tend to stick with a certain style, or prefer to manipulate your tone via your guitar's controls or pedals, you'll probably want to go with a small tube amp. Blackstar's HT-1R MKII packs just one watt, so it can get really low in volume, while retaining thick tone from its ECC82 and ECC83 tubes. A speaker emulated output keeps you sounding beefy through headphones and the ISF control provides a huge range of EQ options.
Are "Ode To Joy" and "Smoke On the Water" the extent of your repertoire? A no-frills solid-state amp makes it easy to dial in a good tone and save money! The recently revamped Orange Crush line is full of knockouts and our favorite for bedroom jamming is the Orange Crush 20RT. This 20-watt beast is all-analog minus the digital reverb and convenient on-board tuner. Its 4-stage preamp provides a lot of gain, so you can dial in your metal tone stat.
Be One With Others
There are myriad ways roommates get on each others' nerves. Leaving dirty dishes in the sink. Leaving the AC on and running up the electric bill. Playing guitar too loudly is a minor offense compared to most, but it can still be a bother. And roommates, be they old friends, randomly assigned peers, significant others, or spouses, deserve respect. Being mindful of their sleep, study and work schedules and trying to accommodate them by playing at times that are good for everyone can help improve your living situation. But of course, that isn't always possible. Read below for tips on how to play nicely with others.
The Collective Condo Consciousness
Even if you live by yourself in an apartment, your playing can impact those around you. Stop for a moment and listen. At any moment, people you can't see are practicing yoga before work, putting a baby to bed, studying for a test, or sitting down to finally watch The Irishman. Walls are often not enough to keep the noise of your playing out, as you know if you've ever been kept up or agitated by noise coming from your neighbors. Sound can even transfer between houses that are close together! The point is, if you can hear noise from them, more than likely they can hear your attempts at killer riffs from Master of Puppets, too. And your amp definitely gets louder than a TV, so what is there to do?
Have a talk with your neighbors about volume. Let them know that you like to play music and ask if there are any times they prefer you to play. Even if you can't work an arrangement out, it's best to meet them so you're more than a faceless annoyance.
Think directionally. If your amp is pointing toward your neighbors, they're more likely to hear it. Be conscious of where your neighbors are located. If you have roommates, try facing your amp away from their bedrooms.
This tip is especially helpful for bass players who live with tile or ceramic floors. Your amp sends sonic vibrations to the floor, which can transfer to your neighbors below. Low frequencies are particularly adept at this. Lifting your amp off the ground via a pad, amp stand, or even some thick books will help reduce those pesky roaming rumbles.
Ask a friend to stand outside your apartment or dorm and listen. Play through your amp, slowly turning up the volume until they let you know they can hear you and note where your volume is set. Turn it down a bit from that, see if it's quiet enough, and set that as your max.
Listen to the Frequencies Within
If all else fails and you can't seem to find a solution, headphones are your savior. A good pair of headphones will translate your guitar tone reasonably well and are the way to practice anywhere, any time and in almost any scenario.
We recommend a pair of closed-back, over-ear headphones — these completely cover your ears, typically feature large drivers for a fuller frequency response (especially important for bass) and are better at isolating the sound and preventing leaks than open-back headphones or earbuds. Noise-cancelling headphones are also a great choice if you've got loud roommates and really want to get in the zone. Our Headphones Buying Guide goes into a lot more detail on the subject, so if you want to know more, check it out!
Excellent Headphones for Guitar Amps: