Fender's Summer NAMM booth is stocked with gear we can't wait to see more of later this year. From a new line of Made in Mexico guitars to some excellent signature models and limited-edition amps, there was no shortage of gear going on! Check out our rundown of some of the highlights below.

Johnny Marr Signature Jaguar
Johnny Marr already has a signature Jaguar model built to his specs, but now Smiths fans can add one in black to their arsenal. Finished in a nitrocellulose lacquer meant to age gracefully, the guitar features several custom appointments, from a signature neck profile to specialized filters and switches designed to broaden this Jaguar's tonal spectrum beyond its traditionally bright characteristics.
Deluxe Series
Just as the American Elite line was introduced at this year's winter NAMM Show to revamp the Fender's top-end American made guitars, the new Deluxe line is being shown at Summer NAMM and set to raise the bar even higher for Fender's Mexican-made lineup. Models getting the Deluxe treatment include the Stratocaster, Telecaster Thinline, active Jazz (4- and 5-string models) and Precision Basses, plus 4- and 5-string Dimension Basses. Lovers of modded guitars and hotrods are sure to love the Deluxe Roadhouse Stratocasters and Nashville Telecasters.
So, just what makes these guitars "Deluxe?" How about Noiseless pickups for hum-free operation, a V6 switch for six additional tonal options, modern 2-point synchronized tremolo, a contoured neck heel, a flatter 12″ radius fretboard and locking tuners? With so many upgrades from the Standard series, these guitars may attract fewer modders and more guitarists interested in a well-priced guitar that's ready to rock their latest gig right out of the box.
The Offsets
Fender is bringing back classic offset and student models like the Duo-Sonic, Mustang, and more in some truly rad vintage colors, plus new features that you won't find in the originals. We ogled over the orange Duo-Sonic and green Mustang, but you really can't go wrong with any of these.
New Fender Amps at Summer NAMM 2016
Blues Junior III 80 Proof
All of the limited-edition amps from Fender this year are lookers, but none stand out quite like the "80 Proof" Blues Junior. Handcrafted at the Fender Custom Shop, these 15-watt combo amps are housed in a chassis made of reclaimed bourbon barrels. As a result, all of the character of the barrels gets distilled into these amps, from the woodgrain and markings to the logos stamped on from various distilleries. A Jensen P 12Q speaker is housed inside and the amp is juiced by three 12AX7 preamp tubes and two EL84 power tubes for rich, sippable tone.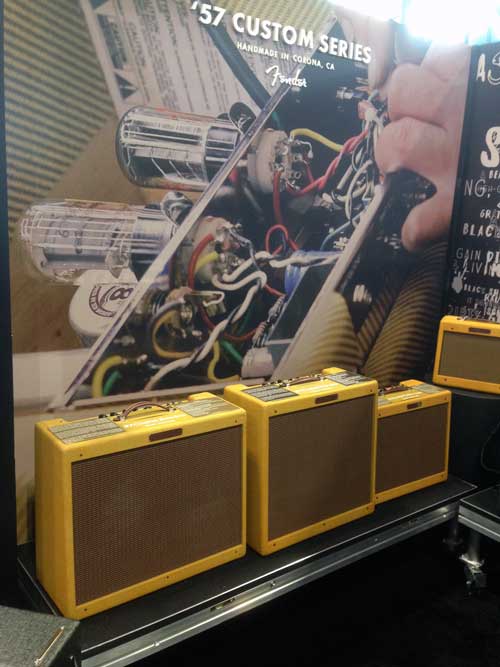 '57 Custom Series
Some of Fender's earliest amps are returning and bringing the classic tweed sound back. Each of the four models brings its own unique feature set: the organic overdrive of the Deluxe, the responsive twin, the simply complete sound of the Champ and the never-before reissued Pro.