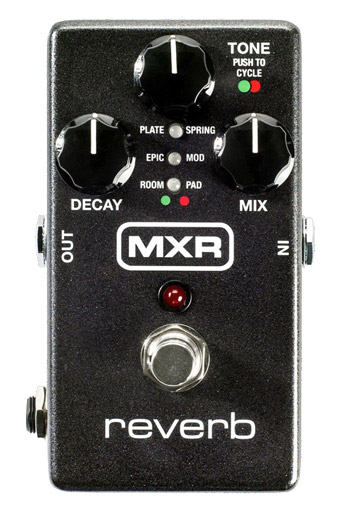 I was pretty surprised to find out that the MXR M300 is the first reverb pedal MXR has ever done, what with their Carbon Copy being a nearly ubiquitous delay on so many guitarists' boards. Well, not only is this MXR's first reverb, it may just be the last reverb you'll ever need!
All cliches aside, the MXR M300 covers just about all the spatial territory you'd want. With six modes (plate, spring, pad, room, epic and mod) the M300 puts entire eras of 'verb into a single pedal. You can add just a touch of room reverb for a subtle hint of space, or max out with a 100% wet signal on the pad mode for truly celestial sounds. The straightforward controls (adjust reverb trails with decay, levels with mix, and presence with tone) make it super easy to dial in your ideal sound. Plus with an 100% analog dry path, you don't have to worry about any digitization altering your guitar's tone.
If 7-, 8- and 9-string guitars were any indication, if there's one thing guitarists yearn for, its range. And though there are a host of octave and pitch-shift pedals out there, Walrus Audio's Luminary may be breaking new ground — not in octave range, but in how you can tailor those octaves to your liking. Last month, Walrus put out this fairly bonkers trailer to tease the Luminary: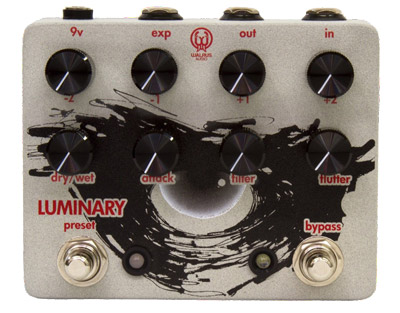 The trailer tells a dystopian, Hunger Games-esque tale while hinting at the octave sounds this pedal could make, but the controls tell a more concrete story. On the top, you've got level adjustments for each of your four octaves: -2, -1, +1, and +2. Being able to blend four separate octaves goes a long way, but it's the four knobs on the bottom row that really set the Luminary apart from other octave generators. The dry/wet knob lets you go from zero effect in your mix to completely wet, so all you hear is the octaves you dial in — none of your guitar's natural range coming through. Attack gives you either instant response, so your octaves are in sync with your dry sound, or a delayed octave attack that swells in. The filter is a low-pass filter to let you adjust the high-end balance in your signal. Play with your flutter control to go from a chorus-like effect to a fairly convincing rotary organ tone, to a pseudo tremolo.