It looks as though Jimmy Page will get to join Peter Frampton, B.B. King, George Harrison, Bob Seger, Zakk Wylde and other guitarists who have lost and later recovered iconic axes.
Page's guitar, a 1960  Les Paul Custom "Black Beauty", was stolen in 1970 while Led Zeppelin were on tour in the months leading up to Led Zeppelin III's release. Despite the fact that it had been heavily modified to the point of being easy to recognize — it already had three humbuckers with a six-way pickup selector and Page had added a Bigsby Tremolo — he never got it back.  Page even placed an ad in a 1973 issue of Rolling Stone, offering a reward in hopes of getting it back, but to no avail, and the black and gold LP faded into rock 'n' roll legend… until recently.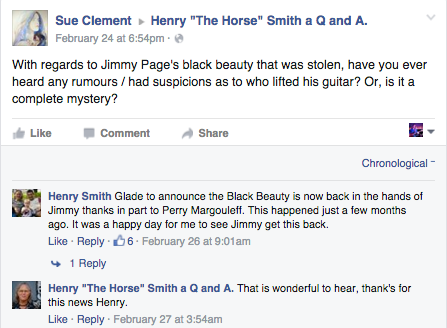 According to Guitar World, former Led Zeppelin roadie, Henry "The Horse" Smith, recently solicited questions from Facebook followers for a Q&A session, which led to someone asking about Page's Black Beauty and someone else (also named Henry Smith) claiming that the guitar and its master were recently reunited.
Said Smith: "Glade [sic] to announce the Black Beauty is now back in the hands of Jimmy thanks in part to [Zeppelin-producer/guitar collector] Perry Margouleff. This happened just a few months ago. It was a happy day for me to see Jimmy get this back."
So while that's not exactly 100% certain (You really think someone would do that? Just go on the Internet and tell lies?), it seems promising, and the optimists in us are hoping that Mr. Page has, indeed, gotten his guitar back. We'll be sure to keep you updated as more details follow.