Read the Interview     See Blake's Kit
Between the Buried and Me was one of the first heavy bands I started listening to. My brother often was the one to show me new music growing up, so I was constantly getting an influx of different bands. I first got into these guys in 2007 when they where just getting ready to release the album Colors. I began to dig deeper and deeper into the band. I would try and find all the records they had put out and see how they progressed/changed over the years. I stretched back all the way to their first album, entitled simply Between the Buried and Me, and I was hooked.
It was BTBAM drummer Blake Richardson that really caught me. I was thinking about learning to play drums at the time, so Blake was one of the first drummers I really looked up to. I would listen to their albums over and over again, attempting to decipher Blake's other-worldly drumming feats. The only drawback was that his playing style is so complex,  it was impossible for me to learn their songs–considering I had only been playing drums for a few months. But nevertheless, I continued to blare their heavy, melodic, and elegantly chaotic music all the time.
Their writing capabilities were immaculate. Blake was a perfect fit for guitarists Paul Waggoner, Dustie Waring, and bassist Dan Briggs. Because of the band's use of time signatures, complicated patterns and riffs, and a unique blend of progressive metal and jazz influences, it would make it difficult for just any hard hitting metal drummer to fill in. You need a drummer that has a grasp on multiple styles and genres; someone that has a vast palate that pushes the boundaries of what a "metal drummer" is. Blake had and continues to maintain all of this and more. He can go from a heavy blast beat to a smooth jazz beat and then into a convoluted polyrhythm with ease. He is a drummer that is constantly progressing, constantly getting better, yet always on-point.
I had the pleasure of interviewing Blake to pick his brain on a few things. I spoke with him about his influences, playing style and of course his gear. As a gear nut, I am always exploring different drummers' equipment, trying to expand my personal sound and find what others prefer and how it helps shape their sound. Here is what he uses…

---
Interview: Blake Richardson of Between the Buried and Me
zZounds: What was your very first drum setup? And do you still own it?
Blake: My first setup was given to me by my uncle for Christmas when I was 11 years old. It's a 1965 Ludwig four piece. Even though these drums are highly sought after, I refuse to sell it. It has too much sentimental value to me.
zZ: Do you play any other instruments as well? And if so, how does that affect your writing process/playing style?
Blake: Drums are my primary instrument. I like to fool around on guitar and piano from time to time but nothing too serious. Making my focus solely on drums really helps me hone in my problem areas and spend more time trying to develop those things. However, I encourage all drummers to get a grasp of as many different instruments as possible. It really gives you a better understanding of what's happening around you when playing with a band.
zZ: What drummer did you look up to the most growing up? And who are you most inspired by now?
Blake: I was definitely a BIG Dave Grohl fan. In fact, I still am. Nirvana was huge when I was a kid, and the drumming on Nevermind went straight to my heart. Its simplicity as well as its power really struck a chord with me. You can tell when you listen to that record that Dave is murdering that kit!
As far as drummers that I am influenced by now, it's endless. Go to YouTube at any given moment, type in "drum solo" or something to that effect, and keep hitting refresh. There are so many great drummers out there that it's mind-boggling. But if I had to narrow it down, I've really been into Ilan Rubin's drumming. The work he does with NIN is perfect. I've also been into this guy Silas Utke Graae Jørgensen, he plays for a band called Mew. I think he just does the coolest stuff rhythmically for that band.
zZ: Is there a certain aspect of drumming you are practicing/focusing on at the moment?
Blake: I am always trying to focus on developing and improving my weak points. Be it my left hand or left foot. I try to incorporate rudimentary exercises that involve those limbs more so than the others. I also try to expand my drumming repertoire by learning the basics of as many different styles as I can. I play in a band that is very dynamic stylistically, so I need to be prepared to have something ready that will complement whatever the rest of the band is playing.
zZ: What made you want to use Sabian cymbals/what sets them apart?
Blake: I have always loved Sabian cymbals. One thing that I appreciate about them is their willingness to be creative in their cymbal-making process. They have always had, to me, the best-sounding effects cymbals. Many other cymbal companies attempt to emulate their creativeness but often fall short. I also love how grounded they have kept themselves. At any point they could replace their staff with robots, but I love that when I get a new Hand Hammered ride or crash, you can tell it was hammered by an actual human being in their factory.
zZ: What is your favorite cymbal right now and how has it impacted your playing style?
Blake: I recently added a large stack to my setup. It consists of an 18″ HHX Power Crash underneath a 14″ HHX evolution China. The addition of this stack to my set has impacted my playing a great deal. I've written a lot of parts on our new record that involve utilizing a generous amount of interplay between my two stacks. My other stack is a much higher pitch, so it is a lot of fun to alternate between the two of them.
zZ: How have your gear choices changed/shaped your sound over the years?
Blake: My drum kit is always evolving. I've changed it constantly over the past ten years while touring professionally. I encourage drummers to do the same! Simply taking one tom away or just adding a cool cymbal can open up a new door of rhythmic opportunities. I've had a different setup for each record that I have tracked drums on. My playing definitely reflects that when I listen back on those albums. The drum parts seem much more "fitting" for the material they were written for.
zZ: If you could only have one kit, and it had to be minimal/bare bones, what would it be?
Blake: I'd have to go with a four-piece kit. I'd probably want a 20″ kick, 10″ tom, and 14″ floor tom. As far as cymbals go, I'd need my 14″ HHX Groove hats, 18″ HHX Evolution crash, 20″ HH raw bell dry ride, 19″ AA Holy China, and my 12″ Max Stax Kang on top of a AAX 12″ Ozone splash. The stack would be helpful in that it can act as another drum in a way. It has a very percussive element to it, even though it is, at the end of the day, a cymbal.
zZ: Are you working on any product designs? Signature models? Any ideas of new gear purchases or something you are looking forward to in the future?
Blake: I've got tons of ideas for some large stacks I'd like to make come to fruition. As well as a few ideas for some different types of crash/ride scenarios. As far as new purchases, I'm currently waiting on a 20″ Aero Crash and a 20″ HHX X-plosion crash to come in the mail! I can't wait to check them out! Next thing on my bucket list, as far as big purchases go, is a 2box electronic drum kit. I've wanted one for forever and I think it's about that time!
zZ: What is your advice to up-and-coming drummers?
Blake: Play in front of people. And I don't mean recording a video of yourself and putting it on YouTube. I mean play in front of actual human beings in real life. I'm seeing this trend of internet exposure due to sites like YouTube and whatnot, and I fear that is going take away from the experience of real "live" playing. Now, I'm not knocking people that put drum videos online. In fact, I have a few of myself on there. But coming from someone who has played literally hundreds and hundreds of shows, nothing has helped me grow as a musician more than playing in front of a real live audience, not matter how big or how small.
---
Blake Richardson's Drum Rig
Tama Starclassic Bubinga Drum Kit
Toms: 
8×6," 10×6.5," 12×7," 14×12″
Snare:
14×6.5″ (Tama Starphonic Brass)
---
Sabian Cymbals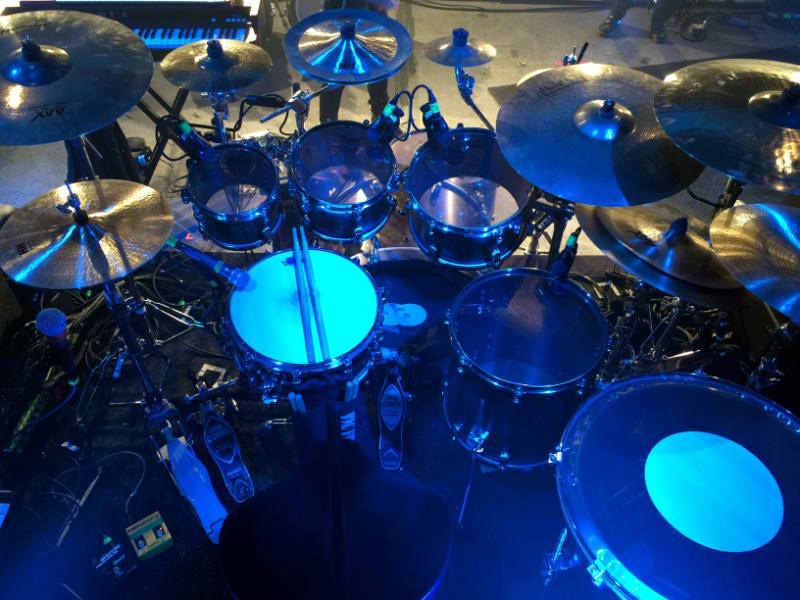 Crash:
18″ AAX X-plosion
20″ HHX X-plosion
Splash:
10″ HH Duo Splash
7″ HHX Evolution Splash
Stack:
12″ HH China Kang / 12″ AAX Ozone Splash
14″ AAX Mini Chinese / 18″ HHX Power Crash
There are a ton of different cymbals that Blake has chosen for his arsenal. One of them is the Sabian Holy China. The reason I point this out is because it's a cymbal that fits his style so well. It has a washy cut that powers over BTBAM's thick instrumentals. Blake also uses a Sabian AAX X-Plosion Crash Cymbal. These are very bright cymbals that are SUPER loud. Definitely helps bring that nice crisp touch. Speaking of crisp, he also uses an Sabian HHX X-Plosion; an explosive crash that can burst through the mix with the power you need. These are just a few of his cymbals, all adding to the dynamic arsenal that is needed for the ups and downs of each track.
---
Drum Heads
Snare: 
Remo Coated Emperor
Bass: 
Remo Clear Power Stroke 3
For drum heads, Blake chooses all Remo, a company that is always innovating and experimenting with new things. By using Clear Emperors on his toms, he is able to achieve more attack and an overall brighter tone since they consist of thinner plies. These pair perfectly with the Tama Starclassic Bubinga drum kit, which has a dark and full sound. When it comes to snare choices, Blake is pairing up a Remo Coated Emperor snare head with a Tama Starphonic brass snare. It's an excellent, durable head that can take the countless shows he puts it through. Last but not least, Blake is using a clear Powerstroke 3 on the kick drum. This is a great choice because the outer edge surrounding the head has a thin underlay which gets rid of a lot of unwanted overtones, leaving you with a nice thick punchy kick.