"How can I ever find peace/When I let my mind over-analyze things/Should be more focused on the present/Life can be a hater, please enjoy it while it's pleasant," Lamar "JusLove" Smith raps on "Everything," a track that shines light on Grown's steady balancing of life's everyday struggles and joys. Smith and his partner Nate "Illuminate Mics" Marshall form Daily Lyrical Product, a Chicago hip-hop duo that explores it all across the album's 14 tracks.
Each emcee brings his unique style to the album: Marshall, a visiting assistant professor of English at Wabash University and a poet who starred in the 2010 documentary Louder Than a Bomb, has a layered lyrical delivery, while Smith, who also performs as a singer/songwriter, makes the most of his strong melodic sense. Released this September, Grown is broad in scope, style and personnel — an album with an appropriate title because, as Smith says, it's been in the works for the better part of eight years.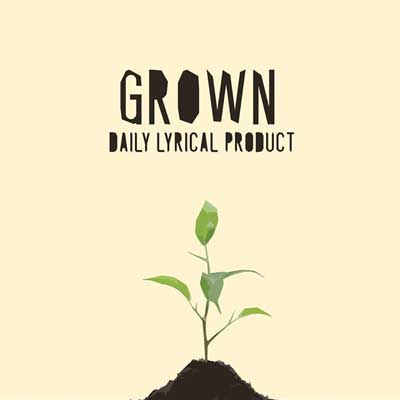 The Seeds of Grown
The two emcees met as students at Whitney Young Magnet High School as Smith, approached Marshall with some early demos.
"He tried to sell me his album…well, he did sell me his album," Marshall said. "He had an EP and he approached me after school and he was like you like hip-hop? And I happened to have money — he caught me the one time in high school I had expendable cash and he was selling this EP for like two or three dollars. And I was like OK, I'll buy it, but if it's whack, I want my money back."
No refund was necessary — Marshall dug the EP and, impressed with Smith's production work, entered the studio with him to record. It's been an enduring partnership ever since, but one that bore little output until recently. Grown is the first full-length album from the duo since just after high school and is, in many ways, a compendium of what Marshall and Smith have been up to in the eight years since.
Lyrically, the scope of Grown is wide, covering relationships, personal identity as defined by where you live, parties, and financial struggles, among other topics. But it's not all blues here: as the title suggests, Grown's lyrics focus on what rises up from the ground.  A sample taken from an interview between Cornell West and Lupe Fiasco kicks things off all while setting up one of Grown's central themes: what is your responsibility as a hip-hop artist, and how can the medium be used for good?
"We want to really express what happens in our mental space when dealing with these things," Smith said. "Because you can complain all day, like 'I haven't finished school and it sucks,' or you can talk about like 'What were my motivations? How did I come to this decision to not finish?' or 'Where am I in life and how do I deal with or cope with that?"
Marshall agrees; he'd rather explore his thought process when dealing with issues like relationships, debt, and the cost of living in Chicago.
"Whatever gene it is rappers have where they tell a bunch of falsified stories, I never got that gene because my raps are literally the exact sh** I do," he said.
At times, the writing process can become a sort of self-therapy session, Marshall said.
"I'm thinking about what I'm saying but I'm not telling myself 'no,' [to what I say.] I'm sort of going and then when I look back I'm like oh yeah, damn…these are feelings that I've been feeling but I've been afraid to express, or these are patterns that I have that I never would have openly put together aside from the fact that I'm writing a rap and it came out that way.
Smith handled the production work on Grown, working in a blend of acoustic and electric instruments. His musical influences shine through in his production work, from the laid-back groove on "Beautiful Day" driven by bluesy acoustic guitar and mellow brass, to LA pop sheen on "It's My Party." Smith even goes semi-orchestral on the opening track "Hard," working in a healthy dose of strings.
"That's the sound for us: a mixture of gritty and smooth," Smith said. "That was my focus on the album, to make sure that still felt organic."
Samples are scarce on Grown; the only one listed apart from the opening track appears on "Raindrops." It's used to great effect, with the dusty beat and Smith's choppy flow on the opening verse evoking Twista's take on the early Kanye West track "Slow Jamz." A modern touch on the track is the guest verse from Angel Davanport. Honest female perspectives in hip-hop are thankfully becoming more and more the norm in hip-hop and Davanport's lines shine here.
Locally Sourced
Things have changed a lot since the early demos that would later develop into Grown were first written. Smith said those early days are best summed up in one question he always got when promoting DLP:
"The go-to question was what's your Myspace?" he said.
In those days, the two would frequent spots across the south side like the Spoken Word Cafe, which hosted regular slam poetry nights and open mics. Marshall also found a second home at the Harold Washington Library.
Smith says Chicago is really starting to reap the fruit of the art communities that were built around the city in those times. That, paired with the explosion of bedroom records on platforms like SoundCloud and Bandcamp, have dotted another major plot point in Chicago hip-hop's timeline. Having worked with local luminaries Donnie Trumpet, Noname Gypsy and Malcom London among others, Marshall and Smith have witnessed the eclectic scope of the Chicago hip-hop scene firsthand.
"It's very difficult to say 'this is the Chicago sound,' Marshall explained. "The neighborhoods and streets that produced Chief Keef also produced Chance the Rapper. And to see that diversity of approach tells you something about what the city is able to create."
Marshall and Smith are proud to call a slice of the city's sound their own. DLP plans to promote Grown further with local shows before getting back to recording more tracks. To keep up with all the latest DLP news, follow them on Twitter.
Listen to DLP on SoundCloud      Follow DLP on Twitter