So far, 2015 seems to be the year of the iOS/USB microphone for mobile recording. Two of the latest iOS/USB mics to arrive at zZounds are the IK Multimedia iRig MIC Studio — a new addition to IK Multimedia's iRig line of made-for-iOS gear — and the Shure MOTIV MV51, part of Shure's MOTIV family of mics and interfaces for mobile recording. Both the iRig MIC Studio and the MOTIV MV51 are fixed-cardioid condenser microphones with one-inch capsules; both come with Lightning iOS, micro-USB and USB cables, and both output digital audio at 44.1 or 48 kHz and 24-bit resolution. Both mics have on-board gain control, headphone level control, and a headphone output. And both fall into the same price range. That is to say, they're ripe for a shootout.
The IK Multimedia iRig Mic Studio microphone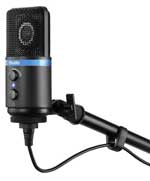 These two microphones definitely have their differences. The iRig MIC Studio looks like a scaled-down version of a modern side-address condenser, with the addition of a gain knob and headphone volume knob on the front, along with a bright level indicator LED that turns blue when the mic is plugged in, then green for signal present, orange as the level gets hotter, and red for clipping. (This LED can be a bit distracting, but it's handy to have a level meter on the mic so you can turn your gain down when the light turns orange or red). The mic comes with a tripod desk stand and a microphone mount which threads onto a standard mic stand, which is just what we did for this shootout. It's important to point out that the iRig Mic Studio is designed to work with IK Multimedia's iOS app, Mic Room, which adds processing to model the sound of many classic recording microphones (including some Shure mics!) For this shootout, we recorded the natural, unprocessed sound of the iRig Mic Studio, with no Mic Room modeling.
The Shure MOTIV MV51 microphone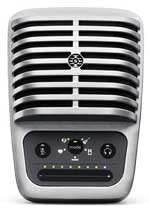 The Shure MV51 looks very different from the IK mic — it's larger, heavier, and instantly recognizable with its retro-inspired grille. Its built-in kickstand lets the MV51 sit on any flat surface, and it can also thread onto a standard mic stand. Although it looks old-school, the MV51 has the high-tech addition of a touch-sensitive panel in front for setting mic gain, headphone level, mute, and DSP mode. While the MV51 doesn't come with a mic-modeling app like Mic Room, the microphone itself has 5 built-in DSP modes — speech, singing, acoustic instruments, loud sources, and flat mode — which adjust gain, compression and EQ to fit the source. For comparison purposes, we recorded this shootout in Flat mode in order to get the most natural, unprocessed sound from the MV51.
Setting up the shootout
We plugged both the iRig Mic Studio and the MOTIV MV51 into a MacBook Pro via their included USB cables. These mics are truly plug-and-play; they both automatically appeared as audio devices in OS X's Audio MIDI Setup. It's worth noting that although these are mono microphones, not stereo microphones, they still both appeared as "2 in" in Audio MIDI Setup's list of Audio Devices. Since these USB mics have built-in headphone outputs, they show up as both input devices and output devices, but I used my Mac's built-in headphone out as the output device for this shootout.
I opened a Pro Tools session and assigned each mic to a stereo track (the mics appear as stereo sources, but they record in dual mono). Directing my sound as closely as possible between the two microphones, I adjusted the gain on each mic so they picked up equal levels, then sang along to a previously recorded guitar track of the Dayna Clay Band's folk song "Little Church." I added a bit of master bus compression via one of Avid's stock Pro Tools plug-ins, then laid off two versions of the track — one with each microphone.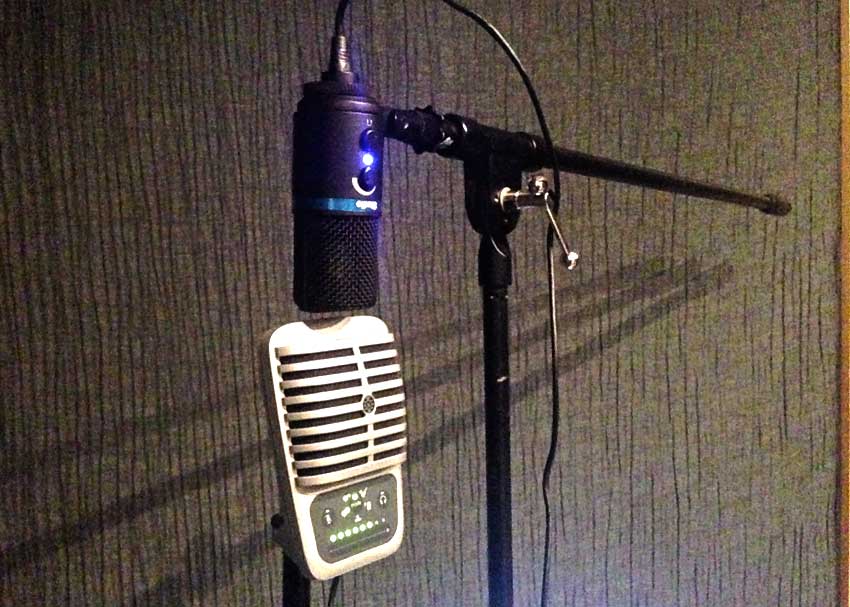 Which mic do you like?
The Shure MOTIV MV51 track was thicker in the low-mids, which lent the voice more body. However, the Shure mic was more sensitive to P-pops, even though I used a metal pop filter in front of both mics. In comparison, the iRig Mic Studio had more high-mid to high-end presence, which gave the vocal an airier feel (and can help cut through a denser mix).
While the MV51 strikes me as more of a multi-purpose microphone (after all, it has built-in modes for recording speech, vocals, instruments, etc.) with an extremely sturdy build for kicking around in your backpack, the iRig Mic Studio seems like a good choice if you're planning on recording a lot of solo vocals at your desk. Although it's not as bulletproof as the Shure MV51, the iRig Mic Studio is small and light, so it's easy to carry.
Which mic do you prefer on the vocal? Let us know your thoughts in the comments — and follow zZounds on Soundcloud for more gear shootouts!