We're now carrying a heaping helping of Catalinbread stompboxes! These pedals have been on my board for years, but not available from zZ 'til now. I can't praise these pedals enough with our customers and my local pedal junkies here in our scene. Chances are they've got a flavor for you, from soft-clipping '60s fuzz, to super-psyched-out delay trails, to gnarly noisemakers for the avant tweakers. Their engineers know what's up. Here are a few of my top recommendations for starters — well worth the wait!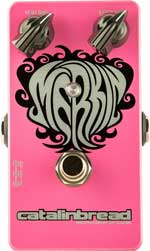 Catalinbread Merkin Fuzz Pedal
This guy does the super-zappy, almost square-wavey, blown-out fuzz that modern, aggressive rock players and throwback tone aficionados alike will love on guitar, bass, or hey, even your mono synth. Think super-fuzzy Big Brother and the Holding Company thickness that totally saturates and sustains a 12- or 15-inch speaker to that sweet spot just short of an explosion. While not a terribly bright fuzz, the Merkin won't gobble up your leads — it does a real smooth compression for lead playing that pops out without shrill harshness.

Catalinbread Belle Epoch EP-3 Tape Echo Recreation Pedal
I am the type of player who loads up the front end of my amp with all my pedals. Multiple delays, modulation pedals, you name it — all before the preamp section. The Belle Epoch has been slamming the front end of my tube combos and solid-state heads for some time now, and this ain't leaving my setup any time soon. Some folks like a real clean delay trail, and those folks will throw a time-based box in the effects loop. I'd say this one shines in the front end mainly because of its preamp boost that dirties up the front end oh-so-nicely, adding a thickness for slapback, double-track grit, all the way to super-long trails with ambient dirt in your repeats. Totally does the clickety-clacking tape oscillations and tape-warbley modulations for the noisy folks too! Are you really going to keep bringing your precious Echoplex on the road every night?
Catalinbread Montavillian Ambient Echo Pedal
Alrighty, let's talk about a different delay flavor now. The Montavillian was one of the first time-based effects from Catalinbread I had a chance to play with, and my first impression was that dub-reggae type of echo you've heard on snares, for the 6-string players! I've since ditched my old tweakable digital delay for the Montavillian. This pedal delivers those high-feedback-rate trails that stick around and pile up, creating a huge maelstrom out of your once-smooth jazzy lick. Drop your guitar's volume down a bit, and you've got some crystal-clear resolution in your trails, without the sterility of phony-bologna digi-delays. Cue dub-reggae snare…

Catalinbread RAH Royal Albert Hall Overdrive Pedal
I sure can't do the speedy-and sloppy-Page shredding, but now you can nail that tone without dropping, well…a lot on the real thing. Breathe some life into your trusty old combo with the RAH. CB has put out some really cool emulations of old-school rigs and O.G. rock star tones, but this one stands out amongst the Zep fans and classic rockers with its amazing touch sensitivity. While there aren't many, if any, bells and whistles on this one, you have a good idea of what to expect if you're familiar with this specific Zep performance where Mr. Page lights up a full stack. I mean, they went for it, and they nailed it — check out their full band demo on YouTube. This one's not for the for the "rip it and grip it" crowd, but for the soft-touch player that can really slam it down when the song calls for it.