Sometimes, all you need is just one. From full-blown loopers to tone enhancers, each of these pedals color your sound with the turn of one single knob. Add one to your chain for a simple path to all-new sound.
While all pedals on this list have just one physical knob, a few do have additional switches.
Sometimes, all you need is one. From subtle tone enhancers to alternate-dimension effects, each of these pedals does one thing, but does it very, very well. Add any of these to your board for some brand new sounds.
*But before we get started, a caveat: some of these pedals have switches, but ALL have just one knob. 
1. Mooer Pitch Box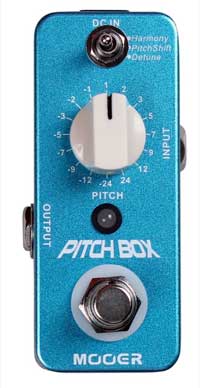 1. Mooer Pitch Box
Possibly the most dramatic effect on this list, The Pitch Box is a pitch shifter, harmonizer, and detuner all in one! The knob lets you select from various intervals between +2/-2 octaves, and with the top switch, you can choose from three levels of blend:
Harmonizer gives you an even mix of wet (or pitch shifted) signal and dry (original) tone. Use this for harmonized leads — think Boston or Iron Maiden.
PitchShift delivers a completely wet signal — great for making a faux sub-octave bass tone. Tip: Set your harmony two octaves up and toggle the Pitch Box on and off for a Whammy-type sound.
Finally, the Detune effect adds a touch of wet signal, for a more subtle, chorus-like effect.
2. MXR Phase 90
2. MXR Phase 90
You've heard the MXR Phase 90 if you've heard "Ain't Talkin' Bout Love," or just about any song from Van Halen's first album. In fact, Eddie loves this orange wunderbox so much, he developed his own signature Phase 90, done up in his trademark Frankenstein style. You don't get any control over the phase level, but with the Speed knob, you can set the rate of phase, from a slow scoop to a prominent and trembling warble.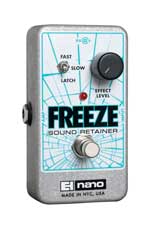 3. Electro-Harmonix Freeze Sound Retainer
A bit tough to understand if you haven't heard it, the Freeze isn't a delay or a looper — it truly freezes your sound. Engage the pedal, strike a note — or better yet, a chord — and it gets suspended in time for as long as you need. In Fast and Slow modes, you'll get unfrozen once your foot leaves the pedal, though Slow mode will fade you out instead of a sharp cut. Latch mode will hold on to the sampled chord until you re-engage the pedal and play a new one. It's the ideal tool for ambient guitarists or to create an ethereal harmony to solo over. Definitely recommended with some spacey reverb!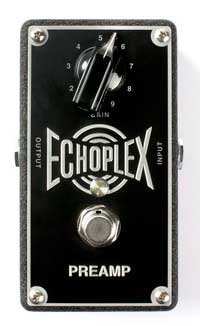 4. Dunlop EP101 Echoplex Preamp
Introduced in 1970, the third-generation Echoplex, or EP-3 was as beloved by guitarists for its tone-enhancing preamp as much as its delay effect. Dunlop's EP101 features a field-effect transistor just like its ancestor's, giving you that same gooey warm feeling (and sound). Engage the pedal, and you get a nice analog glow with a noticeable bump in your upper mids. Dialing the gain all the way up gets you about 11 dB of boost — quite handy for when you're ready to take the lead in a song. The At these levels, the EP101's natural clipping starts to take effect, making for a tame yet smooth overdrive.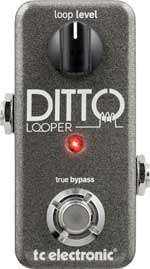 5. TC Electronic Ditto Looper
Simple enough to use onstage without looking like you're having a DDR flashback and affordable for any player, the TC Electronic Ditto Looper can change how you perform and practice. Press once to start recording, press again to stop. Listen to your loop. Don't like that track? Press and hold to delete that layer. Rinse. Repeat. Make amazing symphonies of layered parts, recreate the "Freebird" solo, or create your own backing tracks to jam on. There's really no end to what you can do!
Tip: Using a metronome while laying down loops will help you keep precise rhythm.
Bonus tip: Want to make Reggie Watts-style vocal overdubs? Check out TC Electronic's Ditto Mic Looper!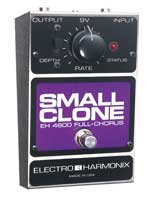 6. Electro-Harmonix Small Clone Chorus
The Small Clone is an analog chorus that blends beautifully with distortion and is most commonly associated with Kurt Cobain's murky grunge tone. It's ironic, because if you roll back the Rate knob and keep the Depth switch in the up position, you get the antithesis of grunge: arena rock! Finally, crank the Rate, switch the Depth to the down position and check out Small Clone's psuedo-Leslie tones! Add a fuzz box and psychedelic meltdown will quickly ensue.

7. Catalinbread Super Chili Picoso
The pedal that put Catalinbread on the map, the Super Chili Picoso is beloved not only for its truly organic clean boost, but also for its applications as a signal buffer. Add a pinch (knob around 6 o'clock) to your signal for some added harmonic definition, or crank it with a tube amp for overdrive spicy enough to make Guy Fieri flinch. This pepper's X-factor though, is how it retains your guitar's tone no matter what setting you've dialed in.
Main image credit: Tim Patterson via Flickr