A good piano is a must-have for any serious recording space. Whether you are a bedroom producer, studio engineer, or classical musician, just about everyone is searching for the perfect piano tone and value. While there is no "one piano to rule them all," sometimes there are diamonds that really make a mark on the scene. Noire by Native Instruments is one of those magical bits of kit that just does it all right.
Native Instruments teamed up with Nils Frahm, an extraordinary composer and pianist, to capture the magic of his highly customized Yamaha CFX nine-foot grand in Noire. Recorded in one of Frahm's favorite rooms, Saal 3 at Funkhaus in Berlin, there was no shortage of mystery and ambience to work with. This incredible instrument is featured in both the Komplete 14 Ultimate and Standard editions.
Capturing the magic of an acoustic piano in plug-in form is always a tall ask. There is so much subtlety in the sound, be it from the infinite variables of the recording room or the intricate design of each instrument, that make this tone particularly difficult to recreate. Native Instruments not only stepped up to the task of sampling this instrument and the many organic elements that made it unique, but also added an incredible particles engine that riffs on Frahm's unique approach to composition.
Thanks to its "Pure" mode (focused on the natural sound of the grand), and "Felt" mode (sampled with added felt for dampening), one would be hard-pressed to find a tone that eludes them with this dreamy instrument. Let's dig into some examples of how I have used Noire in past pieces for a wide breadth of effects, tones, and even genres.
Pure Piano Goodness:
I'll start by showing a pretty straightforward example of how I used the "Pure" mode in a piece I wrote for a Native Instruments competition a few years back.
The most familiar sound in Noire is the Pure mode, focused on capturing this extraordinary instrument in its truest form. There is still plenty of tonal shaping to do in this mode; much of it is available on the primary plug-in interface. The "Color," "Tonal Shift," "Dynamic," "Reverb," and "Delay" settings all have seamless integration with Komplete Kontrol, making this Kontakt library a perfect fit for any Native Instruments keyboard user.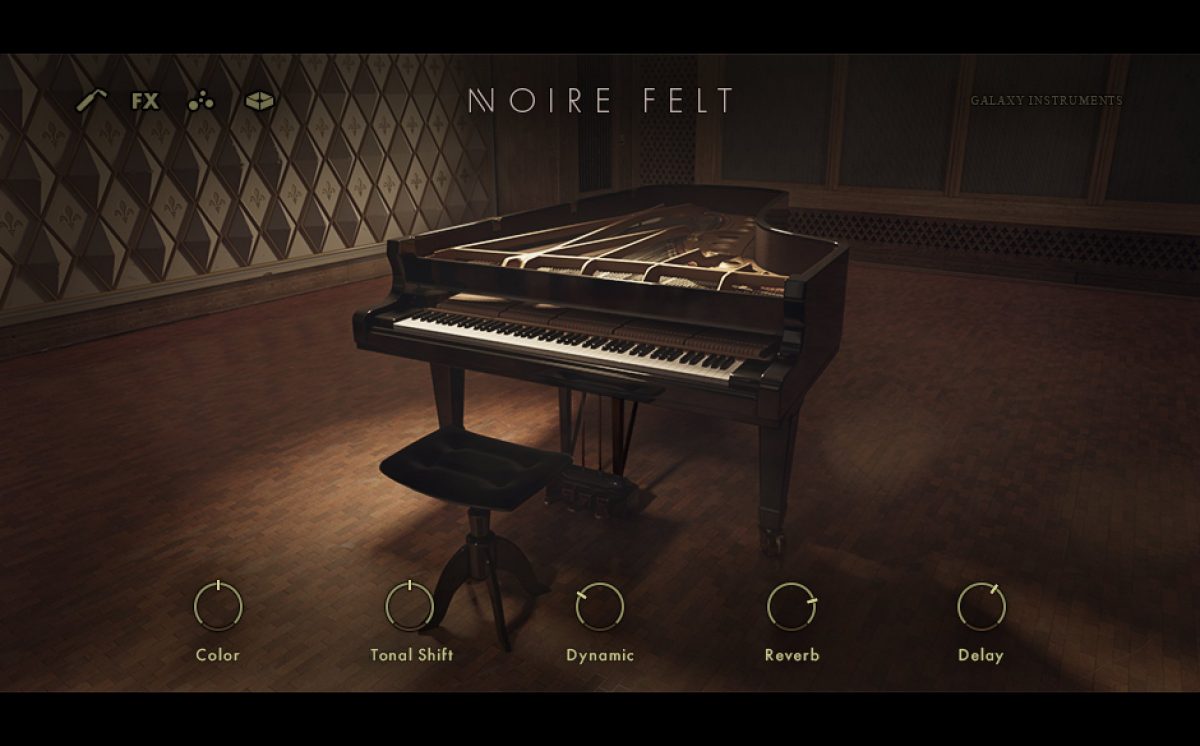 The "Color" control is essentially manipulating which sample sets are being emphasized in your playing. Setting this control to the left or the right emphasizes either softer or harder impact samples respectively. "Tonal Shift" is a complementary control that adds additional timbral influence. The "Dynamic" knob adds compression to your playing and the sample set. "Reverb" and "Delay" are pretty self explanatory. These effects can be further altered and tweaked in a more advanced tab in the library.
The next sound example features a patch I made for a video game pitch that utilizes the Pure and Felt modes combined for prominent attack and resonance while still sounding warm and moody.
I Really Felt That: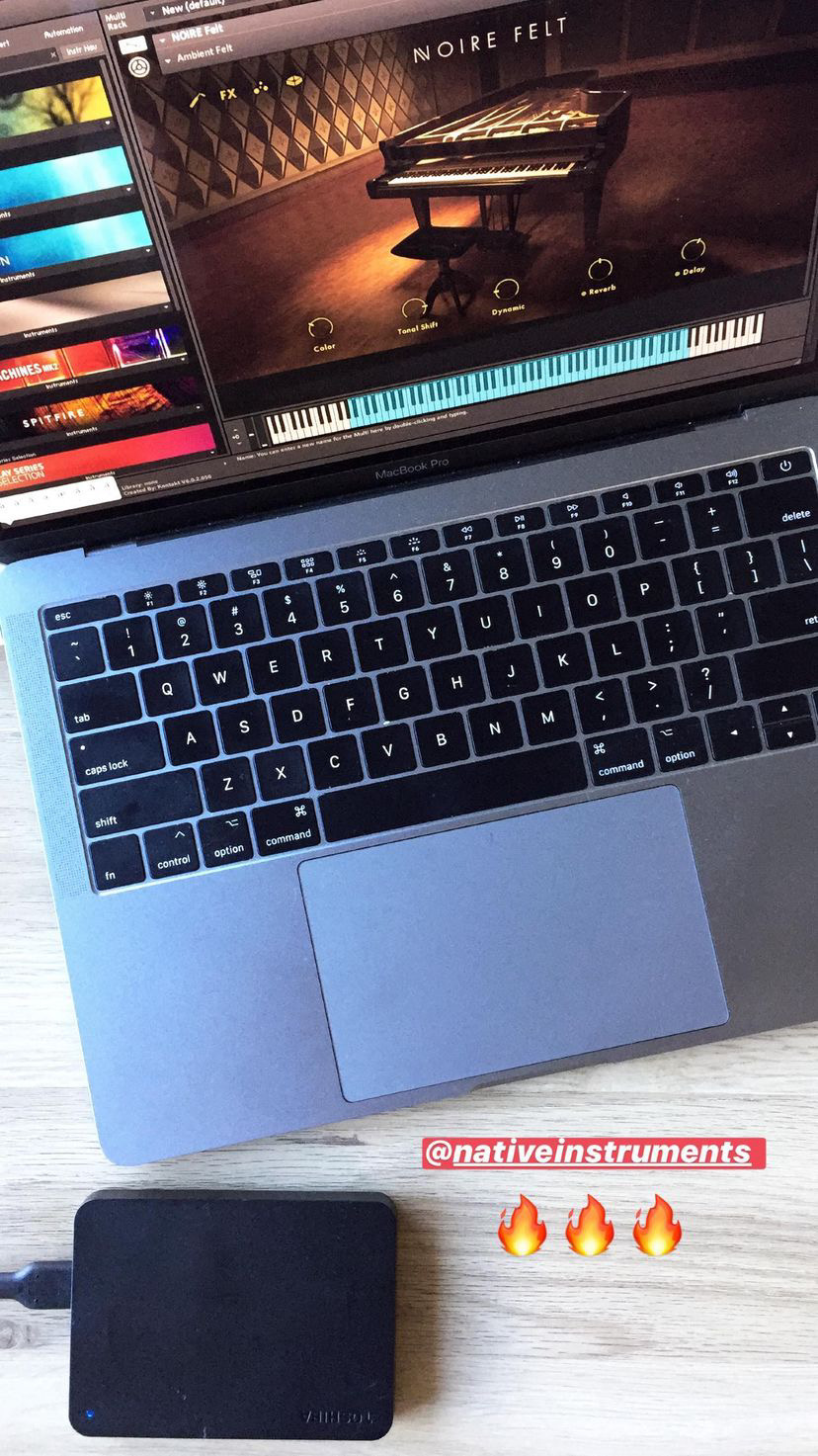 This is by far my most used mode of Noire. I think you will hear why. Check out this next example, a piece I wrote for a ballet company. This highlights multiple instances of Noire in the "Felt" Mode.
As you can tell, there is an enchanting, organic quality to the "Felt" mode that really sparks imagination. The instrument feels so intimate and warm… I feel inspired almost every time I set my fingers down.
The Piano Edit page of Noire has many useful tonal shaping tools ranging from mechanical noise samples to a full on additional sub. In the above example, I utilized the mechanical noises, felt noise, and added resonance to make the sound more tactile.
The Effects page features even more editing tools, be it EQ, compression, or additional filters. I sometimes like to use the "Pianist" noise to add some extra organic qualities to the piano tone. In moderation, this effect can be both subtle and impactful.
The Space page is where you can edit and control the specifics of your Reverb and Delay. Admittedly I often favor my slew of Reverb and Delay plug-ins for more specific tones and effects, but the included effects are still excellent for crafting ideas, and work well in combination with the last module we will discuss: Particles.
Particles of Your World:
The Particles Engine in Noire is where the instrument becomes truly like nothing else. Take a listen to my piece below and then I will explain this granular wizardry (as best I can).
You can hear a layer of shimmery piano notes floating above every ominous chord played in the last piece. This is the Particles Engine. Clearly this ambient effect is very unique and reactive. Noire is responding to the notes played and algorithmically creating a cloud of ambience within parameters the user sets.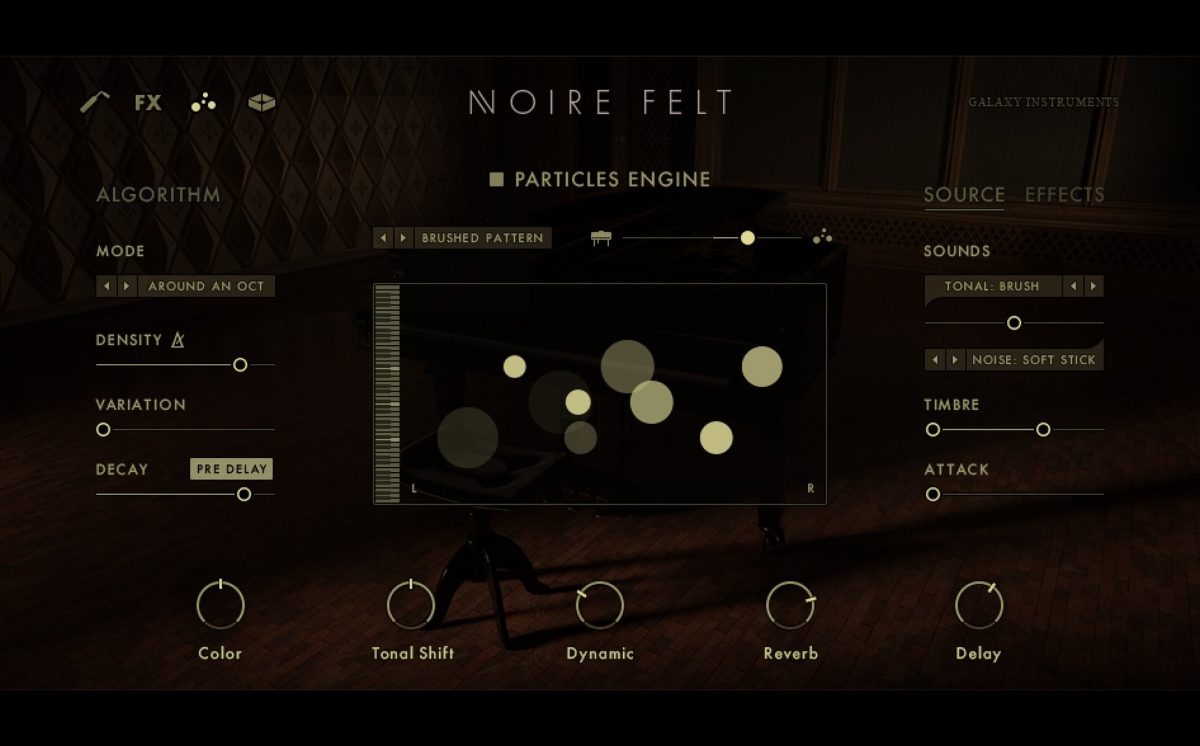 The Particles page tries to make this effect as user friendly as possible by adding helpful controls. You can choose from different algorithms that will determine what notes are played by the particles engine based on what notes you are feeding it. You could have the particles be notes just within a two octave range of what you played, related harmonics, only sub octave notes, etc.
In addition to affecting the notes that are being played, you can determine how much of the particles are blended in, how often they trigger, what type of attack they have, what medium is used to create the particle, their individual attack and decay…needless to say this effect can be very deep, BUT it has near endless possibilities.
A Moody Noire Finish:
Noire can really transport you places. This Piano plug-in is unlike any I have ever tried, but its uniqueness does not detract from its versatility. Whether you are scoring a film or writing the song of the summer, let Noire be your creative inspiration.