Brett St. James (formerly Brett Laymance) is a respected film and TV composer living in the Bay Area. He has filled many roles as an additional music composer for blockbuster films like Venom: Let There Be Carnage, a composer for renowned TV series like Life Below Zero, and even as the guitarist in a touring rock band! In this interview we catch up with the music composer (and new dad) to discuss the industry, his history, and (of course) gear!
A Look at Brett St. James' Career (So Far)
Alex Spiers: You tell someone you are a media composer and they ask what movies have you done? It can sometimes be complicated to answer that question because you may have done SOME music on a project or ALL of the music on a project. What does it mean to contribute to projects, to have a project, additional music, etc?
Brett St. James: That is a question I get a lot: "What have you worked on?" If I said that I am a musician or singer songwriter, people would know what that is defined as, but there are people that literally did not know that I wrote the notes for the music.
Alex: People often think you pick the music that is in a film.
Brett: *Laughs* Yeah that is a music supervisor.
Alex: For instance, Venom is one of the first things someone would see when they look you up on IMDB, was that a project where you contributed "additional music"?
Brett: Yes, that was additional music. That was for Marco Beltrami and his team. It was existing stuff, some reworked stuff, some almost entirely rewritten stuff. That was a connection I made a few years ago. It was a lot of stems that were recalled and brought to my sessions.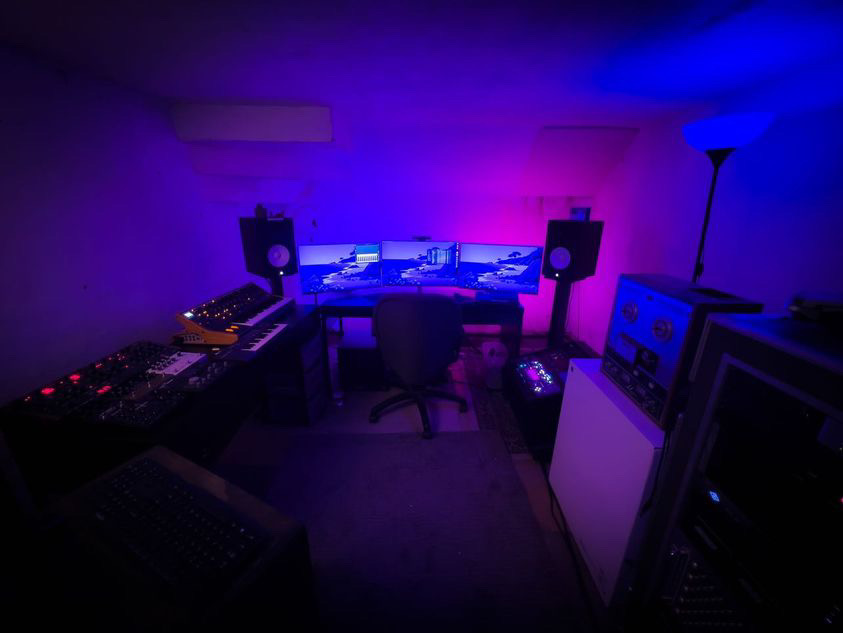 Alex: How did you get your start in the film industry?
Brett: I was fortunate in the first place in that I was in a signed, touring rock band before any of this. I had a lot of people from that industry leave contemporary pop and rock music for the film industry. I was a late comer, but in 2015 I had a friend ask me to score his movie. I was like "I'm gonna screw your movie up," but I did it to some degree of success. He kept me on for some other projects which led to connections that led me to Josh Webber, a director and producer who has done a lot of great work for Sony Pictures. So I was not someone who came from a classical background or who studied film and TV music. I just got my start through a great network.
Alex: That's awesome that you came in more from the produced music side of things – You are in good company with other composers with a similar background like Trent Reznor, Danny Elfman, and even Hans Zimmer! I think that having this experience and moving into film and TV can seem like it is not a 1:1 relationship, yet you talked about having other friends do the same. What makes that industry jump such a seamless transition?
Brett: I think in some cases "Sync*" is what makes that seamless. All of those people were involved in production, like writing songs for placement. Some of those people went on to become filmmakers and directors! For a lot of those guys, film was a passion project. Music and film can both be so expensive to get into, and I see a lot of people realizing later in life that there are other avenues to pursuing their passions in film than just going to school or buying expensive cameras.
Alex: Did you have an interest in film music before you got started?
Brett: I was absolutely obsessed with the Back to the Future soundtrack when I was a kid. I had the cassette to Alan Silvestri's score, the Top Gun soundtrack, etc. I came from one of those families that had a preconceived notion that film music was larger than life and outside the grasp of our means. It was just funny when I was offered my first film, it felt like things came full circle.
Alex: Did you play any orchestral instruments growing up?
Brett: Well I played in the orchestra growing up, so I played cello, drums, anything I could get my hands on.
Alex: But you are mainly a guitar guy, right?
Brett: Yeah, I grew up on piano and guitar.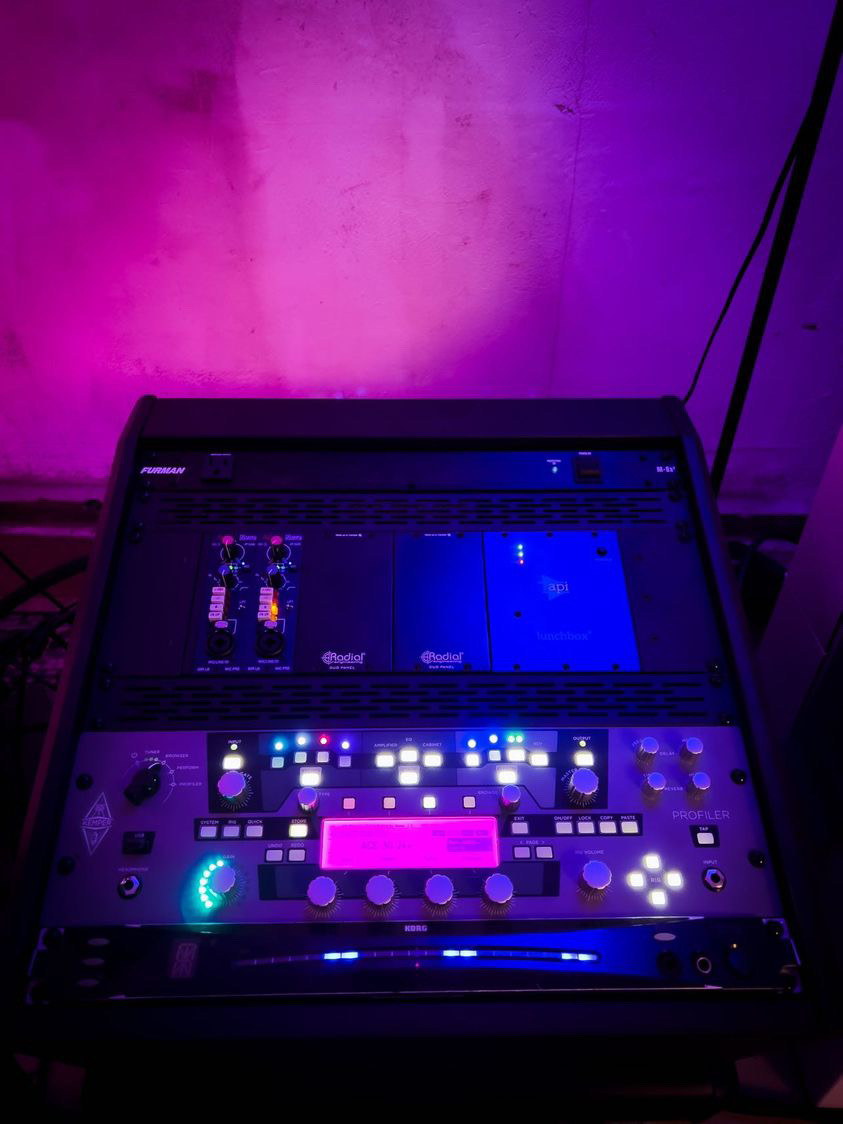 The Composition Process
Alex: Do you feel like your background in piano and guitar often informs how you compose music?
Brett: I feel like it does not. I learned early on how to turn that part of my brain off, it never seemed to have a very direct effect, negative or positive, on what I do. A lot of people hate Adler's The Study of Orchestration, but I re-read that thing at least once a year. I think that helps, jumping on board the orchestration train: knowing the instruments, how far you can push them, what their sweet spots are, etc.
Alex: Was it hard for you to get used to writing music for someone else's vision? What has to change in your brain for you to be able to write well for a client as opposed to just writing for yourself?
Brett: A lot of younger composers freak out thinking that they are going to be told to "write this thing," but they actually are not! They aren't being told what to write, they are being given a hodge-podge group of adjectives, being told what to feel. You can apply your own voice to that. At some point, people are actually coming to you for your voice, for your sound. You are still writing what you want as long as you meet the aesthetic and serve the narrative.
Alex: Three favorite projects you have worked on?
Brett: 1) Who is Lou Gherig? directed by Gil Green. It's about Jeff Fogel, playing himself, grappling with having ALS and fantasizing about what life would be like without it. Gill Green is one of our generation's greatest music video directors. That one really meant a lot to me, and I was given a lot of free reign with the music! I did rock, doowop, and a big tutti orchestra number at the end. 2) Life Below Zero. That was my foray into doing dark, ominous tones — it felt like Forgetting Sarah Marshall *laughs*. It turned into something big with 30-40 episodes under my belt. I got to get to know the story, the characters, and build motifs. 3) I also contributed to an episode of Family Guy. That was a comfort show of mine for 20 years. I was a big fan of Walter Murphy, an incredible composer. Getting to work on the "Blockbuster" episode was awesome.
Brett St. James' Favorite Synths, DAW, and More
Alex: I would love to transition and talk gear!
Brett: I was excited about this part because my tab with you guys is… large *laughs*.
Alex: So your studio: from what I have gathered, there is a ton of connectivity going on. What is the brain of your studio?
Brett: The big rack is the brain. It has both computers: a 2019 Mac Pro rack, and then a mirrored machine running windows for VE (Vienna Ensemble) Pro**. Interface came from zZounds, it is a Universal Audio Apollo X16. Clock, also from zZounds, is a Black Lion Audio Microclock Mk3 xb. The first eight channels in are synths. There is a db25 snake running to one patchbay that connects all the synths to the interface. The synths are always playable into the interface. The synths are the Subsequent 37, the OB-6, etc. Channels 9-16 are the API lunchbox with pres and compressors. The Kemper is on SPDIF. And I am in surround! That is most of my out channels.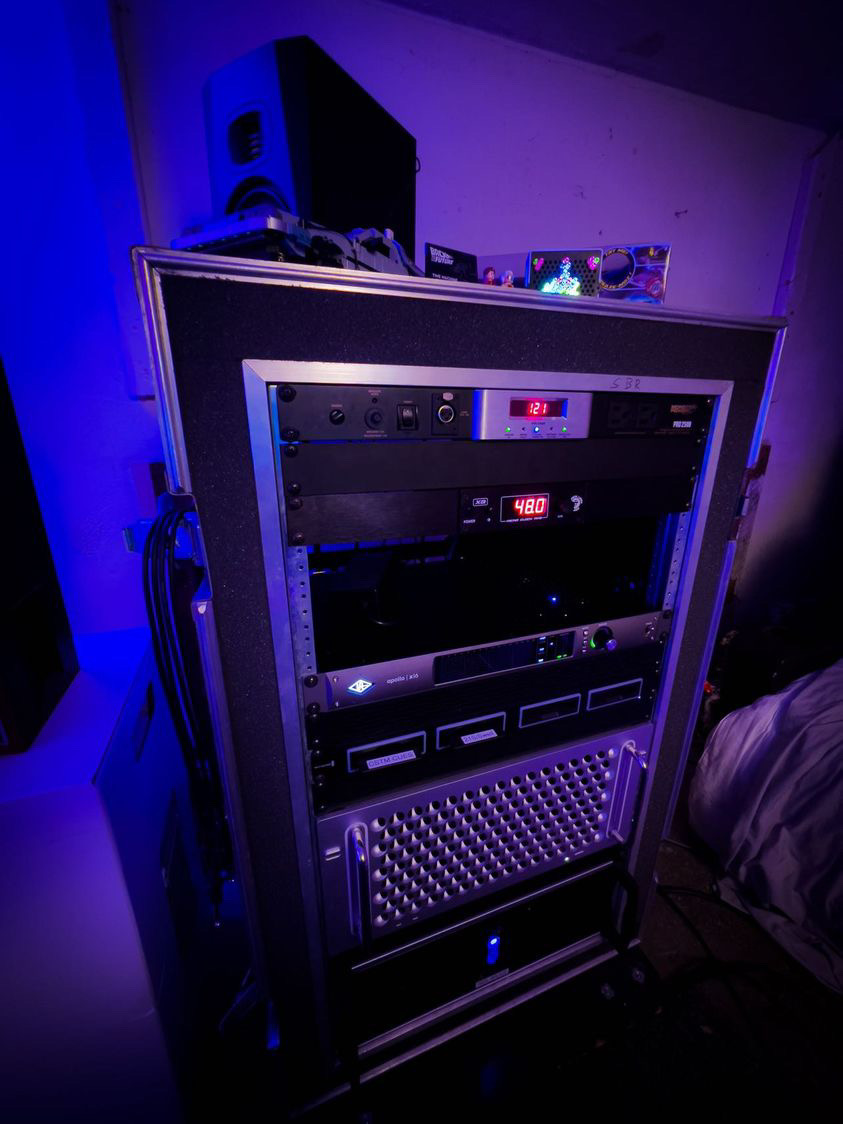 Alex: Is that 7.1?
Brett: Yes, with iterations for Atmos. I use the Dolby Atmos render but not in Cubase. People are often surprised that I am still mixing in Pro Tools.
Alex: Why would you use Cubase over Pro Tools for what you do?
Brett: Cubase is a brilliant writing platform. I used to be a Logic user, but Cubase just had more in terms of workflow capability for what we do. It just spoke to me. A lot of people ask me what the best DAW is, but there is no best DAW, just the one that works best for you! What I love about Pro Tools is that it is set up like the consoles I came up on. I use it for printing and mixing all my deliverables.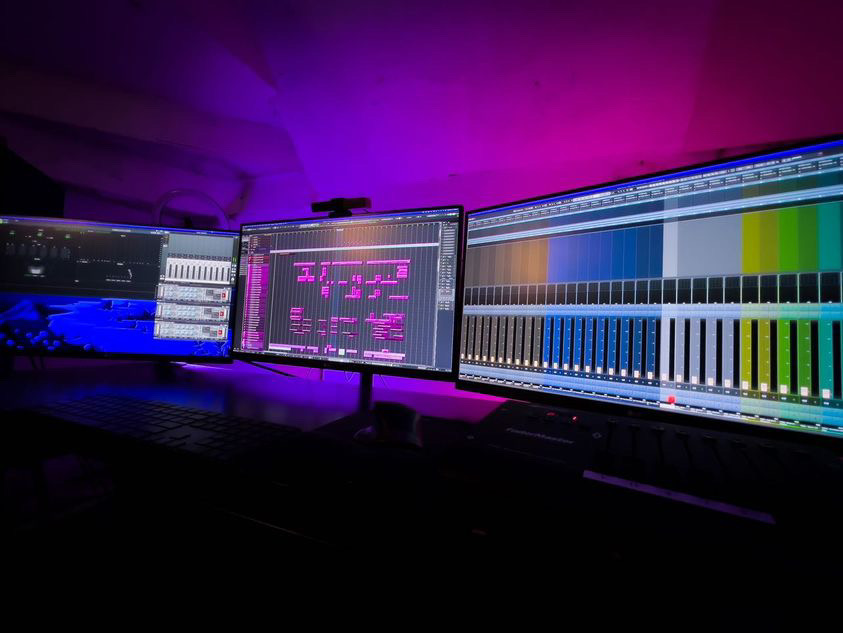 Alex: You have a deep love for synths and effects. What is your favorite synth right now and also your favorite effect?
Brett: Favorite synth is still the OB-6, it just does everything. It can get nasty or beautiful, and it is stereo. My favorite effect right now is the Chase Bliss CXM 1978. I am a huge fan of Vangelis' score for Blade Runner and Hans' followup for 2049. This thing, particularly the lo-fi setting, is just really cool. All my effects are racked up and ready to go. An honorable mention is the Microcosm by Hologram. I have an entire rack of reverbs.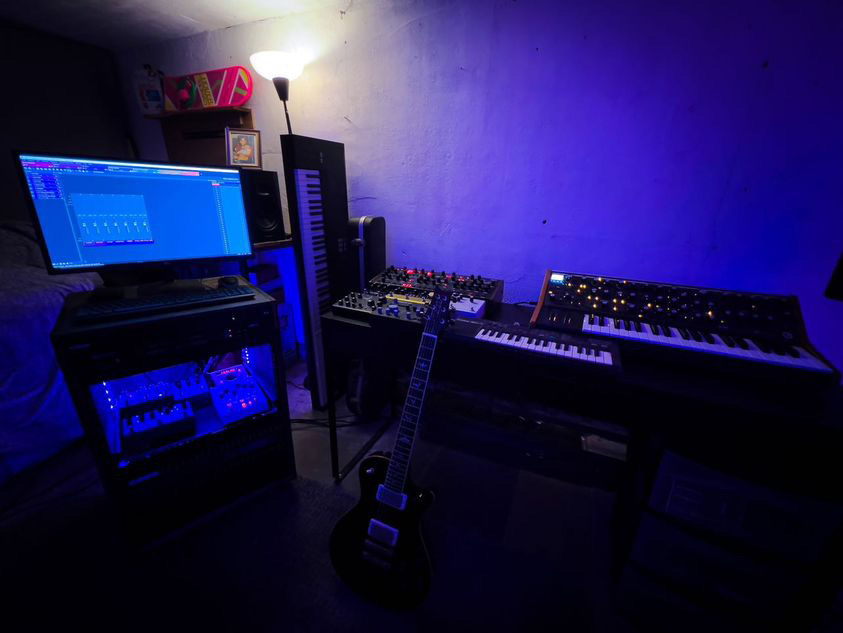 Alex: There are so many effects that have been done to infinity and even some things that software has basically perfected. You enjoy using hardware, obviously. How often in your process are you using hardware synths and effects?
Brett: It depends on the project. If it is TV, almost never. The timelines are too fast. I use them all the time on film, though! I print things if I am going to reuse the effects. The most important thing is reading your manuals and just knowing how to quickly and efficiently use your hardware.
Alex: What are some hardware sounds that have not been perfected by software?
Brett: In my opinion, delay. After using real tape echo machines, it is just easier to manipulate a hardware delay to get the sound I want. There is no menu diving; things are just at your fingertips.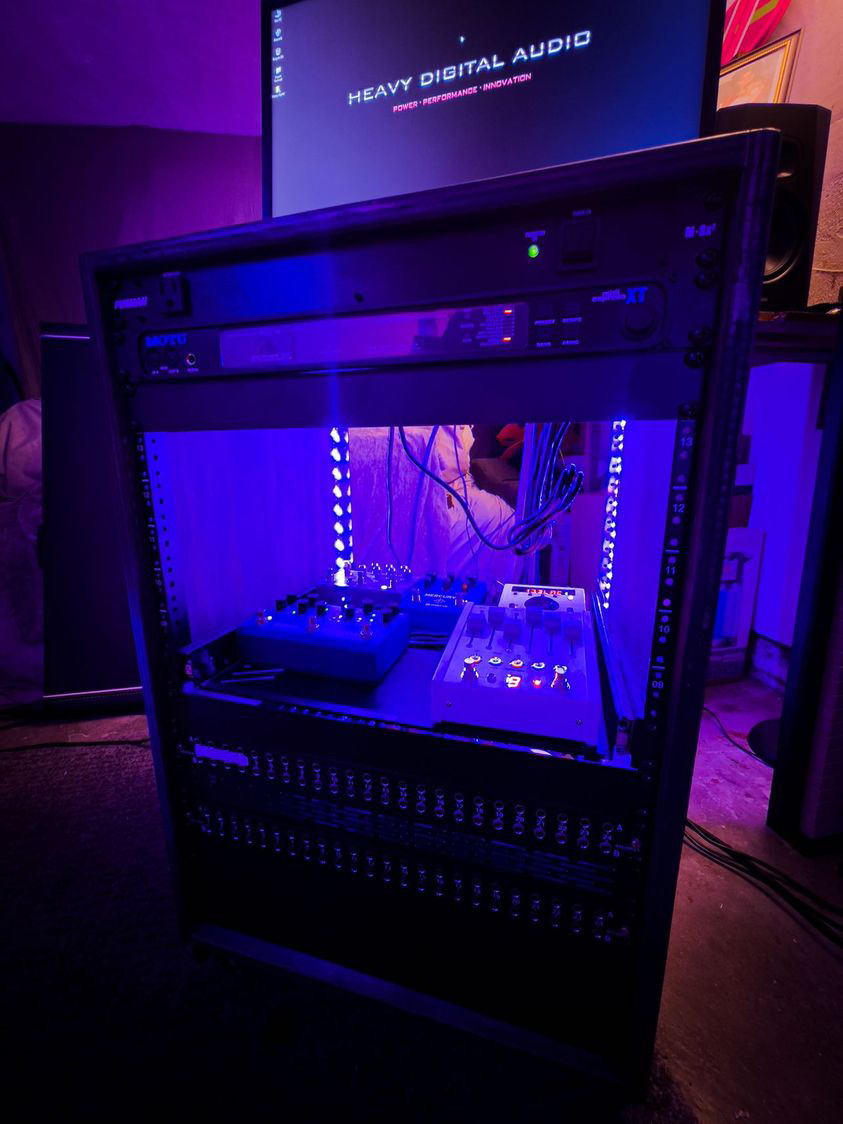 Alex: Last question: current dream piece of gear?
Brett: I have been itching for a Juno 60 for a long time. Come close a few times but the market for vintage synths is just so difficult to navigate.
Alex: I appreciate all your insight and your patronage!
Brett: Of course! zZounds has done a lot for me before I "made it" as a musician and their trust in musicians has always blown my mind *laughs*.
Keep up with Brett St. James:
Instagram: @brettstjames
IMDb: www.imdb.me/brettstjames
Website: https://www.brettstjames.com
Notes
* "Sync" refers to the process of synchronizing moving images to music, but can more broadly be used for the part of the film music industry that works on licensing, songwriting for placements in a film, and to some extent music supervision.
** Vienna Ensemble Pro Software