V-Moda is a high-end headphones brand known for their exceptional high-fidelity sound and fashionable Italian design. Now fully part of Roland Corporation, V-Moda has grown their catalog in recent years from strictly over-ear headphones to wireless earbuds and omnidirectional microphones.
From time, to time, V-Moda shakes things up with limited-edition headphones. The headphones I'm reviewing here honor one of the greatest rock bands in history: The Rolling Stones! So, how do they sound, look, and feel? Read on to find out!
The Look
First off, it should be noted that these Rolling Stones Edition headphones are limited-edition versions of the Crossfade 2 Wireless model. Those, like all other V-Moda headphones feature a striking hexagonal "shield" design on either earcup. This, combined with their black all-metal joints and frames, set these headphones apart from just about everything else out there.
The Rolling Stones Edition models come in three styles: Classic Licks, No Filter, and Tattoo You. Each one features a unique variation of the iconic Stones "tongue" logo on the outside of both earcups. I liked the look of the "No Filter" graphics on my pair — they're a sort of distressed take on the logo we all know.
Their placement on either earcup gives these headphones a subtle Stones flair, which is great for folks who want just a spritz of pizzazz. However, I thought V-Moda could have gone bolder with the styling, maybe by including "THE ROLLING STONES" across the headband or some alternate colorways for folks who want to go all-out. Still, I think most fans will be pleased with the three options.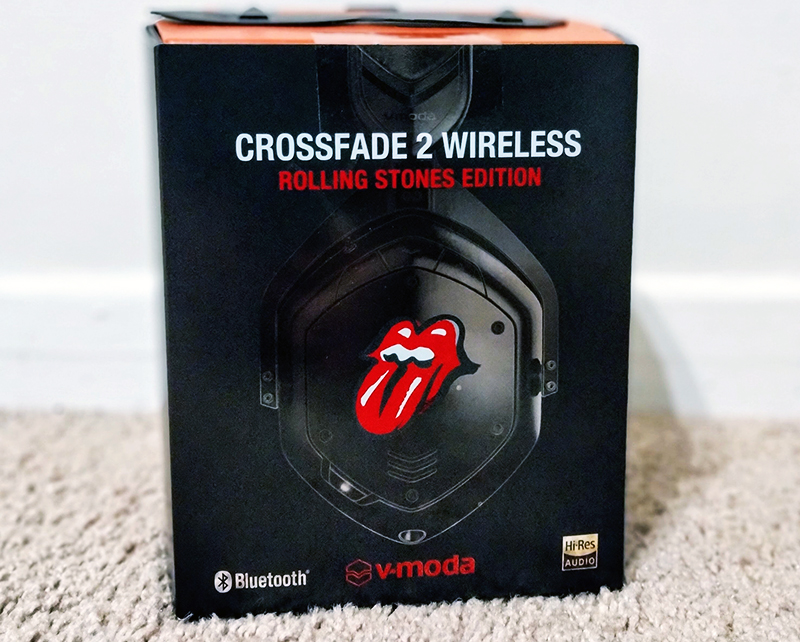 Features
The unboxing experience made me quickly realize that V-Moda puts a lot of thought and care into their user experience. One small but effective touch: the box features a luxurious studded button tab you pop off. It felt like I was opening a high-end cologne or designer shoes — fitting for a product designed in Milan. The box itself has an elongated hexagonal shape — a nod to the headphones within.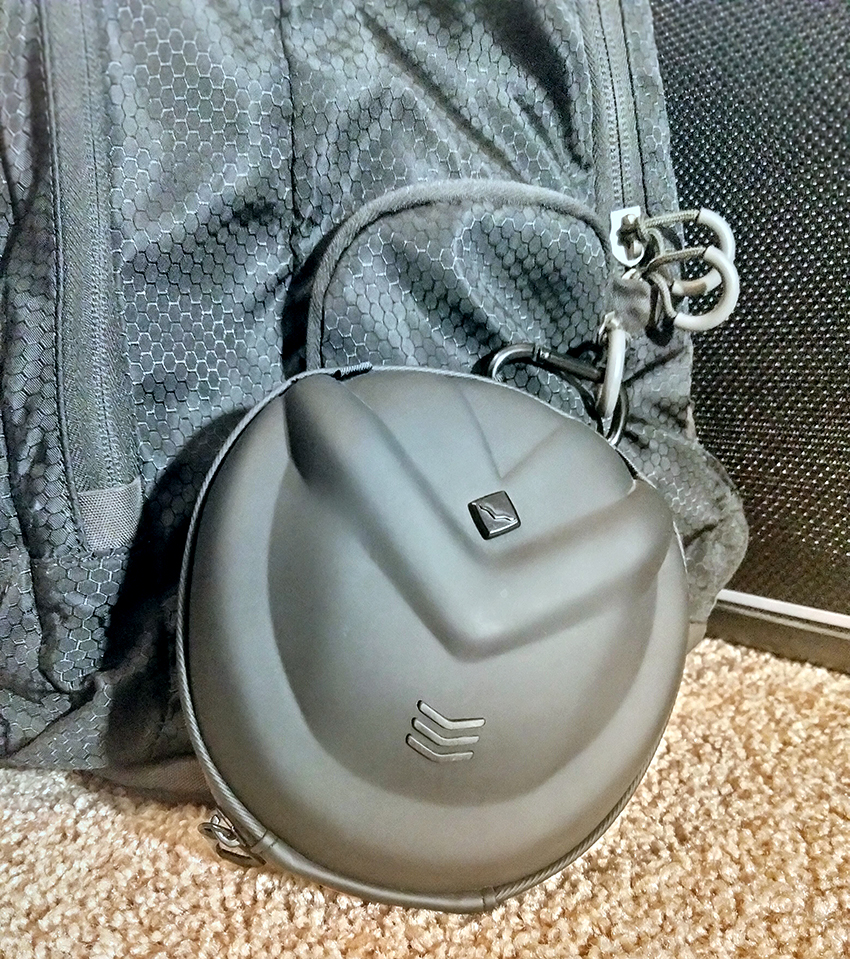 Within the box, the headphones are protected inside a heavy-duty clamshell-style case. The semi-rigid outer shell has a nice rubbery feel to it. Unzipping the case revealed its orange interior as well as the Speakeasy cable for wired use. The box also contains a micro USB charging cable, and gold-plated 1/4″ adapter.
The Fit
By far the biggest "wow" moment for me came when I unzipped the carrying pouch and pulled out the headphones for the first time. Prior to this, I had never experienced V-Moda headphones in person. I have written emails to promote them and carefully looked through their product pages to learn about them, but holding the pair in my hands made me realize what all goes into these.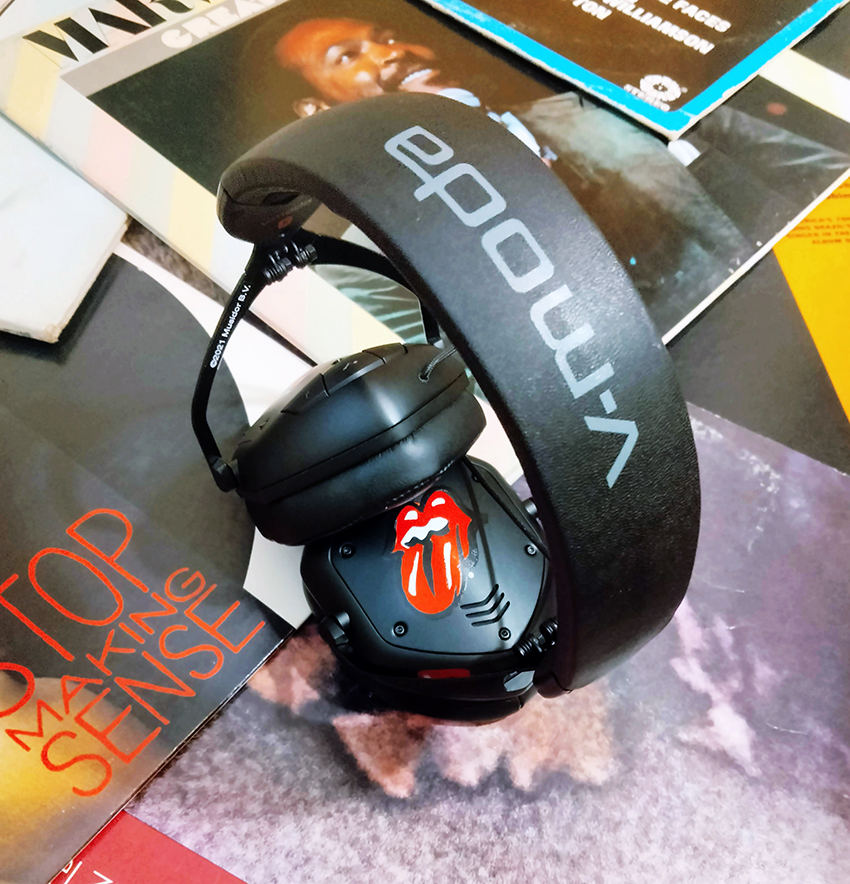 These headphones have a weight to them that speaks to the quality of the components. The steel flex headband feels cool to the touch — because it is actually made of metal! As someone who has broken multiple pairs of headphones where the arm meets the earcup, the metal build is worth every penny to me. I took the headphones out of the case and unraveled them from their folded position; everything moved smoothly without ever feeling loose or getting stuck. The phrase that came to mind here was "finely tuned."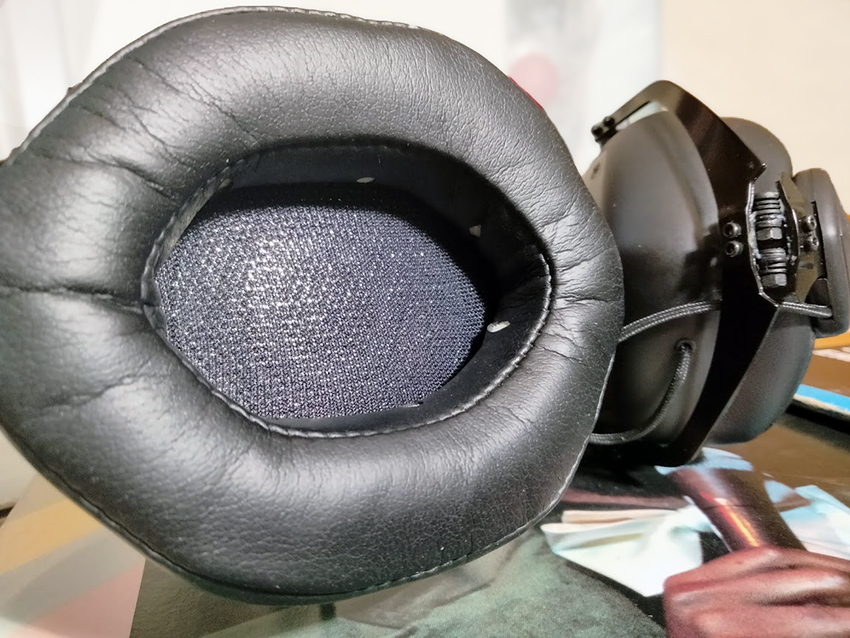 Even during long listening sessions, the memory foam earpads remained comfortable over my ears. The fit was solid but not overly tight. If you're like me and often listen while wearing glasses, you know how quickly you can get tired of wearing headphones. These V-Moda headphones were one of the most comfortable pairs I've worn.
The Sound
Of course, all of the above means nothing if the headphones don't sound good, right? While I am no audiophile or certified audio engineer, I can appreciate the work V-Moda has done in tuning these headphones. I could tell you about the Japan Audio Society Hi-Res certification these headphones received, or I could just share my general opinions.
Crossfade 2 Wireless headphones are geared toward music lovers for their everyday listening needs. For that purpose, I'd say they go above and beyond the call of duty. To my ears, they delivered rich bass that was well-balanced with the highs and mids. Compared to other studio monitor headphones I have used from Shure and AKG, I found the sound to be a bit "sweetened" — V-Moda refers to it as "Crossfade's award-winning signature sound." Still, they're far more authentic than a lot of other "luxury" headphones brands out there. Could you use these in the studio to mix? They wouldn't be my first choice, but they could work in a pinch.
As for the user experience, I enjoyed using the V-Moda Rolling Stones headphones via Bluetooth or connected. To pair, all you need to do is slide the switch on the right earcup to the "on" position. You'll see a light come on and hear an audible tone. From there, the headphones can be found and paired with your mobile device. You'll hear another ding once they're paired, and you're good to go! More controls near the top of the right earcup control volume and play/pause. My hand quickly memorized the locations of these buttons, and using them felt natural.
V-Moda lists the battery life for wireless operation as about 12 hours on a single charge. While I didn't count my listening time, I feel like that was true to my experience. To put it another way: you can trust these headphones to last on that long flight or road trip.
Overall
I'm very happy with the V-Moda Rolling Stones Edition Crossfade 2 Wireless headphones I was sent to review. From the build quality to the sexy looks and comfortable fit, to the crisp and full sound, these exceeded my expectations time and again.
As someone who has primarily used budget studio headphones at or under the $100 mark, this was my first time trying "luxury" headphones for an extended period of time. I'm happy to say I get it now. If you're a Rolling Stones fan who wants to listen to their discography with the utmost quality and comfort, nab these while you can! And you can't go wrong with the rest of V-Moda's offerings either.