What exactly is a DJ company doing making a DAW? I wager, just like me, you had this same thought running in your head when word of Serato Studio software came out. It's the elephant in the room anyone reviewing this software (as we're wont to do today) must address.
The Road to Serato Studio
Serato's story begins in New Zealand, around a decade ago. In 1999, some young college grads from Auckland — Steve West and AJ Berstenshaw — ideated and created software that could slow down or speed up audio on your computer without altering its pitch. What began as a nifty side project to help one of them with their bass practice begat their first product: Pitch 'n Time.
With time came their first entry into the DJ realm, 2000's Noisemap — a way to control digital playback via a specially-pressed CD. This yielded further and further explorations of what exactly they could do on the DJ software front. 2004's Scratch Live found West and Berstenshaw creating a new standard for DJing, a software suite that introduced digital crates, virtual controls, and a whole slew of modern interfacing that'd revolutionize contemporary DJing. By the time of 2017's Sample, Serato had reconnected with its beginnings, trying to nudge a huge DJ base into realizing that they too can take a stab at making their own music.
This is what makes Serato Studio so interesting. In the beginning, you're treated with this view: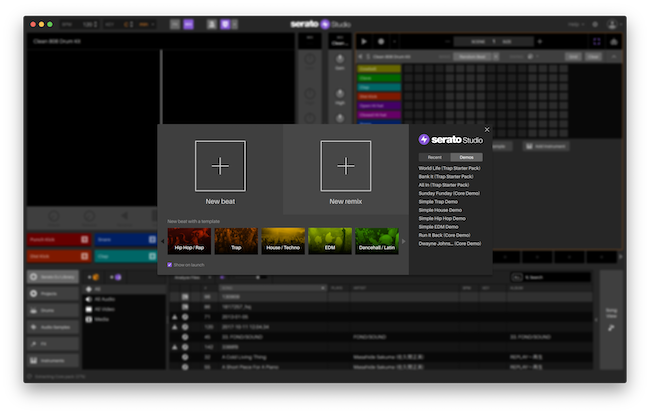 Not running away from their DJ-centric history but owning it, Serato Studio presents a view that's immediately familiar to those who came from their ecosystem: Do you want to make a beat or remix a track?
Choose Your Own Adventure
In the beginning I was perplexed by what to choose when initially opening Serato Studio. If you come from other DAWs, any screen prompt to create something usually posits different questions. Do you want to create a new song? Would you like to load from an existing template or project? Some just throw you straight to a session view or empty timeline. Serato Studio is different.
The screenshot above presents two options: New Beat or New Remix. Below the "New Beat" selection you're presented with further options, like whether you want to load a template for EDM, Hip-Hop, House/Techno, etc. Immediately, as a musician or producer, that feels different.
Selecting, let's say, a New Beat with a [House/Techno] template, takes you immediately to a grid view with a preloaded drum track.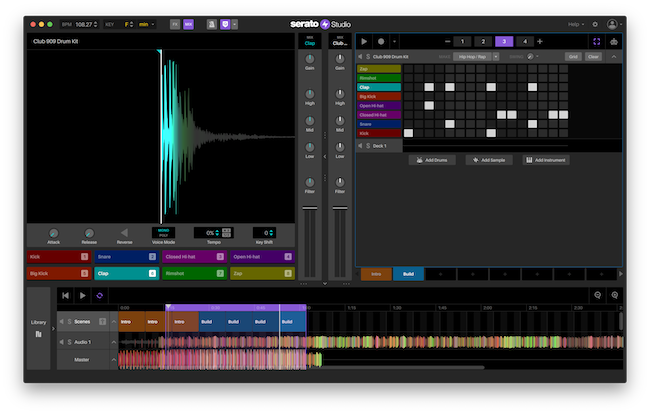 Those of you familiar with Serato DJ will instantly recognize some of the visual cues found on their DJing software. A split screen divides your interface. On the left, you'll notice a huge display showing the waveform of the selected drum hit with concise controls for attack, release, polyphony, tempo, and pitch. Immediately below it you'll notice virtual pads with numbers that correspond with computer keys you can press to trigger those specific drum kit sounds. Press 1 and a kick sounds, for example.
Moving right, we cross to the center where mix controls — once again very familiar to those who've used Serato DJing software before — provide immediate control over a 3-band EQ and filter within each sample (that's the left mix pillar) or the whole mix (the right pillar). Now, as we land on the right pane, you'll get to experience Serato Studio's impressive new twist on the "clip" or "pattern" modes a lot of us have grown accustomed to.
Creating Sequences
In Studio's grid mode, you can do a couple of interesting things. First and foremost, let's make a beat. Using the [Make] function, you can select an existing genre or style from a drop-down menu and depress the button to let Serato generate a beat for you in that style. Pressing the play button on that view lets you listen to the beat. If you want to generate something bigger than one bar, you can increase the "Scene" size up to 8 bars. Selecting a specific bar size allows you to go into a bar and adjust that initial beat that got duplicated across the scenes to create variation. A swing control allows you to add more "human" feel. For those that create the scene size first, generating a beat from the menu will stretch out various similar but not quite-the-same beats across all scenes. The robot icon on the top right of this allows you to adjust specific parameters over time, an automation fine tuner so to speak. Finally, if you don't like the beats you create or generate, a "Clear" button clears the grid.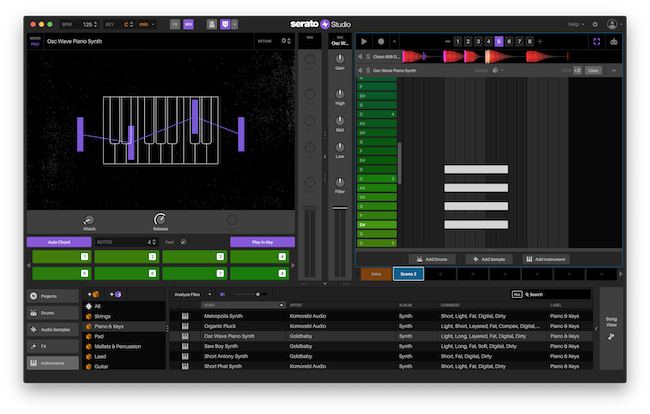 Adding something else — maybe an instrument or a sample — changes the grid view into a piano roll. From this view, on the left you're able to trigger notes or chords (if you use the Auto Chord feature) that can play in key or out of it with the drum patterns you created in the same fashion as before. Likewise, if you prefer to play outside of a key, you can depress that button, and see the view transform into a quasi-piano octave. Whenever you're ready to record a melody or accompaniment, simply hit the record button and your performance gets recorded through the pages of the scene. Adding "Feel" to the performance causes the notes to arpeggiate more and more, depending on the level of the control. Of note here, is that if you drag in a third-party plug-in instrument you can click on the "eye" icon on the top right of the left pane to adjust any parameter in your plug-in.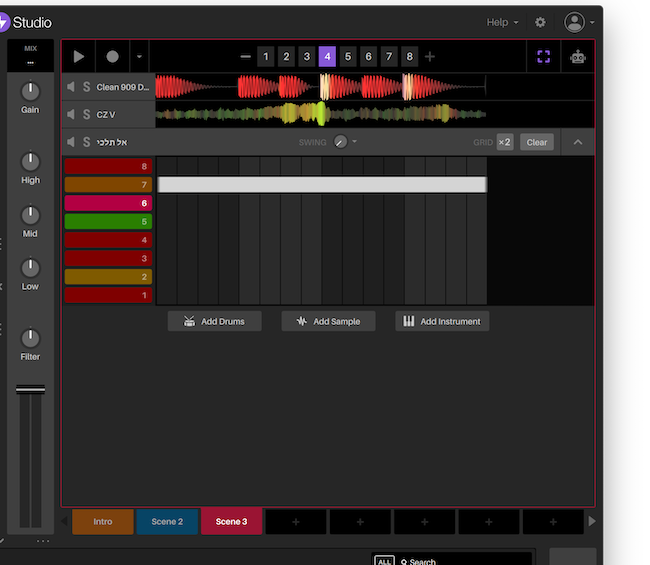 There's something I noticed about Studio's grid view that seemed intuitive to me. Near the bottom, you'll see a tab labeled "Intro." For those who aren't new to making music, Serato is steering you into creating specific scenes for your song. Things like an Intro, Chorus, Bridge, Outro, etc. are easily made simply by clicking the [+] signal next to each tab, then selecting whether you want to copy from an already existing scene or create a new one. This is how you can quickly lay the building blocks of whole songs from a barebones beat at the beginning.
Digital Crates For Virtual Gear and Music
What strikes me about Serato Studio is how it integrates a lot of what Serato DJ software does so well. None of that is more clear than when you look at the bottom "Crate" area. From that section, you're able to select specific instruments, samples, tracks, or plugins to use in the software.

As Serato states, this is how you can organize your favorites, in a way that might seem a bit alien to most vanilla DAW users but seems intuitive to those who've worked with programs like Spotify, Serato DJ, etc. that use metadata to tag music based on facets.
This is easy to understand. Picture your iTunes or Foobar music collection. That's how this section works, as well. You can label a certain plug-in as belonging to a certain genre or having certain attributes. Clicking on the "Add Crate" button allows you to create a "setlist" of sorts that you can stash certain tracks, samples, or plug-ins into to reuse at any moment. Adding a "Smart Crate" lets you create a data filter that looks for, let's say, "short, digital, house, pads" and auto-populates a crate with all the stuff — tracks, samples, and plug-ins — that fit this criteria.
At the very top of Serato Studio you should see a row giving you options to change the BPM, Key and toggle FX and Mixer views (among standard transport control). This really comes in handy when you load a sample to use in a scene.
Loading a sample — whether a quick, short one, or a complete track — treats you to a very Serato-centric view that hearkens back to "Pitch 'n Time". In the left pane, you'll notice that Serato Studio will auto-slice your sample to fit notable transients into spaces or "Cue Points" for all 8 trigger pads. Sample mode will also auto-pitch and sync your audio to match the key and tempo of your project (or slow/quicken up in time/key).
For those familiar with Serato DJ's grid mode, it's also in "Sample" mode as a selectable option when you hover over the waveform, letting you dial in the exact slices you want to load into the trigger pads. Depressing a specific slice, then pressing the keyboard icon, lets you play that specific slice in key across the octave range, much like a software sampler you'd find in Ableton Live or elsewhere. All of this leads us to Serato Studio's "Song" view.
Remixing For All
If we go back to the beginning, when Serato prompted us whether we want to create a "New Beat" or a "New Remix," we can appreciate how differently Serato Studio thinks of "Song View."
In typical DAWs, "Song View" can be thought of as the standard "arrangement" view. Like in the days of yore, this is the view you use to linearly lay down tracks in a sequence of time. On tape, you'd hit record, then go back to splice away or overdub music into this space. In the digital space, it's a matter of using multiple audio rows to move music, waveforms, and MIDI sequences to your liking. Serato Studio's "Song View" harkens back to the musical, destructive audio editors of the past like Sony's Sound Forge or Sonic Foundry's Acid, where the musical timeline is partly an instrument itself.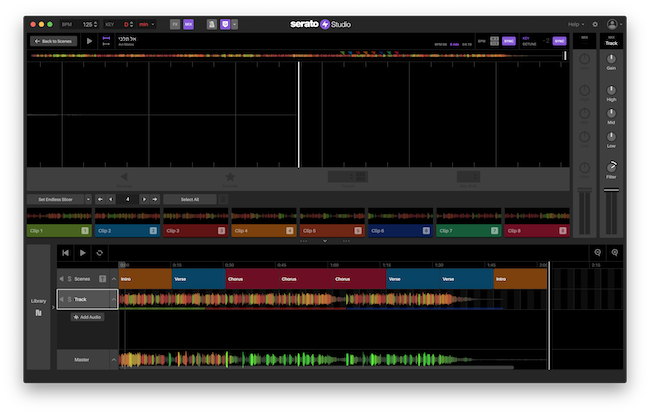 This means that when you drag and drop a whole track to remix (or wish to create a new one from the pieces of sequences in the other view) you'll see the timeline show an expansive waveform you can edit or treat as you would in a sampler instrument. Here you can set how the track gets cut up. Using the Slicer function you're able to either set clip beginnings for the wave form or enter them yourself by hitting a key when playback reaches a desired split point.
By simply dragging clips down to the timeline, you're able to repeat certain parts, truncate them, or re-arrange a whole song quickly, almost as an editor would, editing film clips in Finale or some other form of video editing software. Any existing scene you created can instantly be added to the timeline as well. And since all the plugins follow the same key of your track, it's near impossible not to make your edits sound "musical."
Who Is This For?
In the end, all this distillation of what could be head-shakingly convoluted things to achieve in other more "pro"-level apps makes Serato Studio not just a great beginner DAW but also a DAW for those pro users that want something a bit more instant and immediate when making music in-the-box.
Although DJs and beat-makers appear to be the focus of Serato, I think other musicians might benefit from its (seemingly) back-to-basics idea of music creation. Once you get a hang of the workflow, it's easy to understand just how powerful basing whole songs on a key or an existing track can be. For sure, it's a great sketch pad for those used to (and only comfortable with) legacy DAWs like Apple's Logic and Avid's ProTools. However, those versed in Ableton Live, Reaper, and other DAWs that take cues from more performance-oriented software, can find a lot to love about Serato Studio.
Final Quibbles
As always, there is no such thing as a "perfect" DAW and there are a few things I noticed about Serato Studio that could be improved (and might be) in future versions of this software. Likewise, as the software grows, I can imagine there will be different kinds of hardware interfacing with it that can live outside the realm of DJ-land.
First and foremost, as a DJ-oriented brand, I'm surprised there isn't more granular control over the tempo of a song. Unless the music you plan to make is in strict 4/4 time, plan on trying to find ways to work around the lack of varying time signature. And as good as their grid-based sequencer is, it would be nice for it to allow you to edit step lengths (i.e. a wonderful way for us to create polyrhythms, if for some reason, we can't get to control the project's overall time signature).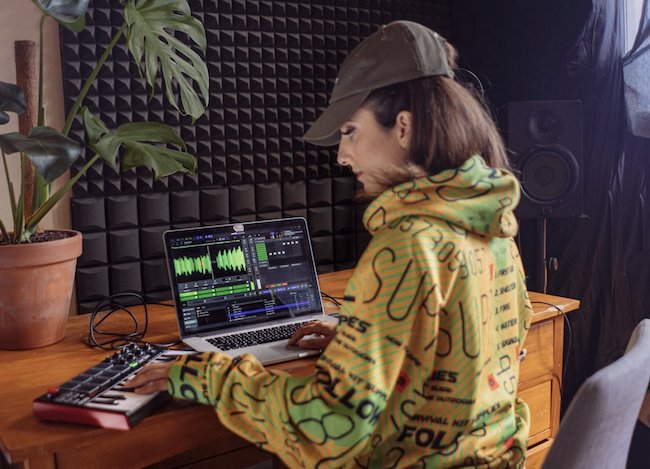 I did notice that the built-in software instruments could afford to include more granular control over their sound. Having, at the most, only three controls over the contour of a sound makes it easy for beginners to wrap their head around a bass sound but harder for those that are a bit more advanced in production to get those sounds to deviate from the default. Similarly, it would be interesting (or helpful) if Serato could take a snapshot view of any third-party plug-in we drag into the DAW. At the moment it's hard to picture your plug-in until you click on an icon to bring it into view. Bringing into view a way to add our own macros to the plug-in view would be great as well, even if it's only currently limited to three (in Serato's own instrument plugs).
This brings me to another quibble for this interesting DAW. I'm a bit puzzled why there aren't any ways to assign MIDI CC to controls on the software. I understand how Serato automapped most of the interface itself to be 1-to-1 to standard DJ deck layouts, so that pads, EQs, etc., will react to what you see on the screen, but (especially) for those who aren't DJs, it would be nice to use one's own MIDI keyboard to twist a knob and assign a virtual knob to it. At the moment, it can be a bit of a pain to try to record automation since there's only so much one can do at a time with the onscreen and computer keyboard layout. This extends to built-in effects that are "one knob does it all" deals. It would be excellent to have more granular control over what exactly those great DJ-inspired effects are doing.
Finally, I think this would be glaring to most seasoned DAW users, but there needs to be a way to record your own external audio into Serato Studio. At the moment, there isn't a way to bring any audio outside of its ecosystem without converting first into an audio track and dragging it into the software. Many times, as I was using Serato Studio, I kept thinking how I had external gear that would add something to a track but had no way to do so. I can even imagine recording a base track, having Serato Studio analyze it for key and tempo, and then using its built-in crates to start building it better.
Final things aside, if you have the time, give Serato Studio software a spin and you'll realize that for those looking to make killer edits or hype beats to build from, there really are few software solutions out there that can compete with it. Rejigger your thinking and you can create tracks far faster than you can in other DAWs.