You can't always get a feel for a place through a Zoom call, but when that place is Lakland headquarters, you pick up quite a bit. The low rumble of the Brown Line trains running overhead every few minutes and the metallic tapping of frets clued me in that the Lakland folks were hard at work building basses in their Chicago office.
"This time last year we were shut down. Me and my brothers were sitting in here in the dark, wondering how things were going to go," Lakland President John Pirruccello said, recalling the earliest days of the COVID-19 pandemic.
In 2021, Lakland has emerged from the ongoing pandemic stronger than ever. Demand for their fine-tuned basses has remained high. Pirruccello's took a gamble by stocking up on inventory during the pandemic's early days, and it paid off. In fact, order volume has been so high, the company still can't quite keep up with demand.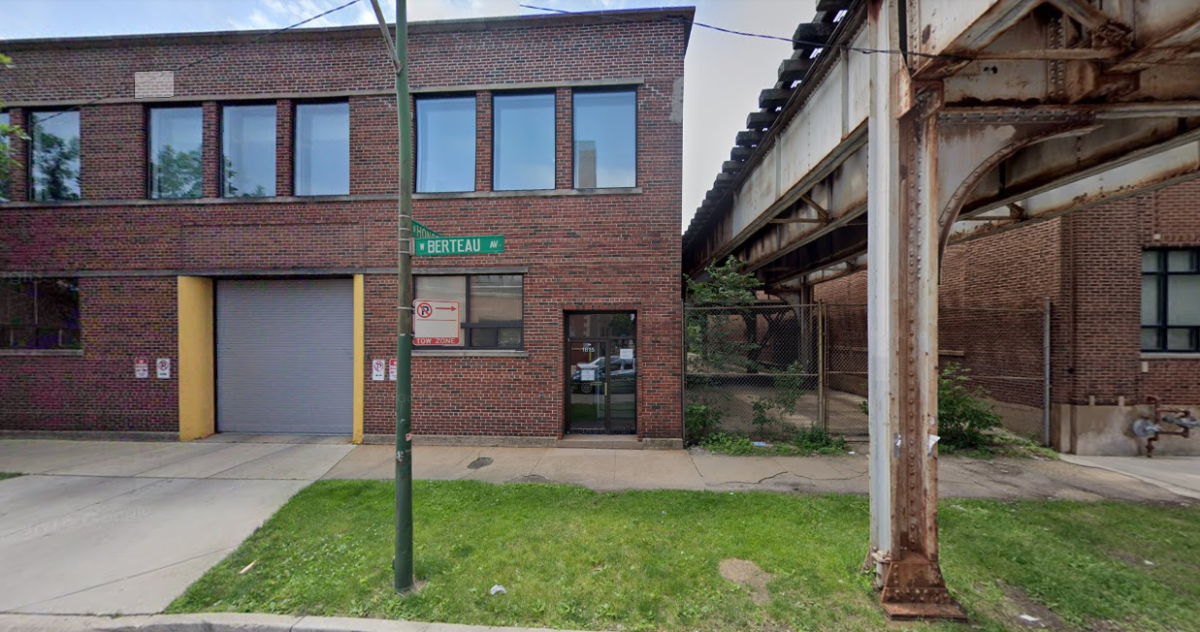 Lakland History
A longtime friend of company founder Dan Lakin, Pirruccello has been part of the close-knit Lakland family since the very beginning. A professional musician himself, Pirruccello got started flipping old guitars with Lakin in the early '90s. Through that business, Lakin met a local luthier named Hugh McFarland, whom he commissioned to build the first Lakland bass prototype. Today, the company these men founded, a portmanteau of their last names Lakin and McFarland, is one of of he most highly regarded bass brands around.
Pirruccello helped get Lakland off the ground by designing ads in those early days, eventually quitting his job to work full-time at Lakland. He started in sales, then became operations manager, setting sales goals and establishing Lakland's presence at industry trade shows.
Lakland's profile grew organically through the '90s and early 2000s. The brand earned good reviews in magazines, and word of mouth enticed players to check out these high-quality, reasonably priced, American-made basses. And though it has grown over the years, Lakland remains a familial workshop. The business now operates in a 12,000 square foot facility in Ravenswood, Chicago, where they wind pickups, do finish work, fret installation, PLEK frets, and more.
A Better Bass Through Engineering
The earliest Lakland basses took a sort of "greatest hits" approach, as Pirruccello puts it. Those basses took certain aspects from vintage P- and J-style basses, as well as StingRay basses and those crafted by innovative luthiers of the time like Roger Sadowski. Lakland luthiers found the sweet spots in neck profiles and neck widths to foster a comfortable playing experience. They also determined the right finish oils for maximum resonance and added graphite rods in the neck to eliminate dead spots. Active pickups were developed to sound more like passive pickups, but with the added benefit of adjustable EQ curves. This meticulousness helped Lakland basses play in tune with the bassist and their vision.
"A lot of that comes into the engineering standpoint. I always use the term 'over-engineering' because the attention to detail was ridiculous," Pirruccello said. "We're lucky that we have a very, very fine luthier and builder, engineer, and machinist that's been with us since day one; his name is Carl Pedigo. He was with the original builder as somewhat of an apprentice but he learned all these processes back then and now he's probably done more fret jobs and built more instruments than almost anybody in the business."
The Skyline Series
In 2001, Lakland expanded its roster with the addition of the Skyline Series. These instruments, originally made in South Korea, and since 2008 made in Indonesia, offer basses at a level of quality that's difficult to find at their price point. Lakland accomplishes this by using a hybrid production model:
"[Skyline Series basses] are manufactured by our overseas partner," Pirruccello explained. "All of them are brought to Chicago where we PLEK the fretboard and we install our US electronics that my brother Bo makes."
Skyline Series basses echo the shapes and design of Lakland's U.S. made basses, so players can rest assured they're getting a well-thought-out bass with impeccable feel.
"If you buy one of our Skylines and you pull it out of the box, you've got about a 95 percent chance of it still being in tune and being able to go straight to a gig with it if you wanted to," Pirruccello said.
Star Encounters
As a growing bass brand in Chicago during the mid-'90s, Lakland was in a hotbed of musical activity. Pirruccello fondly remembered the artists who came through the "Dickens-esque dirty factory building" that housed Lakland in its early days.
"We had a lot of people who would come through, you know from our early signature artist guys Bob Glaub and Joe Osborn and Jerry Scheff, and Darryl Jones who was originally from Chicago.
"But I particularly remember one day when we were sitting around and a guy that worked up in the front office
came back and said 'yeah this limousine just pulled up; it's just sitting there and it's somebody for you guys,'" Pirruccello recalled. "So we went up we went to the front and looked out — as the door pops open, Adam Clayton from U2 pops out."
After gathering themselves, the Lakland crew gave Clayton and his tech a tour. Just another day at their dusty office!
In his own career as a musician, Pirruccello has also been able to rub elbows with musical greats. He's played with the Nicholas Tremulis Orchestra, The Autumn Defense, and has recorded with Keith Richards and toured with Alejandro Escovado and Charlie Sexton, among others.
Signature Artists
Looking through Lakland's signature artist roster, there are undeniable legends like Darryl Jones of The Rolling Stones and Geezer Butler of Black Sabbath. But there's one name that stands out, at least in this country: Tetsuya, of the Japanese band L'Arc En Ciel.
So how did a Japanese rock bassist get a signature model with a boutique bass brand from Chicago?
"We have a business partner with ESP guitars," Pirruccello explained, "They distribute U.S. series Laklands in Japan and then they license our models and our trade names."
Tetsuya's signature model includes a custom-designed preamp and comes in a transluscent pink finish. It's completely unlike anything else Lakland makes.

Chicago-based virtuoso Darryl Jones approached Lakland in the early 2000s with the idea to do a signature bass. The model Lakland designed was inspired by a mid-'70s Jazz Bass Jones had played during his time with Sting.

On the other end of the musical spectrum, Geezer Butler of Black Sabbath had become a Lakland fan, after discovering one of their basses on his own. This led to an informal partnership, and soon, Geezer was playing Lakland nearly exclusively. Eventually, his tech Terry Welty approached the company to develop a signature model.
"So he sent me all these kind of different style bases than we normally do that he had played in the past — double cut, SG-style stuff," Pirruccello explained. "So we came up with this unique piece and we got pretty far down the road with it, and then kind of at the end, we sent him a prototype and he liked it, but then [Geezer's tech] came back and said 'you know he just he wants more of a P-style bass.'"
The Geezer Butler Signature model was finished off with a custom striped anodized metal pickguard, and custom inlays.

For the final stop on Black Sabbath's The End tour in their hometown of Birmingham, Lakland engineers decided to surprise Geezer with a fully customized bass featuring graphics of his favorite soccer team, Aston Villa FC.
"I just basically figured out how to create graphic stencils. I used a laser cutter and different materials for masking and just kind of made it up as I went along," he explained. "And I don't know — I must have had somebody guiding my hand or something that day but it came out so cool."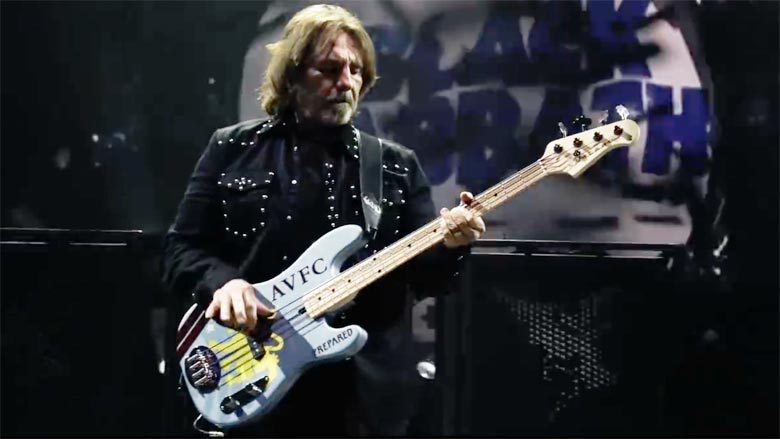 Lakland Looks Ahead
When asked what's next for Lakland, Pirruccello seemed excited about the pipeline ahead. For one, he's worked with James "Hutch" Hutchinson, best known as the Bonnie Raitt's bassist on designing a new model. It's a short scale, 30″ solid body bass with a P/J configuration, due out around June.
Beyond that, and perhaps a couple of other things he can't confirm at this point, Pirruccello says he is just thrilled and grateful to be so busy designing and making basses.