In today's world of recording, there are a million-and-one options for tracking your bass guitar. From "direct-in," (DI) to amp simulation software, or even traditional miking of a bass cabinet, you've got options. Each option has its own pros and cons, so why not limit the cons list and combine two of these techniques into one potent and powerful method used by nearly every professional in the recording field? Mixing your bass DI with a miked bass cabinet offers the incredible result of retaining the instrument's low end without sacrificing the edgy tone coming out of your cab! Capture both signals and get the best of both worlds with this one, simple bass recording technique.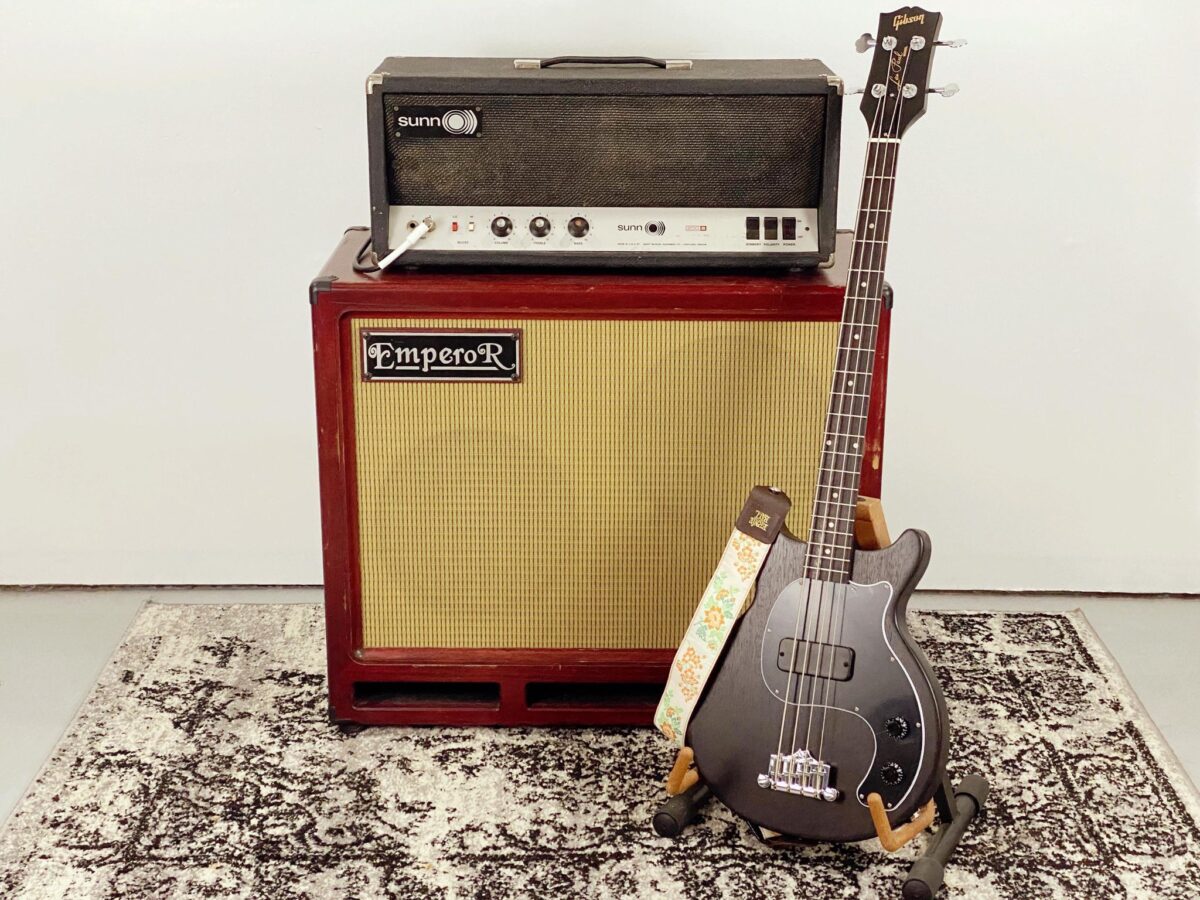 The Setup
First thing's first: what are you trying to capture? This technique is obviously most noticeable on tracks with fuzzy or overdriven tone coming through your cabinet, making the DI's job of "stabilizing or grounding" the track clear and straightforward. But there's also the added benefit on tracks that don't necessarily need any "edge" to them to have a dry signal captured just in case you want to re-amp a part at a later date, or experiment in DAW (Digital Audio Workstation) with effects, mixing or even a simulation software.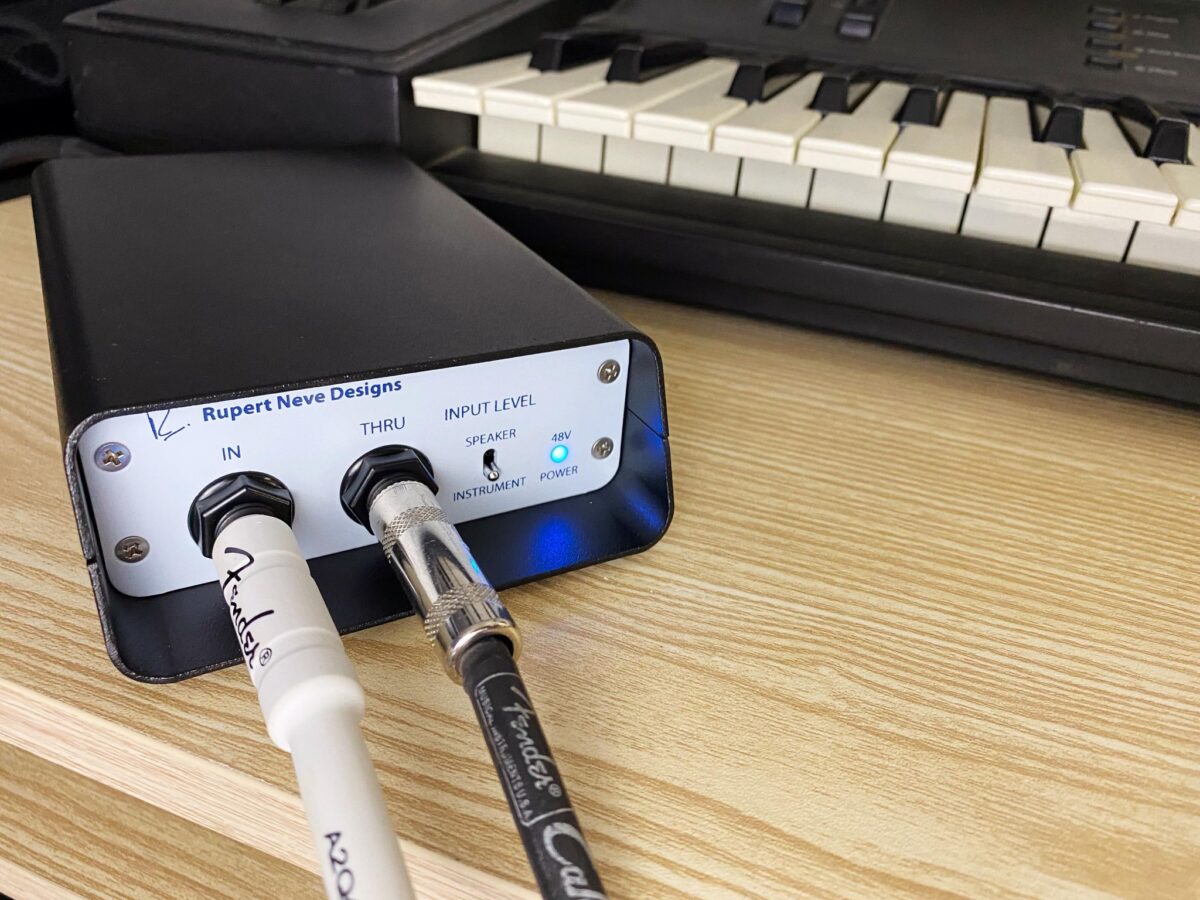 Today we're using a Rupert Neve Designs RNDI to capture our dry signal from a Gibson Les Paul Junior Tribute DC bass. Our amplifier is a vintage '68 Sunn 200S into an Emperor 2×12″ ported bass cabinet and it's miked with an Electro-Voice RE-320 and a Shure Beta 52A (during stereo miking.)
The two tracks we've captured take multiple avenues, one being an extremely fuzzy bass track that's using the DI signal to anchor it in the mix, retain low-end, and sit in that critical "bass pocket." The other track leans more on the DI signal to lead the way, with a slightly overdriven miked amplifier signal sitting lower in the mix.

Setting up the RNDI is simple — I go from my bass to the "IN" on the RNDI, the out of the "THRU" to any effects, tuner or right to the amp. On the rear of the RNDI is an XLR output; this is going into channel 1 of my Focusrite 18i20 interface which is supplying the RNDI with Phantom power (48v).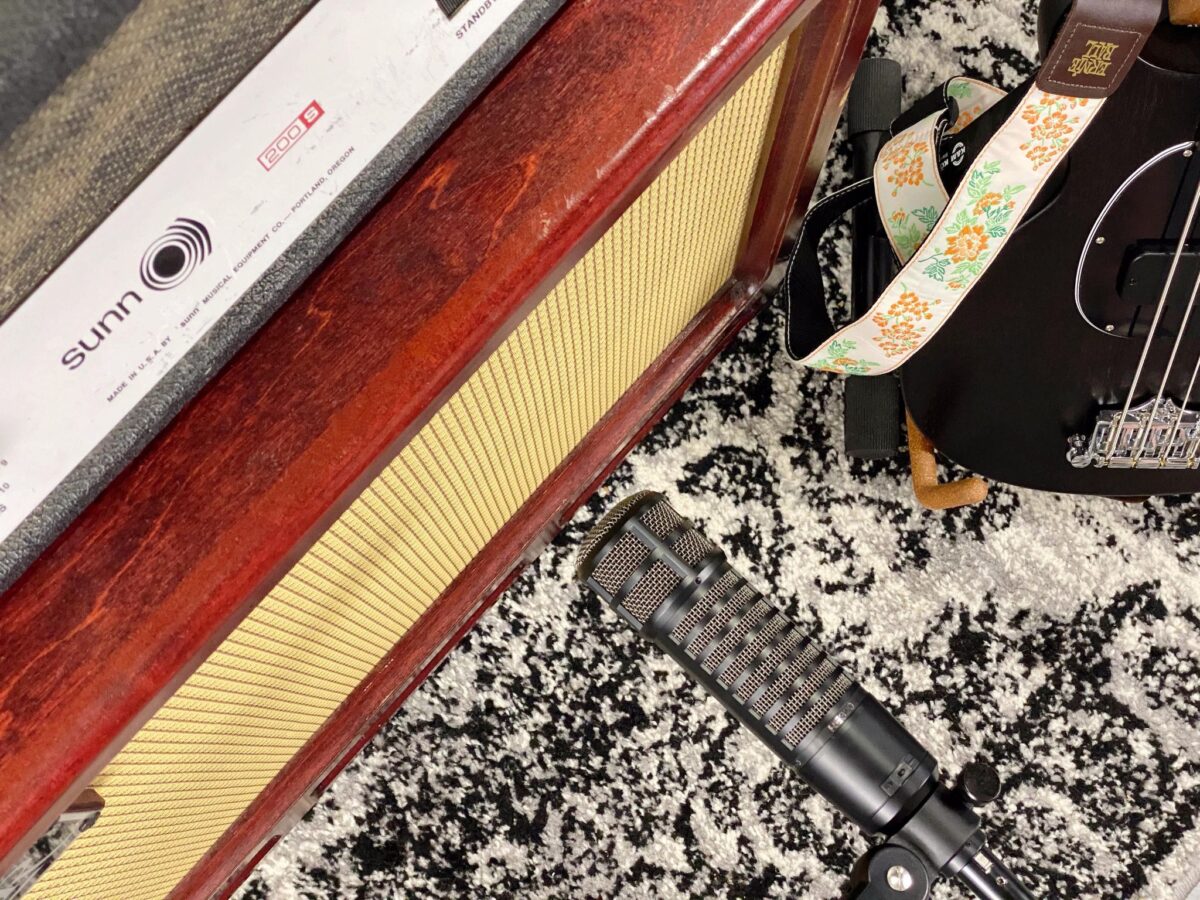 On the amplifier miking side I've got the RE-320 backed up about 5 inches from one of the cabinet's 12″ speakers. In the stereo miking example I've got one mic directly over the center of the driver with the other backed slightly off to the side. A quick side note, in stereo miking and even DI + one mic applications, you will need to check your phase. This is pretty difficult to narrow down to one exact solution, but your best bet is to experiment a bit and make sure your mics are getting a signal at the same time. Otherwise you will need to phase-correct in a DAW.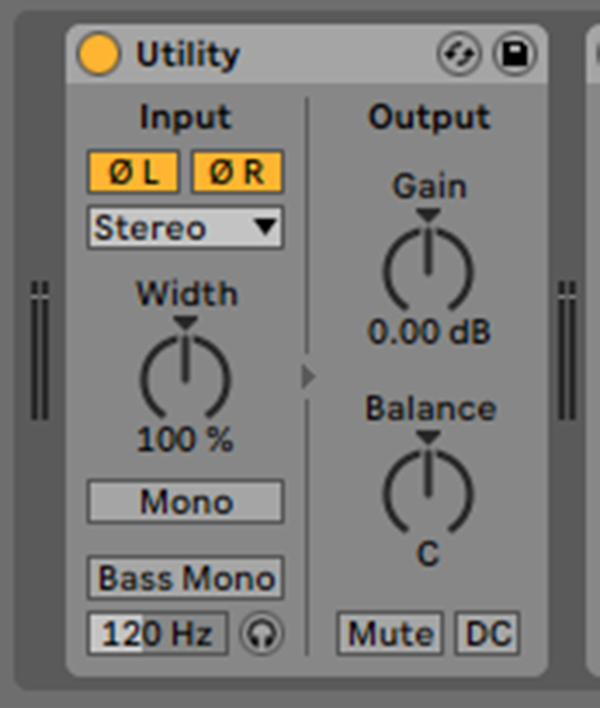 In Ableton Live 10 you simply bring a "Utility" effect into the track channel and invert phase. If you noticed that the body of the tracks you've recorded is non-existent, you may need to invert phase in a DAW. Once your phase issues have been solved, you'll see a massive difference in the overall body of your track along with how the DI and miked tracks react to each other.
The Pay Off
The DI retains all your bass' natural low-end while keeping that overdrive tone intact. Then, with the simple slide of a fader, your track can come alive or settle down. In some instances you may want to bring in EQ to liven up pick-attack, or maybe low-pass one of these signals altogether and get the incredibly low, thump-y bass sound. The options you've got are endless.
This is an amazing technique for songs that require different bass dynamics at different times as you can automate how either of these tracks sits in the mix with volume, compression, or even EQ.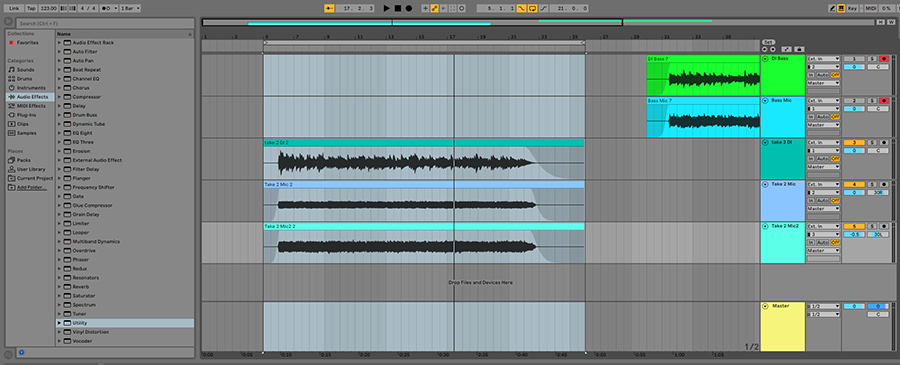 As you'll hear in our example tracks, when you take the DI signal out of the track, the overdrive or fuzz thins out completely. In a full mix with drums, guitar, keys, and vocals, this will be even more noticeable with the entire body of the song being stripped away.
And with the DI signal on its own, you lose a lot of the character that miking a real bass cabinet gives you. It's a natural, classic sound that's incredibly hard to replicate even with the most advanced software sims out there.
Make your mix the best it can be with a bass DI track! Even if it's a backup for that perfect take, a little more body for your fuzzy signal, or just a track to throw effects on, you'll be happy you've captured it.