Your drum kit is a complicated beast. High and low frequencies collide during every hit, and it's hard to capture all that complexity when you're limited by the amount of microphones you can use. Maybe it's your interface — something like the Focusrite Scarlett 2i2 or the Presonus AudioBox iTwo only provides two XLR inputs for tracking an entire kit, so what can you do? Short of buying another interface with more inputs, or running an analog mixer into your interface, you can simply use two microphones to record your drum kit! This is how to use an incredibly famous, widely-used, two-microphone technique to record your drums and get the best possible sound out of them.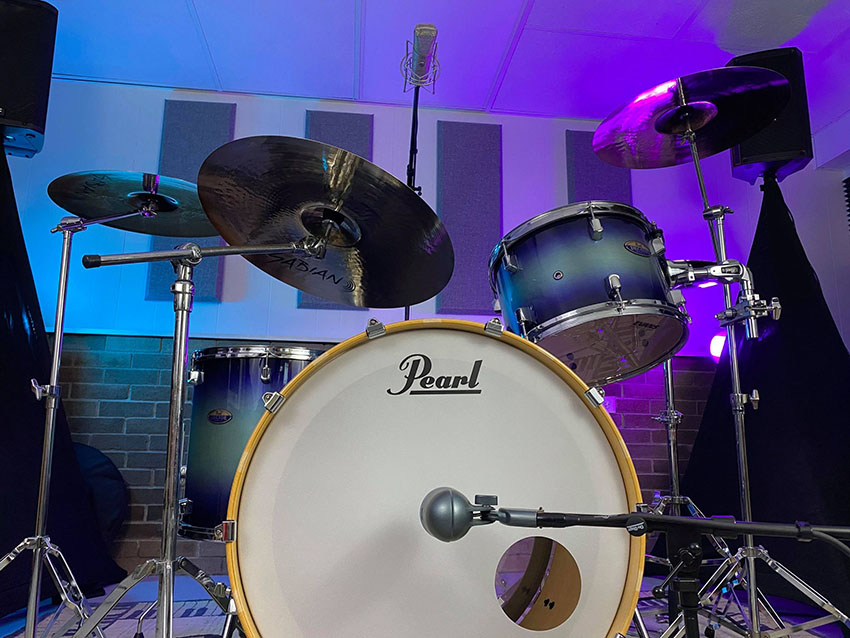 Today we are recording a Pearl Decade maple drum kit with Sabian AAX cymbals.
One Up, One Down
There may be unlimited ways to record a drum set with two microphones, but there's one traditional method that rules them all. The "one up, one down" technique has been used on countless recordings, all the way back to the Motown era, up to The Beatles, and even on records today. "One up" refers to a single, mono overhead microphone capturing everything from the cymbals to the snare. "One down" refers to a bass drum microphone capturing the low-end.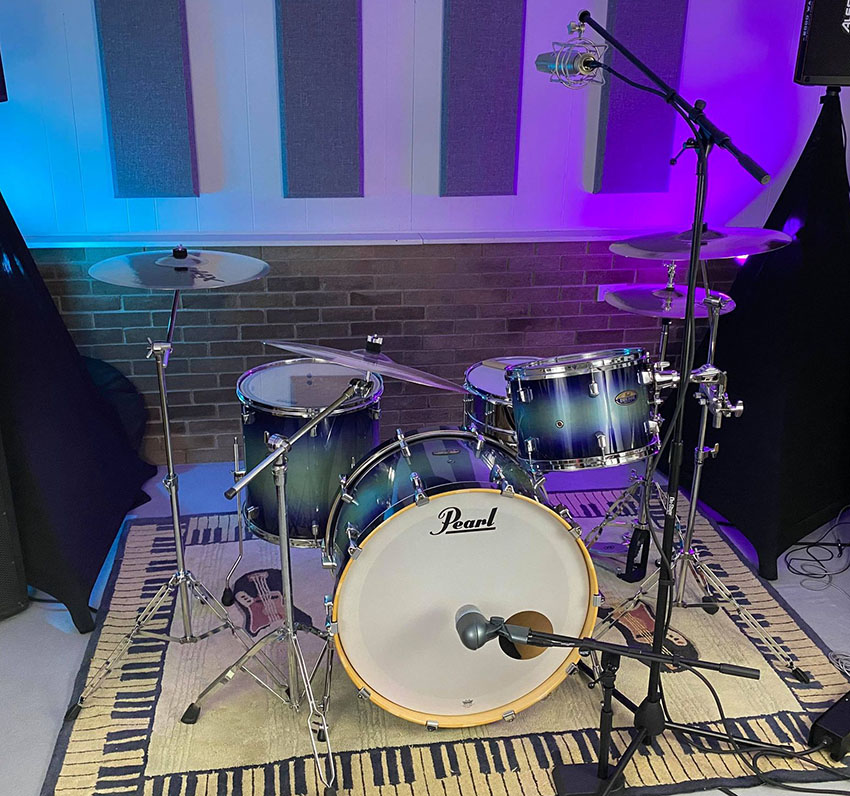 This incredibly simple setup has the potential to capture a sound similar to "what the drummer hears," which is the goal. A warm, resonant kit sound that gives off the feel of being in the room with the musicians. This method is preferred to the "stereo overheads" technique because of the vastly superior low-end you achieve with a bass drum microphone. The crystal-clear bass drum tone helps shape a track in a way you couldn't imagine it without.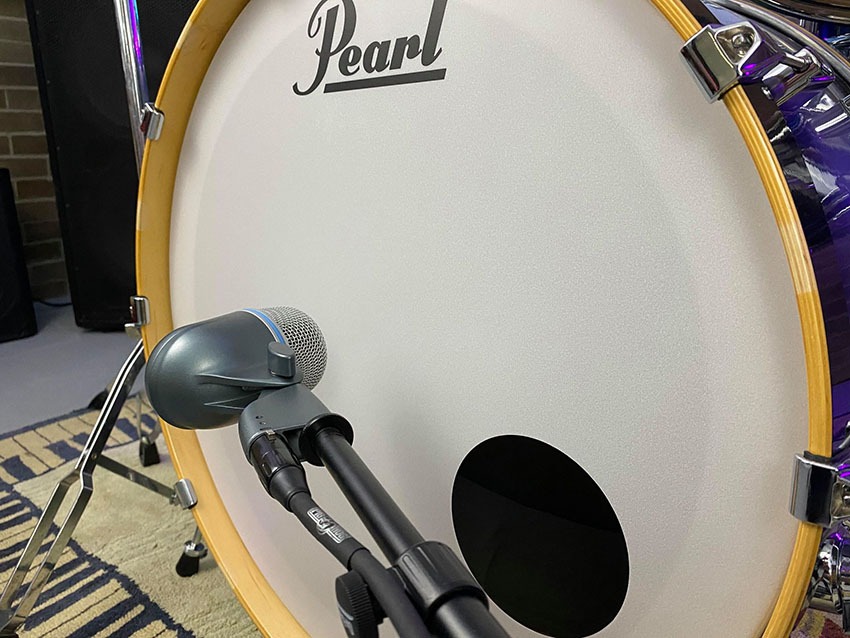 How To Do It
To achieve the "one up, one down" technique all you need are two microphones. Today in studio we're going to be using a Shure Beta 52A on the kick drum, about 4 inches back from the center of the resonant bass drum head. The Beta 52A is an extremely durable dynamic microphone with high-output that'll keep up with a condenser mic. It's designed specifically for kick drums or instruments with increased bass response, and will capture an incredible frequency range even at extremely high sound pressure levels, making it a natural choice for this application.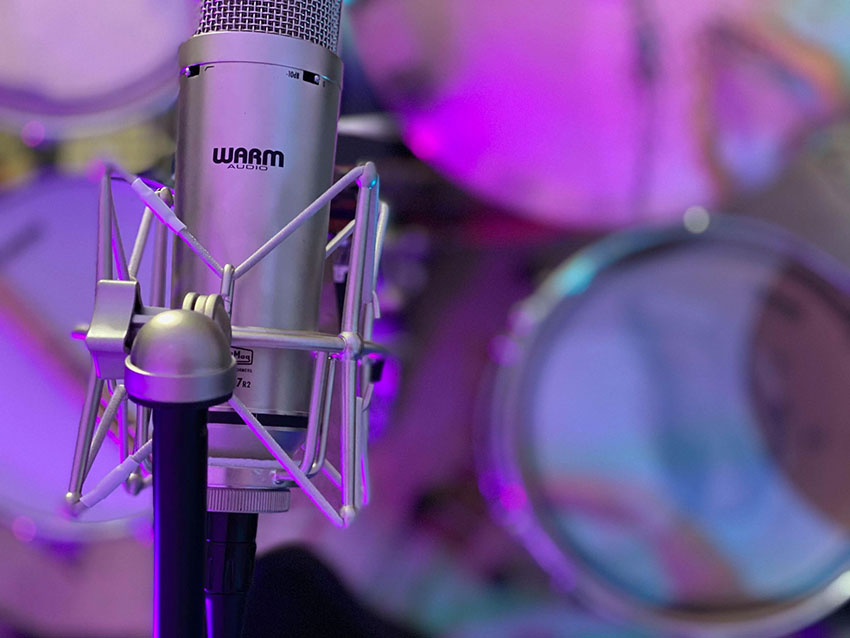 Heading up top, we are using a Warm Audio WA-87 R2 in cardioid mode. This condenser microphone is based on a classic 1960s circuit that's considered to be one of the greatest ever used in studio microphones. While in cardioid mode, the microphone captures sound directly in front of the capsule in a "heart," or "cardioid" pattern. When facing the snare, cymbals and toms, this mic captures a sound similar to what the drummer hears while playing.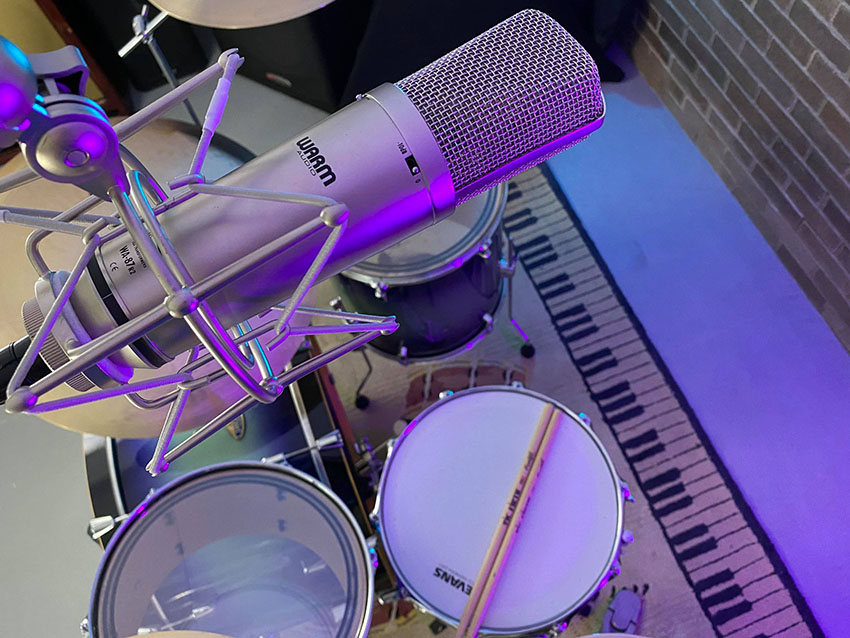 As mentioned above, this technique is extremely simple. First, place your bass drum microphone in front of the resonant bass drum head, as close to the center as possible. If your bass drum features a port hole for miking internally you can also do that. There are dozens of ways to capture a kick drum isolated, but today we are miking the center of the resonant head, about 4 inches out.
As for the overhead, we've placed the WA-87 R2 at the end of a boom microphone stand and centered it over the entire kit for one take, and then for the second take we've centered the microphone over the snare. This variance will provide more bite to the snare, with the tom resonance sounding more "wide open" as its no longer the center of attention.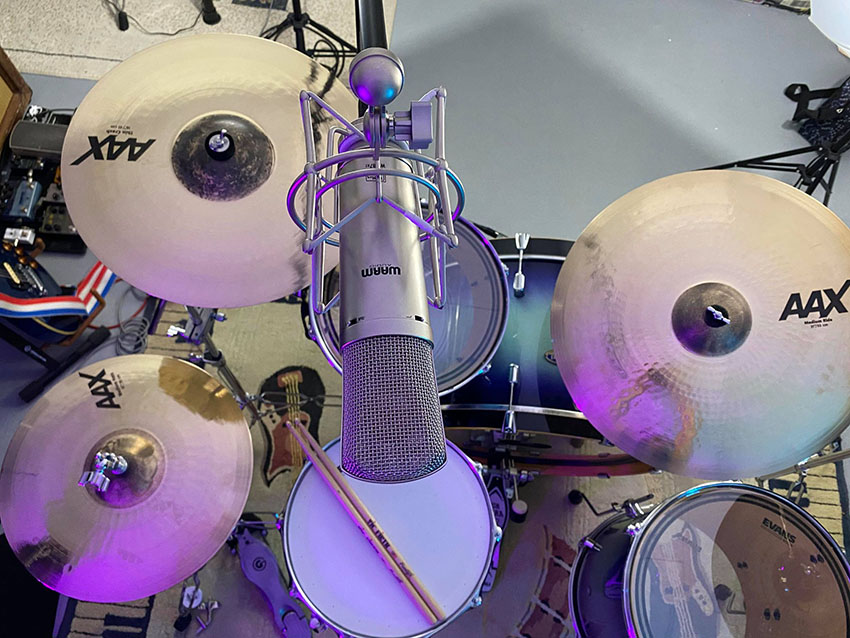 These two techniques are completely dependent upon your need/preference of drum tone for the track. The microphone is placed at a height just above the drummers head, peering over and facing the batter heads. You can also place the overhead boom out in front of the kit, as long as your microphone's capsule is facing the batter heads.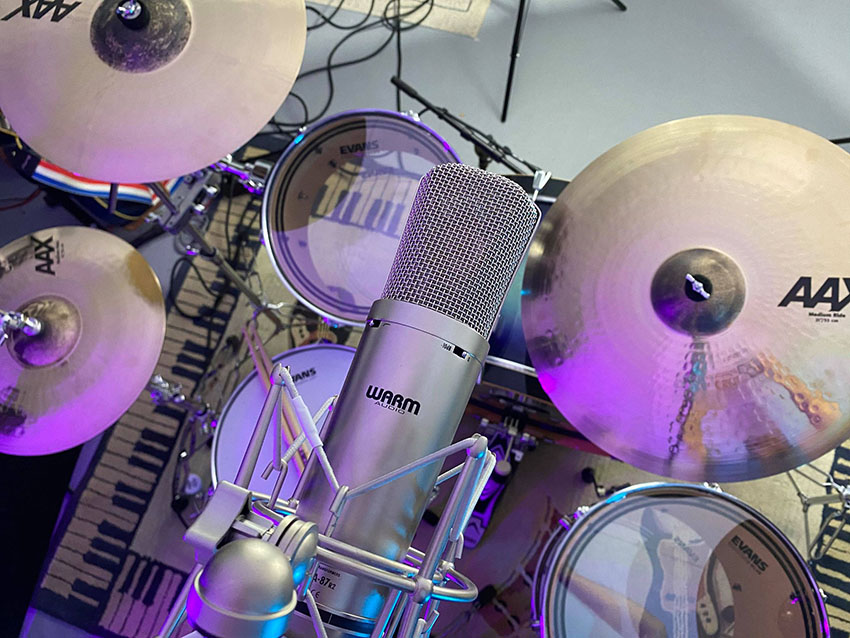 And that's it — an incredibly simple setup that will capture fat, resonant low-end and a mono signal of all the high-end frequencies your kit produces. This technique allows for a ton of experimentation in mic placement, mixing and the introduction of DAW-based effects and tone shaping abilities after tracking.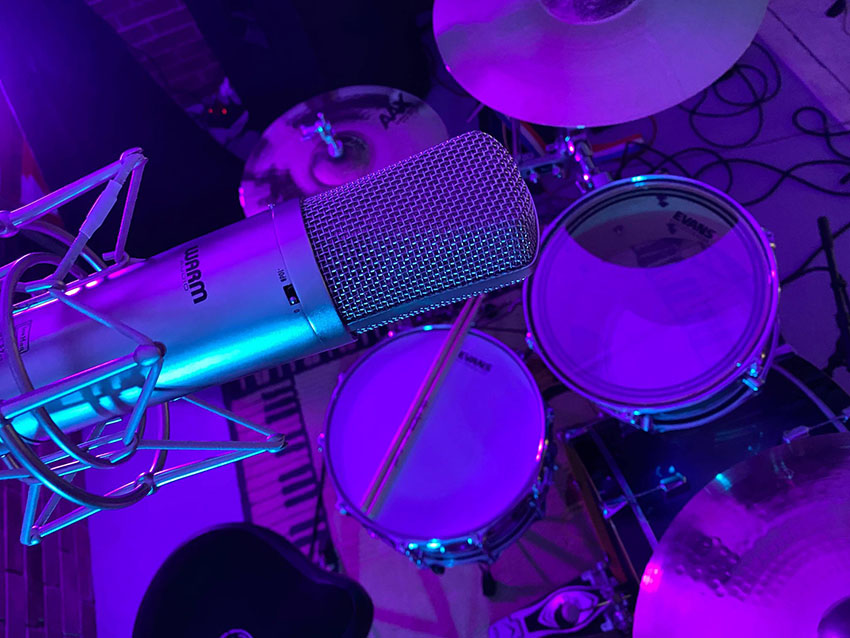 It's an extremely potent technique that offers leaps and bounds more creative options and frequencies captured than a single microphone technique can provide. If it worked for The Beatles, it'll work for you.
Happy recording!
---
We're going to take a look at 4 major techniques you can use when miking a drum kit with only one precious microphone. | Read »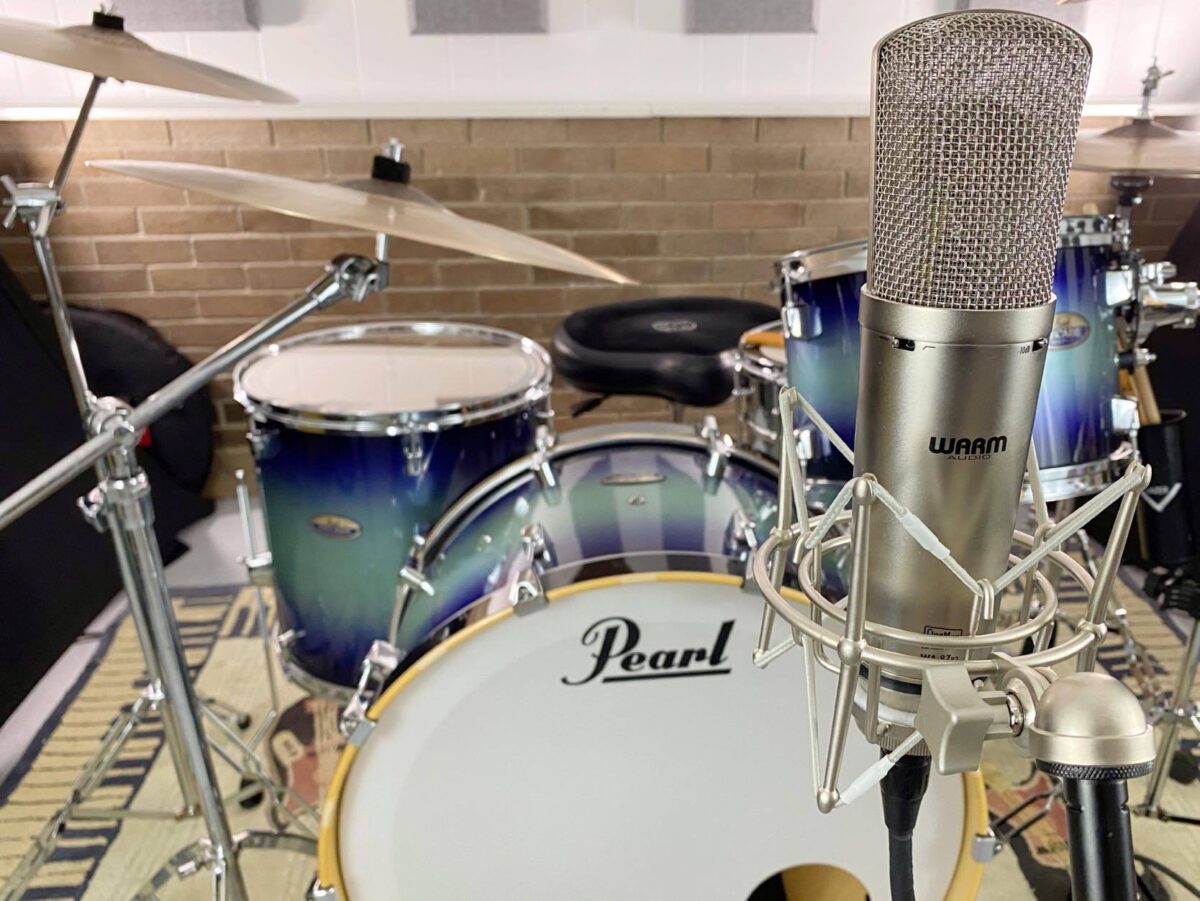 ---