From trackers like Renoise to DAWs like Ableton Live, Bitwig Studio, Logic and more, I believe I've seen/used enough tools to understand how most work. So, truth be told, I both admit to:
A: Never using PreSonus's entry into the digital audio workstation world, the Atom, three years ago, and
B: Jumping at the chance to introduce myself to it with the PreSonus Atom SQ.
The latest version of PreSonus Studio One, Version 5 (just don't call it Studio 15) promises its tightest integration yet with a hardware controller line they introduced a few years ago under the "Atom" banner. Back then, the grid-based Atom introduced Novation-like pad-based control over Studio One or Ableton Live with a few tricks under its sleeve.
Other than being more tightly integrated with PreSonus Studio One's workflow, the original Atom had the ability to use onboard endless encoders to adjust/assign any and all controllable parameters.
Those 16 velocity-sensitive pads seen above also featured polyphonic aftertouch (a feature missing on even more expensive keyboards). You could even create banks of differently assigned banks. In essence, this gives you 8 different Atoms in one unit.
Evolution, Not Revolution
What the Atom SQ offers feels more like an evolution than a revolution on its heralded predecessor. The biggest jumping off point (for many) is the addition of a crisp OLED screen to act as the central hub controlling what you're going to use. Created with portability in mind, the Atom SQ is now fitted with a slim USB C output jack, making it easy to plug and run off any modern computer or portable device.
However, before we begin detailing the ins and outs of what PreSonus Atom SQ does, let's examine it at a surface level.
What's your size?
Using my favorite measurement standard — how does this compare to an Ableton Push? — If you go from front to back, the Atom SQ is half an Ableton Push's size.
Rather than use standard grid-based controller square pads, the Atom SQ favors two rows of 16 RGB backlit vertical chiclet-style buttons. If ever you've used (or encountered) Keith McMillen's K-Board, the Atom SQ interacts more like it than the step sequencer-based Akai Fire most of you are thinking it reminds you of.
Key(pad) Board
Although missing K-Board's multidimensional control, also a hallmark of newer MPE controllers, it's admirable that Atom SQ's chiclet board features something like polyphonic aftertouch. With these same 32 pads, it can morph easily from step sequencer to piano-style keyboard and to an ingenious, always-in-key, continuous keyboard.
When used in keyboard mode, lights turn off if you're constraining it to a scale. In step sequencer mode, the top row highlights all the available sounds and the bottom row matches the currently selected trigger to enter steps in a pattern.
Parallel ideas abound between the Atom SQ and other similar-minded controllers out on the market. The Atom SQ builds on the original Atom by adding a multi-purpose touchstrip capable of controlling Mod depth, pitch, transposing octaves, changing the arpeggiation rate, and merely functioning as another CC control. Plus and minus buttons function as ye olde pitch wheel.
Transport Controls
A transport section allows the Atom SQ to not only trigger standard DAW controls like stop, play, and record, but also to quickly change octaves, drum machine sections, switch channel lanes and much more. Bumping the endless encoders to 8 allows the Atom SQ to easily mimic Ableton Live's "Device Mode" controls, letting you tweak either just one control or many at once in your DAW.
Rounding out the Atom SQ is its central context-sensitive OLED display where you'll find four knobs dedicated to switching from different control scenes — Song, Inst, Editor and User — with each scene allowing buttons around it to act as selector where the Atom SQ user can change settings depending on the selection.
Arrow buttons below the main endless encoder paginate through different settings. Arrow buttons below the screen do a bit more. These buttons (to name a precious, few other controls) allow you to scroll left, right, up or down through presets in Studio One 5. In Ableton Live they help you navigate through clip view or Studio One 5's multi-tracks.
Rhythm and Melody
Here's the section the majority of you are most interested in: What does the Atom SQ do?
The answer to this question is pretty much given to you in the description by PreSonus: "ATOM SQ: Hybrid MIDI Keyboard / Pad Performance and Production Controller."
The Atom SQ functions as two separate but equally active controllers. On one side are the eight endless encoders, 32 vertical chiclet isomorphic keys and multi-purpose touchstrip. On the other side is a bevy of production-centric controls. That OLED display, navigation and transport buttons are consciously aware of where you are (spatially) in PreSonus Studio One 5, and are able to morph to fit the specific kind of music making you're doing at that moment.
From here on I'll focus on the way the Atom SQ works specifically with PreSonus Studio One 5. Ultimately, what's important for users to understand how Atom SQ works is by defining the features those four buttons titled "Song," "Inst," "Editor," and "User" do.
Song Mode
In Atom SQ's Song Mode you're able to Solo, Mute, and Arm tracks. Song Mode also functions as a timeline scrubber, allowing you to zoom in or move the playhead of the existing song. Track volume and your track arming is available and adjustable here.
In PreSonus's quest to allow you to spend less time using a mouse, Song Mode centralizes controls over the main tempo, while giving you the ability to set Loop selections and add song markers to label song bits — Intro, Chorus, etc. Using the OLED you have a bird's eye view to all the transport options like quick links to the Console mixer and a track inspector.
As you paginate through Song Mode's options, the final two screens you're able to access offer further controls that allow you to zoom through the arrangement view and open up the "Effects" browser. Here you can load up a whole bunch of effects and scroll through your effects rack.
A Note For Ableton Live Users and those using it in standalone mode:
Since the Atom SQ is isomorphic, one must realize that in Ableton Live, Song Mode reverts to a simpler transport control area allowing you to Solo, Mute, Arm, and create clips, trigger a scene, and stop playback.
Instrument Mode
Atom SQ's Instrument Mode is, arguably, this controller's most important state. Here is where you're able to browse through a collection of available virtual instruments and find Atom SQ's assortment of built-in note effects like arpeggiator and chorder. Beyond note effects, Instrument Mode is the area you'll use to start creating melodic patterns.
In Instrument Mode you can adjust how you play the built-in keyboard. Here you can switch from normal keyboard mode where lights dim to simulate a standard black-and-white key layout. Continuous mode stretches all the pitches in your scale across all the 32 keys. Blocks mode spreads out drum trigger banks across to rows of 16 pads. Controls for velocity, transposition, octave, scale and root are also found here.
The Atom SQ's touch strip can control pitchbend, functions as a modwheel, an expression pedal, and controls the repeater feature, sets volume levels, and Breath CC parameters. If you've used Native Instruments' Maschine Jam controller strips, this control sort of mimics that functionality.
A Note For Ableton Live Users:
Ableton Live users get Atom SQ's full arpeggiator baked into the device itself. Studio One 5 users have this replaced with a toggle that calls up PreSonus's software-based Arp effect.
Editor Mode
In PreSonus Studio One 5 software you'll find that Atom SQ's Editor Mode takes on perhaps its deepest functionality. Editor Mode is contextually based. If you're using a virtual instrument, all its options shift to provide control over timing (humanization and quantization), and to create pattern variations, set step resolution and apply swing.
Using Editor Mode in conjunction with Studio One 5's drum instrument, Impact, takes you to a view that takes inspiration from classic drum machines and step sequencers. The top row of the Atom SQ becomes a multi-colored one-trigger-per-pad controller. If you select one of the top row pads you can then set the steps it should fall under in the bottom dimly lit row. If you've used an 808-style machine, how Editor Mode should feel familiar.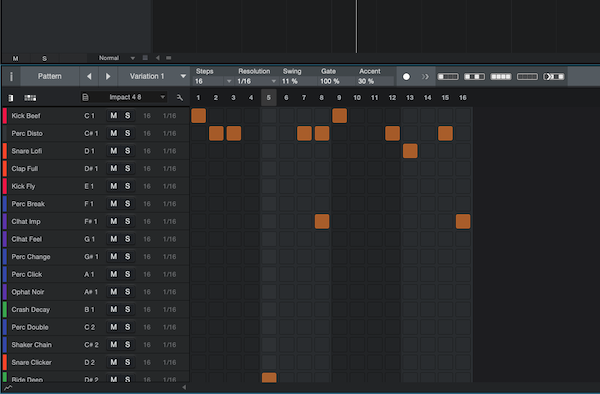 PreSonus Studio One 5-centric options allow you to auto-fill steps (let's say every 4th note), adjust pattern step size from 1-128, set pattern time division and the like. What takes this bit further is the ability to easily create variation upon variation of patterns using Editor Mode's Variation section. It's a simple way to easily bang out a whole bunch of drum patterns.
A Note For Ableton Live Users:
Ableton Live users in Editor Mode get something akin to control over Ableton Live's device mode. Using toggles, you can switch the focus of whatever device you're using — Instrument or Effect — or turn on/off whatever device you've selected to focus on.
User Mode
Rounding out the end of our trip through the Atom SQ's various modes is the aptly titled User Mode. User Mode allows you to drill down Studio One's long list of internal commands, like "Add Audio Track," "Tap Tempo," "Convert Part To Pattern," and create your own mode panel.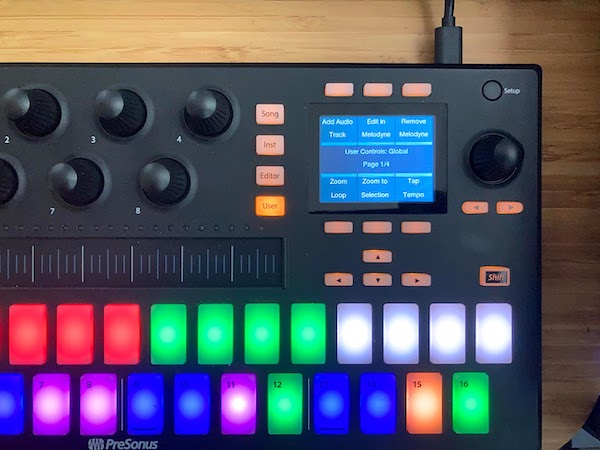 In PreSonus Studio One 5's Console View, you simply select with your mouse the "External" setting on the far left. This brings up "External Devices" — a macro view of all the currently connect external devices to your DAW. External MIDI controllers, synths, etc. will all appear here. Selecting the ATOM SQ brings up PreSonus's own version of a mapping plugin.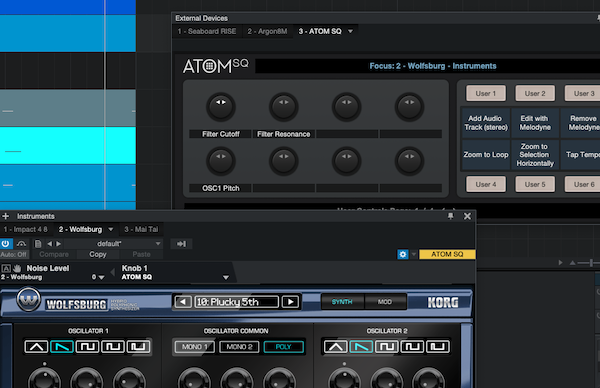 If ever you're wondering what endless encoder is affecting whatever parameter within a software plugin, you can find that info (visually) here. Here you can also reassign parameters and zero out those you don't want affected anymore. You only have 8 encoders to match 8 parameters but you do have four User Control pages to create quick Studio One 5 software controls.
A Note For Ableton Live Users:
User Mode in Ableton Live is much less extensive. Here User Mode functions as a bank switcher allowing you to use Live's MIDI Map mode to create 6 banks of knob assignments. In essence, you can use User Mode to have 48 different endless encoders at your disposal.
Who is the PreSonus Atom SQ for?
As I was coming to the end of my review of the PreSonus Atom SQ, I kept asking myself the above question. The conclusion I reached was that the Atom SQ firstly acts as a great way to introduce yourself and navigate around the PreSonus Studio One software. Although it is only fully-featured with version 5, its compatibility with Version 5 is deeper than I originally thought it would be.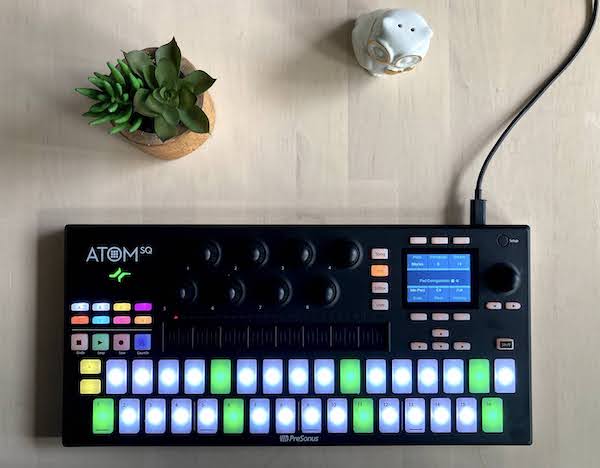 Electronic musicians who have experience with grid or keyboard controllers would best be suited to keep them and use them alongside the Atom SQ. I don't believe it's trying to replace your Launchpad or Keystep. Rather, it enhances them with a very adept hybrid controller that can flesh or sketch out quickly whole patterns you can build into whole songs. Atom SQ's step sequencer mode is vastly interesting and a great creative implementation lacking in other controllers.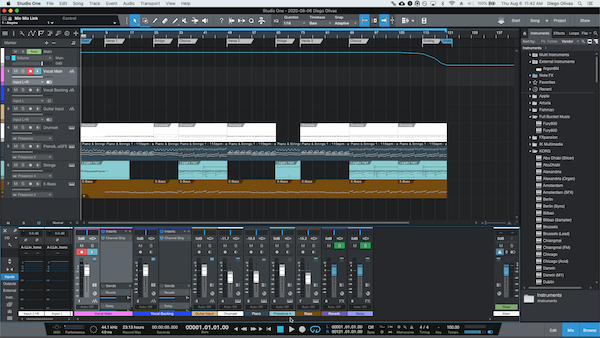 Huge kudos to PreSonus for using the USB-C standard allowing us, the user, to use it easily on modern tablets, computers, and phones with standard cables.
If you've never experienced PreSonus Studio One, Atom SQ is perfectly suited to draw out what makes this DAW its own unique thing. That it is extremely light, extremely packable, and surprisingly premium feeling — in spite of its plastic construction — speaks volumes to PreSonus's attention to building a pro-quality controller growing on the Atom platform.
Final Quibbles
I would remiss to not point out things that could be improved (and I imagine PreSonus is hard at work in doing so). Via firmware update, I believe, the Ableton Live side or standalone controller side can afford to be beefed up with some of the innovations found on the Studio One side.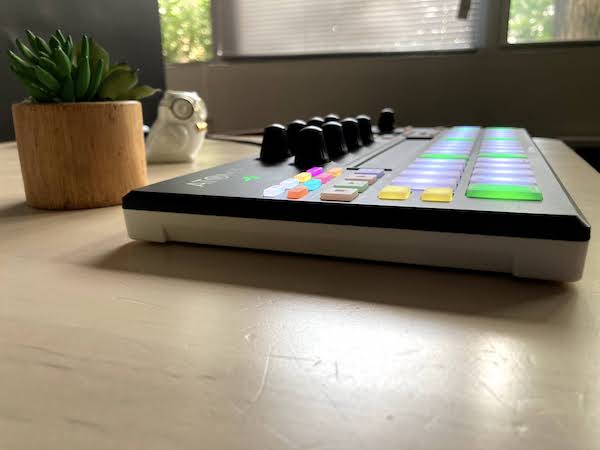 I can imagine a plugin version of that Atom SQ mapping control existing, allowing you to quickly see what each software instrument or effect you're controlling does and what you can assign each to. A much beefier Ableton Live Atom SQ User Mode would amp up the "added value," as they say.
Translating PreSonus Studio One 5's step sequencer mode to Ableton Live would be amazing, too. Currently this is exclusive to Studio One 5. Likewise, translating its standalone arpeggiator mode into the PreSonus Studio One's Instrument Mode seems like an oversight that could be fixed via firmware update. Currently, as stated before, hitting the Arp function brings up Studio One's cool Arp plugin but doesn't trigger that effect natively.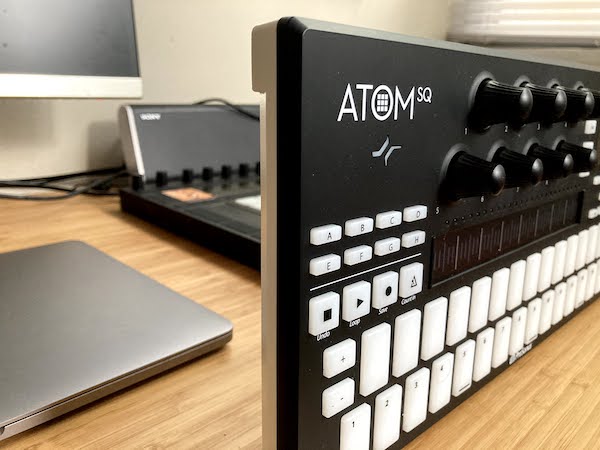 Finally, minor quibbles belong to the realm of a few choice things. Those endless encoders could afford to function differently. Currently, they work in takeover mode, meaning: rather than beginning at the point of the turn where the virtual knob is, the encoder immediately affects the parameter. I hope PreSonus uses a firmware update to add pickup mode allowing you to twist the knob, view the screen, and see what parameter it will affect — then you take it from there.
In Ableton Live, those encoders suffer from not having any tie to the readout of the Instrument Mode (as in Studio One 5). Here, you literally have to turn a knob and visually eyeball your screen to see what you're affecting. I have no doubt (or am extremely hopeful) that PreSonus is working on letting users view Live's parameters within standalone controller view of User Mode.
One final thing: I do wish to see a future Atom series controller with built-in MIDI output or with USB-to-MIDI capability allowing users to use those built-in chordal/arpeggiator features with external computer-less rigs. Doing so would create the next blazingly inspired device that can introduce the PreSonus workflow inside and outside the software.
All images by author.