Not many dedicate a whole post to what you can't do with something, but allow me to break a cardinal rule for a reason. Do you ever have one of those "a-ha" moments when things just click? I have to say, I had one quite recently when going through the land of guitar MIDI control with Fishman's TriplePlay MIDI guitar system. One day I came to a realization: this wasn't a Guitar MIDI controller. It was a guitar MIDI controller. There was a difference.
Understanding that difference will better guide us to uncovering what one can do with such a device. That's something we'll come back to much deeper with the next post in this series. So, without further adieu, let's have a conversation of what guitarists get wrong about MIDI guitar controllers.
In the past, I thought of a guitar MIDI controller as a tool to project something else (a synthesizer and its controls) onto the guitar itself. I was wrong. I kept watching videos on YouTube where guitarists would focus on either the guitar itself or on the synthesizer. I tuned out as they ambled on, aimlessly flipping through synth presets, counting that as a "review." I soon realized this was all so wrong.
This is a point, I imagine, which so many others who have bought a guitar MIDI controller (or wrote about using one) have failed to discuss. We did so by taking assumption and putting it into potential. We did so by focusing on the wrong thing.
I'll do something bold and forgo telling you all about what guitar MIDI can do. Instead I'm going to correct some wrongs that other MIDI guitar how-to's have committed.
Let's accept this fact: technology changes constantly and my experience isn't the end-all-be-all for such controllers. Focusing on how a specific controller works is the perfect way to date such a guide and render what follows useless to no one except me and other Fishman TriplePlay users.
Here's how we can keep up with new knowledge, and make this guide more evergreen. Let's first talk about what we can't do with this technology. We'll move on to all the great things you can do in Part III.
Where Things Go Wrong
I've come to a conclusion. I've realized there are common mistakes guitarists will make when they use a guitar MIDI controller.
Assume all prior technique should produce the same result on a different instrument.
Using tactile "feel" rather than hearing with one's own ears.
Trying to do everything inside the box.
Separating the guitar from the sound.
Why Won't This Do That?
Let's tackle the first issue: Why won't this do that? Through no fault of guitar MIDI controller makers, guitarists like us assume that technology has caught up to such a point that it will replicate the exact nuances of our technique. Case in point: vibrato.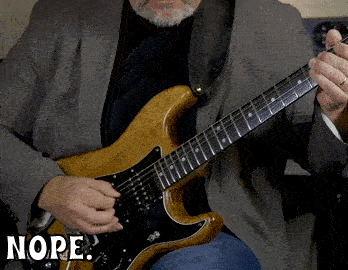 On a guitar, producing vibrato is easy to do. Simply plop down a finger on a fret, wiggle your wrist, and voila: vibrato. Small pressure fluctuations between your finger, string and fretboard create pitch fluctuation.
Now, let's do that on a guitar controller.
First off, it's not going to happen. What you'll experience doing this motion is the transmitter either completely ignoring the action altogether or (worse yet) trying to take these minor pitch fluctuations as actual, sent MIDI data, triggering notes that the receiver believes you wanted to play — say hello to random MIDI notes triggering who-knows-what pitches.
Make no mistake, what we're attempting to do is barely possible elsewhere in MIDI land. On a synthesizer, a dedicated tactile setting, LFO, modulates another parameter (pitch, VCO or VCA envelopes), allowing you, through a knob tweak, to manually create or control that volume fluctuation. If keyboardists can't avoid taking off a whole hand from their keys to do this, why should guitarists expect this to be any easier?
You see, in the realm of keyboard controllers, MPE (multi-dimensional polyphonic expression — try saying that twice in a row!) uses polyphonic aftertouch parameters to break down that movement into what you expect — a press and wiggle of a key, rendering a "vibrato" effect, for example. Some by ROLI, Hakken, or KMI (Keith McMillen Instruments), go so far as to be able to send additional "control" parameters like lift velocity, polyphonic aftertouch, and slide, translating intricate tactile touch into actual MIDI control. Technology, unfortunately, hasn't gone remotely that far for guitarists. There is no sensor that can distinguish both pressure and velocity fluctuations to create that effect.
So, off the bat, it's time to manage our expectations. All we can do with a guitar MIDI controller is pitch bend. That's easy to pick up with current technology.
Here's what you can't do with your hands on a guitar controller: tremolo, slap, harmonics, pull, and slide.
I'm Not Hearing What I'm Feeling
That second issue — relying on "feel," rather than what we hear — highlights something one must accept to become a MIDI guitarist. A guitar has a defined tone. Synths, software, and virtual instruments do not.
On a guitar you pluck a string and instantly you hear a vibrating sound. On a guitar MIDI controller, depending on the synth patch or synth sound, there will be latency. There will be no instant note struck.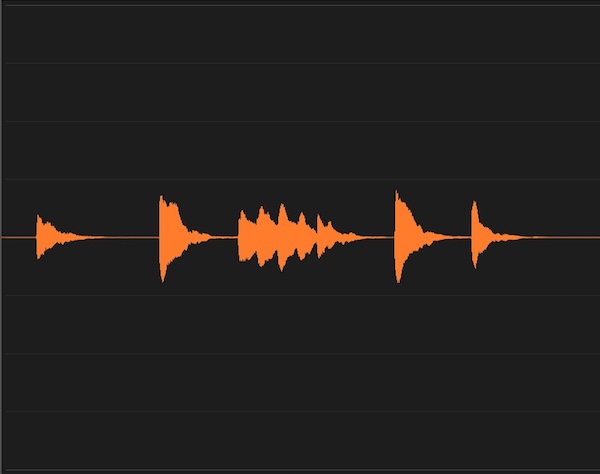 As guitarists, we're accustomed (unconsciously) to a certain attack and decay. Pluck a string. Instant noise. It's a noise that gradually fades out as the string vibrations diminish. On a synth, there are differences.
Synths can create a whole world of sound, from string pads to mallet instruments. If you've ever heard the sound of a trumpet or a cello, you know that sound can swell and diminish in myriad ways, over time. Electronic synthesis lets you control this via filter (low-pass, high-pass, and band-pass) and amplification envelopes (ADSR). MIDI settings like key tracking go further and establish the relative loudness of a sound from the lowest note struck to the highest.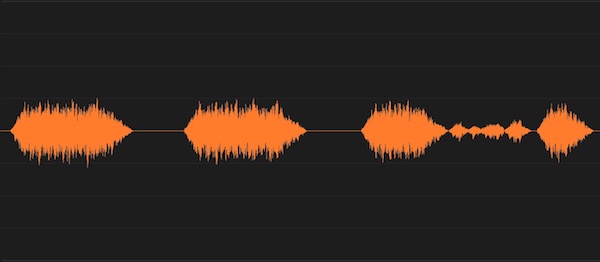 On a guitar, the higher you play on a fretboard, the higher in pitch and the tighter in tone (shorter in decay and lower in volume) the note is. Likewise, the lower you fret (if you fret at all), the looser in tone and lower in pitch the note will be. Synths and samplers, as explained above, simply don't work that way — unless you actually adjust parameters to do so. Don't fail in assuming this will happen automatically or magically for you when you get a guitar MIDI controller.
As a MIDI guitarist, you have to be more cognizant of hearing what's coming out of a set of speakers than what you feel vibrating between your fingers. Unless your synth preset is [LEAD GUITAR] — and even then — don't expect to replicate the connection between your vibrating strings and what your hands feel (as you would on a guitar).
Stick it in the Box!
Trying to do everything inside the box or relying on the guitar MIDI controller to do everything for you is a recipe for disaster. The first thing you should do when you get a guitar MIDI controller is chuck the built-in MIDI management software. I say this with the kindest regards to guitar synth makers: a closed system is a doomed system.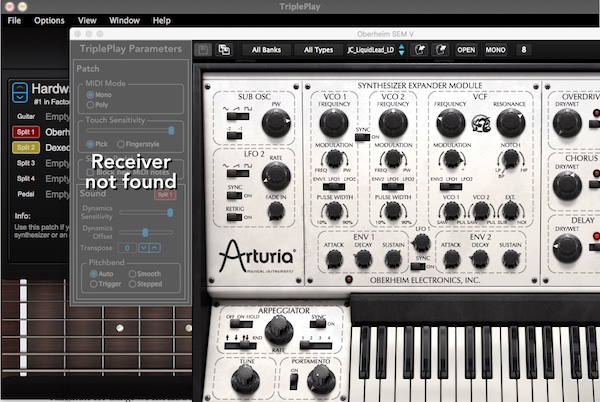 Software — a lot of it already built into your DAW or synthesizer itself — can do a lot of that heavy lifting for you.
You name it: "keyboard" splits, pitch transposition, program changes, MIDI CC etc., all the MIDI control specs can be affected by your controller. The problem is a) taking the time to understand how MIDI actually works and b) taking the time to read your DAW or synth's manual. Now, if you don't know what any verbiage in the above paragraph means, that's where it's important you do your due diligence and educate yourself on MIDI and electronic sound synthesis itself.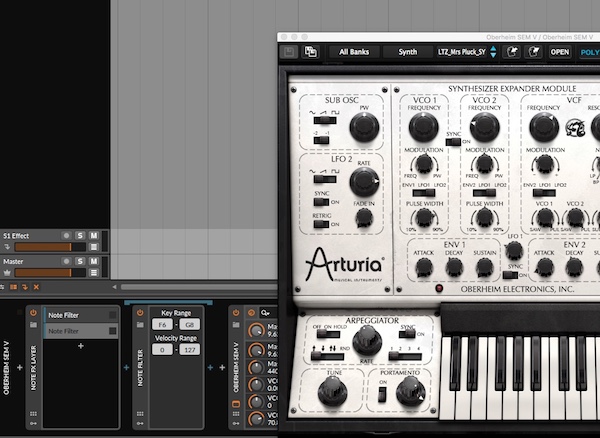 If you do, you'll be able to see how Fishman included stuff in its software you can't do via MIDI alone. In Fishman's case, things like changing the guitar's intonation on the fly (going from standard to drop-D or Nashville tuning, for example) or adjusting pickup sensitivity are a few of the "nifty" things that their MIDI systems can do. Everything else is merely a substitute for things we should be doing in the DAW or synth itself. This brings us to perhaps the most important thing we MIDI guitarists get wrong.
Why Doesn't This Sound "Right?"
Finally, we arrive at the last bane of many a MIDI guitarist: relying on presets. What does that mean? Well, barely tweaking any synth sounds, assuming a non-guitar sound will behave like it would on a guitar (when it ultimately won't), are just a few of the many ways we (MIDI guitarists) separate ourselves from the potential of this new instrument. MIDI guitarists need to evolve to survive and understand the tools at our disposal.
I get it. Not everyone in the world is interested in sound design. Not every pianist in the world needs to play something that doesn't sound like a piano or an organ. We all want the immediacy of plucking a string and expecting to know what's going to come out of the speakers. However, guitar MIDI controllers are different. They pay no such respect to the immediateness of other instruments. What they do obey is the contour of an electronically-generated tone with its own processes.
The liberating thing about synthesizers and electronic instruments is that sounds generated there can react much differently than sounds do in the space between a string and a fretboard. We can bend sonic time to our will — not let the instrument itself dictate what one entirely hears.
With electronic synths and samplers, we can create guitar-esque lead sounds that go beyond the amplitude decay we're used to hearing. We can treat this tone with additional harmonics or send it through modulation that can create a long, evolving sonic tail. You will sound unlike anyone else because, lo and behold, you can create sounds no one else has bothered to create.
All this entails us rethinking just how we play our instrument. Factors like how long we should fret a note are now more important. By using outboard gear like MIDI foot controllers, expression and sustain pedals, you're capable of expanding what any guitar MIDI interface can't intrinsically do by itself, at the moment.
This also entails very basic (but ultimately, important) things like how long we should take to fret another string or play different strings. Different tones require us to recalculate our connection with timing. If we expect an arpeggio to sound "clean" while playing a glowing pad preset, say hello to "mush" city. We must tweak things to work with this paradigm shift.
However, that's the beauty of a MIDI guitar setup. Guitar MIDI controllers force you to really dig into the sonic part of the performance equation. If you are a guitarist who thinks tone is king, tone itself reigns supreme here. This realignment away from feel and into pure tone should force you to adopt a different playing technique — cleaner, measured, and assertive.
If you strike a note on a guitar MIDI controller, it's going into this other world where internal sound structures can affect how we can alter its trajectory. Oscillators feed into filters that are then controlled by volume envelopes. MIDI signal modifiers (LFO, pulse-width modulation, slope, etc.) can make every bum note follow a harmonic stricture that might not be what you want. You can cheat at certain things with a guitar MIDI controller and create ideas that are simply impossible on a guitar itself, but you can't cheat on actual technique. You'll have to play cleaner. It will force you to.
So, where do we go from here? In our next journey through guitar MIDI land we'll share what you really can do with this kind of control.
All images by author.