As you grow your pedalboard, keeping things tight and orderly can become a challenge. Maintaining your signal's integrity as it passes through a chain of effects — some true-bypass, some not — is a whole other story. Add a tone-sucking volume pedal and a stereo amp rig to the mix and things certainly don't get any easier.
I had been considering a range of options to cure my pedalboard woes when I initially heard about EarthQuaker Devices' new pedal, Swiss Things. The problem with most utility pedals is that they only perform one task. By the time you have a loop switcher, a couple buffers, a boost and an ABY box, you've chalked up most of your pedalboard real estate to things that don't exactly make any cool sounds. An all-in-one pedalboard reconciliation solution, Swiss Things takes some of these commonly-used utility pedals and compiles them into one reasonably sized enclosure.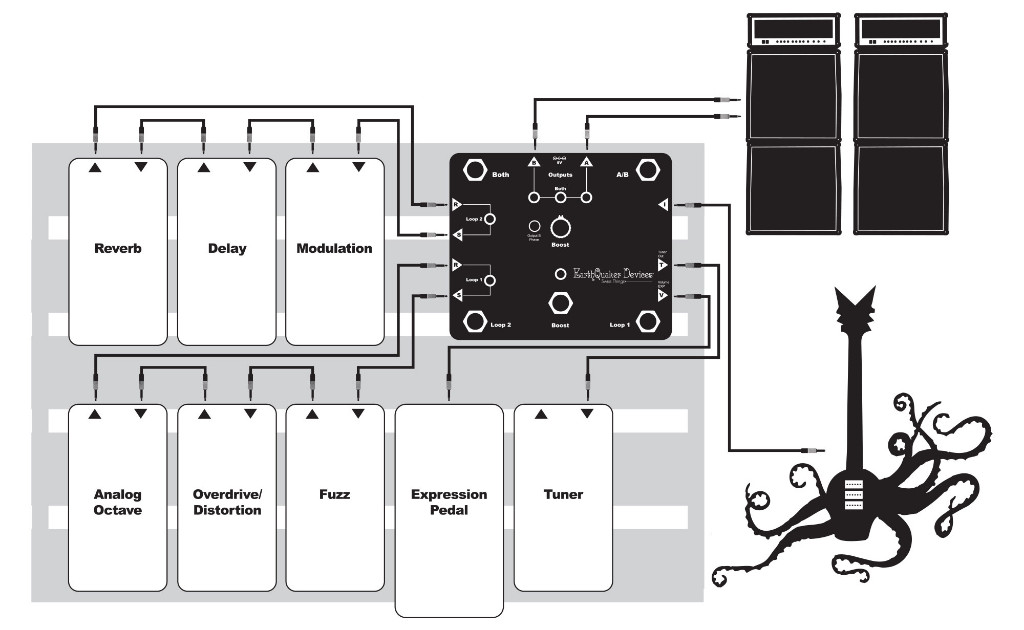 Combining two true-bypass Flexi-Switch-enabled effects loops, a transformer-isolated Flexi-Switch ABY box, a buffered tuner output, 20 dB of clean boost, an expression pedal output for volume control and a quiet, high-headroom output buffer, Swiss Things is meant to be the cornerstone of your pedalboard. In their manual, EarthQuaker suggests that it should sit at the "top right corner" of your pedalboard, which is definitely the ideal location, but my pedalboard's layout called for a more central mount — to each their own.
It took some trial and error to properly lay-out and wire this pedalboard to work with Swiss Things, but the benefits are definitely worth it. This Blackbird 1224 pedalboard has built-in input and output jacks, so I opted to use only the input jack, wired straight to the input of Swiss Things, just to have a more convenient master input location. From Swiss Things, I've used the buffered tuner output to run a Korg Pitchblack Mini, and since my Tapestry Audio Bloomery passive volume pedal has internal dip switches that convert it to an expression pedal, I've plugged that into the Swiss Things' volume EXP output.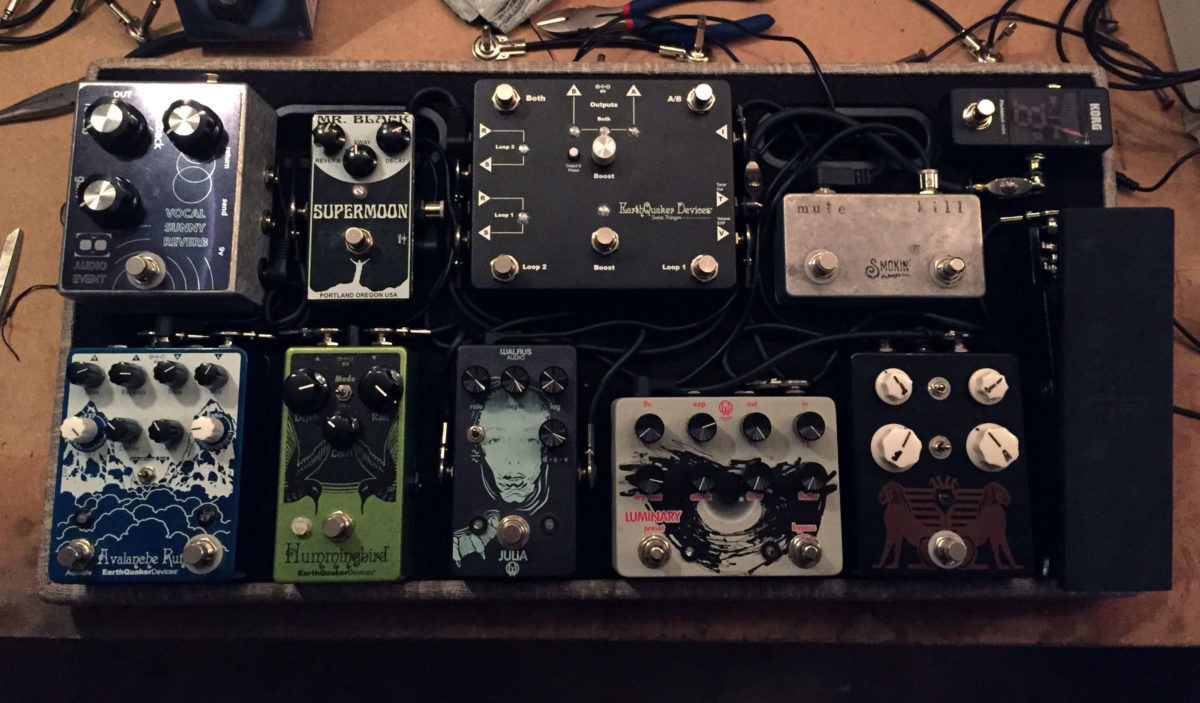 From there, I moved on to Swiss Things' loop-switching features. Loop 1 is un-buffered and is meant to be used with overdrive and distortion effects, namely fuzz pedals that don't like to be buffered. It's also advantageous if you use any dirt pedals with noisy switches, as you can turn them on and off with the loop's quiet Flexi-Switch. I get most of my gain from my amps, but I do have one fuzz pedal on this board — a Black Arts Toneworks Pharaoh. I've put that as the only pedal in Loop 1, and have been enjoying the Swiss Things' onboard 20dB boost as a nice "in-between" gain stage.
Loop 2 is buffered, making it perfect for modulation and time-based effects. My signal chain for this loop goes from Loop 2's send, to a Walrus Audio Luminary octave, into a Walrus Audio Julia chorus/vibrato, into an EarthQuaker Devices Hummingbird tremolo, then to an EarthQuaker Devices Avalanche Run, and then into a Mr. Black Supermoon reverb. The final pedal before the return of Loop 2 is a Smokin' Amps mute/kill switch, which will effectively mute or momentarily kill all of the effects in both loops.
Finally, I've utilized the transformer-isolated A/B outputs of the Swiss Things to run my dual amp rig, which is currently a vintage Roland JC-120 and a Sovtek MIG100 Bassov Blues Boy / Emperor cab half-stack. The transformer isolation really helps with ground loop issues and the extra noise that can come with running two vintage amps, and you can also invert the phase of Output B at the click of a button if you're having phase issues between two amps.
All-in-all, I really like Swiss Things and think it would be a useful utility pedal for anyone running a large enough pedalboard setup to justify it. I think it can certainly be used in different ways, and everyone will probably have a slightly different approach of wiring it up in a way that works best for them. But, that's the beauty of a pedal with so many features — you can easily cater it to work for your needs. I know that for me, it eliminated at least four other utility pedals, winning back some precious pedalboard real estate while eliminating tone-suck and and noise and saving me the time and money of seeking out some kind of custom-built alternative. I'll definitely be picking up one of my own.
Thanks, EarthQuaker.