Today we are taking a look at the highly anticipated darling of NAMM 2017, the Taylor GS Mini-e Bass guitar. Four strings on a GS Mini has long been a dream for many bass players, and now they can rejoice, because now they can have the best of both "travel" and "full-sized" worlds! This shrunken down bass-behemoth is ready to slap, let's get into it.
The Look
When most musicians imagine a bass, they often think of large, booming bodies with longer scale lengths than a mid-ranged instrument. The Taylor GS Mini-e Bass is an exception to this rule and it's apparent from the first glance. Built with the same body size and style of Taylor's Grand Symphony Mini guitars, the GS Mini-e Bass is a compact, travel-sized acoustic bass that would be perfect as a couch-side "jammer" or a tight, stage-ready bass solution. The Sitka spruce top offers a traditional Taylor look accompanied by the familiar layered sapele back and sides and distinctive pickguard and bridge design.
The Feel
The bass plays smooth and feels really great in the hand. The strings are nylon core D'Addario crafted, and specially designed for this bass to deliver the best feel and tone its scale length can offer. The nylon core with bronze wrap gives a "slinky" feel with a good amount of give when bending.
If you've played any GS Minis, the neck will feel familiar. With its 23-1/2″ scale length it's easy to shoot up and down the finger board on funky riffs and bring it back home for the deep, low-toned chorus riffs.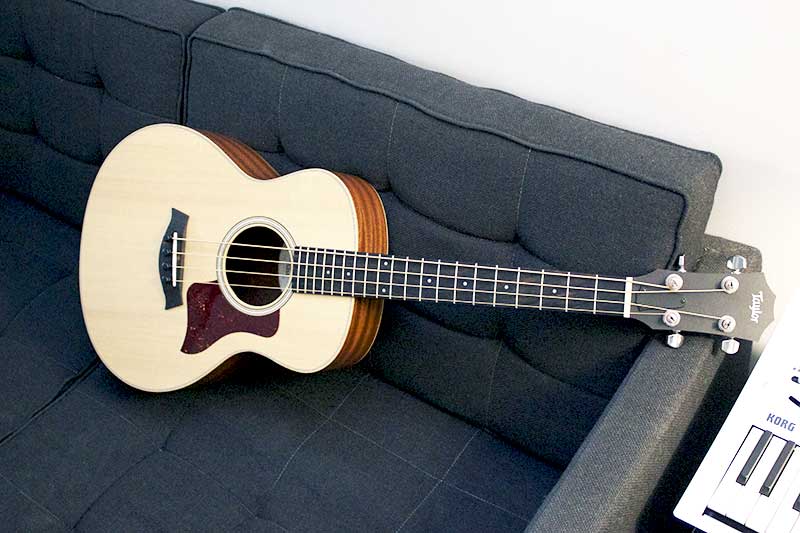 The Tone
Since this is an acoustic-electric bass guitar, I played the Mini-e Bass both unplugged and plugged-in to evaluate its tone. This bass nails both acoustic and electric sounds and I can see a myriad of situations in which it would excel. The nylon core D'Addario strings pop and thump through the Ampeg PF50 T head and matching Ampeg PF115HE cabinet I'm playing through. I was happy to hear the Taylor Mini-e Bass keep up tonally with the Parliament "Flashlight" bass line I've been working on, getting respectably close for an acoustic to that "Sub Phatty" tone with the right EQ and a bit of drive through an amplifier. Versatility doesn't seem to be a problem for this instrument, and that's a huge plus in a travel-sized instrument.
The Recommendation
The Taylor GS Mini-e Bass is one of those instruments I feel musicians of every level could take something positive away from. The cafe gigging bass player can have this as a workhorse for the weekly open mics, or as a reliable backup in touring situations. The beginner can stomach its price point and easily get acclimated to the feel of a bass. And with it not taking up more room than the typical travel guitar, the GS Mini-e Bass is worth a look from every touring bass player.
Photo Credit: Hannah Eppley