Welcome to Beat Connection, a series dedicated to promoting modern and vintage dance styles the only way we know how…by providing you a musical starting point to help you create that beat. In our previous post, we showed you what constitutes a song, providing you a basic structure you can use to arrange beats into songs. Today, we take another step and explore why musical tempo matters. The goal: to let you know why choosing a certain tempo will set the stage for a song.
Do nothing for as long as possible.

Brian Eno, from Oblique Strategies.
Tempo is so ingrained in us that we sometimes miss how much of our life is moved or affected by it. Our oldest known metronome, the heartbeat, functions exactly as any time keeper would. Beat by beat, it's tracking how fast or slow our blood is pumping. One beat at a time we can tell whether we are relaxed, agitated, sad, or happy, simply by feeling its pulse coursing through our body.
More refined than any man-made device, our heart is a special reference point we can sense adjusting to a certain speed when we exercise, sleep, or partake in certain activities. It's that speed which allows us to feel the pulse of our connection to whatever's going on. Musical tempo is precisely as similar and important for those exact reasons. Understanding musical tempo gives a reference point to what kind of music we want to create.
Understanding Musical Tempo
Musical tempo is a very simple phrase on paper. It is a measurement of how many beats (or pulses) per minute a given measure of music will have. Every time you fire up nearly any digital recording software, sequencer, or drum machine, you're most likely to encounter this BPM measurement somewhere on the screen. In the screenshot below, the BPM is listed as 120.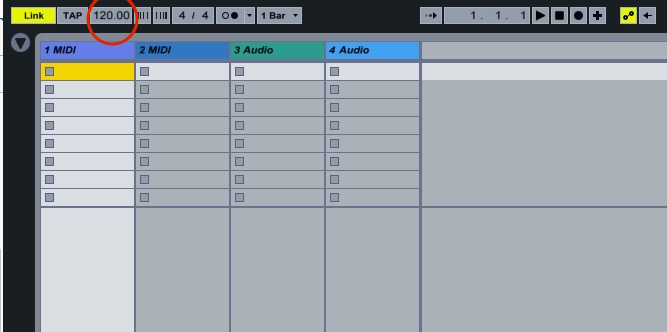 Why 120 BPM?
That's a question that appears to have a simple answer. Let's take a look at the Qwik Time QT3 quartz metronome below for guidance. From left to right notice how this metronome marks time.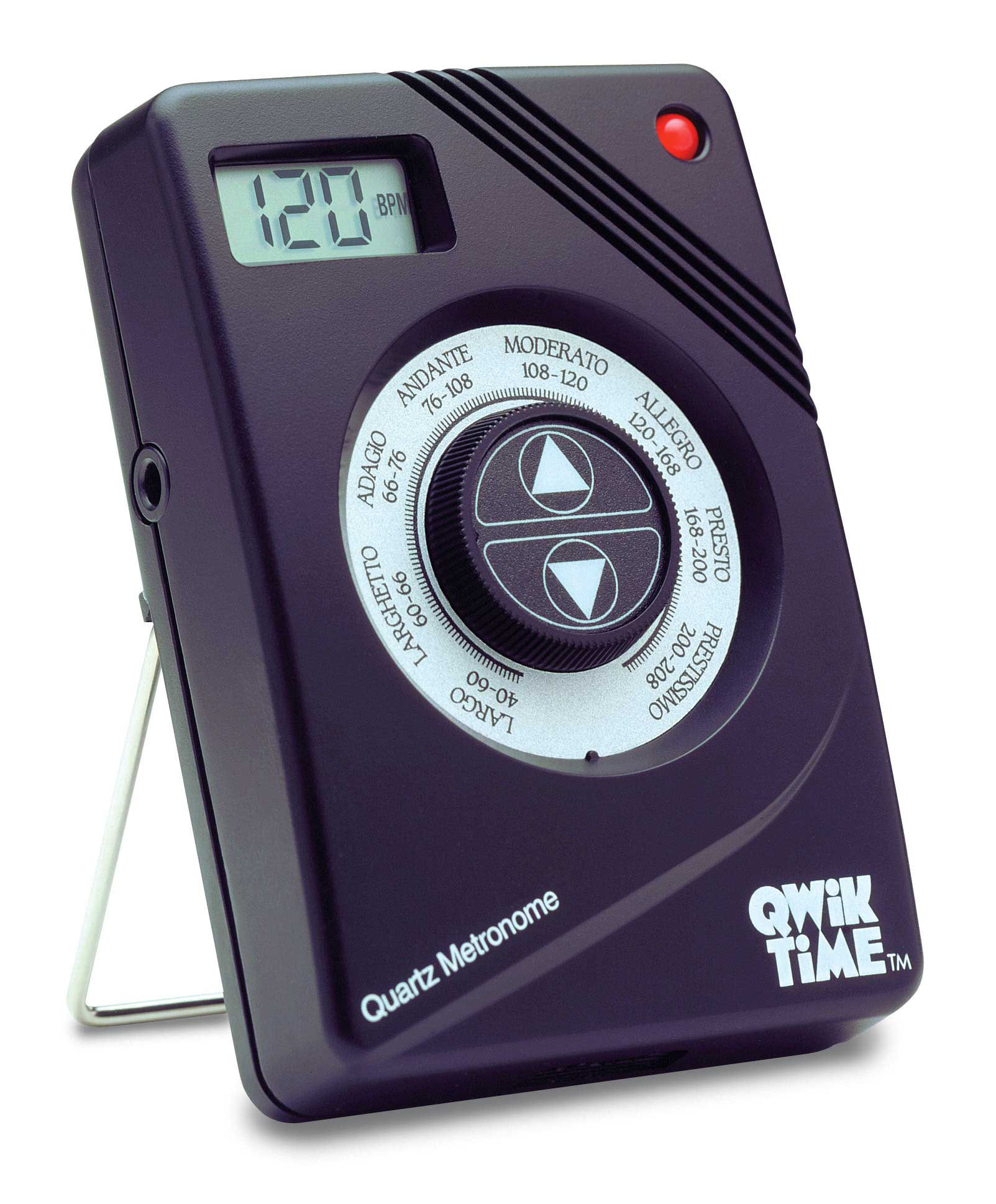 Basic Tempo Markings:
Largo: 40-60
Larghetto: 60-66
Adagio: 66-76
Andante: 76-108
Moderato: 108-120
Allegro: 120-168
Presto: 168-200
Prestissimo: 200-208
For humans, the resting heart rate universally lands around the 60-100 BPM range. With that in mind, it's not hard to imagine that music made at a largo tempo stands to sound even more lethargic than we are. As we experience or make music that goes around or above out resting heart rate, from andante through allegro we can instantly feel the pulse of the music pick up and become brisker. Once we create music that reaches for presto and beyond, you can imagine how much harder it gets to pick up the pulse of the music – moderato is that ideal halfway point between fast and slow enough. Moderato is something anyone can easily understand and feel. But still, that 120 must have some type of musical importance.
The Tastemaker's Choice
Disco producers may not have been the first to land on that sweet musical spot, 120 BPM, but they sure were to the first to understand the power of it. Knowing full well their music was meant to be used on the dance floor introduced a conundrum. How do I make music that a DJ would want to pick? And how do I make music that a DJ can easily transition into? In essence, that's why moderato is such a powerful tempo. You're making music that's easily malleable.
If you make music that hovers in a moderato range, it's easy for any DJ to speed up or slow down other tracks around it to match the speed of your mid-tempo track. In the era before SYNC buttons existed, DJs had to manually adjust the pitch control on a record player to slow down or ramp up the rotation of the turntable and achieve a dance-friendly tempo. Having tracks at their disposal created in that tempo range, upped the possibilities of them being selected to appear on a radio or DJ playlist.
Two ingredients: a "four on-the-floor" beat and a mid-tempo pulse, will always be key components present to make any song a potential hit. That's why you see software and hardware seemingly default to that setting. It's because people, by and large, gravitate to that tempo. And any track recorded in that tempo lends itself to easily be slowed up or down, to match the mood of the DJ. That's something you can instantly pick up on by listening to these two songs, both recorded at 120 BPM:
using musical tempo
Knowing that 120 BPM is such a power tempo, let's explore why you should feel inspired to move outside that reference point. For that I'll need you to experiment with me. Using YouTube's lovely video speed control and Sylvester's brilliant mid-tempo post-disco masterpiece "I Need Somebody To Love Tonight" recorded at 108 BPM, let's play the role of DJ, and hear how tempo affects music.
FIRST MOVE – 108 BPM:
Listen intently to the minute-long intro.
Notice how Patrick Cowley's constant drum machine pattern establishes a pulse in tandem with a loping bass line.
As the song shifts with Sylvester's vocals, notice how the melodic lead synthesizer cycles around the pulse.
SECOND MOVE – 81 BPM:
Rewind to the beginning.
Press YouTube's  "Gear" icon on the bottom left and change the speed setting to 0.75.
Listen to the minute-long intro.
Notice how that same drum and bass pattern gives a far spacier and languid pulse.
Sylvester's vocals, equally, sound more stretched out and quavering. Those same melodic synthesizer cycles of before sound even more vaporous and nearly ambient.
THIRD MOVE – 135 BPM:
Rewind to the beginning.
Press YouTube's "Gear" icon on the bottom left and change the speed setting to 1.25.
Listen to that minute-long intro, one last time.
Notice how the pulse of that drum and bass pattern exudes a brisker pace.
Sylvester's vocals, audibly, sound sharper, a bit higher in pitch, and more upbeat. This time, those melodic synthesizer cycles sound like ascending melodic figures hinting at the proto-techno possibilities in the song.
MATCHING BEATS TO MUSIC
What you've just experienced is Google's algorithm slow down, or speed up, the frame rate and audio tempo of the original track. Much like on a analog turntable, when you slowed the video down 0.75 times its original speed, the original BPM of 108 turned to 81 (given that 108*0.75=81). Speeding up 1.25 times its normal rate yields a BPM of 135. Changing the BPM of your music allows you to change the feel and space you have from one pulse hit to another. Musical things (like pitch) get affected as the tempo slows or picks up.
When you have music with low BPM measures, changes in tempo (either upward or downward) dramatically adjust the feel of the music. When you have something with a high BPM tempo, increasing that tempo makes for a less pronounced effect, but slowing it down can dramatically alter the the feeling of the song.
So, rather than think of 120 BPM as a standard, think of it as a starting point. Adjust the tempo to meet the feeling you want to impart in your song.
Whenever you're struggling to think of a "right" tempo to begin with, the cheatsheet below should provide you a starting point for you to explore.