SampleTank 3, the long-awaited update to IK Multimedia's well-established sample-based software instrument, was released in fall 2014 with much fanfare. IK's version 3.5 update — free for ST3 owners — arrived in spring 2015, enticing even more new users with 11 new sound libraries plus reliability improvements. It's easy to see why SampleTank 3 is a worthy investment: it includes tons of new sounds and effects, it has a much cleaner, easier-to-use interface, and it's built to run as a 64-bit plug-in for AAX, VST and Audio Units hosts.
That last part is important: SampleTank 3 is 64-bit-only, which means it won't run in 32-bit DAW hosts as older versions of SampleTank did. If you're using a 32-bit DAW with ST2.x, it's time to make the upgrade to a 64-bit DAW with ST3.
64-bit DAW Software: Why You Want It
Almost all modern DAW software titles are now available in 64-bit versions. For example, Ableton Live 9 and Cubase Pro 8 ship with 32-bit and 64-bit versions included. Propellerhead Reason versions 6-8.1 support both 32-bit and 64-bit operating systems, and Reason 8.2 (a free upgrade for Reason 8 users) is exclusively 64-bit. Avid Pro Tools made the switch to 64-bit-only in version 11, and so the recently released Pro Tools 12 is also 64-bit-only.
Why the march toward 64-bit? The main advantage of a system with a 64-bit processor, 64-bit OS, and 64-bit DAW software is the ability to address more than 4 GB of RAM at a time. If your computer has 8, 16, or more gigs of RAM, a 64-bit DAW host will let you take advantage of it, so you can run memory-hogging ROMplers with big sample libraries without running out of RAM. Increased access to RAM means your computer is better equipped to handle those large, high-resolution audio files and complex articulations that make sampled acoustic instruments feel so "real." SampleTank has always been a RAM-hungry beast, so ST3's transition to 64-bit is a very welcome change.
Before You Upgrade: Exporting Your Settings from SampleTank 2.x
SampleTank 2.x came with a library of sounds as well as a long list of stock Combis (presets), all of which can be imported to ST3. But before you you upgrade to ST3, open up your projects that used ST2.x. Chances are you've made tweaks to the presets here and there — or maybe you've stacked up a few multitimbral beasts from scratch. ST2 won't open in your 64-bit DAW host, so now's the time to save all that work in a custom Combi so ST3 can import it, with each instrument slot, volumes, pans, effects, and other settings intact.
Example: I've got an old demo for a song called "Cameo" that used ST2 for a guitar part. It's got 5 slots of sounds and various effects:

I want to dust off this old demo and work on it some more — this time using ST3 in my 64-bit DAW. So I hit "SAVE AS" within ST2.x to save the file as "Cameo Guitar Riff.ikmp". The filename extension "ikmp" stands for "IK Multimedia Preset," and that's the file format ST3 can import.
What about my "Powered by SampleTank" legacy instruments?
Along with the SampleTank instrument itself, many ST2.x users also use IK's "Powered by SampleTank" instruments — Miroslav Philharmonik, Sonik Synth 2, SampleMoog and SampleTron — all of which come bundled with SampleTank in the Total Workstation XL bundle. At the moment, these instruments only exist in 32-bit versions, but ST3 can import all these legacy sounds and Combis (presets) into its cool new 64-bit platform. This is a smart move on IK Multimedia's part — it gathers all your sounds in one place. Why bother with five different software instruments when you can have one well-designed instrument that can mix and match all your sounds?
Here's a Combi I made in Sonik Synth 2 called "Symmetry," with 3 slots of sounds:

I hit "SAVE AS" within Sonik Synth 2 and saved the file Symmetry.ikmp for importing into ST3.
Another example: for the track "Hand Over Hand," I used the Steinway piano sound within Philharmonik. I don't think I tweaked this sound much, but just to be sure, I saved it as a Combi called "Hand Over Hand Piano.ikmp." Now, I'll be able to load up the exact piano sound when I'm running ST3.


Remember, before you upgrade to ST3, open up your projects that use legacy SampleTank instruments, and export each instance's settings as an .ikmp file (a custom Combi).
How to Import Legacy Sample Libraries into SampleTank 3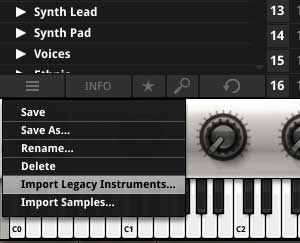 Once you've installed your 64-bit DAW host and SampleTank 3, it's time to import any legacy IK Multimedia sound libraries you may have lying around. ST3 can import sounds from SampleTank 2.x, SampleTron, SampleMoog, Sonik Synth 2, Miroslav Philharmonik, and the Xpansion Tank 2 titles.
Importing is easy:
1. Open SampleTank 3.
2. On the PLAY page (loaded by default), you'll see buttons for MULTI, INSTRUMENT, PATTERN, and LIVE. Click the INSTRUMENT browser.
3. Click the "hamburger" menu icon in the lower left corner, and select "Import Legacy Instruments…"
4. Enter a new name for your imported instrument library.
5. Choose the disk path for the sounds you want to import: Click BROWSE and navigate to the folder that stores your sounds.
6. Click IMPORT.
7. Once you see the progress bar, go grab a sandwich as you wait for your sounds to import.
Now that ST3 knows where to find all your legacy sounds, you can import your legacy Combis, as well. Don't worry — importing Combis goes much faster…
How to Import Legacy Combis into SampleTank 3
Note: An IK Multi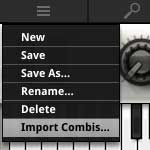 media preset known as a "Combi" in ST2.x is now called a "Multi" in ST3.
Importing Combis to ST3 is simple:
1. Open SampleTank 3
2. On the PLAY page (loaded by default), you'll see buttons for MULTI, INSTRUMENT, PATTERN, and LIVE. Click the MULTI browser.
3. Click the "hamburger" menu icon in the lower left corner, and select "Import Combis…"
4. Choose the disk path for the Combis you want to import: Click "BROWSE" and navigate to the folder that stores the .ikmp files you exported from ST2.x
5. The .ikmp files may appear greyed out, but don't worry — ST3 only needs to know the name of the folder.
6. Click IMPORT.
7. You'll see a brief progress bar, and then your Combis will appear as Multis in the MULTI browser.
Note for Pro Tools Users: Don't Forget to Set Your Instrument!
When I opened my old Pro Tools 9/10 sessions in Pro Tools 11, SampleTank 2 appeared as an "inactive" plug-in in my Instrument tracks — as expected. And I replaced it with ST3. However, there's one more hoop to jump through. Anytime you're changing a PT Instrument Track from one software instrument to another, there's a chance that the track's MIDI Output will still be pointing at the wrong instrument. You'll need to open the Instruments view (View > Mix Window Views > Instruments), grab the "MIDI Output Selector" pulldown on the top of your Instrument track, and select the correct instrument.
Don't Fear the Upgrade
Are you a version or two behind when it comes to upgrading your OS, DAW, or plug-ins? It's normal for audio engineers and producers to be a bit shy about jumping into the latest version of their chosen software. And for good reason: upgrading one piece of the puzzle may render another piece obsolete. For example, you may be running a 64-bit operating system, but if you're still running a 32-bit DAW host (like Pro Tools 9 or 10), a 64-bit-only plug-in (like SampleTank 3) simply won't work. And if you've got legacy 32-bit-only plug-ins, they won't open in a 64-bit-only DAW (like Pro Tools 11 or 12). Because of these potential snags, it's best to upgrade only when you're between projects! Fear not — it can be done. If you've been dragging your feet on upgrading to a 64-bit DAW, SampleTank 3 is a great excuse to just do it already. Your RAM will thank you!