Breedlove has made sustainability their top priority over the last several years, and the Breedlove Organic Pro Wildwood Concert CE is an example of the guitars produced by that mindset. Sustainable guitars can (and should) sound just as good as a guitar made from lumber that isn't as friendly to the environment. Breedlove has even teamed up with The Dude himself, Jeff Bridges, whose signature guitars raised money for the Amazon Conservation Team, which does a huge amount of work for the indigenous people of South America.
When you pick up a Breedlove, you're not just picking up any guitar, but one that has been thoughtfully made with sustainable materials. So, how does the Organic Pro Wildwood Concert CE perform? Read on for my thoughts.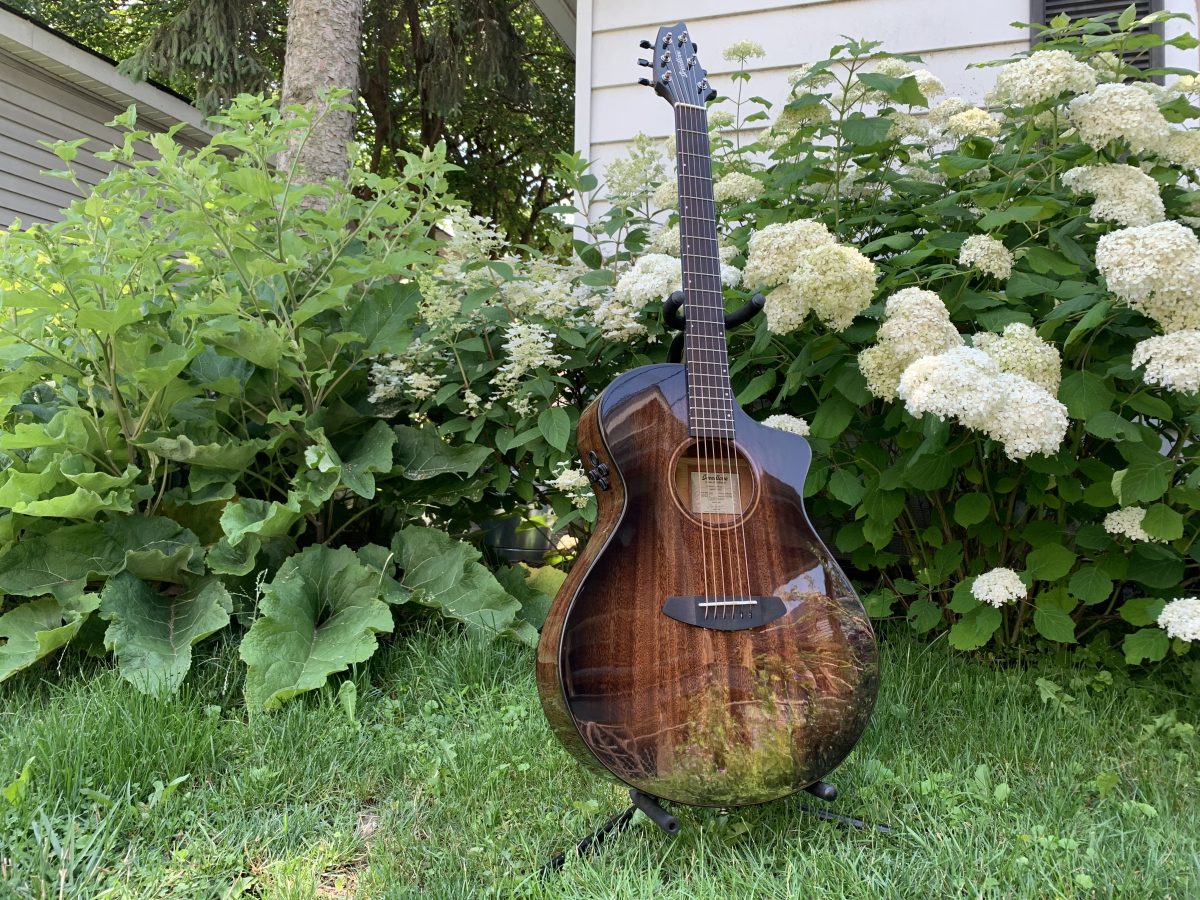 The Look
At first glance, the Breedlove Organic Pro Wildwood Concert CE looks like a classy, yet modern instrument. With its dark sunburst finish, this guitar could be played on stage in a dive bar or in a packed arena. The signature Breedlove cutaway shape makes it easy to access the upper end of the fretboard.
You may not know this, but Breedlove has two different headstock shapes across their guitar line. The Breedlove Organic Pro Wildwood Concert CE features the narrower version, which creates a little less tension across the middle strings. This headstock design lends itself toward a more scooped midrange tone, which is perfect for singer-songwriters who need the real estate in that range for their voice.
---
The Academy Award-Winning actor on why his focus on sustainability made Breedlove a natural partner | Read »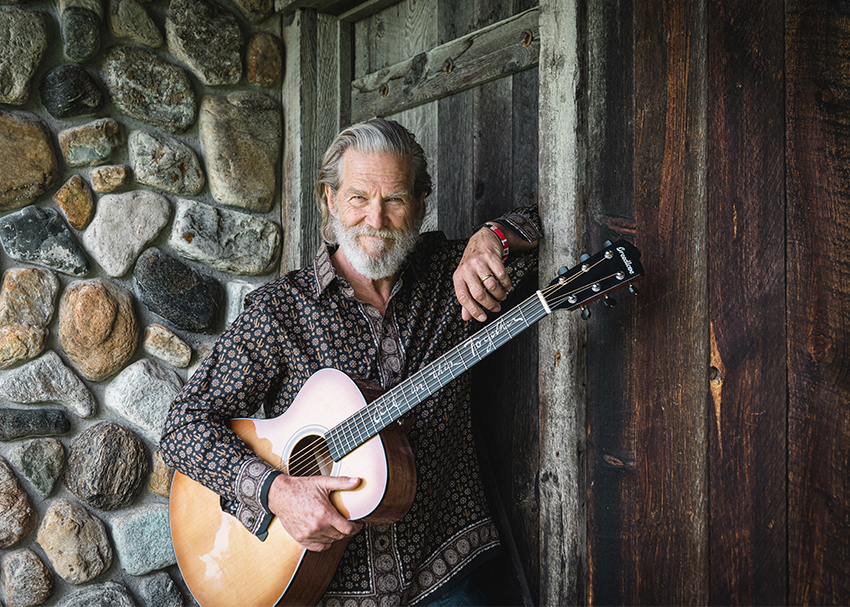 ---
The Sound
This all-mahogany Breedlove produces a warm sound that is perfect for solo artists. Thanks to its size, this guitar can handle fingerpicking and pick strumming with ease. Notes bloom and sustain so long as you don't strike the strings with all your might. The sound of Breedloves tends to fall between the sound of Taylor and Martin for me. They have that high-end sparkle that is associated with Taylors, but with the attack of a Martin.
Sound Examples
Below are a few playing examples that showcase how the guitar sounds. I recorded with a microphone as well as with the onboard electronics simultaneously, so the performances are the same. My rig was pretty simple: just an an AKG C314 right into my Universal Audio Arrow and into Logic. No EQ, compressors, shelves, or anything like that were used in these clips.
The first example is played without a pick, kind of in the realm of folk. Here you can really hear this guitar come alive. All-mahogany guitars tend to love fingerstyle. The pin-less bridge makes fingerstyle playing very comfortable since you don't have any bridge pins jamming into the base of your palm.
The second example is with a pick, strumming some chords, and a few single note passages. Comment down below if you recognize this song!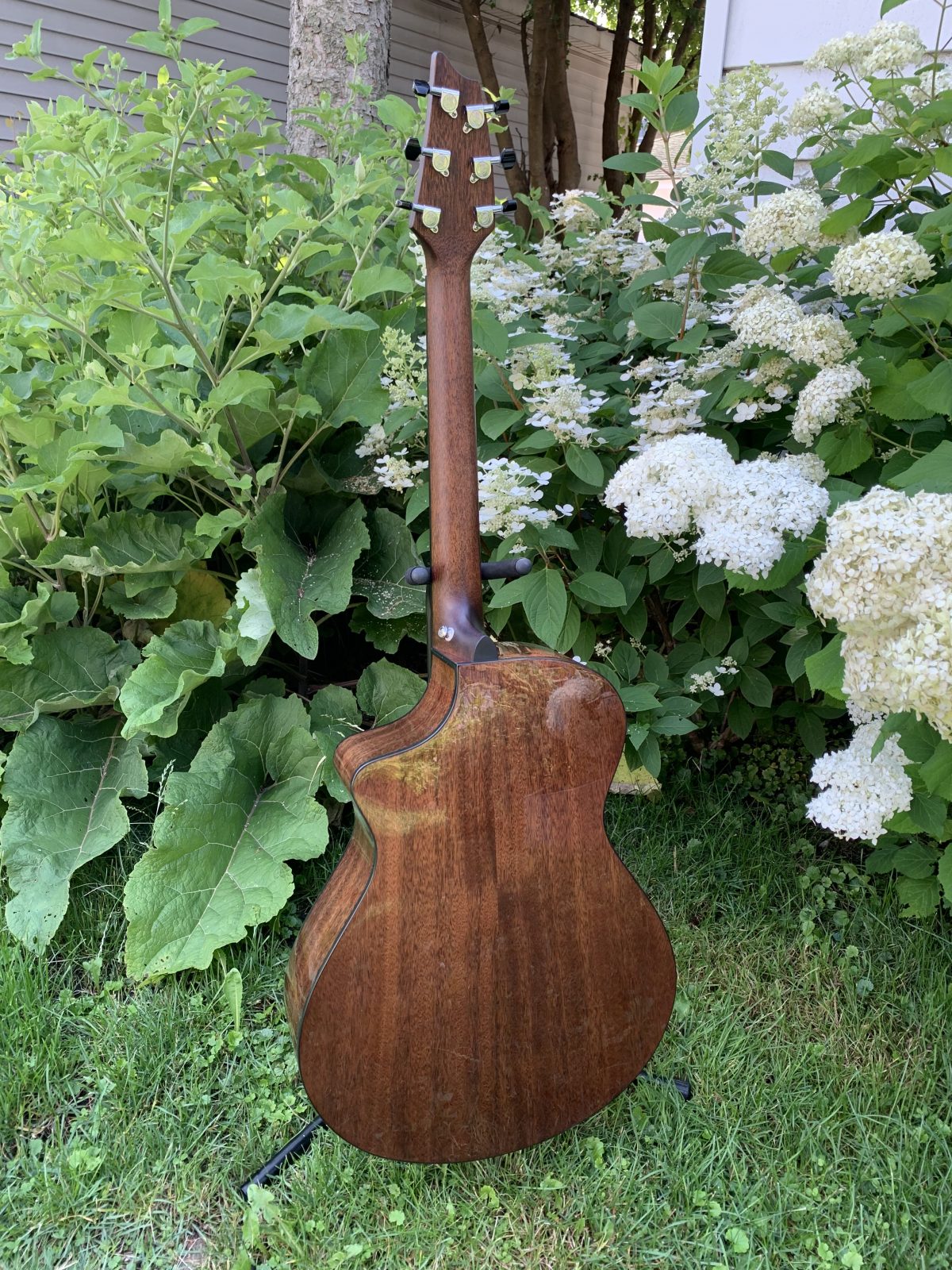 The Feel
My first impression of this guitar was the fretwork. When you receive a guitar with a silky smooth fretboard edge, it just makes the playing experience so much better. There's no fear that your hand will get caught up while going up and down the neck. The neck carve itself is a pretty standard C-shape, which I find comfortable. Breedlove's proprietary pin-less bridge design makes it easy to change strings, but also doesn't rub the base of your palm when playing. This design evens out the pressure across the entire top and provides a better playing experience.
Final Thoughts
The Breedlove Organic Pro Wildwood Concert CE has all the features you'd want from a professional-level acoustic-electric guitar. That said, the all-solid-wood construction makes this guitar an exceptional value. Guitars like this are meant to be brought on the road, which is why it's loaded with a Fishman Flex Plus-T pickup system. There's no need to bring a tuner on the road with your rig because the Fishman electronics include an onboard tuner than can be seen on dark stages or out in the sunshine.