When you think of broadcasting and podcasting, one of the first brands to come to mind is Shure. The company was founded in 1925 and is well known for many microphones, such as the Beta 58A, the SM57, and the legendary SM7B.
As most of you know, the SM7B is regarded as one of the most popular radio broadcasting microphones ever. It has all sorts of uses in today's studio, from singing to podcasting. This mic was born from engineers at Shure taking the SM57 microphone and essentially making it an absolute beast.
A Mic Built for 2020
In this present day of being stuck at home with nothing to do, the podcasting hobby has boomed tremendously. As a customer service representative here at zZounds, I have fielded more and more calls in regards to podcasting equipment this year than any other year. It's fitting then, that this year Shure released a new microphone with a timely twist.
Just introduced this October, the Shure MV7 has since taken over the podcasting community. Obviously, this microphone is inspired by the SM7B's looks. But what makes this microphone stand out exactly? And does it sound like an SM7B?
Well, I managed to get my hands on the MV7 to test it out. Over the past couple of weeks I have been using it for multiple purposes, including voiceovers, streaming, and even working from home. Let's take a closer look at this multifaceted microphone.
MV7 Features & Controls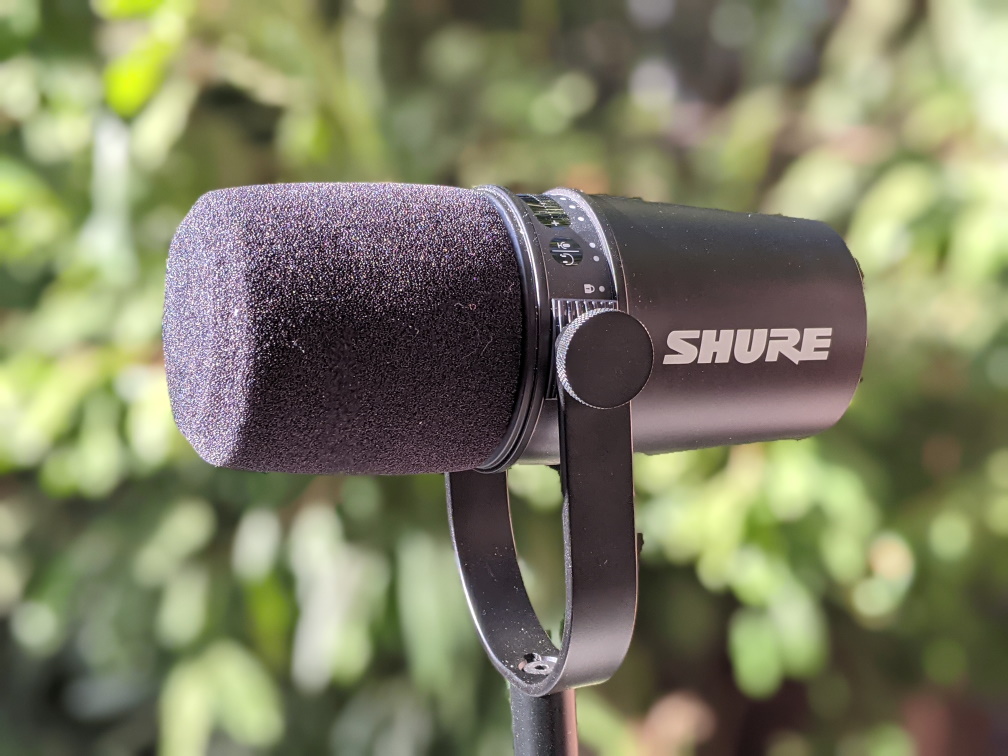 First, we'll go over the basic layout of this microphone and what comes with it. Included in the box is the microphone itself, a MicroB-USB to USB-C cable, a MicroB-USB to USB-A cable, a thread adapter for the microphone mount, and some information on how to access the free MOTIV software. I was happy to see that Shure included the two different types of cables.
You may be blown away to see that the MV7 features an XLR output and a USB cable output. This is uncommon on a microphone and I think it was a very smart move on Shure's end to include it. You also have a headphone input for personal monitoring when running this in USB mode.
There's a touch strip on the side that adjusts the microphone's volume as well as the blend between personal monitoring and system sounds. It was pretty responsive and simple to adjust things on the fly. It also has touchpads for muting and locking the settings so you don't have any accidents while adjusting the mic position.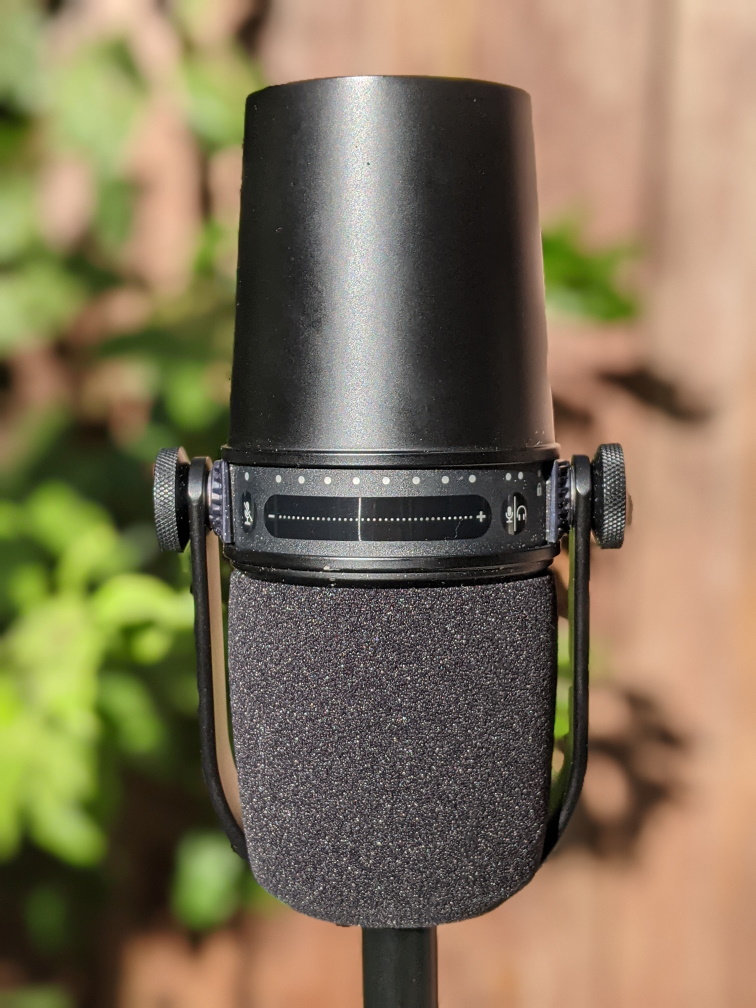 The mount comes pre-installed onto the microphone and is sturdy to assure the safety of the microphone. Like the SM7B, it has a wishbone style mount with fasteners on the side to tighten down the microphone in position. One difference between the SM7B and the MV7 is that the XLR output is located on the back of the microphone versus the SM7B's bracket-mounted XLR output. Another difference is that the MV7's bracket does not feature a free-spinning screw mount.
MV7: Audio Performance
Now that we've gone over the physical characteristics of this microphone let's jump into what REALLY matters…how it sounds! I teamed up with a good friend of mine who also happens to be a Chicago-area engineer, Nick Cartwright. When I first pitched the idea to him of comparing the SM7B with the MV7, he was excited to help. I asked Nick how he felt it would compare and got the answer I expected from an engineer. He expected the SM7B would hold its ground versus the XLR/USB hybrid microphone.
Needless to say, he was very surprised with the results. Below, listen to the sounds we captured with both microphones. We recorded these microphones through an Antelope Audio Discrete 8 interface with the help of Adam Audio AX5 monitors paired with the Sub 8 subwoofer and tested them with a voiceover, a snare drum, and even an electric guitar through a Hiwatt Custom Maxwatt 50. My narration was recorded in USB mode while the sound recordings are with XLR.
Clearly you can see that this microphone is very much capable of holding down the fort. I was particularly surprised to see how good it sounded recording an electric guitar.
This microphone excels on voice. I've been using it to field phone calls for zZounds and the quality is amazing. During my test with the microphone I did not experience any outside noise like I have when using other USB microphones. All that said, you can thank the MOTIV software for that.
The free MOTIV software is simple to use. It features a few different EQ modes: Flat, High Pass, Presence Boost, and High Pass and Presence Boost, a limiter, and a compressor. Take note that these are only able to be utilized while using the microphone in USB mode. I was excited to see that the limiter and compressor work very well. It even features active background-noise cancellation.
I would highly recommend picking up the Shure MV7 for podcasting and streaming. Because it's a USB microphone, it is technically already activated without the need for a Cloudlifter CL-1. This mic is ready out of the box for recording, and setup was extremely simple. Check it out for your next music, podcasting or streaming project!
Audio Recorded By Nick Cartwright
ncartwrightaudio@gmail.com