As someone who consumes a lot of documentaries, interviews of my favorite musicians on YouTube, and being an all-around nerd about guitars and guitar history, I thought I'd share some of my favorite books for guitarists.
These books cover everything from guitar history to autobiographies to lessons. Give your eyes a rest from the screens we stare at all day, stay inside, and read a book or two, or six. I find guitar history interesting because it follows social and economic trends, from bluegrass in the 1920s to the creation of rock music in the late 1950s. Not everyone enjoys lesson books, but some are useful for finding tricks that aren't widely spread. Finally, autobiographies of musicians are usually filled with insane stories and an insight into what life is like for someone like Keith Richards or Brian Wilson.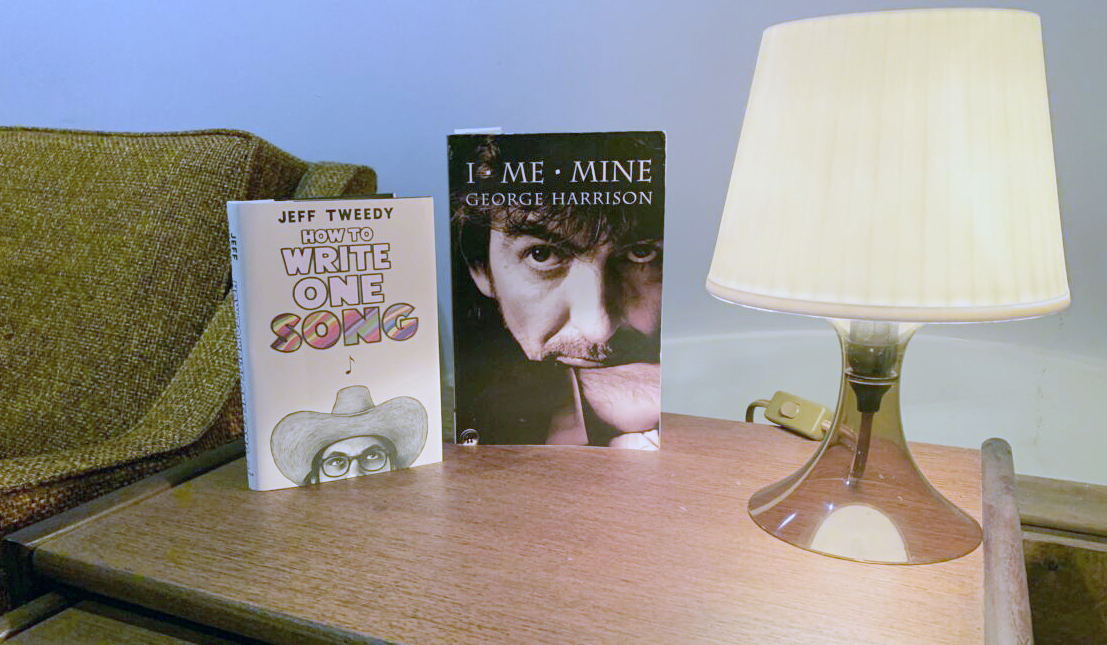 How to Write One Song
No list of mine is complete without a mention of Wilco or Jeff Tweedy. With its slapstick-humored title, How to Write One Song really reflects how a lot of people feel these days. Since we're all pretty isolated, it can be difficult to find inspiration, even as others thrive in it. This book breaks down songwriting techniques by a guy who's held at a high regard for his writing.
Since the early 1990s, Jeff Tweedy has been writing songs, touring the world, and making records. Surprisingly enough, I've never heard about another songwriter who's tackled this subject in a book. Interviewers are always asking successful songwriters what their writing process is like. The usual answers that come up are "the lyrics always come first for me," or "I need to write the bones of the song before I add the lyrics" or even "every single song is different for me." Honestly, that's not much help to the masses.
Remember how I said this is a book on how to write a song? Well, it's a bit more than that. The book reads like a conversation on how to get inspired, staying focused, and other unorthodox ways of getting into the creative mindset. "How to Write One Song" is the perfect intersection between a self-help book and a conversation with a songwriter.
I Me Mine
What else can I say about my favorite Beatle? This book is the closest thing we'll ever get to a George Harrison autobiography since it starts out with a conversation between Harrison and Derek Taylor, which is a relatively quick read. It's nice to know that he was interested in much more than just music. George was a big fan of gardening as well as auto racing, which aren't usually associated with the lifestyle of one of the world's most famous rockstars.
Knowing the life behind one of the most prolific songwriters of all time is not only interesting, but the book includes copies of handwritten lyrics, photos, and letters. Seeing the original handwriting from songs that you may have been listening to for most of your life brings a personal touch to the book.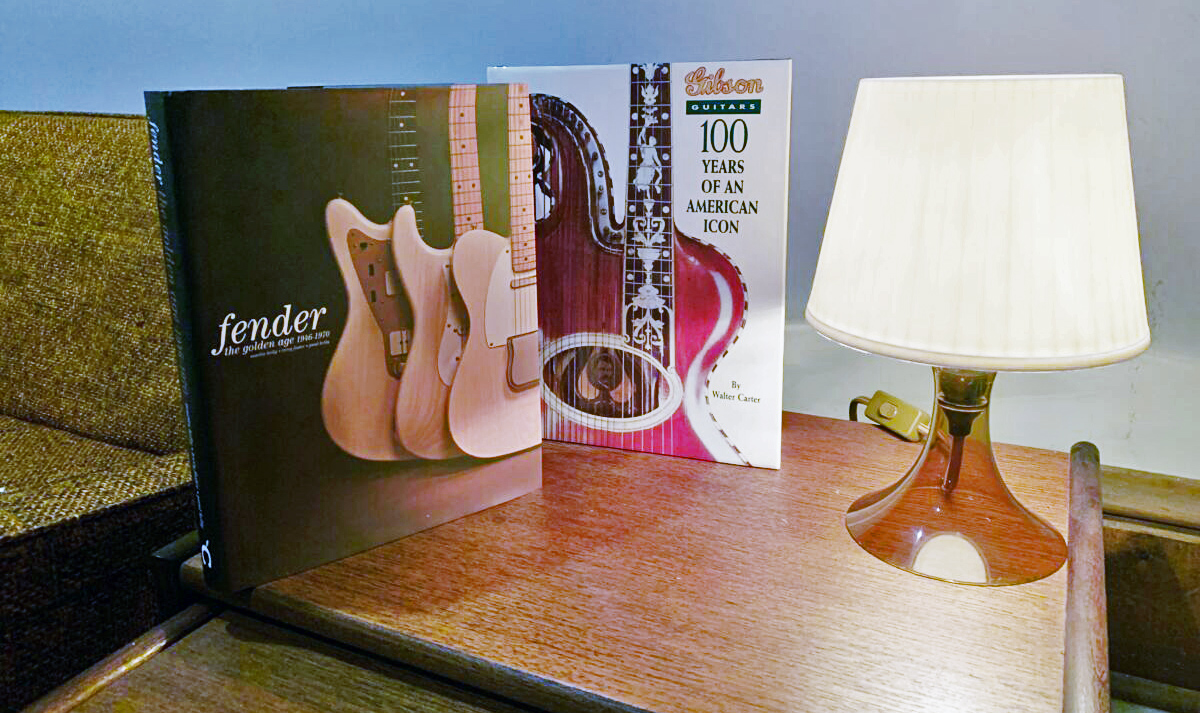 Fender: The Golden Age 1946-1970
Possibly my favorite book from my collection is Fender: The Golden Age 1946-1970 by Martin Kelly, Terry Foster, and Paul Kelly. It's hard to qualify this book as a "coffee table book" since it goes much more in depth than just showing pictures of rare, clean examples from Fender's storied past.
From the very beginning, when Leo Fender operated his radio company, to the first "Woody" amplifiers, to sparkle-finished guitars from the mid-1960s, it's truly impressive how much research went into this book. It's hard enough to even find any of this stuff, but it's another thing to have high quality photos of extremely rare guitars, amplifiers, catalogs, hangtags, and much more. I can go on and on about my favorite custom colors from the pre-CBS era, the raddest accessories that could only be found with Fender sales reps, and the most mid-century advertisements you will ever see. I urge anyone who is a Fender fanatic to explore this book and learn about one of the world's most famous guitar brands.
Gibson Guitars: 100 Years of an American Icon
Okay, I'll be honest. I was given this next book after a factory tour in Nashville, but that doesn't make it any less important. Written by Walter Carter, who was Gibson's historian for 10 years and now owns the famous Carter Vintage Guitars on 8 Avenue South in Nashville, Tennessee, this is the complete story from the 1880s all the way to 1997. This book covers every era, and of course, tells the story of how the holy grail of vintage electric guitars came to be, the sunburst Les Pauls made between 1958 and 1960. While the book about Fender's golden era only covers 24 years, this book shows Gibson's entire history. In it, you learn how Gibson had to contend with economic hardships, as well as changes in popular music to deliver what musicians of the time needed.
People often forget that Gibson morphed with the times. They made the most desirable mandolins in the 1920s, led the jazz guitar market with the L-5 and Super 400 archtops since the rise of big band music, then turned around to craft some of the best flattop acoustics ever made, and then Ted McCarty introduced the Les Paul in 1952 as a reaction to Fender's Broadcaster. Fast forward a mere six years and they introduced what would become the most collectible and valuable electric guitars ever made. Obviously, I'm talking about the sunburst Les Pauls that were only made from 1958-1960 because they didn't sell all that well. Fast forward a decade or so later and it was in the hands of the highly influential players that made them famous.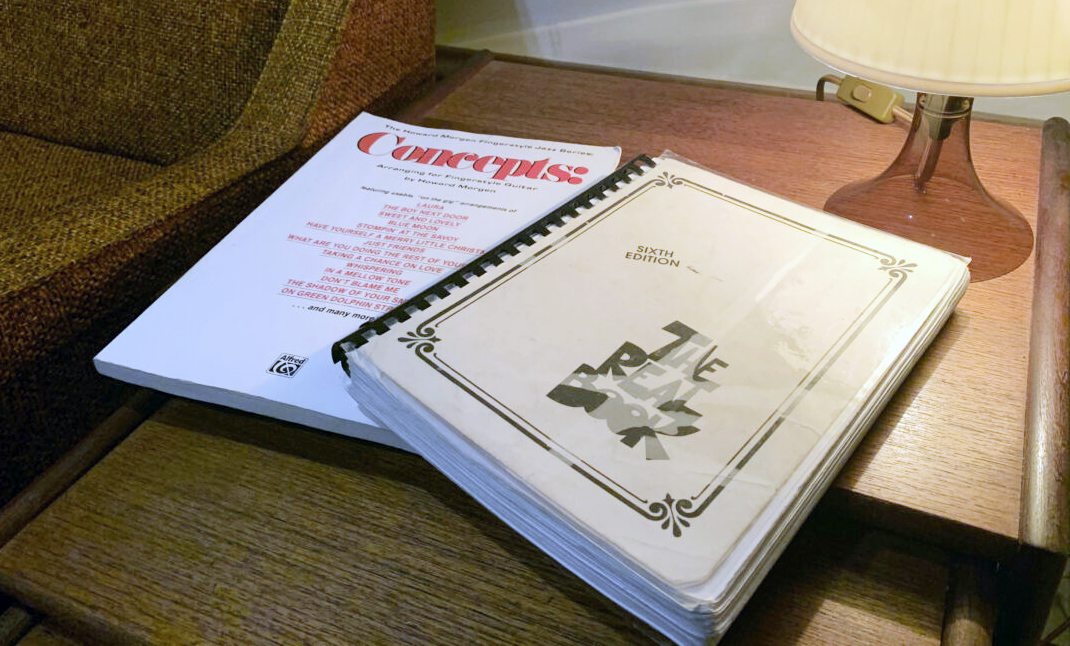 The Real Book
If you're looking to get into the great American songbook, look no further than The Real Book. From its humble beginnings as "The Fake Book," these books were compilations of the most popular tunes called out at jazz clubs, but were never "official" copies of these of lead sheets. After many years of these "illegal" books trading hands and becoming copies of copies, The Real Book was introduced. This was the first time the composers of these tunes were actually paid in publishing rights. This also began the somewhat controversial era of there being an "official" key to these popular songs. some of the most famous controversies surround the original key of "Autumn Leaves" and "The Girl from Ipanema."
These books can be found bearing penciled-in notes from professors and band leaders, but the signature of any aspiring jazz musician is the amount of coffee stains on the cover. If you're like me, then you'll have the front and back covers laminated so the book actually stays together from its service on gigs or from being thrown across the room in frustration. Unfortunately, my books don't have that many coffee stains, but they do have plenty of notes from my guitar professor and jazz combo directors. This is why I recommend having physical copies of the books. While PDFs are easy to transport on a tablet and it might be a little bit better for the environment, the notes in these books are very nostalgic for me because they were written by the very people that taught me. Apart from nostalgia, the notes still remind me of some tricks in tunes I haven't played in years.
Concepts: Arranging for Fingerstyle Guitar
There is a seemingly endless amount of resources available on learning the basics of guitar on the Internet. There are now lessons and "classes" from brands like Fender, Martin, and Gibson. I wanted to add a book that shows off some fingerstyle guitar since there's not a lot of videos immediately available on YouTube. Since a lot of people don't have the opportunity to play with other musicians these days, this is a great book to get into. Some of the most beneficial information in this book teaches you a little advanced music theory while you learn a new song. This is a book you can pick up and put down periodically, which makes it great for people like me who can't seem to finish things in a reasonable time frame.
Do you have any book recommendations for guitarists or other musicians? Let us know in the comments!