Arguably the most famous distortion pedal of all time is the Electro-Harmonix Big Muff Pi. With its nearly endless sustain, amazing textures, and its ability to take your solos to the next level, the Big Muff has gained fame by appearing on some of the biggest records of all time. But where did this world-changing pedal come from, and why is everyone using it?
The story begins in 1960, when a young Mike Matthews met Bell Labs inventor Robert Myer while working at IBM. zZounds sat down with Matthews to talk about this time in his life and what formed the foundation of Electro-Harmonix and fuzz tone as we know it.
Designs That Led to The Triangle
In 1968, Robert Myer had been working for Bell Labs for nearly 12 years. There he spent his days building transistor circuits for the U.S. military. These were high-spec, specialized circuits with no expense spared, unlike the typical circuits meant for mass production. Since Myer did consulting projects aside from his work at Bell Labs, Matthews and Myer teamed up and began work on a stompbox circuit to compete with other fuzz tone devices that were gaining popularity in the '60s due to the immense success of the Rolling Stones' hit "Satisfaction." This design was envisioned by Matthews to be a "distortion-free sustainer" allowing a musician's guitar to sing like that of Jimi Hendrix. This pedal would be the first to be released under the "Electro-Harmonix" label.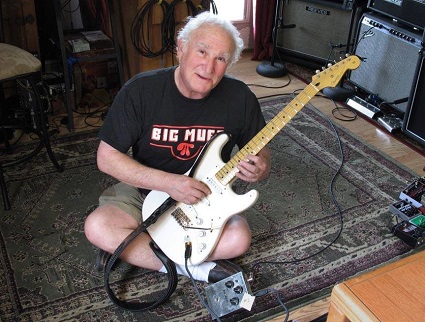 Myer started work on a prototype that needed a pre-amp boost because he over-estimated the output voltage of a guitar, which is so low it needed the "help" of a simple boost. This prototype eventually became the Electro-Harmonix Black Finger compressor. It proved to be incredibly expensive due to its being built to Bell Labs' standards.
Matthews was excited with the design but was more intrigued by the booster that sat in front of the pre-amp, and he wanted to make a stand-alone product out of it. Myer recalls that he simply "slapped together the booster" before showing the design to Matthews. This line boost eventually became known as the LPB-1 (Linear Power Booster) and began to be sold by mail-order in 1968 under the Electro-Harmonix branding.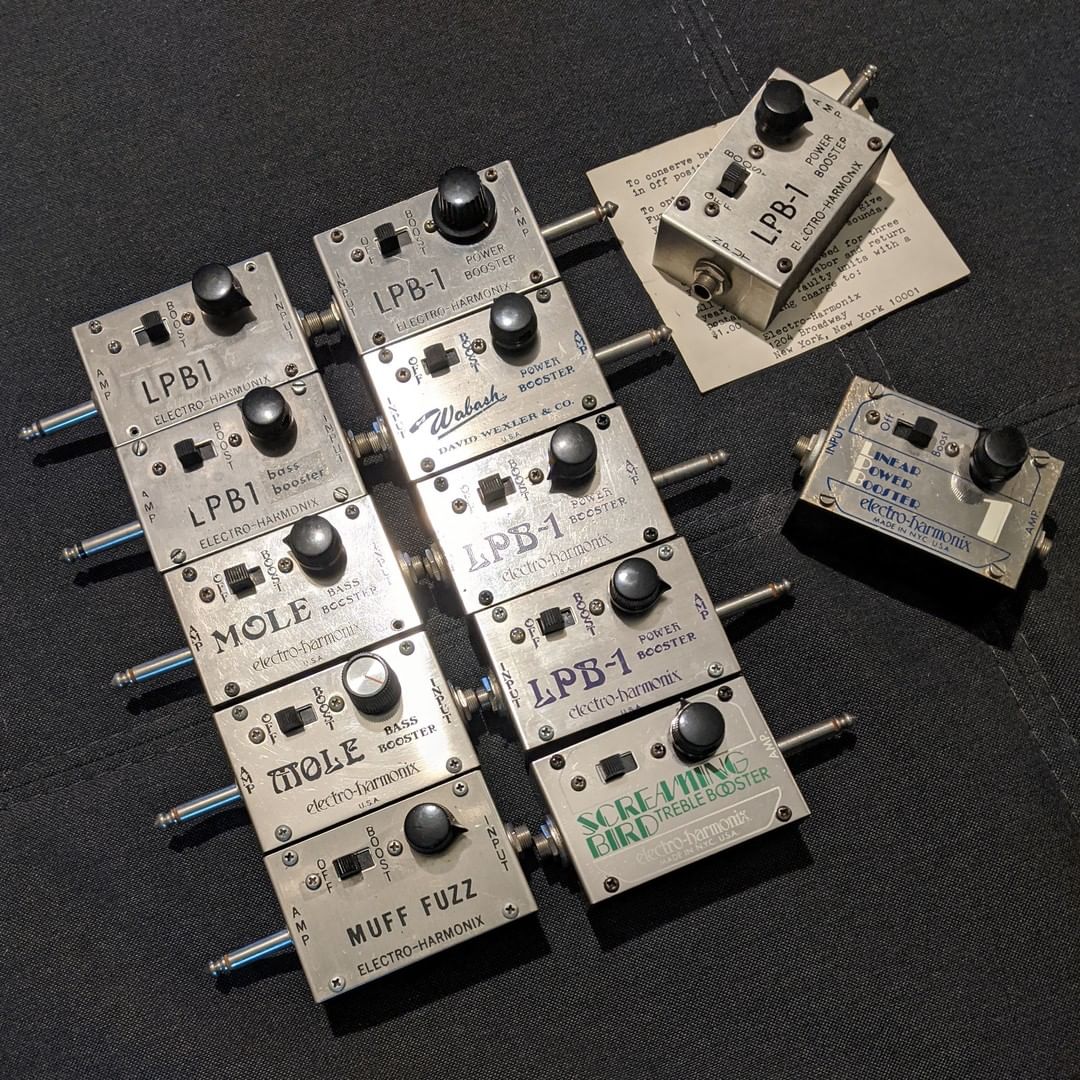 Soon after the launch of the LPB-1, Matthews quit his job at IBM and went to work on Electro-Harmonix full time. Any funds generated from profits from the LPB-1 were reinvested into the company to pay for Myers' design work, as well as on advertising used to create a buzz around the budding company.
Over the next year and into 1969, Electro-Harmonix put out additional products designed by Myer that fit into the same enclosure as the LPB-1. This included an analog, two-transistor fuzz effect called the "Muff Fuzz." Matthews recounts calling it "Muff" due to its "Funky, soft, muffled sound." In recent interviews, he's mentioned it having a "double meaning."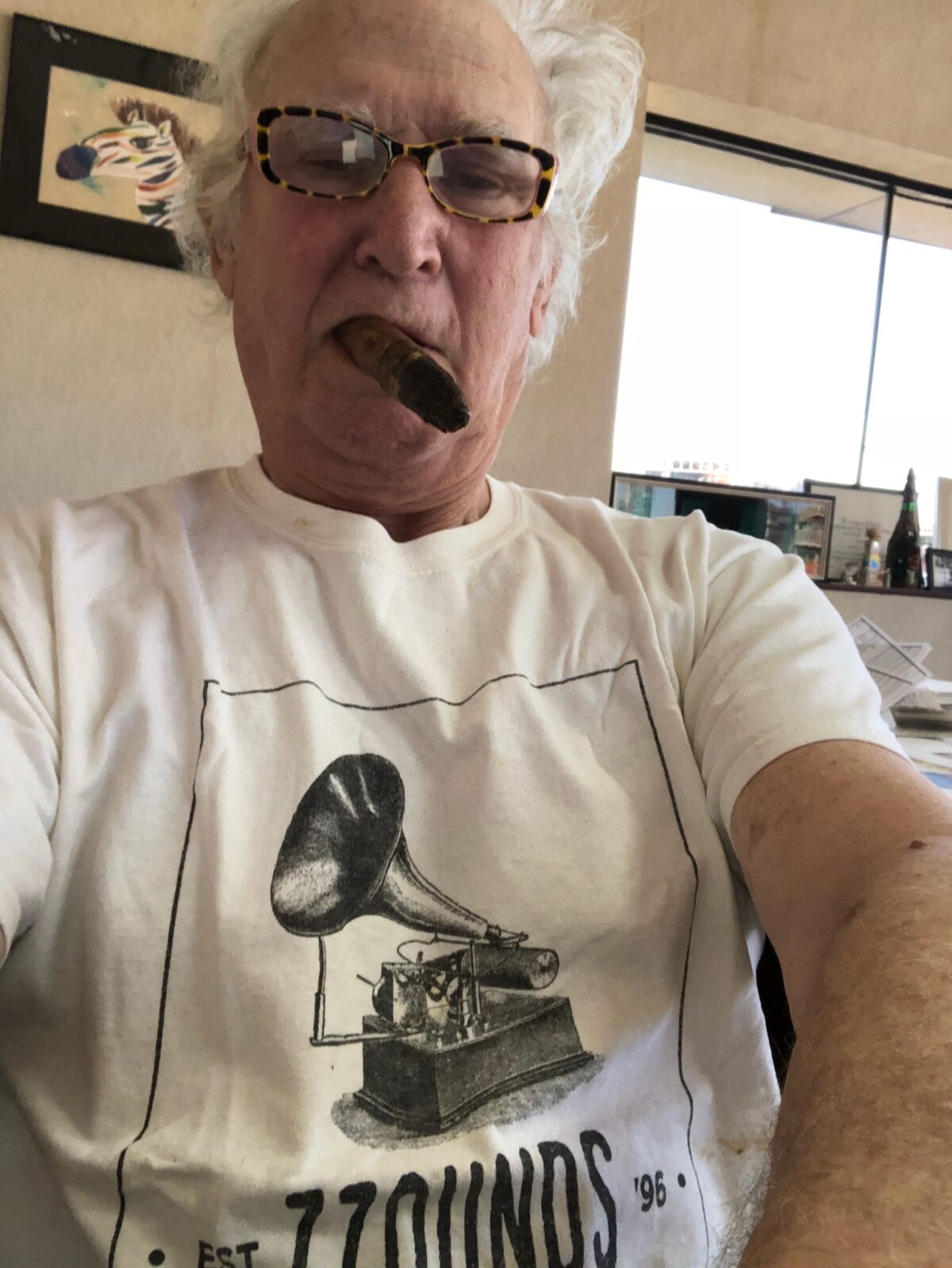 Hendrix, Lennon and Santana Approve
Matthews started to plan out a new distortion unit to follow up on the LPB-1 — but in a bigger enclosure, with more control through additional knobs, and a ton more sustain. Myer began on a design based on a four-stage silicon transistor circuit. Two of the transistors acted as input and output amplifiers, while the remaining two handled the clipping stages. This distortion was different from any fuzz around at the time; it had a unique tone control that split the signal between high and low pass filters, with high harmonics rolled off the top slightly to create that buttery smooth fuzz tone.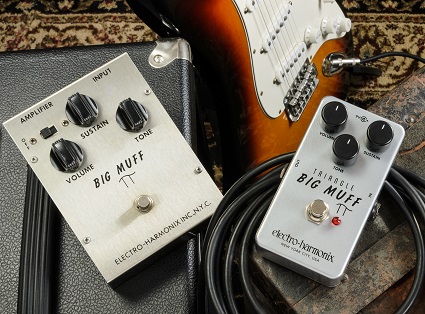 One quirk of this design was the "mid-range notch" or "scooped mids" EQ curves created due to bandwidth and gain being lost in the tone control design. This would shape the signature sound of the Big Muff. And so it was done; Myer and Matthews created the first version of the Big Muff Pi: the Triangle, as it's now known.
The Big Muff was named as such because of its bigger sound compared to the its predecessor, the Muff Fuzz. This first version was nicknamed the "Triangle" because of the shape of its knob layout. Each Big Muff was priced at $39.95 list, and also came in a cheaper version you had to assemble yourself.
Artists like Carlos Santana, John Lennon and Jimi Hendrix all purchased Big Muffs in the following years and the pedal began to pop up on records all over the Top 40 charts. The first known recording of a Big Muff was the Carpenters' song "Goodbye to Love" in 1972 and was played by guitarist Tony Peluso. You can hear the pedal on the song's solo — it was recorded with no amplifier. Peluso simply plugged directly into the recording console for the track.

Notably, Jimi Hendrix buying a Big Muff is an area of speculation due to his tragic death in 1970, but Mike Matthews mentions Hendrix being sold one before full production sometime in 1969 or '70. Matthews even claims to have seen Hendrix in studio with a Big Muff sometime before 1970, but cannot recall the date.

Full Production and Today

In 1971, Electro-Harmonix began the first full production year of the Triangle Big Muff with Matthews hand-wiring some of the first units himself. Electro-Harmonix was selling upwards of 3000 units per month and it quickly took over the top of their sales chart. Though this is when sales numbers were first available, according to many sales receipts and original purchasers some Big Muff Pi pedals were sold to the general public through music and electronics stores as early as 1969, with many of the earliest buyers mentioning 1970 as the year they purchased.

Today Electro-Harmonix's Big Muff Pi is arguably the most famous and best-selling pedal ever, and is certainly the most popular fuzz. In recent years the Triangle Big Muff was faithfully recreated into a new-age enclosure. This re-creation was welcomed by all who wanted to experience the truly groundbreaking pedal Matthews and Myer got right on the first try all the way back in 1969.

A huge thank you to the KitRae Big Muff Pi Page for supplying a ton of great information on the subject and consistently updating with new information keeping the legend of the Big Muff alive for generations to come.